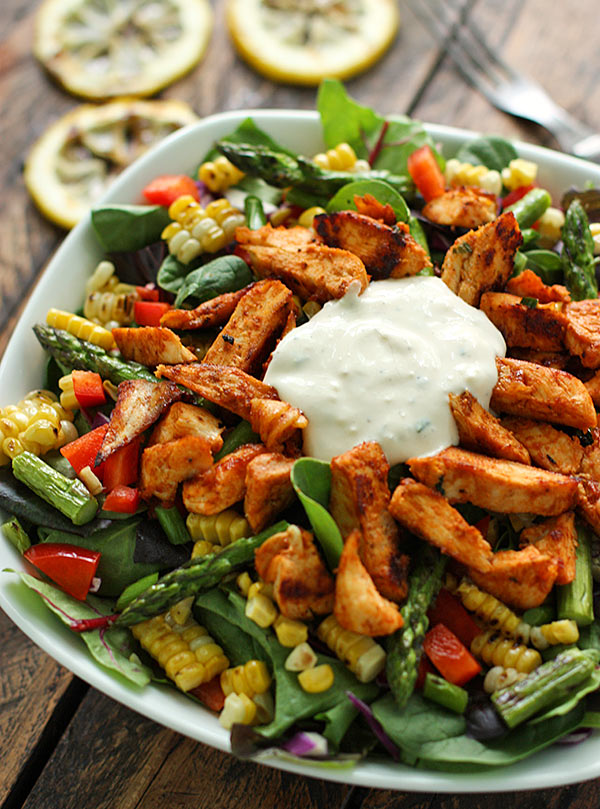 Ahh, grilling season! My grill is set up in a spot where I can reach it all year long, but, honestly, there's just no substitute for early summer days and warm, gentle breezes and blue skies and smoky wood chips. (I love to grill, but Polar Vortex grilling? Yipers).
So, the title of this post is all about the grilled chicken, but this recipe also contains grilled vegetables. Some asparagus (still in season and available locally), garlic scapes (cut fresh from my own garden), and corn (not local, but I couldn't resist that stack of husks-on ears).
Do grilled vegetables go well in a green salad? You bet! They're tender, crunchy and smoky, adding a summery twist to a raw salad.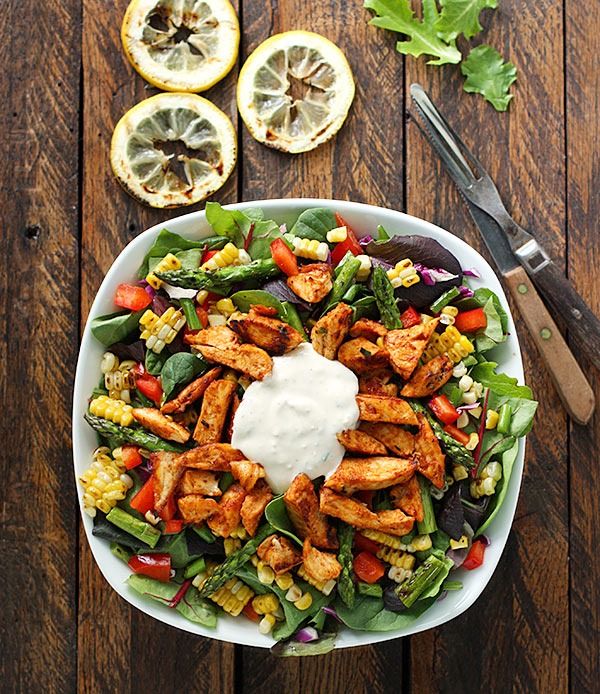 Grilling chicken can be tricky, right? We've all had super dried-out chicken that looked great on the grill, but not so much once you sliced into it. The trick is two-fold: marinate it, and don't overcook. The former, easy; the latter, a challenge, because you also don't want to undercook. (My trusty instant read thermometer was a great investment!)
I've used both oil-based marinades and saltwater brines, and both work just fine. (But don't use the BBQ sauce as a marinade; it goes on after the chicken is cooked.)
Speaking of the BBQ sauce … this salad was already destined to use fresh blue cheese dressing, but as I was standing over the stove, absent-mindedly stirring the BBQ sauce, the random thought of stirring a little dressing into the finished sauce popped into my head, and man, was it a good one. I really like the blue-cheesy tang that it gave to the sauce and chicken, and tied all the flavors of the salad together nicely.
Karen xo
In 2018, I'll be donating a portion of SoupAddict's income each month to a non-profit whose works speak to my heart. This month's proceeds will go to the
C.A.T. Adoption Team of Northern Kentucky and Southern Ohio
, a non-profit organization devoted to giving kitties second chances. My four furbabies are former ferals, so I have a super soft spot for stray and feral kitties, who often end up in county shelters under imminent threat of euthanasia. Staunchly no-kill, C.A.T. pulls these kitties from those shelters, vets and neuters them, and then works tirelessly to find them the perfect furever family match. C.A.T. fosters all cats in loving homes, rather than in lonely cages at a kennel, so every kitty knows love and safety from the moment they're brought into the fold. Check out
C.A.T.'s Facebook page
for daily kitty photos and all the fuzzy feels!
Grilled BBQ Blue Cheese Chicken Salad
Summary: BBQ sauce can be made 2 days ahead and held in the refrigerator (or use your favorite premade: warm in a small pot and add the blue cheese dressing as instructions). If making your own blue cheese dressing from scratch (I used David Lebowitz's recipe), consider preparing it in advance so the flavors will bloom.
Ingredients
for the chicken
1 pound chicken breasts, sliced into thin filets
olive oil
1/2 lemon
1/2 teaspoon garlic powder
1/2 teaspoon salt
several grind freshly ground black pepper
for the BBQ sauce
2 tablespoons vegetable or olive oil
1/2 cup chopped onions
1 clove garlic, minced
1/4 cup tomato paste
1/4 cup honey
1/4 cup hoisin sauce
2 tablespoons apple cider vinegar
2 tablespoons Dijon mustard
1 tablespoon Worcestershire sauce
2 teaspoons chili powder
1 teaspoon sriracha
1 teaspoon ground cumin
1/2 teaspoon smoked paprika
for the vegetables
12 asparagus spears, bottoms trimmed
1 fresh cob of corn, husked and silk removed
1 garlic scape (optional), seed head removed
1 tablespoon melted butter
1 tablespoon freshly squeezed lemon or lime juice
for the salad
3 cups mixed greens, rinsed, dried, and roughly chopped
1/2 cup chopped or shredded red cabbage, for color and crunch (optional)
1/2 cup chopped red bell pepper
your favorite blue cheese dressing
Instructions
marinate the chicken
Add the chicken to a large zipper bag. Pour in just enough oil to cover, along with the juice of a half a lemon and the seasonings. Secure the bag, then kneed to coat the pieces. Refrigerate for at least one hour, preferably several.
for the BBQ sauce
Heat oil in a small sauce pot over medium until shimmering. Add the onions and garlic and cook until soft and fragrant (4 to 5 minutes). Add the remaining BBQ sauce ingredients and stir to mix. Reduce heat to low and simmer for 20 minutes, or until thickened. Remove from heat and cool. Add 1 to 3 tablespoons of the blue cheese dressing. Taste after each tablespoon until it you can juuust taste it in the sauce. Set the sauce aside.
grill the chicken and vegetables
Preheat the grill to medium high, then clean and oil the grates.
Remove the chicken from the marinade (discard the marinade). Brush the vegetables thoroughly with the citrus butter sauce.
Place the chicken and vegetables directly on the grill grates. Let the chicken cook until the sides become opaque, then flip. Turn the corn, asparagus spears, and scape (if using). The asparagus and scape will finish first: remove to a holding plate then they begin to lightly char or blister.
When the chicken has cooked through - it will feel firm with just a little give - flip and brush the BBQ sauce on the top. Flip again and brush with more sauce. Let the sauce cook on the chicken for a few minutes, then flip and repeat both sides again, and remove to a holding plate.
Remove the corn from the grill when the kernels begin to char.
assemble the salad
When the grilled food has cooled, remove the kernels from the cob, and slice the asparagus, garlic scape, and chicken.
Place the salad greens, cabbage, and red bell pepper in a large serving bowl. Add the grilled ingredients, arranging the chicken over the top. Spoon blue cheese dressing over the chicken (or serve on the side).