The classic Mardi Gras dish gets a change-up with pasta instead of rice, for a savory, hearty winter meal. Pasta Jambalaya is loaded with shrimp, chicken, and andouille sausage, plus the onions-celery-peppers holy trinity, and seasoned with Creole spices.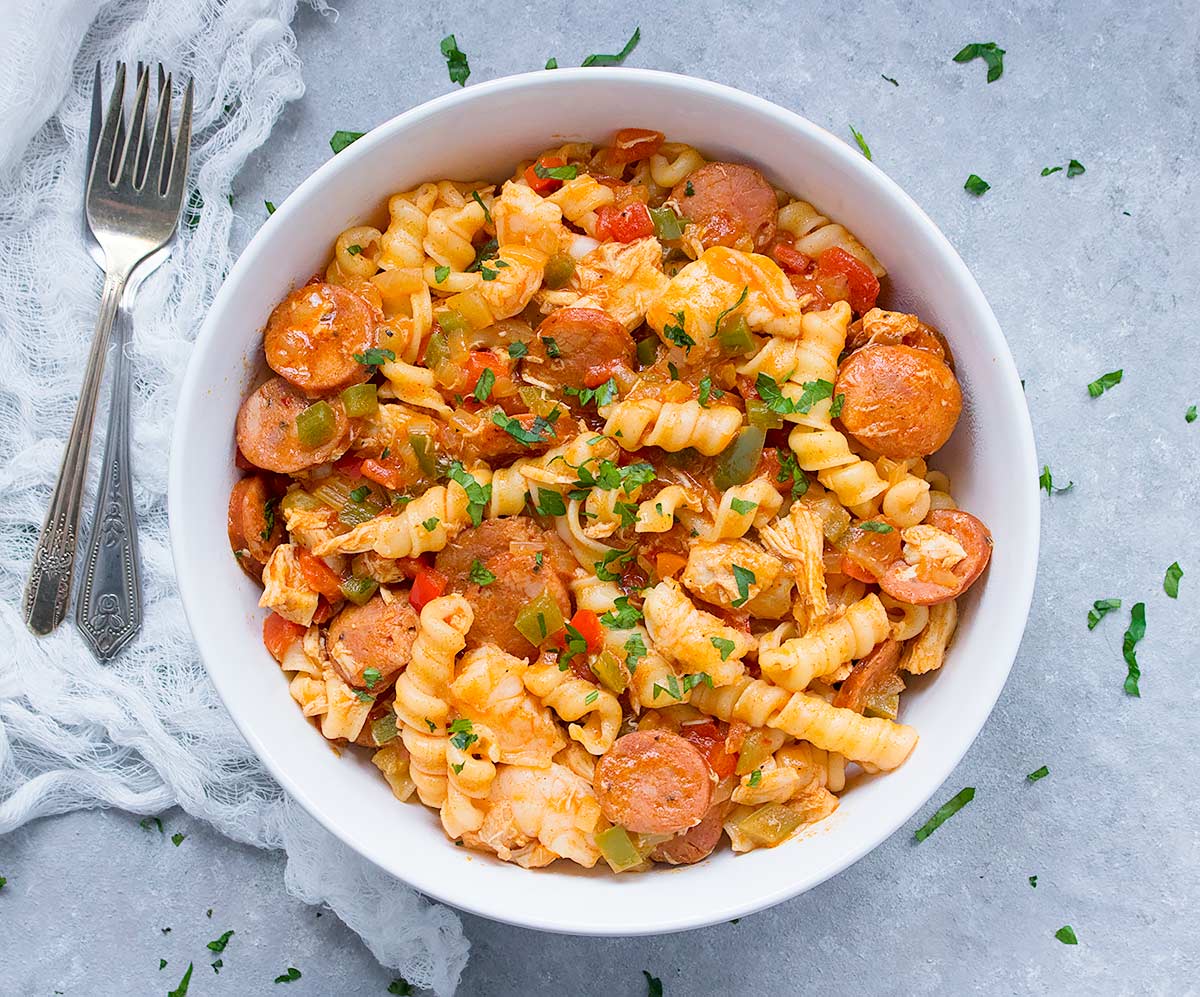 Fat Tuesday jambalaya has become a tradition in my house. Even though I live up north, I'm not Catholic, and I don't give stuff up for Lent. So, whaddupwiddat?
I'll tell you whassup: Jambajambajambalaya. Holy-aromatic-trinity smokes, Carnival revelers. Jambalaya.
Because Mardi Gras and Easter lead us directly into spring and spring's lighter foods, jambalaya usually slips quickly to the back of my mind, but this year, I'm going to make it my personal mission to enjoy the jambs all year round. It's the perfect vehicle for leftover bits of chicken or seafood, so that nothing goes to waste.
Plus, the holy trinity of vegetables pop right out of my garden every year, so jambalaya will be the answer to, "drat, I didn't plan dinner tonight!" all summer long.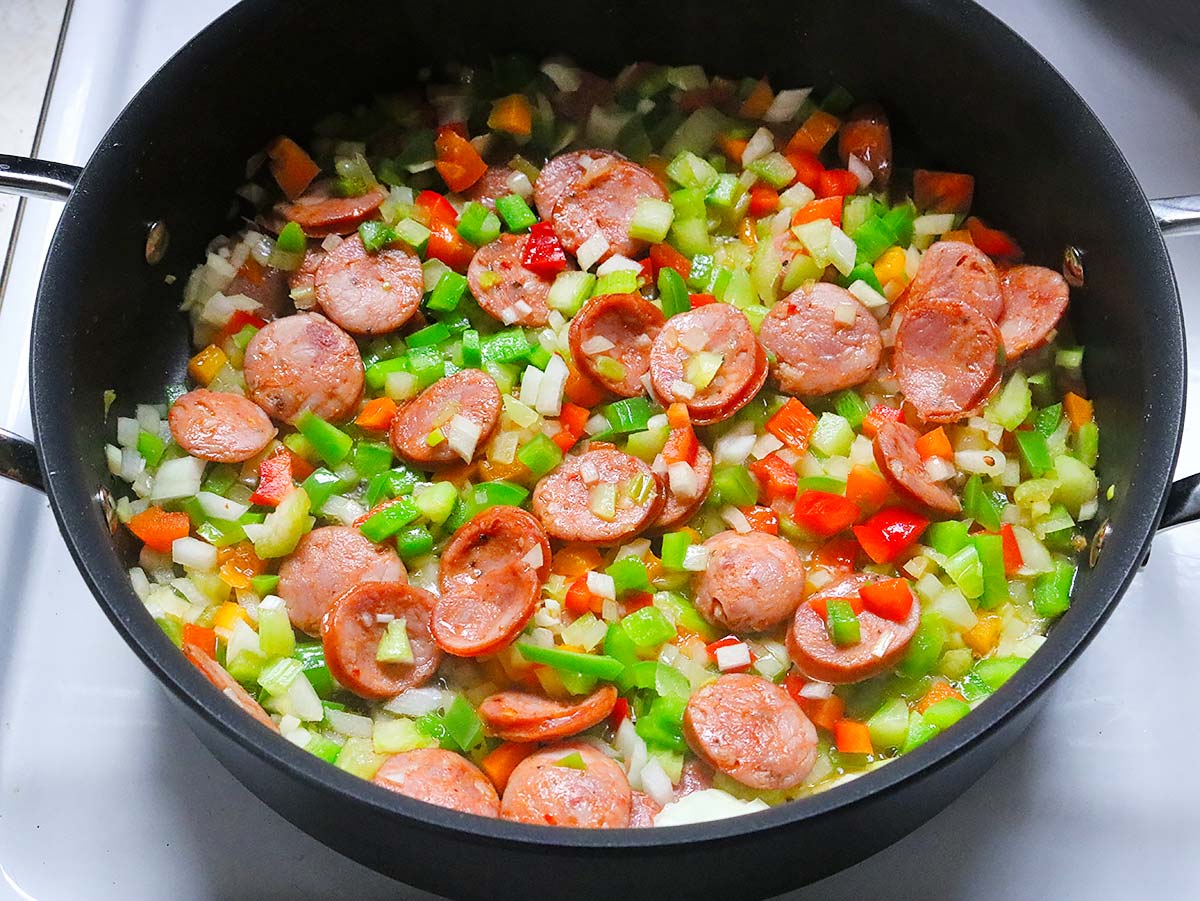 If you've never cooked with the Cajun holy trinity — although you probably have without even realizing it has a name — you need to add this to your recipe to-do list. All of the classic Cajun/Creole dishes we know and love — étouffée, gumbo, and, of course, jambalaya — begin with the magic combination of onions, bell peppers, and celery.
Simmered with andouille sausage and Creole spices … mmmmhmmmm, if the interwebs had a smell-o-vision option, y'all'd be running to the nearest grocery store to load up on pasta jambalaya supplies.
Even though American recipes typically borrow the French's mirepoix — onions, celery, carrots — as our aromatic base, if you browse my recipes (especially soup recipes), you'll see that I lean Cajun, and go with the peppers and celery (and onions … always onions). Carrots are often too sweet for what I'm going for, but the combination of peppers and celery add just the right earthy astringency to super-power the flavor of many dishes.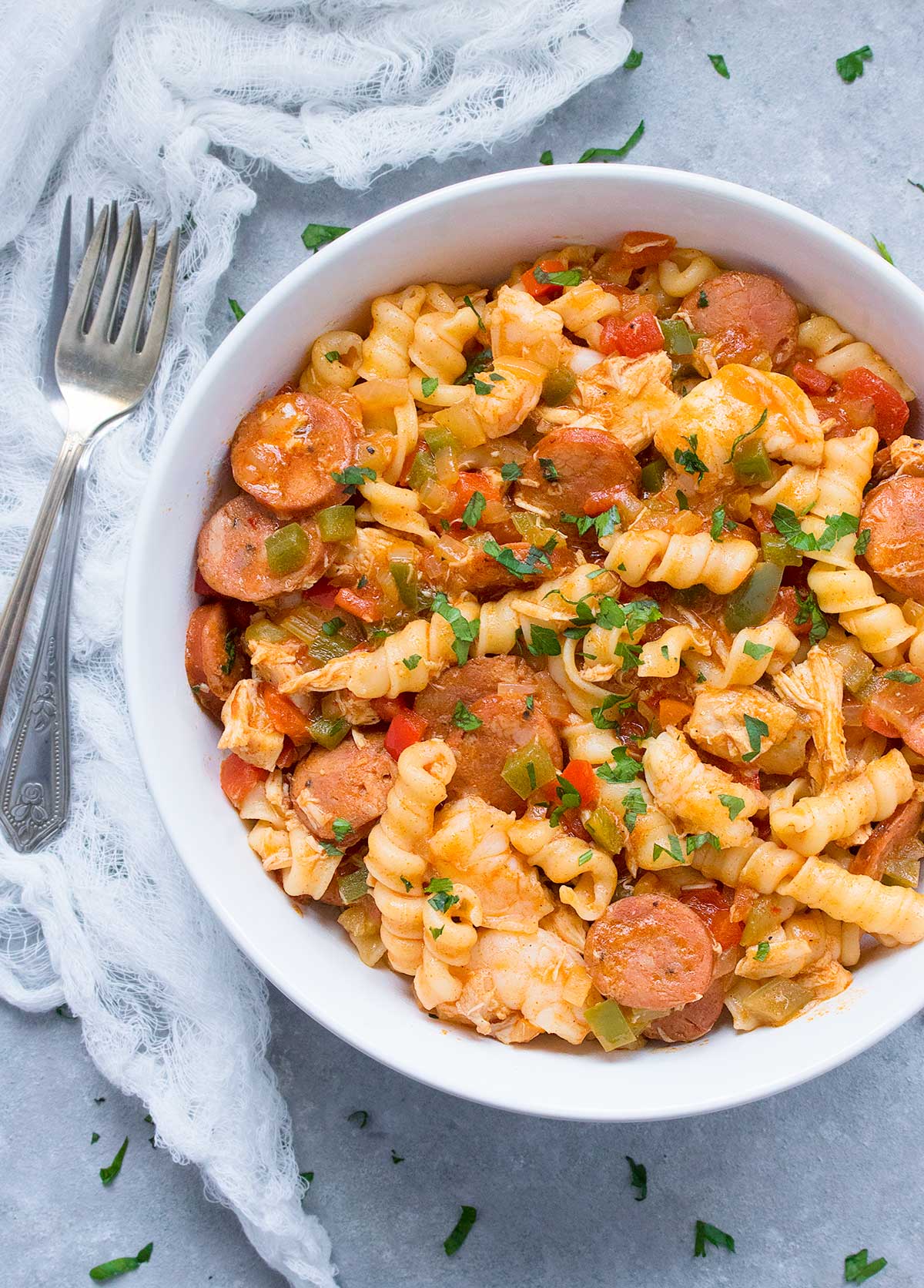 Mardi Gras is just once a year, so enjoy some pasta jambalaya, a big slice of King Cake, and a sazerac or two. If it's extra chilly where you are, try my thick and hearty Fat Tuesday Jambalaya Soup. And if you're a total home-cookin' DIYer like I am, check out my homemade Creole seasoning, which is the irresistible cat's meow of spice blends, and makes any jambalaya positively crave-worthy.
Karen xo
In 2017, I'll be donating a portion of SoupAddict's income each month to a non-profit whose works speak to my heart. April's proceeds will go to
La Soupe
, a Cincinnati non-profit working to relieve childhood hunger and tackle food waste in one swoop, using
soup
as the foundation for both. Founder and chef — and recent Jefferson Award winner — Suzy DeYoung has connected our city's best chefs and their kitchens with grocery store produce turnover — perfectly good fruits and vegetables that simply must be moved off the shelves — and the result is delicious, healthy soup that goes right into the bellies of our city's underfed children through schools and relief organizations. This summer, La Soupe is fundraising for their
Ladle Campaign
, which will provide a much-needed facility expansion to broaden their vegetable intake and sorting operations.
Learn more about their inspirational work
and
listen to Suzy
tell the story of La Soupe.
Save
Pasta Jambalaya
Pasta Jambalaya is deeply flavorful with just the right amount of cajun spicy goodness, and is even better when prepared ahead and stashed in the fridge for a day or two, without the pasta (prepare the pasta fresh as the jambalaya reheats).
Ingredients
8 ounces pasta (penne rigata is nice)
1 tablespoon olive oil
8 ounces Andouille sausage, sliced
1/2 medium onion, diced
1 small green bell pepper, diced
1 small red bell pepper, diced
2 ribs celery, diced
1/4 cup white wine
1 tablespoon butter
1 tablespoon flour
2 teaspoons Creole seasoning (up to 1 tablespoon)
2 teaspoon smoked paprika
1 teaspoon kosher salt
14 ounce can diced or crushed tomatoes
1 cup chicken broth
1/2 pound shrimp, peeled and deveined
1 heaping cup chopped, cooked chicken
Minced flat-leaf parsley, for garnish
Instructions
Prepare pasta according to package directions; drain, and set aside.
In a large skillet or sauteuse, heat the oil over medium until shimmering. Add the sausage, and cook until the edges begin to brown.
Stir in the onions, peppers, and celery and saute until softened. Pour the wine over the veggies and continue sauteing until the wine has reduced.
Add the butter to the pan, and then sprinkle the flour, Creole seasoning, paprika, and salt over everything, and stir until thickened. Add the tomatoes with their liquid. Stir until completely mixed. The liquid should thicken up again.
Pour in about 1/2 cup of the broth, along with the shrimp. Stir until the shrimp is cooked through, opaque, pink, and plump, and then add the chicken.
Add more broth in small amounts, until the jambalaya is saucy (but not soupy). Taste, and add salt as needed.
Gently stir in the pasta until coated with the sauce.
Garnish with the parsley, and serve immediately.
Pin Pasta Jambalaya recipe for later:
Pinterest fans, if you'd like to save this recipe for later, use these images (or any image above) to pin to your boards (they're small here, but thanks to the magic of the interwebs, they'll be full size when you pin them). Thanks for sharing, and most of all, thank you so much for reading this post! Blogging wouldn't be any fun without you!