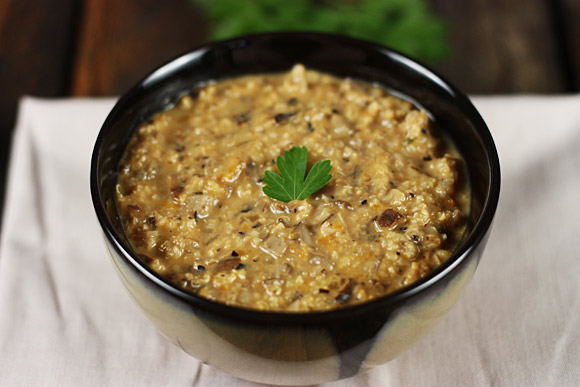 It happens every year: as the air chills in the Midwest, my thoughts and cravings turn to comfort foods. Carbs, carbs, carbs. I'm aided and abetted by the holiday season, when so many amazing once-a-year treats and sweets show up everywhere I turn.
But by January, I'm done. Done. Completely sugared out and craving vegetables like crazy. The bummer is that January is not the best time to be craving tomato and mozzarella salads.
This year, I'm going to head off the carb craze by including healthy grains in my diet throughout November and December (and of course, beyond).
Enter ancient grains. A fancy term for seeds and grains that have been around for centuries and largely unchanged by modern cultivation techniques or genetic modifications, ancient grains are high in protein and fiber, and many are suitable for folks with gluten intolerances, meaning breads and pastas are back on the menu for just about everyone.
I'm fortunate in that my local Kroger carries bulk rices, beans and grains (imitating, I suspect, Whole Foods, with their Wall of Bulk), so millet and quinoa and spelt are readily available. (They only thing they're missing is farro — favorite. grain. ever. — but the small grocery around the corner from my house carries that.)
What's more, these grains and seeds have amazing flavors, far beyond your standard starchy white rice. Take millet, for example. When toasted, millet has a wonderful honey-nut flavor, and can easily stand in for rice in a dish. I add millet to many things, including bread and oatmeal. And soups.

Millet is actually a seed — small, round and light yellow — and I suspect you've seen it many times before. The next time you're at the store, examine the multi-grain breads to spot the little seeds, often on the crust.
The other photo above shows some carrots from my fall crop. I still can't believe I was so organized this summer as to have remembered to plant another carrot garden back in August. As long as I can get them out of the frozen ground, I should have carrots into January, along with leeks and celery (which are in a pot that I'll move indoors in a week or two).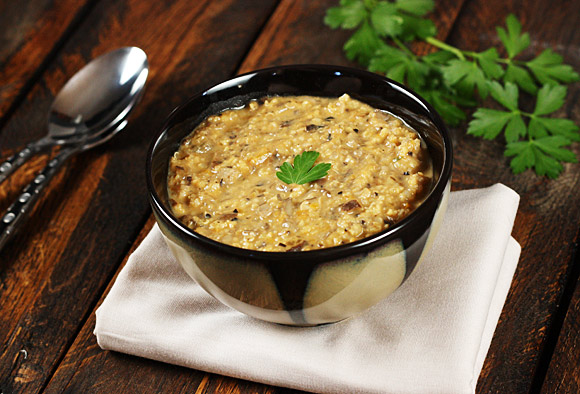 Along with healthy grains, this soup features my favorite mushrooms: cremini, shiitake, and dried matsutakes and porcinis (matsutakes can be hard to find, so I list only porcinis in the recipe below). Oh, porcini. If I were a songwritin' kind of girl, I'd write an entire ode to your earthy richness.
For an extra hearty soup, line your bowl with crispy croutons and ladle the soup on top.
Ancient Grains & Wild Mushroom Soup
Prep Time: 20 minutes
Bake time: 20 minutes
Yield: 6 generous servings
1/2 ounce dried porcini mushrooms
1 cup hot water
2 teaspoons coconut or canola oil
1/2 cup millet
1/4 cup quinoa
1 1/2 cups water
1 medium onion diced
1 medium carrot diced
2 cloves garlic, minced
1 1/2 pounds mixed mushrooms, roughly chopped (cremini, portabella, shiitakes, etc.)
1 tablespoon tomato paste
1/2 tablespoon smoked paprika
1 teaspoon light miso (optional, but tasty)
2 teaspoons worchestershire sauce (or vegetarian substitute)
4 cups vegetable broth
2 tablespoons mascarpone or greek yogurt
1/4 cup fresh parsley, chopped
salt and pepper to taste
1 cup freshly grated parmesano reggiano cheese, for garnish
Rehydrate dried mushrooms by pouring one cup very hot water over them and allow to soak for 20-30 minutes
Heat coconut oil in a medium sauce pan over medium heat. Add the millet and quinoa and allow to toast for several minutes. Add water and turn heat to high. Bring to boil, then reduce heat to simmer and cover. Cook for 20 minutes, then begin checking. When water is completely absorbed, remove from heat, fluff the grains and set aside.
In a 5 quart stock pot or dutch oven, heat oil over medium heat. Add onions and carrots and saute until soft about 8 minutes. Add garlic and stir until fragrant, 1 to 2 minutes.
Remove porcini mushroms from soaking water (reserve soaking water), rinse, pat dry and chop.
Add all mushrooms to onion mixture, plus a bit of the reserved mushroom stock. Cover, reduce heat to medium-low and simmer until mushrooms have released their liquids, about 10 minutes.
Return heat to medium, and stir in tomato paste, smoked paprika, miso and worcestershire sauce. Add vegetable stock, and allow to come to a good simmer.
Taste and add salt and pepper as necessary. You'll want the soup properly seasoned before adding the grains.
Optional: for a thicker soup, run an immersion blender briefly through the soup, leaving some mushroom pieces for a chunky texture.
Add the grains to the soup and turn heat to low.
Place mascarpone in a small bowl. Add a ladle of the hot soup and mix well — use a whisk if necessary — until smooth. Add to soup. Stir in parsley. Ladle into bowls and top with parmesan cheese.
Subscribe to the SoupAddict Weekly Digest and get new soups and other delish foods in bowls in your inbox!