A beautifully colored slaw with crunchy strips of juicy apples, perfectly paired with fennel, and topped with a lemony, herbed Dijon vinaigrette, Apple Fennel Slaw is a light and refreshing side for summer cookouts. This post is a sponsored recipe collaboration with Autumn Glory Apples. All opinions are my own.
I have a thing about apples. I don't talk about it much here on the blog, but for a good stretch of years, I competed on the regional apple pie baking circuit. It's not for the faint of heart, and I spent many weekends obsessing over the flake ratio in the pie crust and the sweet-tart balance of the apples within.
Competitions begin in early fall, which means you're testing your trusty pie recipes with the season's new apple crops in August (apples taste different from year to year — you have to test). My lasting memory of this era was wrangling pie crusts in a kitchen where the oven ran for hours at a time. August in Ohio = 90°F. Lol.
The award-winning creation that swept a season's worth of championships was my Caramel Apple Pie, so, jumping forward to my pie-baking-free present, imagine my delight to discover an apple with the exact flavor profile of an apple pie!
And that's the Autumn Glory Apple: lightly sweet with undertones of caramel and cinnamon. I don't bake apple pies anymore — is there such a thing as pie crust PTSD? 😉 — but apples are, instead, a favorite snack. No peanut butter spread, thank you, just straight up crunchy, juicy goodness with caramel sweetness.
Like I said, I have a thing about apples.
And I have a thing for this Apple Fennel Slaw. Fennel, with its light, astringent, anise flavoring, is the perfect culinary pairing for a sweet apple like the Autumn Glory. And both mingle quite companionably with a flavor burst of fresh herbs and a lemony, mustard vinaigrette.
A mandolin makes quick work of the fruit prep, and with a little chopping (herbs) and a little shake-shake-shaking (the quick and easy mason jar dressing), this unique and colorful slaw is ready to sit alongside your spring brunch and summer cookout fare.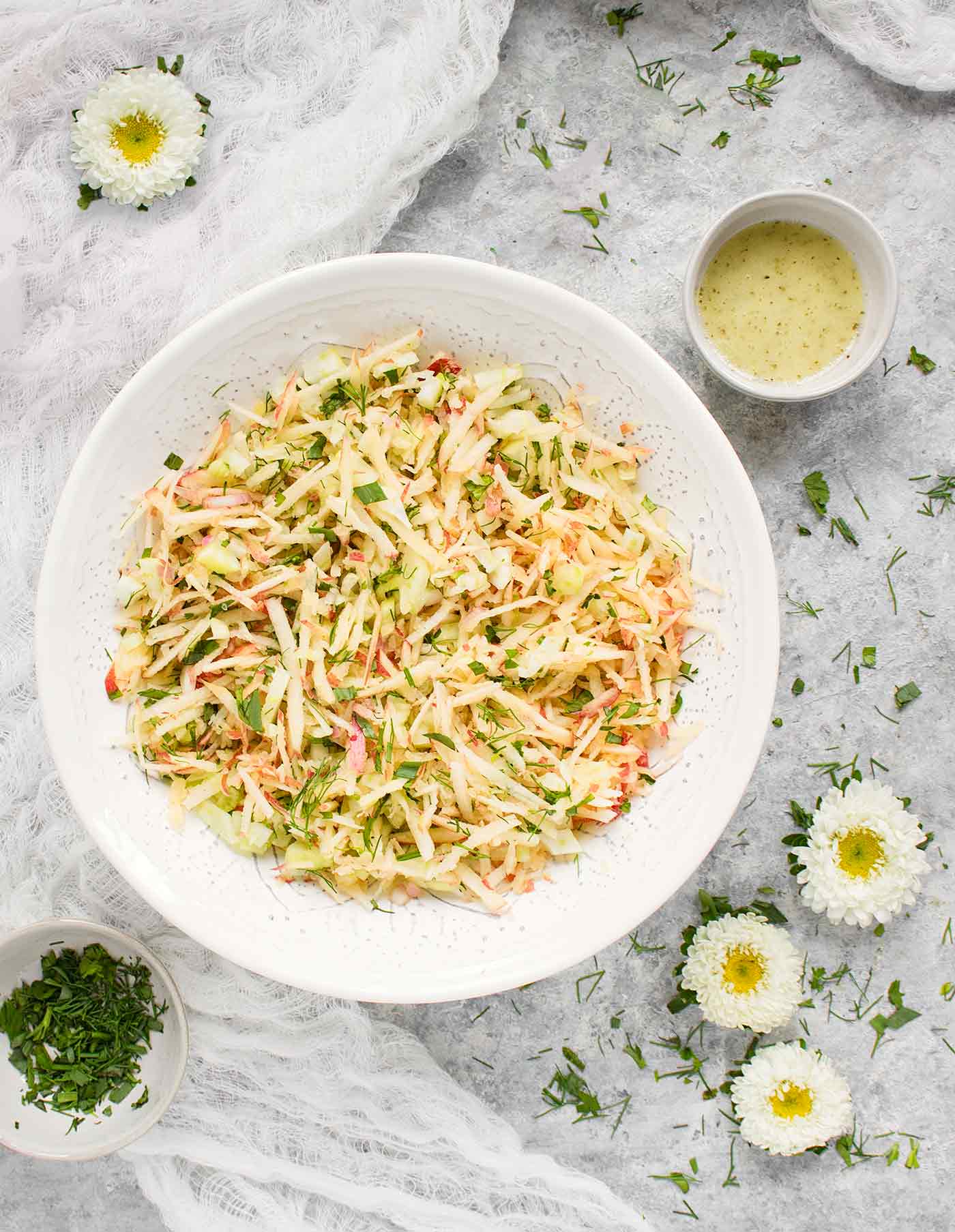 One of the things I really love about this slaw is that it shows off the juicy crunch of a really good apple, like the Autumn Glory. Apple sauce and cider and other cooked apple creations are fabulous, but I'm all about the texture of a fresh apple.
It's a completely refreshing bite to scoop up a forkful of juicy apple strips, tender fennel, and verdant herbs, all draped lightly in a Dijon vinaigrette. No goopy mayo slaw here!
And in case you're wondering, Friends, yes, I am tip-toeing into that transition from winter comfort soups to the fresh fruits, vegetables and greens of spring and summer. I'm not quite finished (it's flurrying as I type this!), but I'm so happy to be able to share such a spring-hopeful recipe!
Learn more about Washington-grown Autumn Glory Apples and discover the sweet, cinnamon-caramel surprise for yourself. Fellow Cincinnati peeps: they're available at Jungle Jim's!
Karen xo
Print Recipe
Apple Fennel Slaw with Dijon Tarragon Vinaigrette
A beautifully colored slaw with crunchy strips of perfectly paired apples and fennel, topped with a lemony, herbed Dijon vinaigrette.
Ingredients
for the vinaigrette
juice from one large lemon

1

tablespoon

sherry or champagne vinegar

1

tablespoon

honey

1

teaspoon

Dijon mustard

1

teaspoon

fresh tarragon leaves

minced

1/2

teaspoon

fennel seeds

crushed

1/2

teaspoon

chopped fennel leaves

(just the feathery parts)

1/4 to 1/2

teaspoon

kosher salt

3

tablespoons

extra virgin olive oil
for the slaw
1

medium shallot

chopped

sherry

champaign, or red wine vinegar

3

Autumn Glory apples

1

stalk of fennel/anise

one bulb with its leaves

1

tablespoon

chopped fresh tarragon leaves

1

tablespoon

chopped fresh cilantro leaves

1

teaspoon

chopped fennel leaves

(just the feathery parts)

kosher salt
Instructions
prepare the vinaigrette
To a jar with a lid, add 1 tablespoon of the lemon juice, plus the vinegar, honey, mustard, fennel seeds and herbs, plus 1/4 teaspoon kosher salt. Tighten the lid and shake well. Add the oil and shake again until fully emulsified. Taste and add more salt as needed.

Set the extra lemon juice aside.
prepare and the slaw
Place the chopped shallots in a small bowl and cover with the vinegar. Set aside.

Slice the apple into thin julienne strips. A mandolin with a julienne setting works really well for this.

Trim the fennel bulb of its stalks, and slice the bulb in half vertically through the flat side. Cut out the "v" shaped core from each half and discard.

Chop or julienne the fennel. If the bulb is freshly picked, a mandolin will make easy work of it; otherwise, use a chef's knife.

Toss the apples and fennel with the remaining lemon juice in a large bowl to prevent browning.

Drain the shallots, rinse, and drain again, and add them to the apples.

Stir the herbs and a big pinch of salt into the slaw.

Drizzle the vinaigrette over the slaw and mix until lightly coated. (You might have some leftover.)

Serve immediately, or chill by pressing a sheet of cling wrap firmly against the surface of the slaw, to keep the air out.
Notes
If you have cilantro avoiders at the table, you can replace it with a reduced amount of flat-leaf parsley. Parsley is much stronger than cilantro, so be careful not to overwhelm the slaw with it.
Nutrition
Nutritional information, if shown, is provided as a courtesy only, and is not to be taken as medical information or advice. The nutritional values of your preparation of this recipe are impacted by several factors, including, but not limited to, the ingredient brands you use, any substitutions or measurement changes you make, and measuring accuracy.
Pin Apple Fennel Slaw recipe for later:
Pinterest fans, if you'd like to save this recipe for later, use these images (or any image above) to pin to your boards (they're small here, but thanks to the magic of the interwebs, they'll be full size when you pin them). Thanks for sharing, and most of all, thank you so much for reading this post! Blogging wouldn't be any fun without you!