BBQ Black Bean soup is a filling bowl of comfort that's a delightful cross between BBQ baked beans and chili. Made hearty with bacon, it's the perfect meal for chilly fall and winter evenings.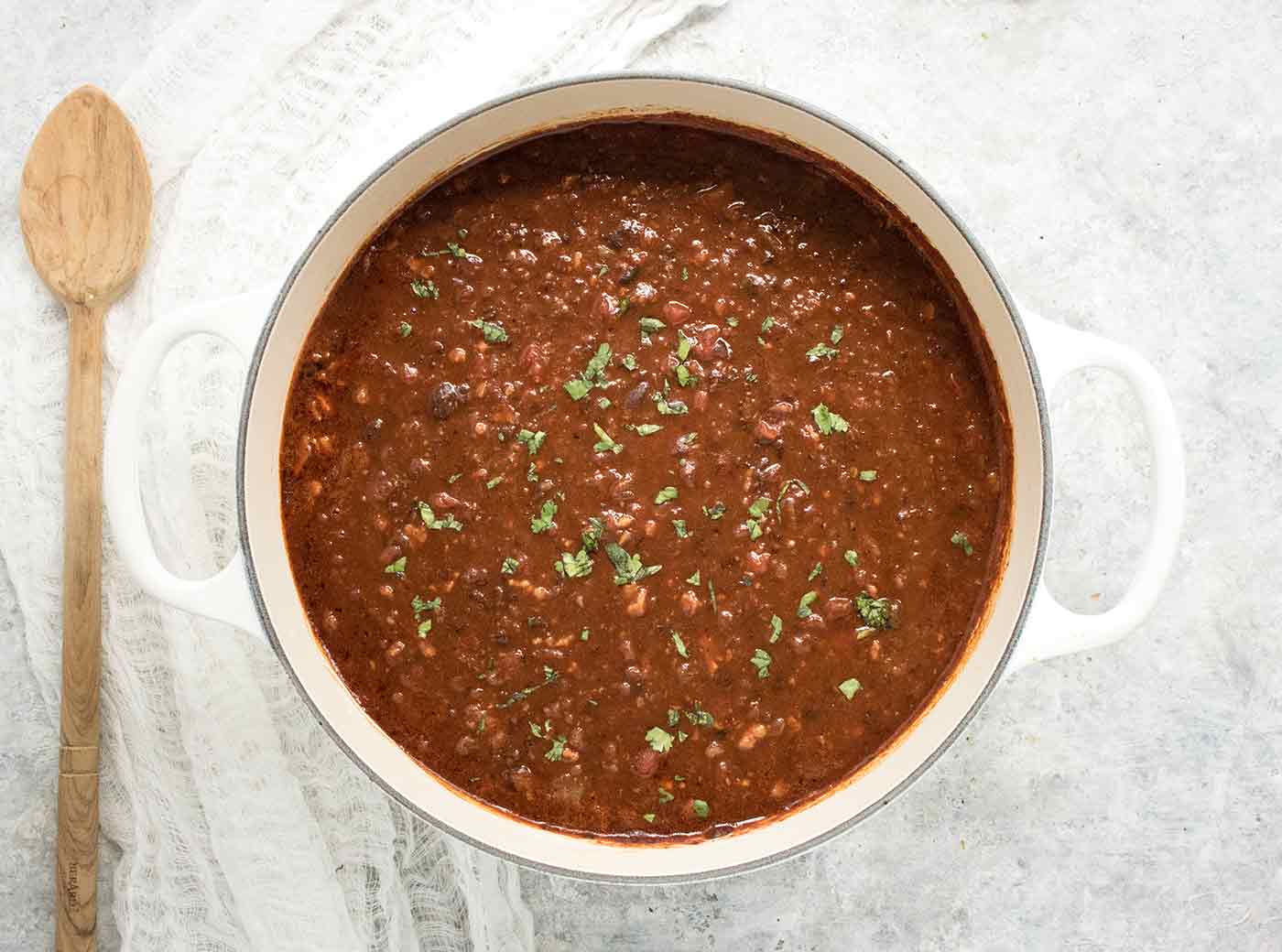 There are a few soups that everyone should have in their cooking repertoire, regardless of the depth of their devotion to soup. And one of those "shoulds" is a really good bean soup.
Black beans are always a favorite at Casa SoupAddict, and they're what I reach for when preparing just about any beany dish. They're mild and sweet and not quite as sharp as great northerns or pinto beans. They make amazing soups, chilis, and even refried black beans.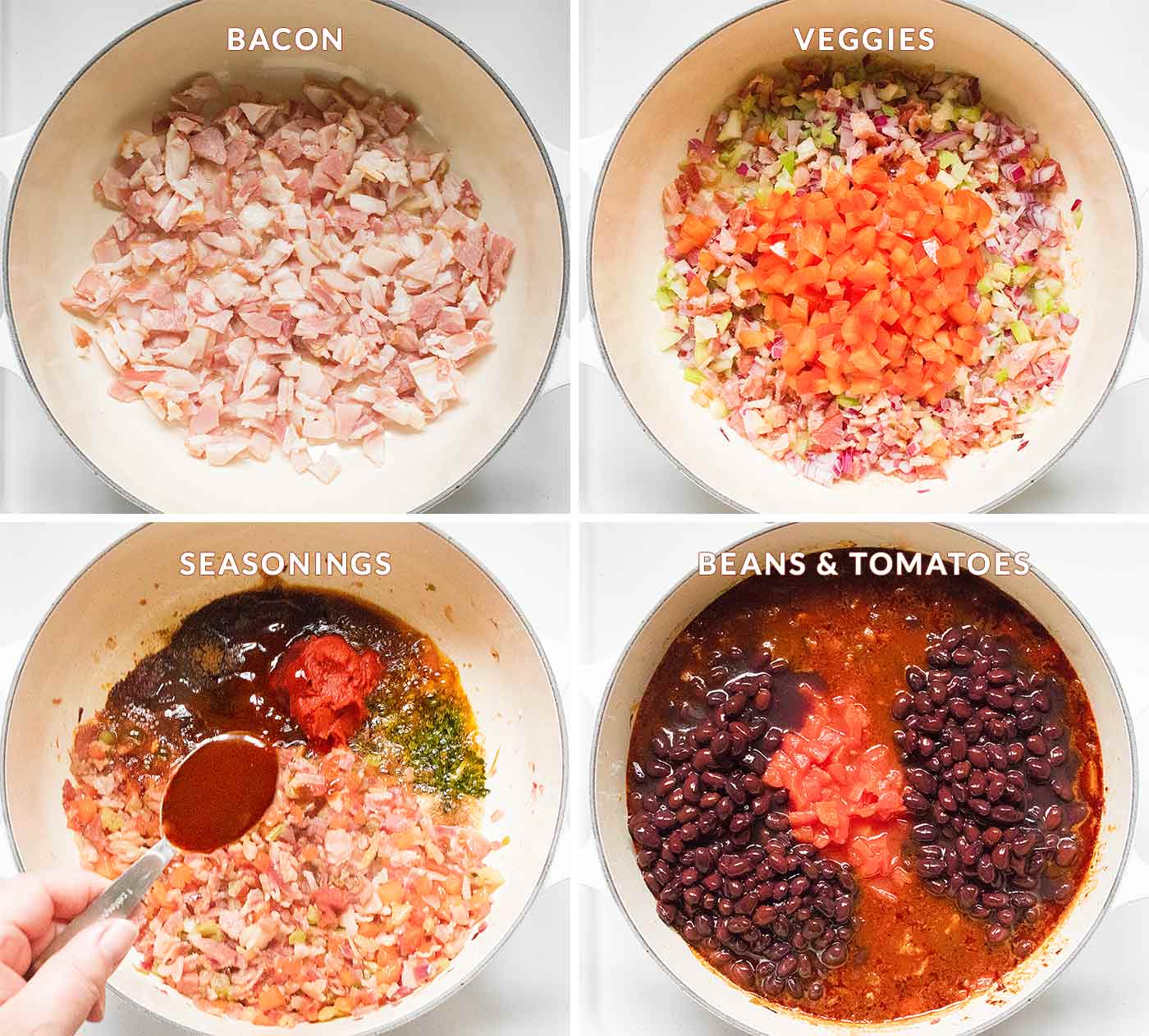 And I think this soup does the black bean proud. Normally the center of a Mexican- or Cuban-inspired soup, I've taken a cue from summer (which is just winding down at the time of this writing), and given the whole thing BBQ leanings.
BBQ sauce, chili powder, Worcestershire sauce. Bacon. Loads of bacon.
What might otherwise have veered off into BBQ baked beans land, I then added loads of veggies and simmered the whole thing in broth. Top with cheese and you have a lovely, ultra-flavorful cross between chili and baked beans, in soup form.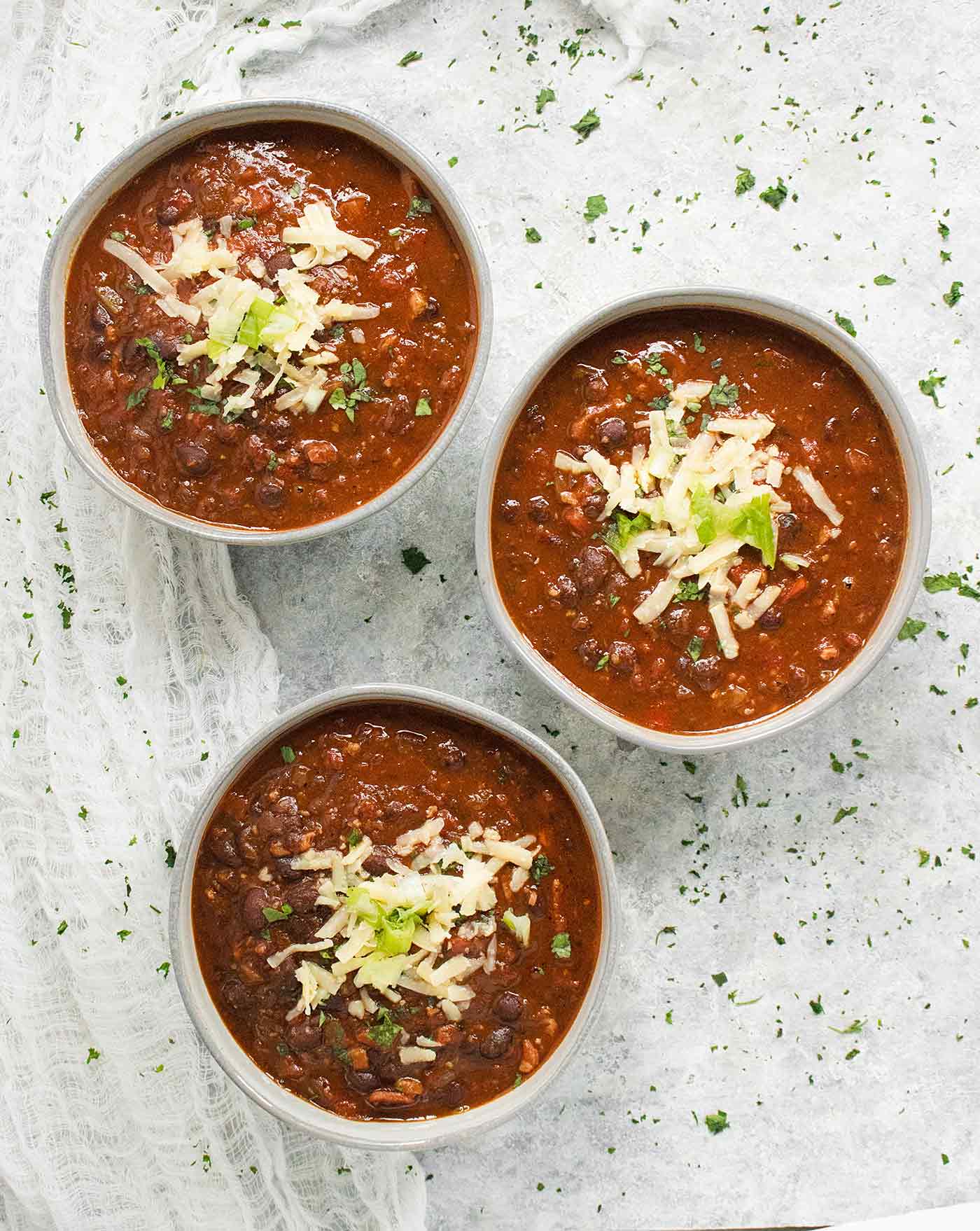 Dried Beans or Canned Beans?
Here's my home cook's most honest answer: either!
As a food blogger, I'm supposed to be a prepared-foods snob, cooking everything from scratch instead. But, I'm a human of today, not 1870, and while there are certainly days when doing things like making fresh butter or homegrown tomato paste is a happy way to spend a few hours, that's not my every day. It can't be my every day. I have a day job, as well as beings to care for, rooms to sweep, and garbage to haul to the curb.
In my worldview, canned beans are perfectly fine. In fact, if you buy a low-sodium organic brand — look for your grocery store's house brand — you'll have a product that's a fairly healthy option.
Dried beans do have their charms, though. Freshly cooked dried beans taste so much better than canned, and the texture is quite lovely. They're insanely economical, too. Some rough math:
One pound of dried beans cooks up into about 6 cups. One can of beans contains about 1 1/2 cups, so four cans of beans equals 6 cups. You can purchase a bag of dried beans considerably cheaper than canned, so if you're looking to tighten your monthly food budget, dried is one way to get there.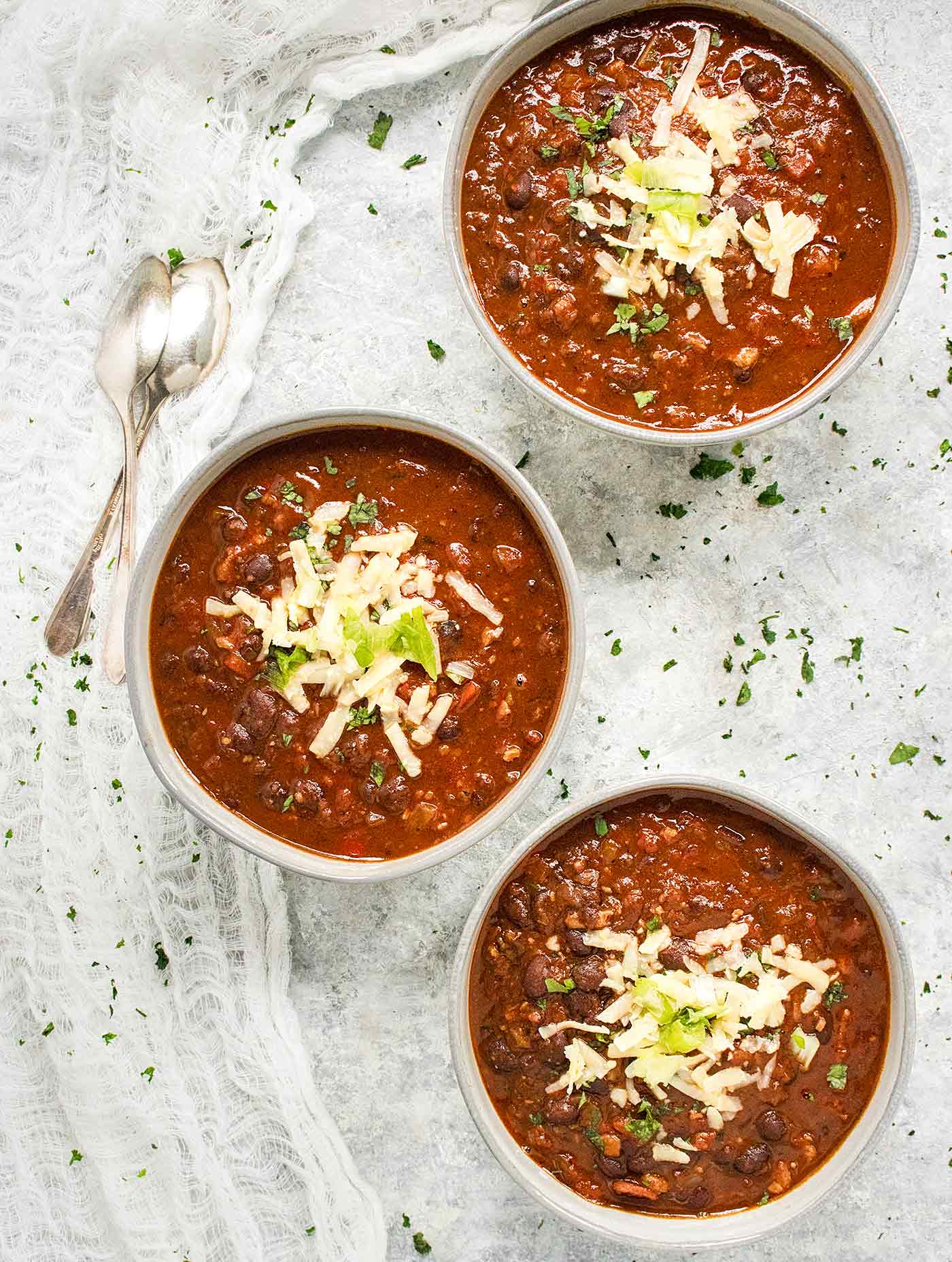 And the Best Way to Cook Dried Black Beans Is …
Dried beans might be all that and a bag of chips, but, if you're anything like me, cooking them is a challenge. A challenge of memory, that is.
Dried beans are teeth-cracking hard, and must be soaked before cooking. Soaked overnight, that is. And therein lies the rub. If I'm even organized enough to have dried beans on hand for the next day's meal, I have to remember to get them all soaking before I go to bed.
But, no more. Since investing in a pressure cooker, I've discovered the joys of ingredient prep in a fraction of the time. Oh, I'm still a diehard stove-top cook — I don't often use my Instant Pot to cook meals — but for preparing things like hard boiled eggs, soup stock, and sweet potatoes, the pressure cooker can't be beat.
If you cook your dried black beans in the pressure cooker, you can completely skip the soaking step, and it still takes less than hour, whereas conventional cooking means eight hours of soaking (minimum) plus two hours on the stove.
Quick tutorial: Measure your dried beans into the Instant Pot removable container. Cover with water. Seal the lid and the vent, and set manual pressure to 25 minutes. Let pressure release naturally for 20 minutes. Drain, and use the beans in your recipe.
Cooking times will vary depending on the age of the dried beans, which may be difficult to impossible for you to determine. If your beans turn out mushy, use them for a dish like Refried Black Beans, and for future batches, reduced the release time to 15 minutes. If under-cooked, add 5 minutes to the cooking time.
Whichever form of black beans you choose, canned or dried, I hope you'll find BBQ Black Bean Soup a worthy use for these protein and fiber rich little gems.
Karen xo
Print Recipe
BBQ Black Bean Soup
A savory, fully flavored black bean soup that's a fabulous combo of BBQ baked beans and chili. Perfect for chilly evenings!
Ingredients
8

ounces

bacon

(6-8 strips), chopped

1

small red onion

, diced

2

ribs celery

, diced

1

small red bell pepper

, diced

4

cloves

garlic

, peeled and minced

2

tablespoons

tomato paste

1

teaspoon

Worcestershire sauce

2

teaspoons

chili powder

1

teaspoon

smoked paprika

1

teaspoon

dried basil

1

teaspoon

dried oregano or marjoram

3

tablespoons

BBQ sauce

(use your favorite)

1 1/2

cups

chicken broth

15

ounces

diced tomatoes

(with juices)

30

ounces

black beans

(2 cans), drained or 3 cups cooked from dried

1

teaspoon

Better than Bouillon

, Chicken (optional)

splash apple cider vinegar

kosher salt
suggested garnishes:
minced fresh cilantro

thinly sliced green onions

shredded cheddar

sour cream
Instructions
Add bacon to a 4-5 quarter Dutch oven or soup pot, and turn heat to medium. Once bacon begins to sizzle, cook for 10 minutes, stirring frequently.

Add onions, celery, and bell peppers, and continue cooking for another 10 minutes, until vegetables are soft, stirring frequently.

Add garlic and mix into vegetables.

Scoot everything to one side of the pot. Let some of the juices pool in the cleared side of the pan. If dry, add up to 1/2 cup of the broth.

Spoon the tomato paste, Worcestershire sauce, spices, herbs, and BBQ sauce into the liquid, and stir to create a deep, rich tomatoey sauce. Mix into the vegetables, along with a generous pinch of salt.

Dump in the tomatoes and black beans, mixing well. Top the vegetables with a cup of broth. This should be enough to create a soup consistency (vs. a more chili-like consistency).

Turn up the heat to medium-heat and bring to a boil. Stir in the bouillon, if using.

Reduce heat to medium-low, and let the soup simmer for 15 minutes.

Add a quick splash of apple cider vinegar. Taste, and add more salt if needed (you'll probably need another generous sprinkling).

Serve with garnishes.
Notes
Keeps well in the fridge, and tastes even better after a rest.
Nutrition
Nutritional information, if shown, is provided as a courtesy only, and is not to be taken as medical information or advice. The nutritional values of your preparation of this recipe are impacted by several factors, including, but not limited to, the ingredient brands you use, any substitutions or measurement changes you make, and measuring accuracy.
First published November 28, 2008