Rich and full of espresso chocolate goodness, the kids (or you!) can lick the bowl clean because there are no eggs. These vegan brownies can be mixed up in a bowl with no special equipment, and no unfamiliar ingredients or techniques. These are brownies everyone will love!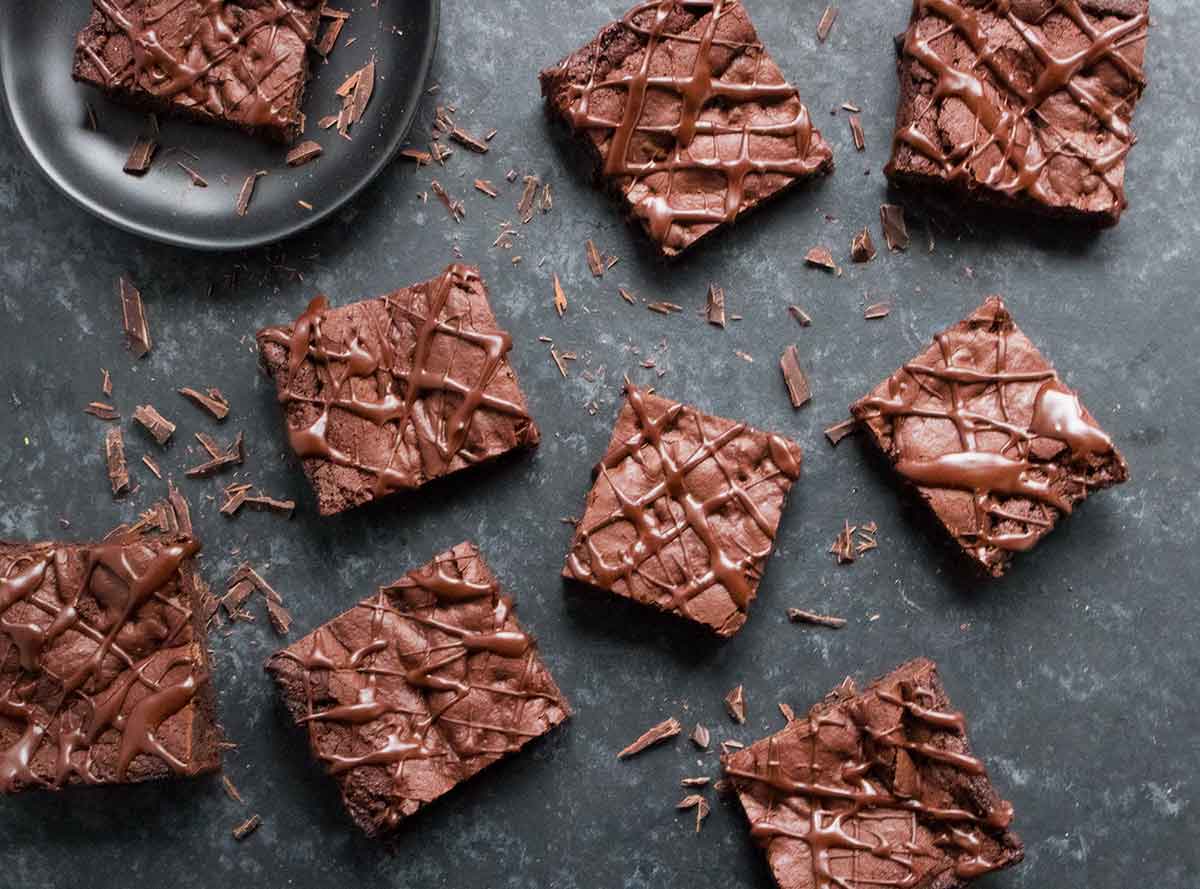 I don't have a much of a sweet tooth, so while you're not likely to ever find a huge catalog of desserts here on SoupAddict, I do enjoy the occasional homemade chocolate treat. And no day calls for chocolate more than Valentine's Day, so I thought it would be almost criminal to let the day pass by without serving up some kind of chocolatey goodness.
Cake, I can take it or leave it, but I find fudgy brownies flavored with rich espresso completely irresistible. And when they're dairy-free and hand-mixing simple, well, that's right up my reluctant baker's alley.
The best thing ever about vegan brownies is that there are no eggs to ruin the bowl- and beater-lickin rite of passage. My mom was an excellent baker, and it's a standout memory of my youth, lingering around the kitchen, waiting for mom to let me have at the batter bowl. (There were raw eggs in everything for sure, but still I managed to survive, lol.)
In place of butter and eggs, we use vegetable oil for moistness and a combo of baking powder, and baking soda and vinegar, to create just a little lift. We're not going for cakey brownies here — fudgy vegan brownies rule! — so we don't have to worry about whipping out those flaxseed egg substitutes.
What? Baking soda and vinegar? Yuppers! You remember those science class experiments, with baking soda and vinegar volcanoes, I know you do. We're going to borrow just a little bit of that chemistry magic to ensure that our brownies aren't flat and lifeless. No worries! Your brownies won't foam everywhere, nor will you taste the vinegar.
See? Beautiful batter, beautiful vegan brownies.
Oh, and that drizzle on the brownies? Vegan chocolate glaze. Also rich with the mocha deliciousness of espresso powder.
Make it a family project and set the kids loose on the glaze, while you whip up the brownies. Let them do the drizzling, too, even if they can barely wield a whisk. Because I accidentally did some gloppy glaze applications on the brownies myself (visible in the photo below), and let me tell you, it detracted not at all from the enjoyment of these brownies.
Extra chocolate glaze! Bring on da glops!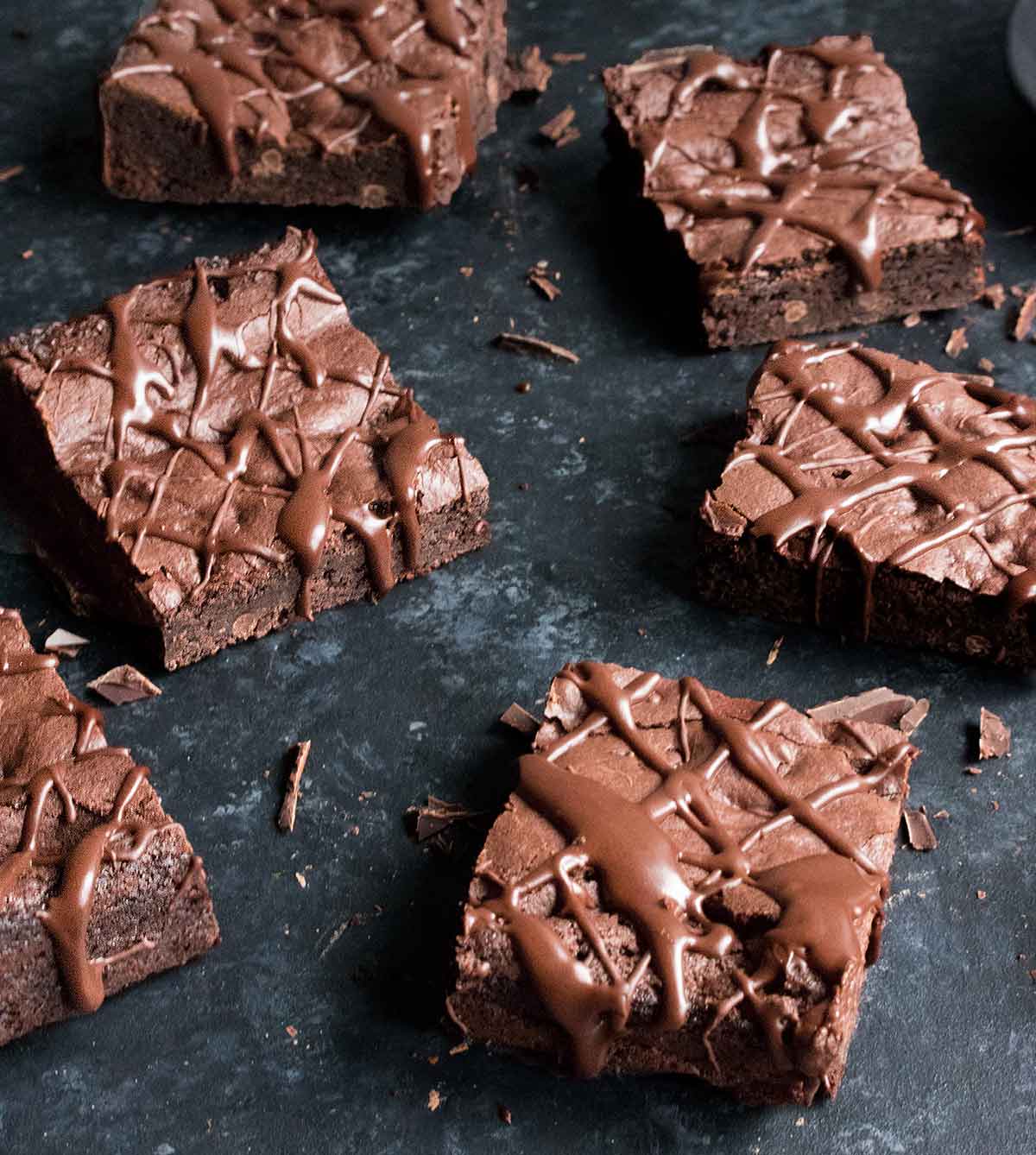 I love dessert recipes that can be pulled together without a lot of fuss, but have tons of reward.
Especially when the reward is chocolate flavored and full of vegan kindness. 😉
Karen xo
Print Recipe
Bowl-lickin' Mocha Vegan Brownies
Chocolatey, fudgy, rich, and satisfying, these vegan brownies are a chocolate-lover's treat, and so easy to make: no machines needed!
Ingredients
1

cup

all-purpose flour

1/2

teaspoon

baking powder

3/4

teaspoon

kosher salt

1/2

cup

boiling water

(measure after boiling)

1

ounce

unsweetened chocolate chopped finely

1/2

cup

Dutch-processed cocoa powder

1

teaspoon

instant espresso powder

1 1/4

organic sugar*

1/4

cup

vegetable oil

2

teaspoons

vanilla paste or quality extract

1/4

teaspoon

baking soda

1

teaspoon

apple cider vinegar

1/4

cup

bittersweet or semisweet chocolate chips**

1

recipe vegan chocolate glaze

(optional)
Instructions
Place one oven rack in the lower third position, and preheat oven to 350°F. Create a double-sling from parchment paper for a 9x9 metal baking pan.***

Whisk together the flour, baking powder, and salt in a bowl and set aside.

In a large mixing bowl, whisk together the boiling water, unsweetened chocolate, cocoa, and espresso powder until combined and chocolate is melted, then whisk in sugar, oil, vanilla, baking soda, and vinegar, too.

Switch to a silicone spatula and stir the flour mixture into the chocolate mixture until combined. Fold in the chocolate chips.

Scrape the brownie batter into the prepared pan, smoothing the top while pushing the batter to the sides of the pan.

Bake for 25 to 35 minutes, until a toothpick inserted off-center of the brownie comes out with just a few crumbs. Don't overbake. Remove and let cool for about an hour. Use the parchment overhang to lift the brownie square from the pan (I usually do this: on opposite corners of the pan, use your thumbs and forefingers to pinch the two adjacent strips of overhang together (you're essentially grabbing all four pieces of overhang at the same time), and gently lift straight up. This will keep the brownie square from sagging).

Drizzle the chocolate glaze over the brownie square, if using. A whisk does a great job of creating artistic squiggly lines. (There will be enough glaze to frost the entire brownie, but I prefer the balance of a drizzle, as it's quite sweet.)

Slice into 9 squares for a generous serving, or 16 squares for snacks. To store, keep in an airtight container at room temperature. The brownies will keep up to 5 days (although they probably won't last that long, if you know what I mean).
Notes
* Why organic sugar? Many conventional sugars are processed using charred animal bones to bleach the sugar (definitely not an acceptable vegan process!). Organic sugar is not processed in this way.
** Double-check the ingredient labels to ensure there are no dairy milk products in the chocolate. You might have to go the bar, rather than the chip, route, because it's easier to find vegan chocolate in bar form. Just chop into chip-sized pieces, and you're good to go.
*** Cut two pieces of parchment paper the width of the pan's bottom, long enough to overhang the edges when nestled into the pan. Spray the pan with non-stick spray or rub with a little oil (this will help the parchment stay in place). Lay one piece in one direction, and the second piece in the opposite, pushing the paper into the edges and corners. This way, the insides of the pan are covered with parchment for maximum non-stickage, and you'll be able to lift the brownie square out of the pan cleanly.
Nutrition
Nutritional information, if shown, is provided as a courtesy only, and is not to be taken as medical information or advice. The nutritional values of your preparation of this recipe are impacted by several factors, including, but not limited to, the ingredient brands you use, any substitutions or measurement changes you make, and measuring accuracy.
Pin Bowl Lickin' Mocha Vegan Brownies recipe for later:
Pinterest fans, if you'd like to save this recipe for later, use these images (or any image above) to pin to your boards (they're small here, but thanks to the magic of the interwebs, they'll be full size when you pin them). Thanks for sharing, and most of all, thank you so much for reading this post! Blogging wouldn't be any fun without you!