A thick and hearty soup with Andouille sausage and bold seasonings, Creole Lentil Soup is the perfect antidote to cold winter days!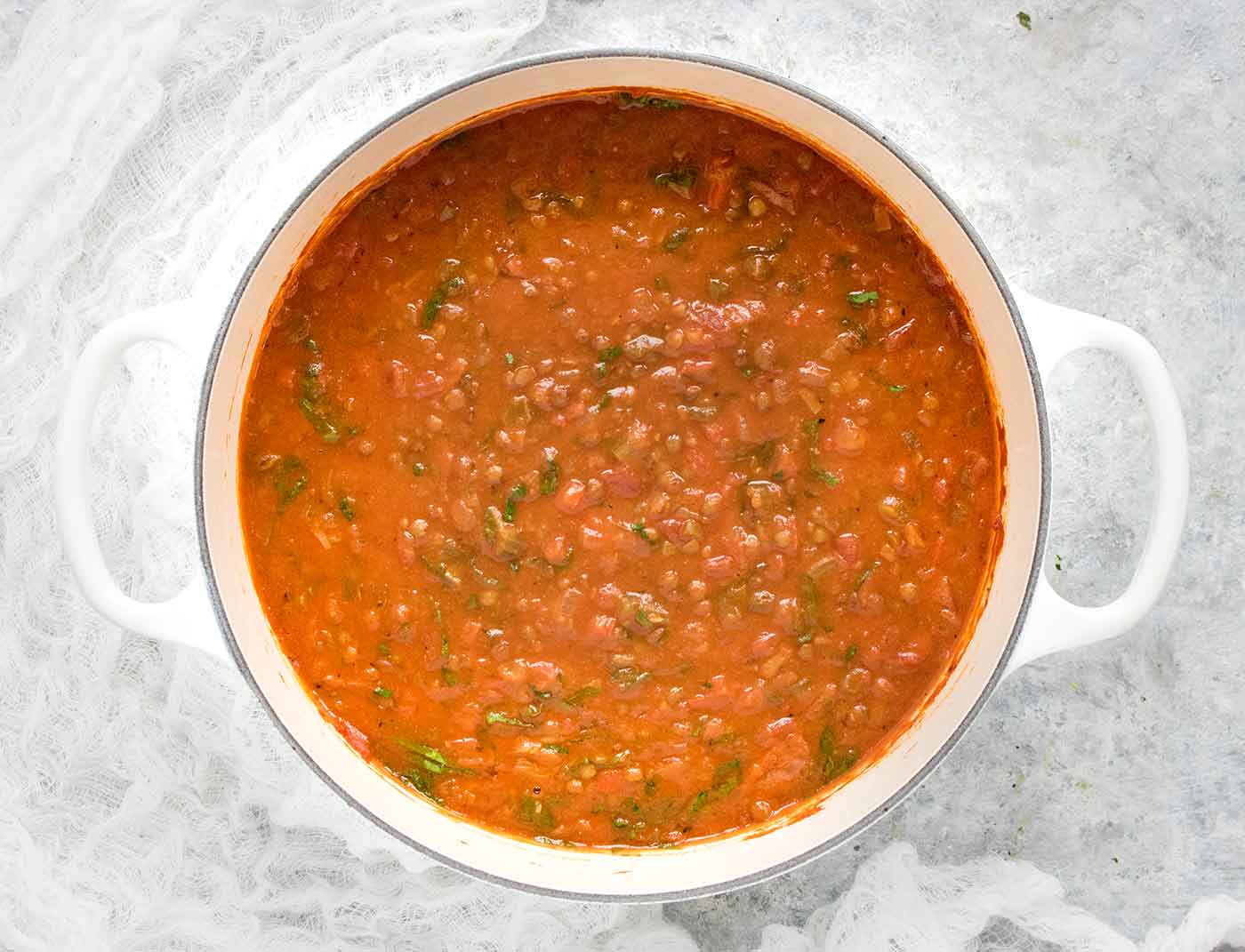 Maybe you can relate: I have seasonal and predictably cyclical tastes in food. In the summer, it's fresh homegrown tomatoes, all day, every day, peppered with crispy cucumbers and sweet corn. By fall, the appetite for thick, winter squash and creamy potato soups kicks in and holds strong, until a January need for loads of greens usurps December's party food indulgences.
While I do long for heirloom tomatoes in the cold depths of winter, mostly I want the things that are in season in my region. That's probably — at least partially — a side effect of being a life-long vegetable gardener.
But, February starts a very specific craving for Louisiana cuisine. I don't have a Southern bone in my body (indeed, my family's U.S. roots began in New York), but there's something about the Creole flavor palate that I'm completely drawn to. The bold spices, the rich roux, the shellfish focus (as opposed to fish, which is not my favorite, lol), the piquant sausages. You can pretty much throw these things into a pot, and be guaranteed a satisfying dinner. And that's a beautiful thing.
It might have started with the annual making of jambalaya soup for Mardi Gras, but, I don't even remember how/why that began, since we don't observe Lent. (I have a recipe for regular jambalaya on the blog here in 2011, but it's been going on even longer than that.)
But whatever the catalyst, by the time January exits, leaving its temperature nosedives in the wake, I'm ready for gumbos, jambalayas, etouffees and any random recipe that takes full advantage of Creole flavorings.
Creole Lentil Soup starts its journey with the classic Louisiana Holy Trinity of aromatics: onions, bell peppers, and celery. As important to Cajun/Creole cooking as mirepoix (onions, carrots, and celery) is to French, this flavorful blend sets the base of the soup. Use the trio in equal proportions.
For my own tastes, I usually prefer the Holy Trinity to the mirepoix, because carrots are sometimes (not all of the time, but sometimes) a touch too sweet for the types of savory soups I prefer.
Plus, bell peppers are just the cat's meow. In photographs on the interwebs, you'll often see green bell peppers used in the Holy Trinity — which is awesome, because they're available and inexpensive all year round — but don't hesitate to use the pricier sweet red bell pepper, or a blend of colors. It's all good.
I also snuck leeks into this recipe, because they add their own wonderfully unique onion flavor.
Just as a reminder: use only the white and light green parts of the leek, slice it open lengthwise, and rinse out the rings well before chopping. The dark green leaves are technically edible, but unpleasantly so, texture-wise. Instead, slice them up in big chunks and store in the freezer (along with other vegetable scraps) for the next time you make homemade soup stock, where they absolutely shine.
For this recipe, I highly recommend using either green French du Puy lentils (used in the photos here) or black beluga lentils. Red and brown lentils will cook up very soft (and red lentils will turn to mush) in this soup.
I prefer the al dente texture of the smaller and firmer French and black lentils. They take a little longer to cook than the more common red lentils, but are worth it for the texture.
Creole Lentil Soup with Andouille sausage straddles the wonderfully blurry line between soup and stew. If you cook it up and serve it immediately, it's a rich and hearty soup. If you make it ahead and stash it for later, it will become stick-to-your-ribs thick. Same deliciousness. Different texture.
I wouldn't recommend simply adding water or broth to the dish to re-soupify it. This would dilute the balance of seasonings you successfully accomplished when you made the soup.
Instead, if you need to make the soup ahead, my suggestion is to cook the soup and lentils separately, and then refrigerate them in separate containers. Combine when reheating.
If you're new to jambalayas and gumbos and the rich culinary savor of Creole cuisine, consider this soup an easy introduction to its charms, as well as a warm-up for my version of gumbo, which I'll be sharing later this month.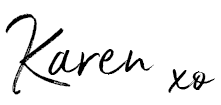 Print Recipe
Creole Lentil Soup with Andouille Sausage
A thick and hearty lentil soup, seasoned with Creole spices and lots of Andouille sausage.
Share via Text
Ingredients
1

tablespoon

butter or ghee

1

tablespoon

olive oil

plus extra

1

white onion

diced

1

small green bell pepper

diced

1

small red bell pepper

diced

1

small leek

chopped (white and light green parts only)

2

ribs celery

diced (about 1/2 cup)

4

cloves

garlic

minced

2

links Andouille sausage

sliced into half moons

1

tablespoon

tomato paste

1

tablespoons

Creole seasoning

prepared or homemade

1 1/2

tablespoons

flour

white wine

optional

2

cups

chicken or vegetable broth

10

ounce

can tomato sauce

14

ounce

can diced tomatoes

1/3

cup

dried French du Puy lentils

or black beluga

1

cup

spinach leaves

slices chiffonade

kosher salt
Instructions
In a 4 to 5 quart Dutch oven or stock pot, heat the butter and olive oil until melted and shimmering.

Add the chopped vegetables and saute until soft (5-8 minutes). Add the minced garlic and continue sauteing until fragrant.

Scoot the vegetables to one side of the pan, and add the sausage to the cleared area. Stir the sausage pieces in place until the edges are golden (3 to 4 minutes). Mix into the vegetables.

Scoot the sausage/vegetables to the side once again, and add a glug of oil to the cleared side. Add the tomato paste, seasonings, and a big pinch of salt to the oil, and stir to create a fragrant paste. Stir into the vegetables.

Sprinkle the flour over the vegetables and mix well. The vegetables will be thick and pasty. Add a splash of broth to loosen things up. Stir for several minutes, to cook the "raw" out of the flour.

If there is flour paste stuck to the bottom of the pot, use broth or a splash of white wine to deglaze the pan (white wine is very effective, but optional).

Add the remaining broth, tomato sauce, tomatoes, and lentils, and bring the soup to a light boil. Reduce heat to maintain a gentle simmer, cover partially with a lid, and let the soup cook for 40 minutes. Check occasionally, stirring well through. If too thick, add a small amount of water, and continue cooking.

When the lentils are cooked through (they should be plump and al dente but tender), turn off the heat and stir in the spinach. Taste, and add more kosher salt if needed.
Nutrition
Nutritional information, if shown, is provided as a courtesy only, and is not to be taken as medical information or advice. The nutritional values of your preparation of this recipe are impacted by several factors, including, but not limited to, the ingredient brands you use, any substitutions or measurement changes you make, and measuring accuracy.
Pin Creole Lentil Soup with Andouille Sausage recipe for later:
Pinterest fans, if you'd like to save this recipe for later, use these images (or any image above) to pin to your boards (they're small here, but thanks to the magic of the interwebs, they'll be full size when you pin them). Thanks for sharing, and most of all, thank you so much for reading this post! Blogging wouldn't be any fun without you!