Carrot Gazpacho is a light and lovely chilled soup that's perfect for the sweltering days of summer. Ever so slightly sweet with a hint of Asian influence, this soup goes well with a salad or sandwiches. A delightful appetizer at summer brunch! It's prepared in the blender for extra ease – no cooking, no heating up the kitchen!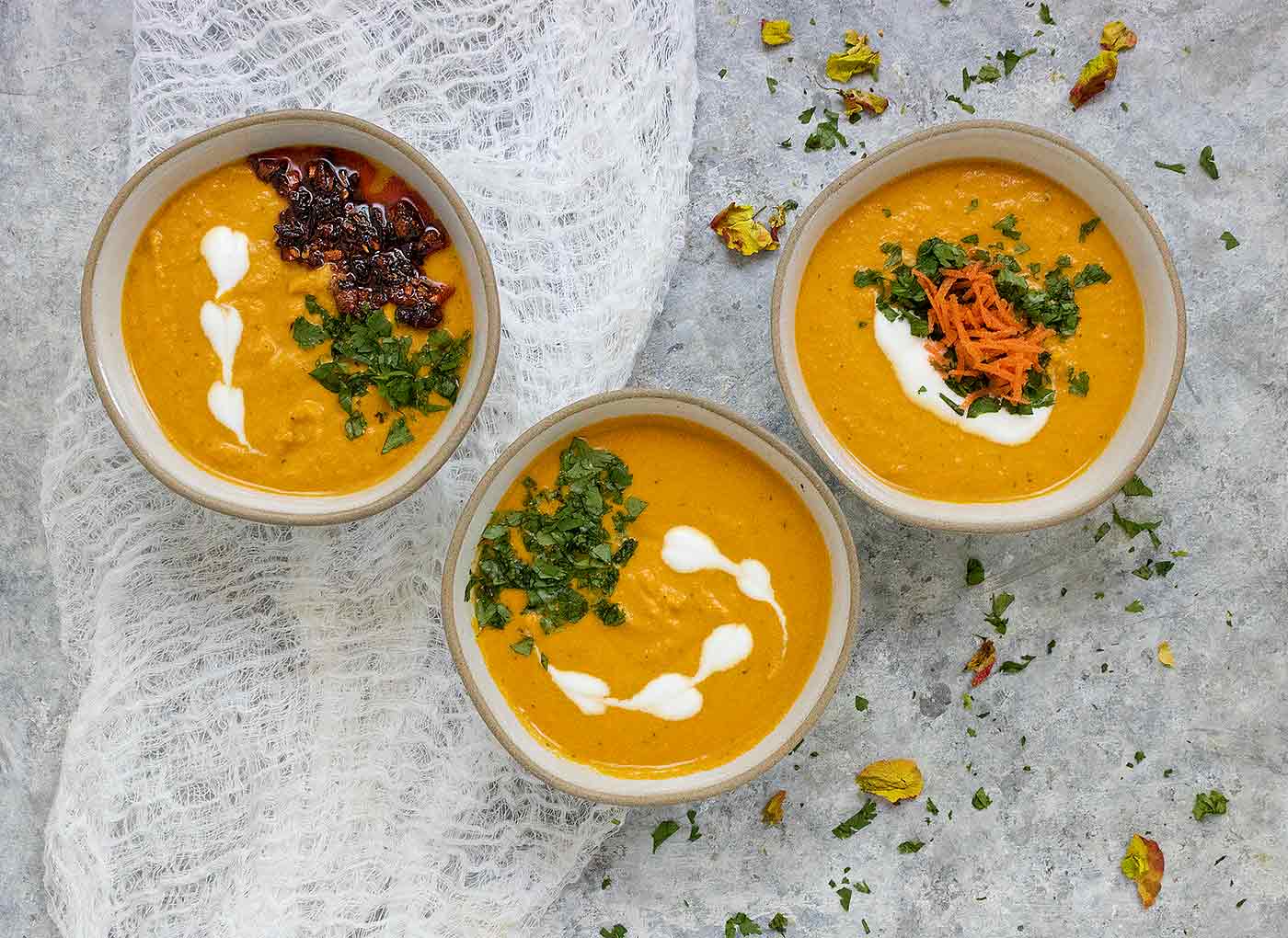 I'm never quite sure how people will react to a chilled soup because in the Midwest, foodies — and there are plenty of us here — certainly know about gazpachos and cold soup, but the average citizen?
I don't know. It's hard enough to get peeps to embrace a hearty winter soup as a full meal, much less convince them that a bowl of cold soup is going to hit the spot — any spot.
But, I'm going for it anyway.
The thing I love about this gazpacho is that the carrots take on a different role than you'd expect.
This is not my first carrot soup here on the blog — there are also these hot soups, Carrot Lemongrass Soup, Carrot Turmeric Miso Soup, and Carrot Ginger Soup — and I learned while making them that carrots lose their … well, their carrotyness in a soup, lending instead a slighty sweet vegetal something that's unique and delightful.
Like most gazpachos, this soup is smooth and light. It's actually quite refreshing, in my view, and is perfect as an appetizer at a light lunch, or as a side with a salad.
The great thing about the timing of this recipe is that it's not only chilled, but also that local carrots are in season, and if you can find (or grow!) carrot varieties that bred for taste and not survival in shipping, the soup will be all the better.
Let's dig in to the deets.
Prepare the Carrots
I'll be upfront with the challenge of this soup: Pulverizing raw carrots to smoothness requires some serious kitchen equipment. Ideally, a high-powered blender, such as a Vitamix (the model I have) or a Blendtec. A regular blender just isn't going to cut it.
But, let's work through some options here.
High-powered blender – this is your best bet, because you'll have a much easier path to breaking down the carrots into velvety goodness. Still, go easy. Chop the carrots into 1″ pieces. Don't be afraid to add liquids if the blender is bogging down. Water, bottled carrot juice, or coconut milk. These are all friends to the process, adding a little at a time until the blender jar contents are moving freely from top to bottom.
Regular blender, suggestion #1 – I'm not sure that chopping or dicing will do. You might have to shred the carrots. You can buy bags of pre-shredded carrots at the grocery, but they'll probably be the less tasty bulk carrots, rather than vibrant local carrots. Go easy with the blending — you don't want the motor to burn out. Make sure you have enough liquids, and in this case, I would recommend using bottled carrot juice — you can usually find small 12 oz bottles in the produce department, with the bottled smoothies; it might have other ingredients, but honestly, that's okay — so that you don't dilute the soup's flavor too much, as you'll need more liquids than with a high-powdered blender.
Regular blender, suggestion #2 – if your blender bogs down, you could try blanching the carrots for 5 to 7 minutes. Rinse to cool. This should soften them enough.
Regular blender, suggestion #3 – skip the whole carrots altogether and use 16 to 24 ounces of bottled carrot juice. Sometimes my grocery store bottles carrot juice in-house, made from whole carrots. The texture will vary significantly from one brand to another, depending on how much they strained the juice. The downside here is that you will not get the velvety lushness from juice that you would from using whole carrots. That will be a plus, though, if you prefer brothy soups over thick and smooth.
How to Make Carrot Gazpacho
Now let's put it all together. Remember, it all goes in the blender — so easy! The process below assumes a high-powered blender.
Blend the carrots: add a 1/2 cup of water (or bottled carrot juice) and a 1/2 cup of coconut milk (shake the can first!), followed by all of the carrots. Turn on the blender and, starting slowly, work the speed up towards high. If you see the mixture in the jar standing still, either use the plunger to stir, or stop the blender and add another 1/4 cup of liquid (or do both). Don't be concerned if it takes a couple of additions of liquids to get everything going. The goal is to make sure the soup doesn't get too brothy, so we're working up from too-thick to just-right.
Continue blending: when the soup is moving freely in jar, adjust the blender speed to medium-high (about 7 on a Vitamix) and let spin for 15 seconds or so. Check and make sure the soup is nice and smooth. Give it another spin if it looks too grainy.
Add all of the remaining ingredients: When the soup is smooth, add all of the remaining ingredients, plus a generous pinch of salt, and blend again at medium speed.
Stop and taste: The soup should be velvety smooth. Taste, and add more salt, and perhaps another splash of balsamic vinegar, if needed. The soup should have a vegetal sweetness with a hint of coconut milk, and a slight zesty tang from the ginger and balsamic vinegar.
This recipe makes about 32 ounces of soup – transfer to a container, cover, and refrigerate for at least 2 hours.
Before serving, stir well — if you stored it in an airtight lidded container, give it a shake — taste, and add another pinch of salt if you think it needs it. It's better to under-salt before refrigeration, because flavors will continue to develop during its chill, and you might find just a little during blending is more than enough.
You can top with some chopped cilantro, a small heap of finely grated carrots (not too much!), and a drizzle of extra virgin olive oil. If you want to get fancy and do some swirly SoupArt, you can use the thick coconut cream left in the can of milk, or some sour cream (if the coconut milk is too thin).
Note that, as you'll see in the photos with this recipe, I went an extra step with the Asian influence and spooned a little chile crisp on top of the carrot gazpacho.
My Midwestern Kroger mysteriously started carrying chile crisp during the pandemic, and I haven't been without it ever since. Good stuff!
Here's to refreshing carrot soup in the middle of summer!
More chilled soups to try:
Print Recipe
Carrot Gazpacho
A light and lovely chilled soup that's perfect for the extra hot days of summer. It's a blender soup that's completely prepared in the blender jar (except for vegetable chopping) for ease. Just refrigerate and serve!
Ingredients
1

pound

carrots

cleaned, peeled and sliced, chopped, or shredded

1

bottle

carrot juice – optional! – see instructions*

14

ounce

canned unsweetened coconut milk**

1

small

tomato, or 6 or 7 cherry tomatoes

chopped

1

rib

celery

chopped

1

small knob

ginger

peeled and roughly chopped (or 2 tsp of ginger paste)

1

tablespoon

chopped shallot

1

tablespoon

extra virgin olive oil

1

tablespoon

balsamic or white balsamic vinegar

cilantro stems and leafs

kosher salt
Suggested garnishes:
a swirl of reserved coconut milk

chopped cilantro

finely grated carrots

chile crisp

drizzle of evoo
Instructions
Using a high-powered blender, add the carrots and 1/2 cup of water/carrot juice and 1/2 cup of coconut milk to the blender jar. Starting slowly, begin blending, working up the speed a few notches at time.

If the mixture gets bogged down, stir with the plunger and/or stop blending and add additional liquids 1/4 cup at a time, and try again. The goal is move from too-thick to velvety smooth, without over-diluting the soup. You'll have to feel your way through this part a little bit, because it will depend on the tenderness of the carrots that you start with and the power of your blender.

When the soup is moving freely in the blender from top to bottom, stop and add all of the remaining ingredients, including the coconut milk and a generous pinch or two of salt. Blend until fully smooth.

Transfer to a container and refrigerate for at least 2 hours or overnight.

To serve, stir well and then spoon into small bowls and top with garnishes.
Notes
* You can replace water in this recipe with bottled carrot juice, for extra flavor. This will be helpful if you're using a regular blender and need extra liquids to process everything. But don't feel you need to make that extra purchase if you don't want to.
** Why canned? A good quality canned coconut milk, like Chaokoh, will be much thicker in consistency than boxed, and will make the soup creamier (especially if you're using bottled carrot juice). You can absolutely use boxed, though. Just make sure it's unsweetened.
Notes on vegetable prep:
If you have a high-powered, high-quality blender, such as a Vitamix or Blendtec, you can worry less about the size of the vegetables before blending. Because this is a raw vegetable soup, regular blenders will probably find carrots quite the challenge, and you won't have a smooth soup. See the blog post for other tips.
Nutrition
Nutritional information, if shown, is provided as a courtesy only, and is not to be taken as medical information or advice. The nutritional values of your preparation of this recipe are impacted by several factors, including, but not limited to, the ingredient brands you use, any substitutions or measurement changes you make, and measuring accuracy.