It's December, folks. And, honestly, I'm not mentally ready for the baking season. My psyche is still lagging behind in early fall, wondering where my tomato gardens disappeared to.
However, since it is the holidays, regardless of what my mental calendar says, and since baking must be done, it will be. Only, it has to be easy. It has to be fail-safe. And preferrably, do-ahead.
This cake is all that and more — and I haven't even gotten to the part where it's positively loaded with chocolate and Kahlua. (Two of my very favorite dessert flavors.)
Make it ahead of time without spending all dang day in the kitchen. Freeze it for a party later in the month. (Icing whips up with a whisk and a bowl lickety-split.)
Holidays, I've got you covered.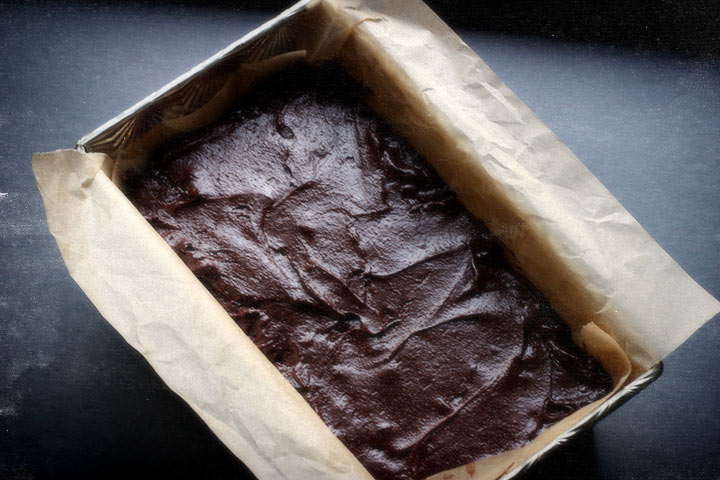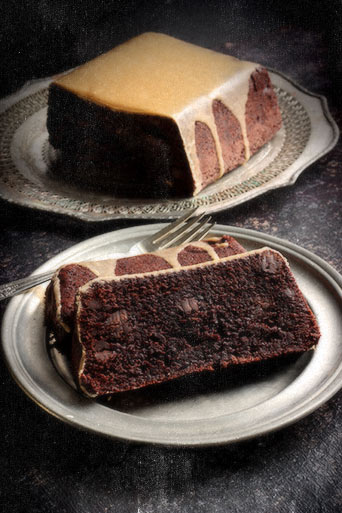 This is a chocolate-lover's pound cake on a bit of sugar high (remember, the pound cake formula is equal parts of butter, flour and sugar — this cake has a tad more sugar for a denser and good-keeping loaf).
One last thing: it always drives me a bit nuts when recipe writers say, "use quality ___," but, I have to say it: use the best quality unsweetened cocoa powder you can find. If your chocolate is lackluster, so will be your cake.
I simply adore Callebaut's Extra Brute. It's gloriously deep, dark red (which also makes amazing, no-hideous-red-food-coloring-added red velvet cake, btw), and has a straight-up chocolate flavor that knocks my socks off.
Karen xo

Print Recipe
Chocolate Chocolate Chip Cake with Kahlua Icing
This is a dense, very moist cake that freezes well for do-ahead gatherings (adding the icing after thawing). Just a thin slice will satisfy even the most diehard chocolate lover, so this cake serves a crowd.
Ingredients
for the cake:
1

cup

all-purpose flour

1/4

whole wheat pastry flour

(or use all A-P)

2/3

cup

unsweetened cocoa powder

1/2

teaspoon

baking powder

1/2

teaspoon

baking soda

1/4

teaspoon

salt

1/2

cup

1 U.S. stick butter, softened to room temp

1 1/2

cups

sugar

2

eggs

1

tablespoon

Kahlua

1

teaspoon

vanilla

1/2

cup

buttermilk

1/2

cup

chocolate chips
for the icing:
1

cup

powdered sugar,

sifted to remove lumps

3-4

tablespoons

Kahlua
Instructions
for the cake:
Preheat oven to 375°F. Butter a 9"x5" loaf pan. For easiest removal, line all sides with parchment paper (I make two "slings": one that fits the width the of the pan, with over hang; another strip that fits the length, with overhang.)

Stir together the flours, cocoa, baking powder, baking soda and salt in a bowl. Set aside.

Using an electric mixer, beat the butter until very soft and fluffy. Don't skimp on this step - it could take 2 to 3 minutes to reach fluffy, even though it looks smooth after just one minute.

Add the sugar and continue mixing until well-incorporated - it will be slightly sandy in texture.

Beat in the eggs, one at time, until the batter is smooth and light. Add the Kahlua and vanilla.

Pour in 1/3 of the flour mixture, combining until just incorporated. Pour in half of the buttermilk. Repeat both additions again, ending with the flour mixture (so, flour-buttermilk-flour-buttermilk-flour). Do not overmix. If you have to, stop the mixer between additions as you reach for your ingredients.

Using a wooden spoon or spatula, stir in the chocolate chips, distributing them as evenly as possible. The batter will be very thick, almost brownie-like.

Spoon the batter gently into the prepared pan and smooth out.

Bake in the center of the oven for 65 to 75 minutes. The cake is done when a tester inserted into the middle comes out almost clean (streaked, but not thickly coated). Do not overbake. The center of the cake will firm up a bit as it cools.

Leave the cake in the pan for 10 minutes, then turn out on a cooling rack to cool completely before icing.
for the icing:
Place the confectioners' sugar in a small bowl. Whisk in 3 tablespoons of the Kahlua until completely combined, with no lumps of sugar. Test the consistency by dipping the whisk into the icing and lifting. There should be a steady, slow stream of icing dripping from the whisk. If necessary, whisk in additional Kahlua, 1/2 tablespoon at a time, until it reaches desired consistency.

Drizzle the icing over the cooled cake, letting it run down the sides.
Notes
Note: If your pound cake falls in the center upon cooling, you can troubleshoot later, but meanwhile, save the cake: let the cake cook completely rough side up. Before icing, flip the cake over, bottom side up, and use that as your new top. I like to do this whenever I ice a pound cake, simply because the icing looks so smooth and beautiful, and readily drips down the sides. The smooth, perfectly flat surface also easily accommodates any toppings you might want to add, like sugared cranberries, or chocolate shavings.
Nutritional information, if shown, is provided as a courtesy only, and is not to be taken as medical information or advice. The nutritional values of your preparation of this recipe are impacted by several factors, including, but not limited to, the ingredient brands you use, any substitutions or measurement changes you make, and measuring accuracy.
Subscribe to the SoupAddict Weekly Digest and get new soups and other delish foods in bowls in your inbox!