A Southwestern staple, Green Chile Stew is incredibly easy to make, but surprises you with its amazing depth of flavor. Just a few humble ingredients create an irresistible stew that your whole family will love. It's the perfect traditional use for Hatch chiles, but any green chile can substitute.
Meet the surprise dish of my summer! A friend of mine was recently reminiscing about her time spent in New Mexico, and the classic southwestern Green Chile Stew came up in the memories.
I had never really given it much thought, that stew, being that I'm clear across the country on the eastern edge of the Midwest. But, I was sitting on a newly-arrived load of Hatch chiles, and I just couldn't argue with the timing of it all. It had to be made.
Green Chile Stew is a simple dish of humble ingredients and is as ubiquitous in New Mexican households as chili spaghetti is here in Cincinnati. Of course I googled it thoroughly before recreating the dish for the first time, and was happy to learn that variations on the basic recipe are not frowned upon.
I have to be me, and I was going to tweak anyway, but one never wants to unintentionally insult a native cuisine!
At its base, Green Chile Stew is just meat, potatoes, and what at first glance seems to be an alarming amount of green chiles. (Spoiler alert: it's absolutely not.) It's also quite common to add tomatoes, which I've done … and it's why the stew is red, not green: green chiles, red base.
But, I took a few extra liberties, too.
Green Chile Stew a la SoupAddict:
First off, I seasoned the pork before searing with the smoky flavors of guajillo chile powder (freshly ground) and smoked paprika. Guajillo chiles are dried, mild peppers with a deep, rich, earthy flavor and color. But feel free to use your favorite chili powder as a sub.
Speaking of pork: pork shoulder is the traditional cut for this stew, but it's also a rather significant chunk of meat to purchase. Here on SoupAddict, I like to keep my recipes in the range of 4 to 6 servings, which makes a 4-pound hunk o' pork a bit much, lol. Instead, I used pork ribs, which my local grocery store packages both on and off the bone (off FTW). It's a lovely cut that cooks up tender and succulent.
In addition to red onions, I added leeks to this dish. Leeks lend a welcome, distinct onion flavor to soups and stews, and I feel they work particularly well with meat-focused dishes (my most popular chicken soup is leek-loaded). They're definitely not traditional, but I think you'll enjoy the addition anyway.
I was quite surprised to learn this dish is often served with cheese. Surprised, and not just a bit skeptical. But, caught up in the spirit of things, I grated up some Parmigiano Reggiano and Asiago that I had in the fridge, threatening to go green at any moment. Deeelicious. The salty, aged cheeses added just the right amount of savory highlight to an already flavorful dish.
And I should mention that, yes, I did use authentic Hatch chiles (shipped right from Hatch, New Mexico) for this stew, but you shouldn't deny yourself the making of it simply because of an absence of freshly roasted Hatch chiles.
Many stores sell canned Hatch chiles, and even if you can't find canned Hatch, regular canned green chiles will work just fine. Just be sure to note mild vs. hot on the label, for your own preference.
Stew: thick or thin?
While I was researching green chile stew, I saw lots of photos where the dish appears rather soupy, instead of thick and porridge-like, which is how I normally prefer my stews. I left it soupy in all my preparations of it, in the spirit of authenticity (at least a nod to it, at any rate).
But, the texture of a stew is really easy to control, and you should definitely prepare it in the way that you and your family love best. Here are a few tips for thickening it up, if thick is your jam:
Add a little more of the potatoes than I call for here, and cut them into smaller cubes.
At the end of cooking, you can gently use an old-style potato masher, right down into the stew, to smoosh the potatoes a bit, so that they fall apart in starchy goodness. Or fish out a portion of the potatoes to a bowl, smash them, and return them to stew.
You could add about a tablespoon of all-purpose flour to the onions and leaks at the end of their saute. Stir well to coat. Add a splash of the broth, and let this mixture cook for a few minutes, then continue with the recipe.
You could make a cornstarch slurry: in small bowl, whisk a tablespoon of cornstarch with two tablespoons of chicken broth until smooth. Add the slurry to the stew at the time you add the remaining broth. The stew will thicken a bit as it cooks.
For a different kind of "thickness," you could also use more pork, sliced into slightly smaller cubes. This won't thicken the liquid, but will add bulk to the stew.
However you prefer your stew, thick or thin, mild or hot, I hope you'll try Green Chile Stew, and that it will become part of winter menu.
Karen xo
Print Recipe
Green Chile Stew
A Southwestern staple, Green Chile Stew is incredibly easy to make, but surprises you with its amazing depth of flavor. Just a few humble ingredients create an irresistible stew.
Ingredients
1 1/2

pounds

pork*

, trimmed and cut into 1" cubes

2

tablespoons

all-purpose flour

1

teaspoon

smoked paprika

1

teaspoon

mild chili powder

1/2

teaspoon

garlic powder

2

tablespoons

olive oil

1

small onion

, diced

1

small leek

, chopped (white and light green parts only)

3

cups

chopped

, roasted green chiles** (about 24 ounces)

3

cloves

garlic

, minced

3/4

pound

of baby potatoes

, sliced into 1" pieces (I like Yukon gold)

15

ounces

diced tomatoes

3

cups

chicken broth

kosher salt

chopped parsley

, for garnish

shredded

, aged cheese, optional (such as parm or asiago)
Instructions
Add the pork, flour, and spices to a large zipper bag, and shake to coat. (To avoid using plastic, you can use a medium bowl instead, turning the pork with your hands to coat.)

Heat one tablespoon of the olive oil in a 4 to 5 quart Dutch oven or stock pot over medium heat, until the surface shimmers.

Add the seasoned pork in a single layer. Note that you might have to cook the pork in batches. Sear the pork cubes on all sides, then transfer to a plate. (Each batch will take about 5 minutes.)

Carefully wipe out the pot with a thick wad of paper towels to remove any excess spices left from the pork. It might be tempting to leave them, but, they'll likely burn.

Use a splash of the chicken broth to deglaze the spices that stuck to the pot (leave them in). If the pot has boiled dry after the deglazing, add the remaining one tablespoon of olive oil.

Add the onions and leeks, and saute until soft, about 5 minutes.

Add the green chiles, garlic, and baby potatoes. Stir to mix.

Return the seared pork cubes to the pot, along with the tomatoes. Stir everything well.

Pour the chicken broth into the pot, just to cover stew ingredients. You might not use all of the broth. (In the unlikely event that you're short, use water to top it off.)

Increase heat to medium-high and bring to a boil. Then reduce heat to medium-low, to maintain an active simmer.

Cover the pot partially with a lid, and cook for 45 minutes to an hour. The stew is ready when you can easily pierce the potatoes with a knife. Taste and add salt as needed. Sprinkle parsley over the top.

Ladle into bowls, and add cheese if desired - it's really good with a little salty aged cheese like parm or asiago.
Notes
* The traditional pork cut for this stew is pork shoulder (butt). However, that's a huge cut of meat, and I couldn't find anything less than 4 pounds. Which is fine if you're going to double this recipe. Instead, I used pork ribs (I found them packaged off the bone - they were was very nice and tender).
** I used freshly roasted Hatch chiles for the photos in this recipe, which were amazing, and very traditional. However, feel free to substitute canned green chiles (mild or hot ... or a mix of both ... your choice). In my area, green chiles are packed in 4 ounce cans, so you'd need six cans. Which sounds like a crazy amount, but once you taste the stew, you'll understand.
Nutrition
Nutritional information, if shown, is provided as a courtesy only, and is not to be taken as medical information or advice. The nutritional values of your preparation of this recipe are impacted by several factors, including, but not limited to, the ingredient brands you use, any substitutions or measurement changes you make, and measuring accuracy.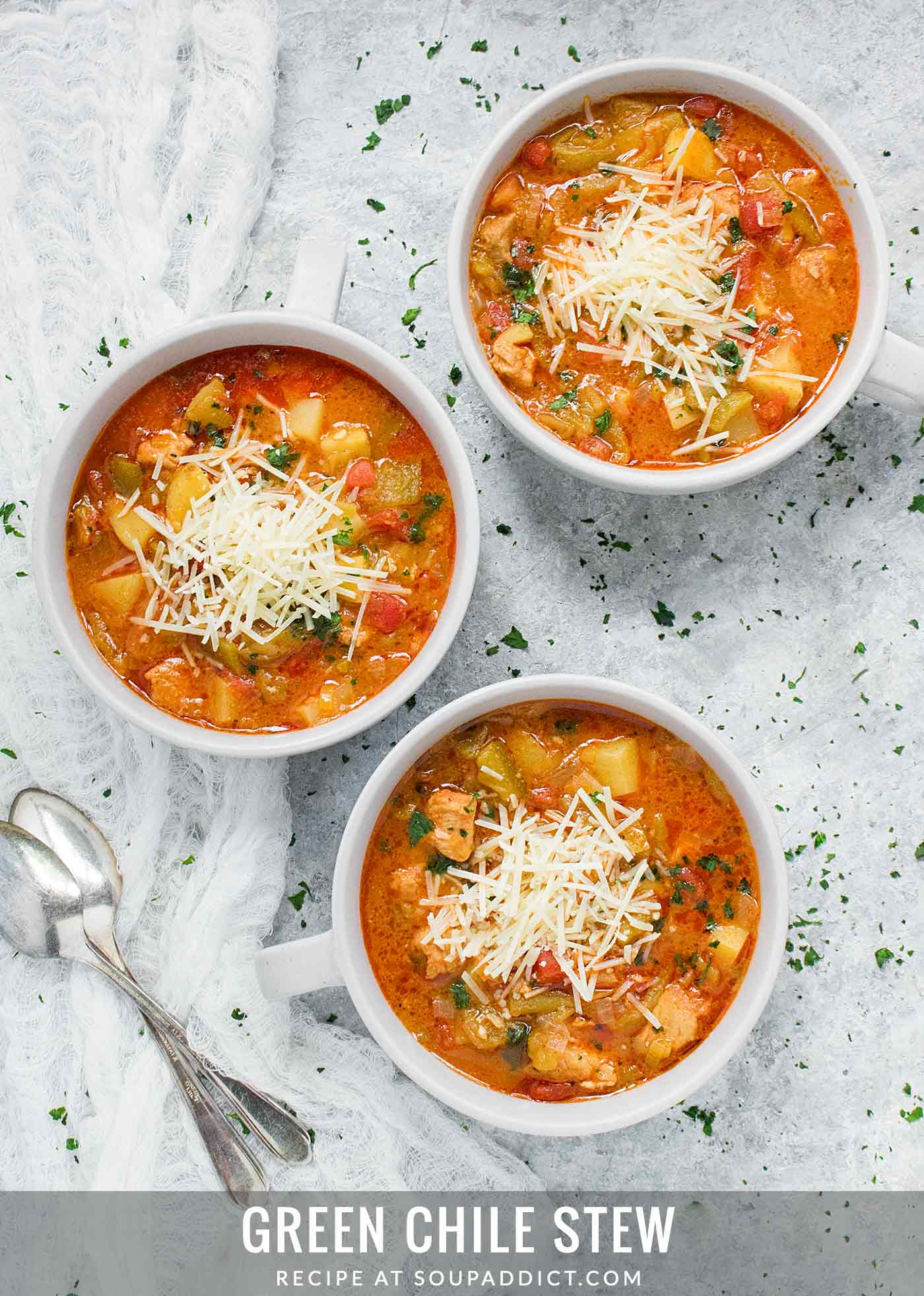 Subscribe to the SoupAddict Weekly Digest and get new soups and other delish foods in bowls in your inbox!