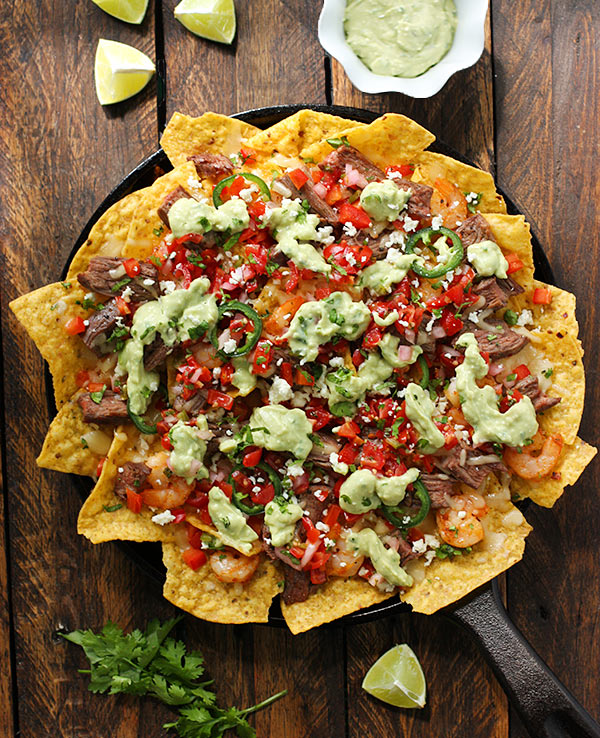 Oh, June. June June June.
Slow down.
Please.
June is the one month that feels like kick-back-and-relax, everything-is-right-with-the-world Summer. Bright blue skies. Reasonable heat, low humidity. Once the 4th of July passes, summer starts to take on a certain acceleration — like when you crest that first monster hill on a roller coaster and barrel down the other side.
Slow down, June, because there's so much more grilling to do, and summer food is just starting to take hold, and you have the best outdoor party weather, bar none.
For all of us nacho fans — steak nachos, shrimp nachos, cheeeeesy, loaded nachos — I'm so happy today to bring you super party nachos! Surf 'n turf nachos with spicy seasoned, grilled steak and shrimp over hardy, crispy corn tortillas, and a special cheese sauce full of avocados and Mexican cotija cheese. Hello, Summer!
And to gild the lily, there's a fresh margarita pico de gallo. That's right! I made a really pretty pico de gallo and on a whim, tipped in a splash of tequila. I let it all sit overnight, to test the overnight sitableness of the salsa, and wow, was it good. A twist on a summer favorite. (The tequila is totally optional, of course, if kids will be at your surf 'n turf nachos party.)
But let's get back to that cheese sauce for a second. My love of the avocado continues, and my new discovery of cotija cheese (why do I always feel late to the ingredient party!) first led me to create this crazy wonderful party dip recipe for Cinco de Mayo.
And that's how I fell in love with cotija cheese. Never had cotija cheese? If you love the tangy cheeses, like feta and goat, this is the flavor marriage between them: goat cheese's creamy-rich, just-a-touch-of-tang goodness with feta's crumbly sharpness. My Kroger carries plenty of it: in the international/Mexican aisle's refrigerated unit, and also at the in-store Murray's Cheese shop.
It will be my summer go-to cheese, for sure.
Oh, and when you're spreading the avocado cotija sauce over the nachos, reeaaally spread it on, not like in the photos here, where I used some [barely reined-in] restraint so you could see the steak and shrimp and pico de gallo underneath. (Rest assured, the full recipe of avocado cotija sauce was later applied for taste-testing.)
In case surf 'n turf nachos sound too fussy to be party nachos, I did some extra testing (such a hard life, having multiple batches of nachos in the house) to ensure that the make-ahead parts will still taste fabuloso on party day). (Verdict: they do!)
But honestly, I don't think you really need to wait for a party to enjoy surf 'n turf nachos. I think it's Wednesday, or I finally remembered to buy more fabric softener, or what do I do with this extra avocado? is plenty reason enough.
Karen xo
Print Recipe
Grilled Surf 'n Turf Party Nachos with Avocado Cotija Sauce
This seems like a long recipe, but no worries: it's totally doable and is an awesome party appetizer. The pico de gallo and avocado cotija sauce can be made up to a day ahead; marinate the steak and shrimp earlier in the day so everything is ready to go. If making an extra large batch, a paella pan works great!
Ingredients
for the margarita pico de gallo
1/2

cup

chopped tomatoes

juice from 1/2 of a lime

2

tablespoons

minced red onions

1

tablespoon

minced jalapeno peppers

1

tablespoon

minced cilantro

2

teaspoons

tequila

1

teaspoon

honey or agave syrup

1/2

teaspoon

kosher salt
for the avocado cotija sauce
1/3

cup

cubed avocado

1/4

cup

sour cream

Salvadoran sour cream is excellent

2

tablespoons

cotija cheese

crumbled (or sub a salty cheese like feta)

juice from 1/2 of a lime

1

tablespoon

minced cilantro

1

tablespoon

chopped green onion

1/4

teaspoon

kosher salt
for the nachos
12 - 16

ounces

flank steak

1/2" thick, trimmed of fat and membrane

6

ounces

raw shrimp

medium, peeled, deveined, tail off

olive oil

for marinating

2

teaspoons

chipotle seasoning blend or chili powder

1

large bag sturdy tortilla chips

1/2

cup

chopped red bell pepper

1/2

jalapeno pepper

sliced into rings

2

cups

grated quesadilla cheese

1

tablespoon

minced cilantro

for garnish
Instructions
for the margarita pico de gallo
Gently toss all of the ingredients in a small mixing bowl. If possible, let set for an hour or more.
for the avocado cotija sauce
Add all ingredients to a blender or food processor (or a tall container to use with an immersion blender) and blend until smooth.
for the nachos
Preheat the grill to medium-high and prepare for direct grilling. Clean and oil the grates.

Brush both sides of the steak with oil. Sprinkle 1 1/2 teaspoons of the seasoning over both sides and rub.

Brush the shrimp with oil and sprinkle with 1/2 teaspoon of the seasoning. Toss to coat all sides with the seasoned oil.

Place the steak directly on the grill grates on one side of the grill. Lay a sheet of foil on the other side. Spray with non-stick spray, and add the shrimp in a single layer (or, string the shrimp in skewers and place them directly on the grill grates).

Turn each shrimp after 2 to 3 minutes, and grill for 2 minutes more. The shrimp are cooked when plump, completely opaque with pink edges. Remove from heat.

Grill the steak on side for 3 to 4 minutes, then flip and grill for 3 minutes more (or until your desired doneness). Remove to a cutting board, cover with foil, and let rest for 10 minutes (keep the grill going). Slice into short, thin strips.

In a large fire-proof pan (such as a cast iron skillet or paella pan), layer tortilla chips to completely cover the bottom. Sprinkle about 2/3rds of the quesadilla cheese over the chips. Spoon the steak and shrimp over the chips, distributing them evenly around the pan. Spread the chopped bell pepper and jalapeno rings over the steak and shrimp. Sprinkle the remaining cheese over the top.

Place the pan back on the grill and heat for 8 to 10 minutes, or until the cheese has melted.

Remove pan from the grill. If necessary, drain the pico de gallo of excess liquids. Spoon the pico de gallo over the nachos. Spread or dollop the avocado cotija sauce over the nachos. Be generous with the sauce! Garnish with minced cilantro and serve.
Nutritional information, if shown, is provided as a courtesy only, and is not to be taken as medical information or advice. The nutritional values of your preparation of this recipe are impacted by several factors, including, but not limited to, the ingredient brands you use, any substitutions or measurement changes you make, and measuring accuracy.