Smoky tempeh and spicy kimchi are a craveable combination and make awesome tacos! Top these kimchi tacos with avocado cubes and a quick homemade Gochujang aioli, and you have a healthy and irresistible Vegan Taco Tuesday dinner that the whole family will love!
Major tip for anyone trying to help their family incorporate more plant-based meals in their diet: Everyone loves tacos! 😀
Tacos are a universal food: everything tastes great on a taco shell. And this recipe's Asian-leaning ingredients are no exception. In fact, they're a great example of just how flexible the taco delivery system can be.
Are you a fan of kimchi? In theory, I love kimchi. In practice, I take a few bites aaaaannnd I'm done. It's the red chili gochugaru spices: not so much that it's hot but rather that it anesthetizes my taste buds, and after those first bites, all I taste is sour.
But kimchi in stuff: now that I can get behind. A stir fry with a big helping of kimchi tossed in at the end? Noms. Kimchi in ramen soup? Yes, please.
And now, kimchi tacos.
On a whim, I pan-fried up some smoky tempeh that was about to go sideways in my fridge, and added that to my kimchi taco taste-testing. Happiness ensued.
You know about smoky tempeh, right? It's fermented tofu that's been marinated in seasonings meant to resemble bacon. I personally don't think it tastes anything like bacon, lol, but the smoky flavorings are a nice touch, and combine really, really well with kimchi.
Keep it simple and top your kimchi and smoky tempeh tacos with some avocado and green onions. So easy, extra so-delish.
And don't forget the gochujang aioli. I don't know if this is even something you can buy prepared, but it's so easy and economical to whip up at home that it's not even worth tracking down. I'm super picky about spicy things — not a fan of cayenne pepper, or gochugaru, but I do like, say, serrano chilis and chipotles — and gochujang paste is something I always keep in the fridge. I use gochujang paste wherever I might otherwise add sriracha.
You don't need any special equipment to make a batch of gochujang aioli: a bowl and a whisk will do just fine.
Celebrate Taco Tuesdays with an easy, healthy, unique and tasty taco! Vegan and gluten-free, too.
Karen xo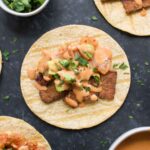 Print Recipe
Kimchi Tacos with Gochujang Aioli
Spicy, savory, smoky tempeh tacos with super healthy kimchi and homemade Gochujang aioli are weeknight easy (make the aioli ahead), but so flavorful you'll go back for seconds (or thirdsies!) Vegan, gluten-free.
Ingredients
for the Gochujang Aioli
1/2

cup

vegan mayo or homemade cashew cream

2

tablespoons

Gochujang sauce

2

teaspoons

rice vinegar

2

teaspoons

spicy brown mustard
for the Tacos
6

ounces

smoky tempeh(sometimes called "fakin bacon") sliced into strips 1/4" thick by 2" long.

1

cup

Kimchi well-drained*

1

avocado peeled and cubed

6

corn tortillas warmed**

green onions sliced for garnish

cilantro minced,

for garnish
Instructions
make the Gochujang Aioli
Whisk together the aioli ingredients until completely combined. Set aside.
make the tacos
Heat the smoky tempeh according to package directions (usually: pan fry over medium heat until slightly crispy).

Divide the tempeh strips among the warmed tortillas.

Spoon kimchi over the tempeh.

Top with avocado and green onions.

Drizzle the aioli on top - it's spicy so use more or less according to your preferences.

Garnish with cilantro, and serve
Notes
* drain the kimchi in a wide mesh sieve over a bowl, then return the drained juice to the jar to keep the remaining kimchi covered with liquids.
** follow the package directions to warm the tortillas. Or, stack them on a microwaveable plate separated by damp paper towels, and heat on high for 20 seconds, and wrap in foil to hold.
Nutritional information, if shown, is provided as a courtesy only, and is not to be taken as medical information or advice. The nutritional values of your preparation of this recipe are impacted by several factors, including, but not limited to, the ingredient brands you use, any substitutions or measurement changes you make, and measuring accuracy.
Pin Kimchi Tacos recipe for later:
Pinterest fans, if you'd like to save this recipe for later, use these images (or any image above) to pin to your boards (they're small here, but thanks to the magic of the interwebs, they'll be full size when you pin them). Thanks for sharing, and most of all, thank you so much for reading this post! Blogging wouldn't be any fun without you!