A super easy appetizer featuring a creamy ranch spread topping, and loads of rainbow vegetables, perfect for summer cookouts, birthday parties, and showers. This crowd-pleasing Ranch Veggie Pizza Appetizer is a recipe collaboration sponsored by Hidden Valley as part of a partnership with Walmart and their Fight Hunger campaign. All thoughts and opinions are my own.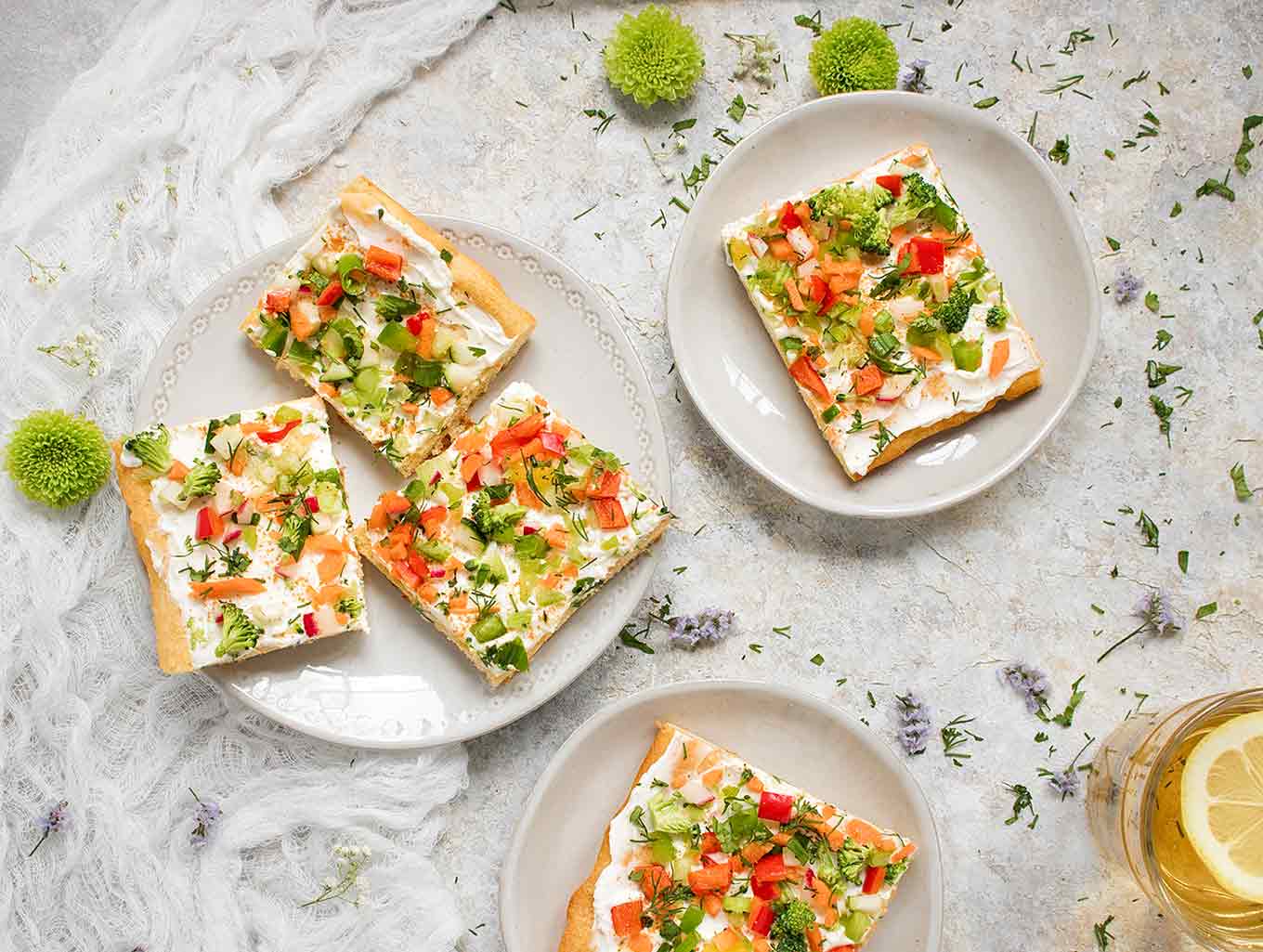 This recipe is an intersection of a lot of things that I love and are important to me. It's a fondly remembered appetizer that first appeared at family gatherings during my college years. My mom was a fabulous party thrower, and her food spreads were legendary.
In fact, they made me into the appetizer lovin' person I am today. The perfect summer party isn't about burgers and potato salad — I'm all about the appetizers and crudités and charcuterie boards!
And this appetizer is a great fit for me: it's pizza, and it's vegetables nestled on a cloud of smooth Hidden Valley® Original Ranch and cream cheese. Served at room temp, it's a tasty nibble that keeps you going back for more.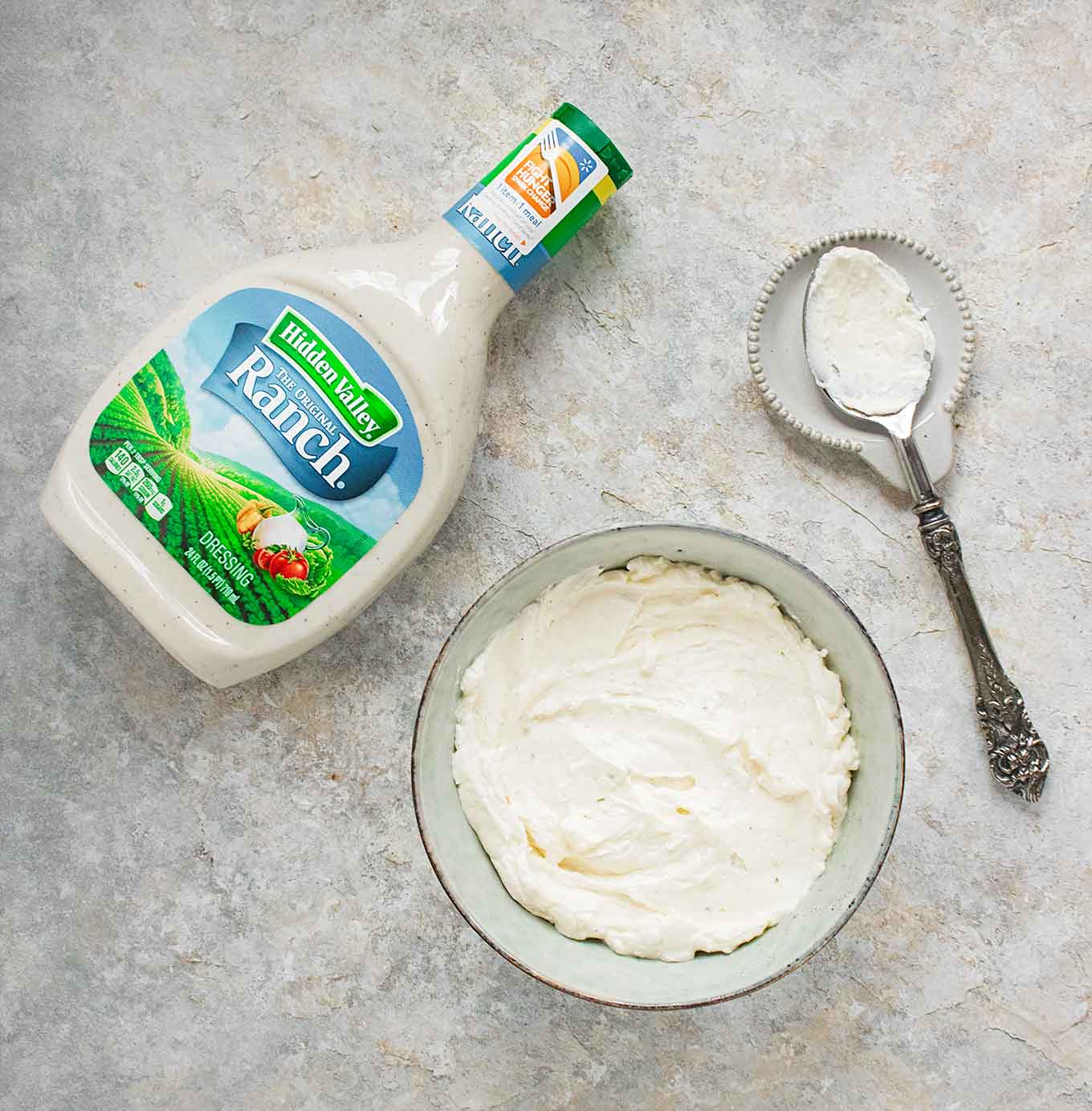 In my youth, a variation of this appetizer was known as Cool Ranch Vegetable Pizza, or something like that, but, I don't have mom's recipe anymore, so grown-up me just had to wing it, lol.
It's a no-fail recipe that's a guaranteed crowd-pleaser. Hidden Valley Ranch dressing is such a classic accent for vegetables (ranch salads!), and its tangy, herbaceous creaminess creates an irresistible "white pizza sauce" for this appetizer.
So easy, too: if you can stir, you can create the ranch spread!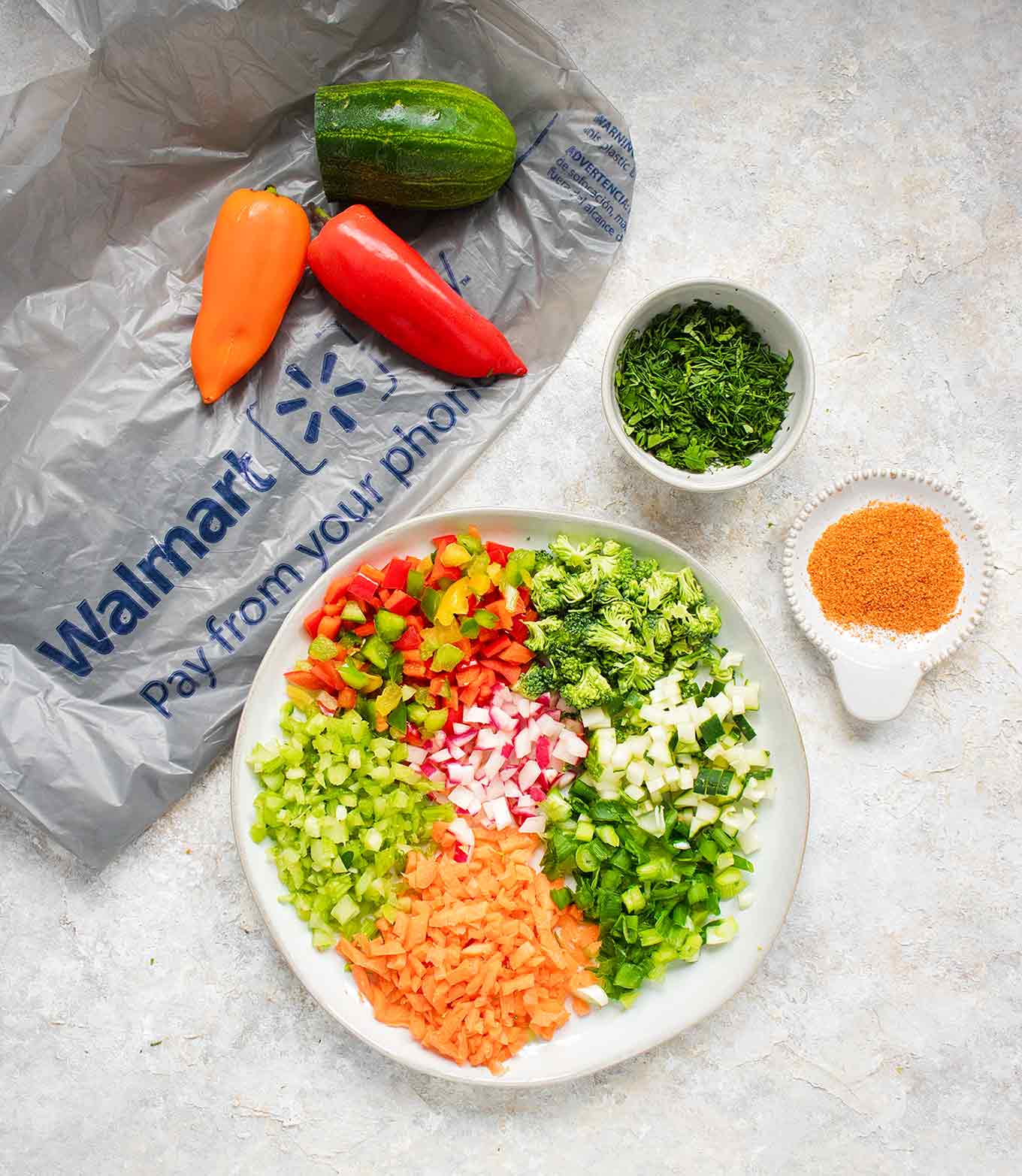 And what makes me particularly happy about bringing you this recipe today is featuring Hidden Valley Ranch's partnership with Walmart and their Fight Hunger, Spark Change campaign on behalf of Feeding America.
When you shop at Walmart and choose a participating product — such as the bottle of Hidden Valley Ranch displaying the Fight Hunger label on the neck — your purchase will translate into one meal for a person in need through local food banks.
As a home cook, food lover, and vegetable gardener, fighting hunger in my community is a top personal cause. Hidden Valley Ranch and Walmart have made it easy for all of us to make a difference in people's lives, with just a simple shopping trip.
How to Make a Ranch Veggie Pizza
This appetizer is easy to make and can prepared the morning of and stashed in the fridge until party time.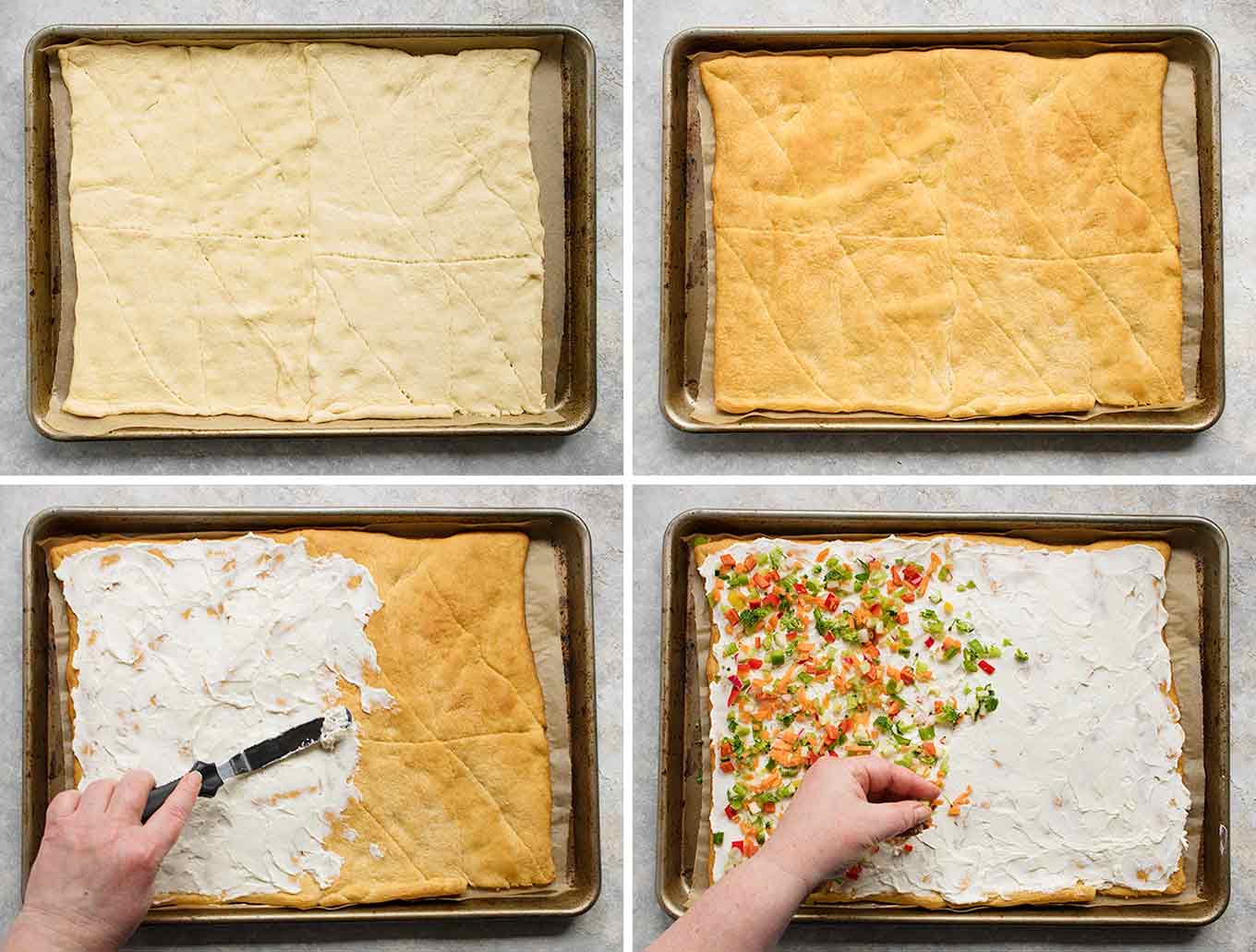 Make the Hidden Valley Ranch Cream Cheese Spread
Equipment you'll need: medium mixing bowl and a sturdy spoon.
Add the ranch dressing, softened cream cheese, sour cream, and mayo to the bowl, and stir until smooth. The spread will be thick, as it needs to coat the crust, rather than drip from it.
If time allows, prepare this hours in advance — or even the day before — cover, and let rest in the fridge to allow all of the flavors to marry.
You don't have to bring the spread up to room temperature before spreading.
Bake the Crust
Equipment you'll need: A rimmed half sheet baking pan lined with foil, parchment paper, or a silicone mat (for easy clean-up).
Unroll both cans of crescent dough into flat sheets. Arrange them side by side on the baking pan. I've found they fit best with the long sides of the dough laid across the width of the pan. There will open space on either side (see photo above).
Press and pinch the seams closed, along with any visible perforations in the dough. No need to be finicky about it: it will all be hidden by the Hidden Valley Ranch cream cheese spread!
Bake until golden, according to the directions on the packaging. Check the crust at the 10 minute mark. Because you're baking the dough flat instead of rolled into biscuits, it might need less time.
Remove from oven and let cool completely in the pan.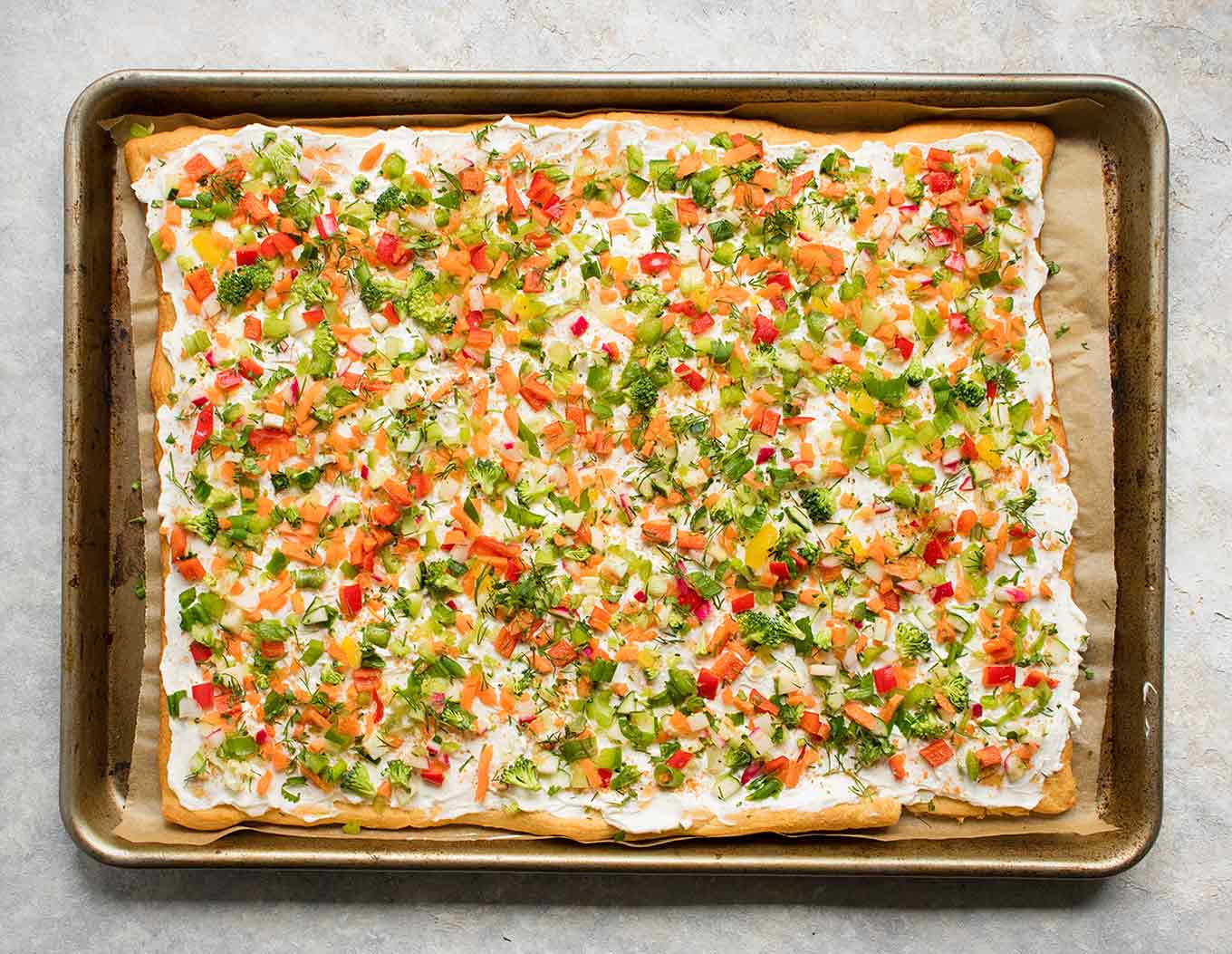 Prepare the vegetables and herbs
Equipment you'll need: Sharp chef's knife, cutting board, bowl.
While the crust bakes and cools, clean and dry the vegetables.
Chop all of the vegetables in a fine dice of the same size. You want them to sit neatly and securely on the ranch cream cheese spread. A fine dice also creates a pleasant bite, with a nice mixture of veggies in each taste, rather than a large chunk-of-something.
You'll need about three cups of diced veggies. I used about half each of red, yellow, green bell peppers, a small cucumber, a few broccoli florets, one green onion, 2 radishes, 2 ribs of celery, and one small carrots. It's better to have too much on hand, than too little. You can always cut the extra veggies, for crudites.
Set the prepared veggies aside.
Use your favorite fresh, leafy herbs, such as dill, cilantro, parsley, tarragon, and/or basil. Wash them well and dry them between towels. Then chop finely with a thin-bladed knife.
You can also prepare the veggies ahead of them, and store them in a bowl in the fridge for an hour or two.
Assemble the Pizza Appetizer:
Equipment you'll need: Offset spatula. Sharp knife or pizza cutter.
Spread the Hidden Valley Ranch cream cheese evenly over the crust. Create a layer just thick enough to hide the crust underneath. You'll have some leftover (see below).
Sprinkle the diced veggies over the spread, edge to edge.
Gently pat the veggies into the spread, so they'll stick.
Season the veggies with generous shakes of seasoned salt. You can use it straight out of the shaker; no need to measure — use your judgment. This seasons the veggies, so they'll taste their best.
Sprinkle the herbs over the pizza.
Use a sharp knife or pizza cutter to slice the pizza into squares. The size of the squares is up to you. Create large squares for more of a side dish, or small squares for three-bite appetizers.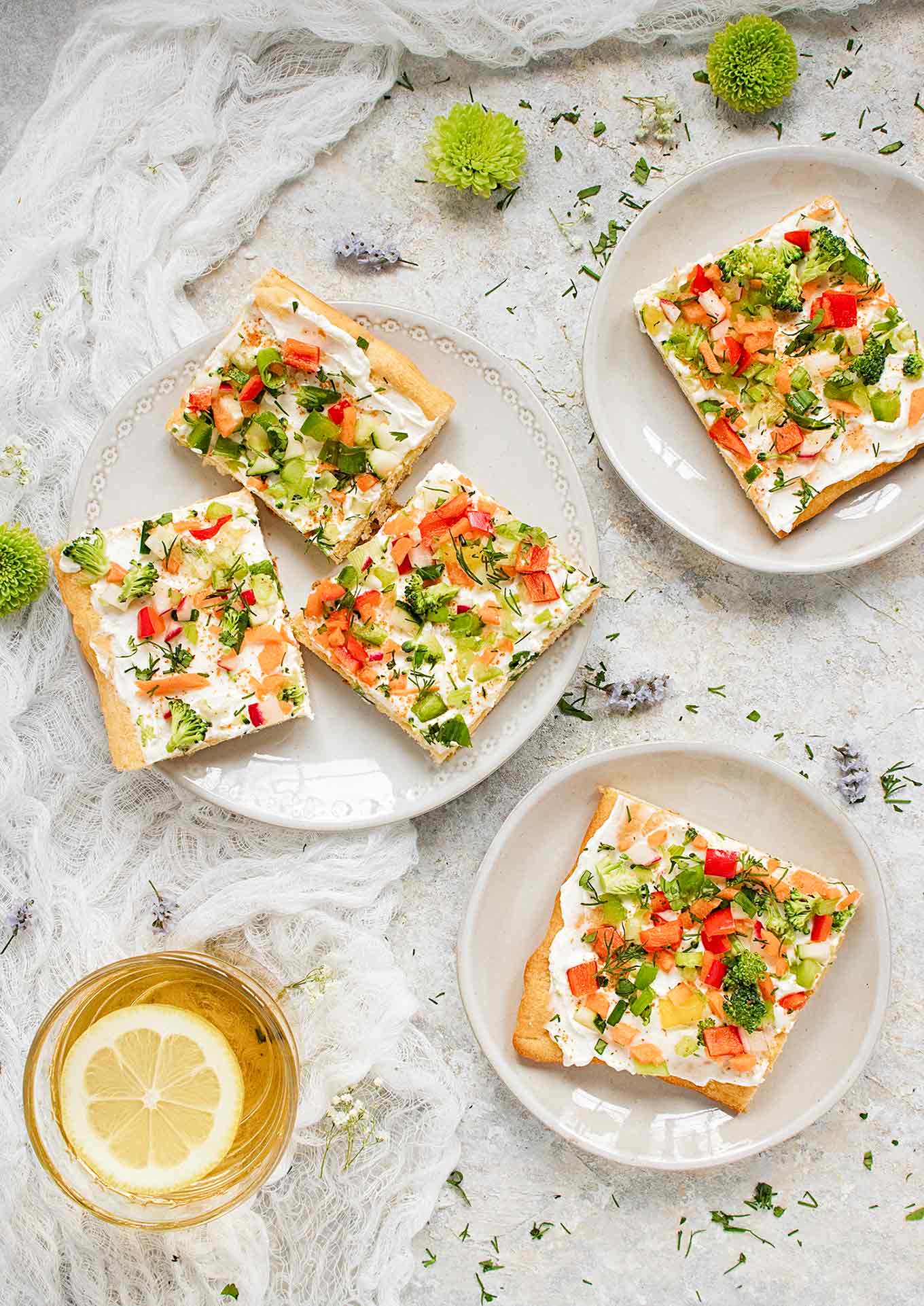 To serve:
If preparing ahead of time, you can slide the pan into the fridge and hold for several hours. I wouldn't recommend preparing it the night before, as the cream cheese will begin to dry and crack.
If desired, transfer the squares to a serving platter. They can be stacked on top of each other, two layers deep.
There's nothing saying, however, that you can't serve them right out of the baking pan!
I just love the bright and colorful presentation this appetizers adds to a party foods table!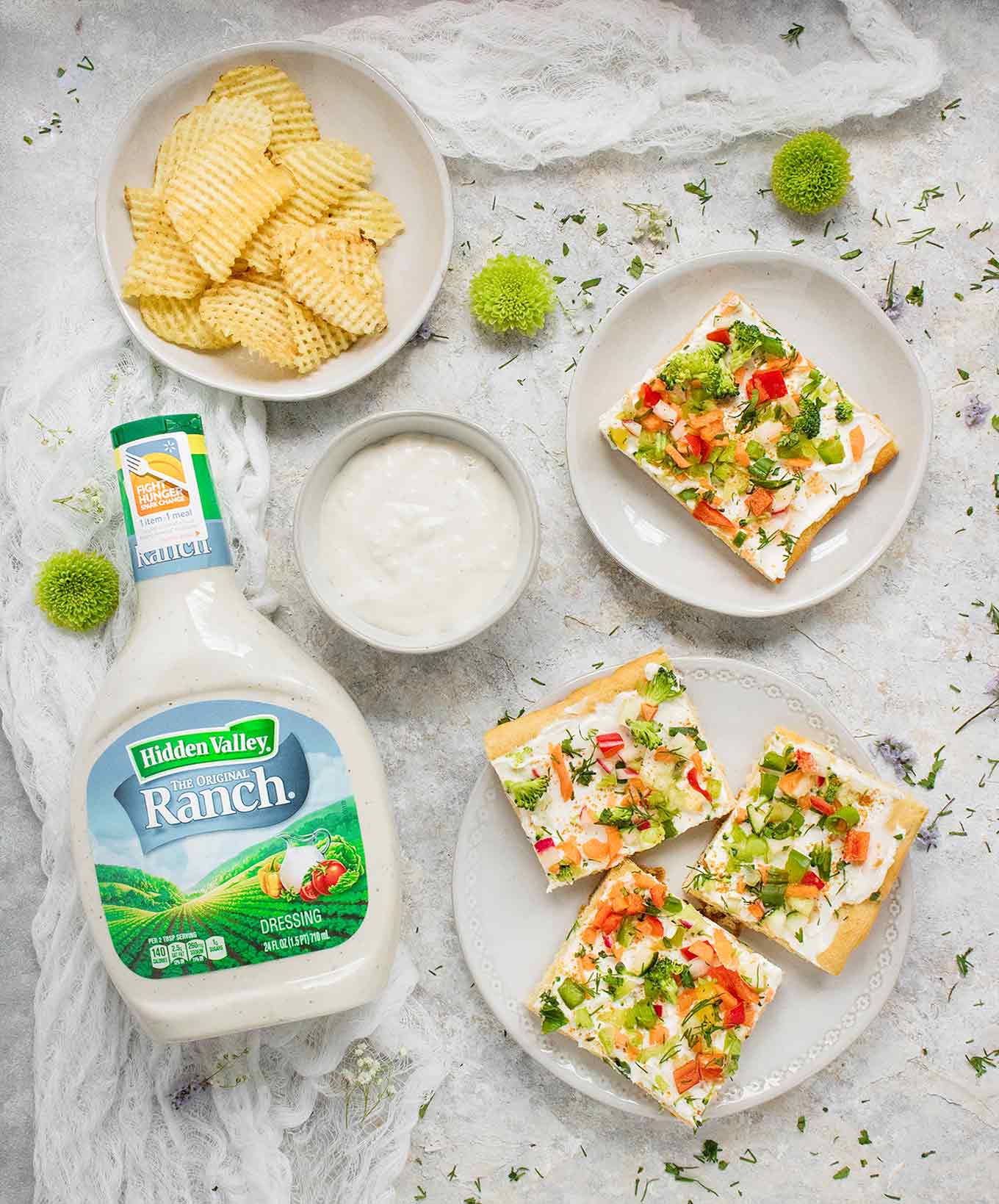 You know the leftover ranch cream cheese spread I mentioned above? Put that to delicious use! Whisk in extra Hidden Valley Ranch dressing until thin enough to create a creamy dip, and serve alongside your favorite chips.
Whether for a party, a spring brunch, or a summer cookout, your friends and family will devour this Ranch Veggie Pizza. But only you'll know how easy it was to prepare!
Karen xo
Print Recipe
Ranch Veggie Pizza Appetizer
An easy appetizer that's a real crowd-pleaser!
Ingredients
for the ranch spread
8

ounce

package cream cheese

1/4

cup

Hidden Valley® Original Ranch dressing

3

tablespoons

sour cream

1

tablespoon

mayo
for the crust
2

cans cans crescent roll biscuit dough

8 ounces
for the toppings
3

cups

mixed

chopped raw vegetables*, diced fine and evenly

2

tablespoons

minced fresh herbs

such as dill, cilantro, basil, parsley, tarragon

Seasoned salt
Instructions
prepare the ranch spread
Combine the ranch spread ingredients in a medium bowl until and spreadable. If time allows, refrigerate for several hours (or overnight) to let the flavors fully combine.
bake the crust
Preheat oven 375ºF. Line a rimmed half sheet pan with parchment paper.

Unroll both cans of dough (don't separate the pieces). Lay the dough sheets side by side on the sheet pan. Press the seams together, and pinch closed any dough perforations. It doesn't have to have to be perfect - the ranch spread will cover it later.

Bake until golden. To be safe, check the crust at the 10-minute mark. It might need less time in the oven than called for on the can, because the dough is being baked flat instead of rolled. Remove from oven and let cool on the pan.
assemble
When the crust is cool, use an offset spatula to apply the ranch spread over the crust. You don't need a thick layer; just enough to cover the crust and provide a foothold for the veggies.

Sprinkle the veggies evenly over the top. Gently pat them into the spread with the flat of your hand. Season the vegetables with seasoned salt (if your bottle has a shaker top, just sprinkle right out of the bottle). Top with the minced herbs.

Use a sharp paring knife or pizza cutter to divide the pizza into about 20 squares. Transfer to a serving platter, or serve right from the pan.


Serve immediately, or refrigerate to hold for later.
Notes
*Suggested vegetables: bell peppers, radishes, celery, broccoli florets, carrots, green onions.
Nutrition
Nutritional information, if shown, is provided as a courtesy only, and is not to be taken as medical information or advice. The nutritional values of your preparation of this recipe are impacted by several factors, including, but not limited to, the ingredient brands you use, any substitutions or measurement changes you make, and measuring accuracy.
Pin Ranch Veggie Pizza recipe for later:
Pinterest fans, if you'd like to save this recipe for later, use these images (or any image above) to pin to your boards (they're small here, but thanks to the magic of the interwebs, they'll be full size when you pin them). Thanks for sharing, and most of all, thank you so much for reading this post! Blogging wouldn't be any fun without you!