Clean and healthy, this rich, earthy Mushroom Lentil Adzuki Bean Soup is chock full of veggies and protein-rich legumes. It's a hearty, delicious soup that makes it easy to stick to your healthy eating goals. Naturally vegan – no unfamiliar substitutions necessary. (Updated 10/20/2019 – now with video!)
It's the Monday after New Year's, the day everyone targeted as the beginning of their, "This year I will …" lists. You ready?
Even though December was really mild on the temperature front (yay!), I've been cookin' up soups like nobody's b'ness. Soups are just the best winter comfort food, whether it's 50° or 15° outside (like it is right now, booo).
And this delicious mushroom lentil adzuki bean soup is my very first use of adzuki beans. These cute little burgundy beans with white eyes are packed with fiber, protein, and B vitamins — a fitting addition to any healthy eating resolution. And adzuki beans are easier to digest than other beans, so there's less chance of digestive upset (especially if soaked and drained before cooking).
I love them, and they're now a permanent addition to my mason jar collection of legumes. They're also quite tasty sprouted to a 1/2″ or longer, so if you're a sprouter, give them a try. They're great in salads!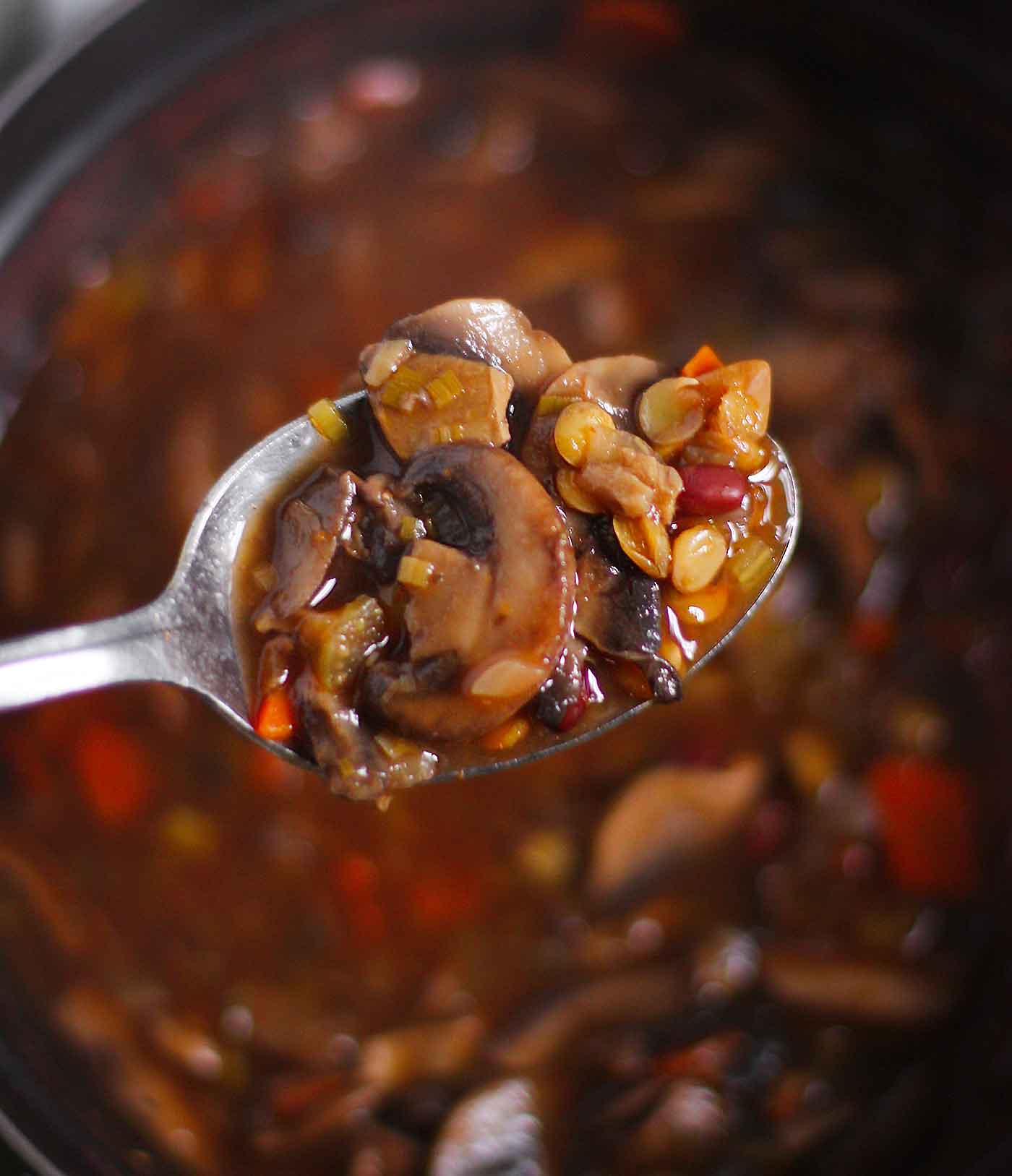 A Soup for Mushroom Lovers!
If you follow — or are wanting to try — plant-based eating, mushrooms are your friend. Especially if you have others in the household who are less thrilled about going meatless.
Mushrooms have deep, earthy flavors and add substance to vegetarian soups, like this one.
Here, I'm using mushrooms both whole and as stock. When I first wrote this recipe, mushroom stock was really hard to find in my area. Which is why I did the quick DIY porcini mushroom broth.
With a stash of dried porcinis, delicious, homemade mushroom broth is only 20 minutes away — a short soak in hot water, then strained through a coffee filter, and boom – mushroom broth. Just a cup makes soups richer and earthier, without added salt or fats.
I still would encourage you to try the dried porcini route in the Mushroom Lentil Adzuki Bean Soup — porcinis are arguably the most tasty mushrooms of all — but if you're short on time, and can find mushroom stock, don't hesitate to replace all of the stock in the recipe with mushroom stock.
Dried porcini mushrooms, by the way, are usually sold in small 1/2 or 1 ounce packages (or buy in bulk at Whole Foods). Depending on the store, you can find them in the produce section, or sometimes in the International or Italian foods section.
Oh, speaking of fats, here's a tip for the calorie conscious: when simmering your soup aromatics, skip the oil or butter and use the same amount of your stock instead. Extra virgin olive oil is fabulous … but … save those calories and fat grams for when the taste of it actually adds something (like a drizzle over your favorite marinara dish).
I've been skipping the oil saute all season long and haven't missed it one little bit. Give it a try and see what you think.
Karen xo
Print Recipe
Mushroom Lentil Adzuki Bean Soup
Don't forget to the soak the adzuki beans ahead of time (a minimum of 3 hours, or overnight). Soak time is not included in the prep time listed here.
Share via Text
Ingredients
1/3

cup

adzuki beans,

soaked in water for 3-4 hours, drained

1/2

ounce

dried porcini mushrooms

2

cups

vegetable stock,

low sodium or homemade

1

small leek,

chopped

1

small yellow onion,

chopped

1

rib celery,

chopped

1

medium carrot,

thinly sliced

12

ounces

mushrooms,

sliced (use a mix - creminis, white buttons, portobellos)

1

cup

mushroom broth

(see instructions)

1/2

tablespoon

tomato paste

1/3

cup

green or brown lentils

shoyu or soy sauce

1/2

of a lemon

kosher salt

fresh tarragon,

chopped, for garnish
Instructions
In a small sauce pot, bring 3 cups of water to a gentle boil. Add the pre-soaked adzuki beans, reduce heat to low, cover, and simmer for 30 minutes, while you prepare the soup.

Soak the porcini mushrooms in 1 cup of very hot water, while you prepare the soup.

Heat 1 tablespoon of vegetable stock in a medium (3 to 4 quart) dutch oven or stock pot over medium until until it begins to simmer. Add the onions, leeks, celery, and carrots to the pot and saute until soft. Add the mushrooms, stir, and cover. Cook until the mushrooms have reduced and released their liquids. Uncover, and scootch the mushrooms and vegetables to clear an area. Add the tomato paste, and let it heat for a minute or two (it might darken - that's good). Stir the paste into the mushroom mixture, and add the remaining vegetable stock and lentils.

If it's been 30 minutes, drain the adzuki beans and transfer them to the soup pot to continue cooking.

Strain the porcini broth through a coffee filter, and add the strained broth to the soup. Chop the porcinis and add them, too.

Adjust heat to retain a gentle simmer (uncovered), and cook for 20 minutes. (Lentils need to cook for a minimum of 20 minutes; adzuki for 60 minutes total.)

Add a splash of shoyu or soy sauce and a big squeeze of lemon. Taste, and add salt by the pinch to suit.

Ladle into bowls and garnish with tarragon.
Nutrition
Nutritional information, if shown, is provided as a courtesy only, and is not to be taken as medical information or advice. The nutritional values of your preparation of this recipe are impacted by several factors, including, but not limited to, the ingredient brands you use, any substitutions or measurement changes you make, and measuring accuracy.