Make this super easy, no bake chocolate creme pie for your favorite person — its silky, improbably light but richly chocolatey flavor will compel them to pledge their undying love … to your kitchen skills if not to you.
As a savory-palated girl, you won't find many desserts on SoupAddict.com. It's not that I don't enjoy the occasional sweets — because, yo, I'm a living, breathing human being and humans do love da sugars — it's just that, all things being equal on the junk food front, I'd rather have a potato chip.
But, sometimes, chocolate is the only thing that will hit the spot — you know, that itch in the craving brain that only chocolate can scratch — and when that chocolatey thing is smooth and light, and tucked into an awesome Oreo butter crust, well, you know everything's going to be allllright.
This no bake chocolate pie is so easy because it has no eggs or flour to bake up. It gets its silky body from loads of luscious cream, rich dark chocolate, and a touch of gelatin.
And the meringue swirls! To non bakers, meringue is a mystery ingredient that's as impressive as its puffy heights, whether in a macaron, a baked Alaska, or sitting high atop a chocolate creme pie. You can pipe meringue in a tidy design, if you're a tidy kind of person (tidy <> me), or you can pile it on thick, grab the biggest spatula you can find, and create stormy waves of decidedly untidy meringue.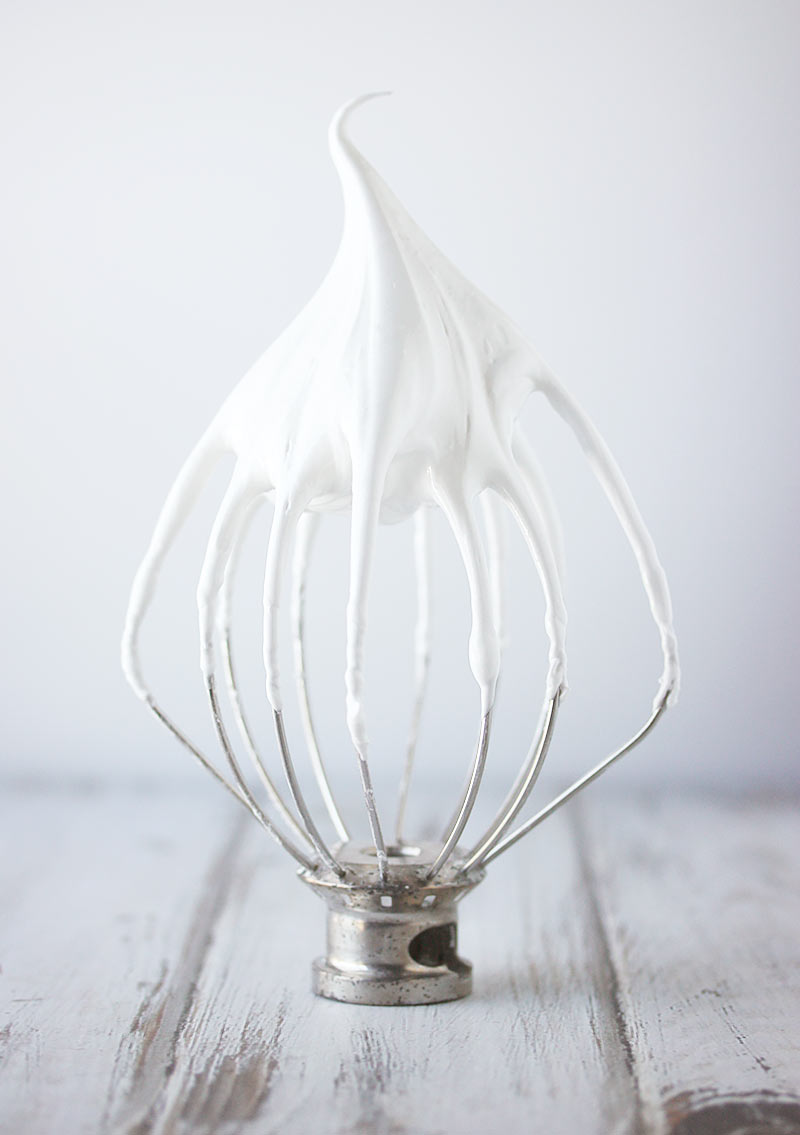 And then, if you're feeling extra fancy, and you happen to have a culinary torch in your kitchen, toast the edges ever so slightly. People will you think you're a genius artist in addition to a kick-butt baker.
No Bake Chocolate Creme Pie Deets
This pie has a yummy Oreo butter crust, whose deep down chocolatey goodness goes perfectly with the lightness of the filling. When making Oreo crusts, some folks scrape out the filling of each cookie before pulverizing the chocolate wafers. I say, heck no, Daddio! Whole cookies make awesome crusts. But if you want to scrape out the filling of a cookie or two for, ahem, sampling, I won't tell.
For a 6″ springform pan, you'll need about 10 ounces of Oreo cookies, which is 2 rows (plus a cookie or two from the third row) of a 14 ounce package.
For an 8″ springform pan, double the recipe across the board. This is one dish where you control each of the ingredients, so you can use only what you need in each step.
No bake chocolate creme pie needs to be made early enough in advance so it can set up in the refrigerator, but for added convenience, the crust can be made even earlier and pressed into the pan for later.
If you're worried about the raw egg whites, use whipped cream instead, adding it just before serving. No torch. 🙂 Pasteurized egg whites in a carton are not a good idea, because most do not whip up into the necessary stiff peaks. You can give them a try, but make sure you have regular eggs (or whipped cream) on hand, in case they don't work.
The stormy seas meringue looks much more difficult than it really is. In fact, the less you do to it, the better. Just pile it on, do a few decorative swirls around the sides with a spoon or wide spatula, and then light the fire! No culinary torch? Just leave it pure white and glossy. Still beautiful.
Pull out all the stops on Valentine's Day and make this beautiful swirly chocolate creme pie. The fact that it's easy as … well … pie … will be our little secret.
Karen xo
Print Recipe
No Bake Chocolate Creme Pie with Swirly Meringue
Ingredients
for the crust
10

ounces

Oreo cookies

6

tablespoons

butter

I prefer salted, melted
for the pie filling
1/2

cup

whole milk

1

tablespoon

unflavored gelatine

1

cup

heavy cream

1

tablespoon

sugar

2

teaspoons

quality vanilla extract

1

tablespoon

Kahlua coffee liqueur

8

ounces

finely chopped chocolate

semi-sweet, bittersweet, or a mix
for the meringue
4

egg whites

1/2

cup

granulated sugar

3/4

cup

confectioners' sugar

sifted
equipment
6

" springform pan

fine mesh sieve

culinary torch

optional
Instructions
prepare the crust
Pulverize the Oreo cookies in a food processor until very fine. Fish out any cookies that aren't broken down by the blade. Transfer to a bowl and pour most of the butter over the cookie crumbs. Stir well to incorporate the butter. The crumbs should be cohesive when pressed together, but not wet. If you need to, add the remaining butter.

Spray or butter the springform pan. Dump in the cookie crumbs and press along the bottom and partially up the sides of the pan to create a nicely thick crust (about 1/4" thick). Don't worry about scraggly edges on the sides - it will all look cool when the pan sides come off.
for the pie
Add the milk to a medium sized bowl, and sprinkle the gelatine evenly over the top. Give everything a stir and let sit while you prepare the rest of the filling.

Heat the cream, sugar, vanilla, and Kahlua in a small pan over medium-high heat. When the cream reaches a light boil, pour it over the milk/gelatine, and whisk together to break up clumps of the gelatine. Immediately add the chocolate and let stand for a few minutes, to melt the chocolate. Whisk the filling until very smooth (it will look like very rich hot chocolate).

Hold the sieve over crumb-pressed pan and pour the chocolate filling through it, slowly. Keep an eye on the level of the filling in the crust - you might not need all of the filling. Stop before the pie filling reaches the top 1/2" of the crust's edge. Cover the pan lightly with cling wrap, and refrigerate until set (about three hours).

To remove the ring from the pan, use a hair drier on high to gently warm the sides. Then, the ring will cleanly pop right off.
prepare the meringue
Use an electric mixer on high to beat the egg whites until light and foamy, about 2 minutes. Gradually add granulated sugar and continue beating until stiff, shiny peaks form, about 5 minutes. Gradually add powdered sugar and beat for several minutes more. The meringue will deflate slightly, but will its regain volume. The meringue should hold peaks when the whisk or beater is upended.

After the pie has fully set, spoon the meringue onto the pie use swirly gestures to create a stormy seas effect. Toast the meringue with a culinary torch, if desired. Store in the refrigerator until ready to use.
Nutritional information, if shown, is provided as a courtesy only, and is not to be taken as medical information or advice. The nutritional values of your preparation of this recipe are impacted by several factors, including, but not limited to, the ingredient brands you use, any substitutions or measurement changes you make, and measuring accuracy.
Adapted from My Life from Scratch: A Sweet Journey of Starting Over, One Cake at a Time