An adorable fall dessert, pumpkin cheesecake bars in jars are the perfect thing to serve a crowd, or even just a party of two.
I don't bake desserts very often anymore, as you might have noticed by my posts. With just two to feed, it's dangerous to make a whole pie, or an entire batch of cookies or brownies, or — my sweet-tooth-will-power downfall — a full size cake.
Even when a recipe is easy to divide in half, I usually lack the smaller pan to bake it up. And even when a recipe is easy to divide in half, ingredient-wise, the effort is the same (e.g., dividing eggs, whipping up egg whites, folding in this, that, and the other thing). All-in-all, fudging small batches of full-sized yummies is more aggravation than they're worth.
That's why I fell in love with desserts in jars: piecemeal assembly and baking in individual containers means they're small-batch friendly.
Plus, they're just so dang cute. Meet pumpkin cheesecake bars … in a jar.
I'm also going through an odd phase where I just don't want to fire up machine after machine to make desserts. The food processor is a godsend for mixing up the chocolate graham cracker pecan crust — make no mistake about that — but I love that the pumpkin cheesecake portion of the recipe can be pulled together by hand with a bowl and a whisk.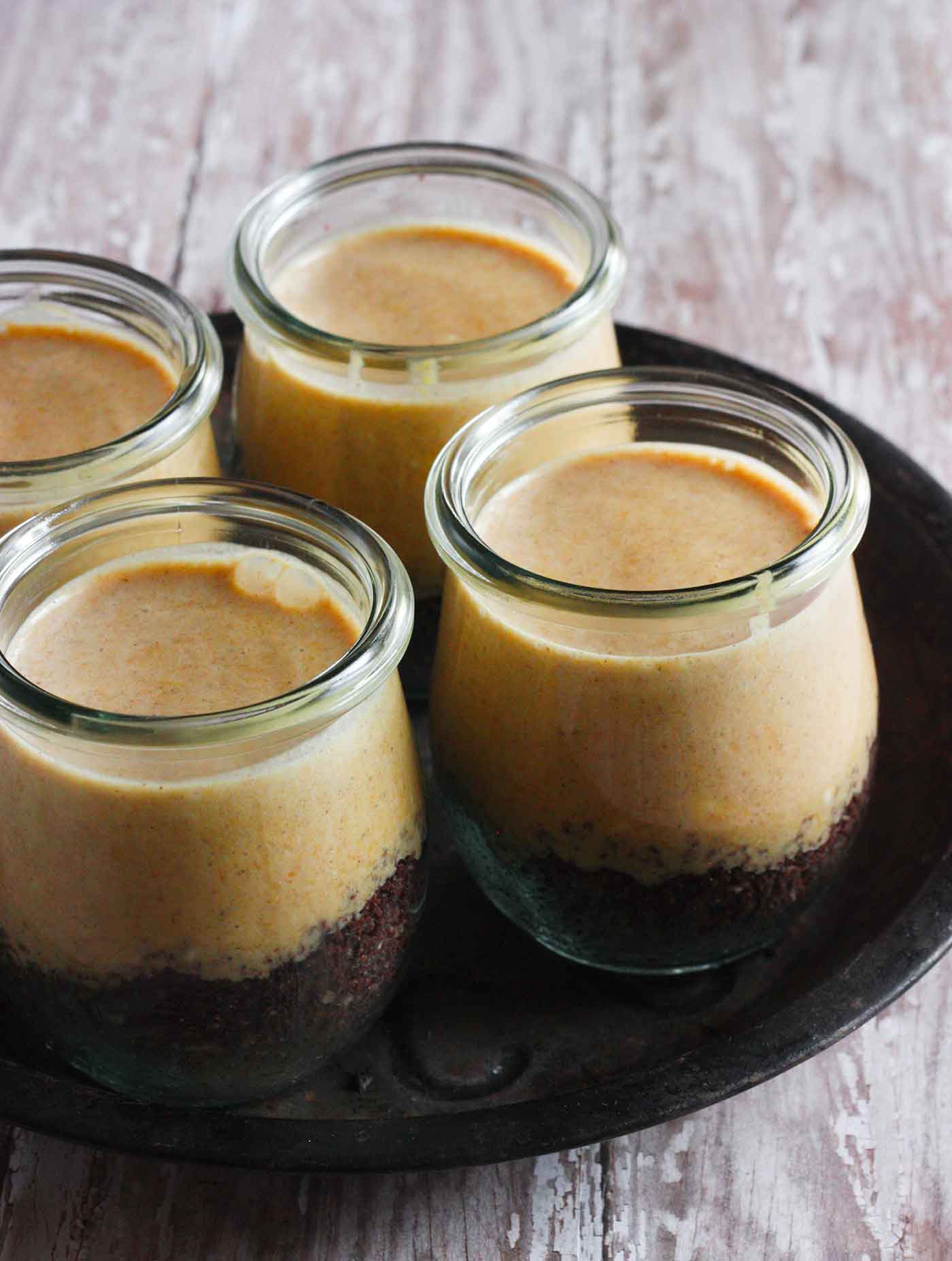 These adorable little 7 ounce Weck jars make the perfect portions for these pumpkin cheesecake bars. And so another thing I love about desserts in jars: it curbs the temptation to cut yourself a larger slice, and it seems almost piggy to eat two in one sitting.
Oh! And if you'd like a quick tutorial on DIYing fresh and oh-so-easy homemade pumpkin puree, check out my easy recipe.
Happy Thanksgiving, everyone!
Karen xo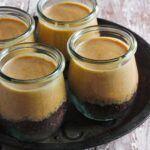 Print Recipe
Pumpkin cheesecake bars in jars
An adorable fall dessert, pumpkin cheesecake bars in jars are the perfect thing to serve a crowd, or even just a party of two.
Ingredients
for the crust
8

sheets

chocolate graham crackers

1/2

cup

raw pecans

4

tablespoons

butter,

melted

1/4

teaspoon

salt
for the filling
8

oz

package cream cheese

1/2

cup

sugar

1

tablespoon

bourbon

2

tablespoons

turbinado or dark brown sugar

1

cup

pumpkin puree*

1

egg,

lightly beaten

1

teaspoon

vanilla

1 1/2

teaspoons

cinnamon

3/4

teaspoon

allspice

6-10

grates from a whole a nutmeg

1/2

teaspoon

salt

Special equipment: 6 each 6-ounce to 8-ounce glass canning jars (whatever jars you choose

they need to withstand the heat of an oven.)
Instructions
Preheat the oven to 350°F.

For the crust: roughly crumble the graham crackers into the bowl of a food processor. Add the pecans and process until coarse. Pour in the melted butter and pulse until medium-fine. Spoon into the jars, pressing firmly on the bottoms and part way up the sides, leaving a hollow for the filling.

For the filling: combine the cream cheese, sugars and bourbon in a large bowl and mix until smooth and creamy. Add the pumpkin and egg and whisk well to combine. Stir in the vanilla, cinnamon, allspice, nutmeg and salt.

Spoon the filling into the jars, leaving 1/4" space at the top of the jar.

Line the bottom of a baking dish with a washcloth and fill with 1/2" water.** Place the filled jars in the water bath, on the washcloth (which will keep the jars from sliding around the dish), spaced a couple of inches apart. Bake for 40 to 50 minutes, or until a toothpick inserted in the center comes out clean. Remove the jars from the dish and place on a heat-safe, dry surface (a dry towel works great) and allow to cool. Refrigerate until ready to serve. Top with whipped cream.
Notes
*Note: the standard 15 ounce can of pumpkin puree contains 1 3/4 cups, so you'll have extra from the can for this recipe. Puree freezes beautifully -- I like to preserve it in zippered freezer bags, which store wonderfully flat. Ditto, if you're making homemade puree.
**Glass is wonderfully sturdy ... but crazy temperature sensitive. Drastic temperature changes will cause glass to crack — baking the pumpkin cheesecake in a water bath will help protect the glass. (In this case, the water bath is strictly for glass protection, not to prevent the cheesecake from cracking. The washcloth prevents the jars from sliding around in the pan.) Take care when removing the hot jars from the water bath -- don't place them on a wet surface. Use a dry towel or dry, wooden cutting board.
Nutrition
Nutritional information, if shown, is provided as a courtesy only, and is not to be taken as medical information or advice. The nutritional values of your preparation of this recipe are impacted by several factors, including, but not limited to, the ingredient brands you use, any substitutions or measurement changes you make, and measuring accuracy.