Pumpkin seeds, or pepitas, are so good for you, and when you roast them with a spicy honey glaze, mmmm. You'll absolutely love these honey sriracha roasted pumpkin seeds – a healthy and addictive snack!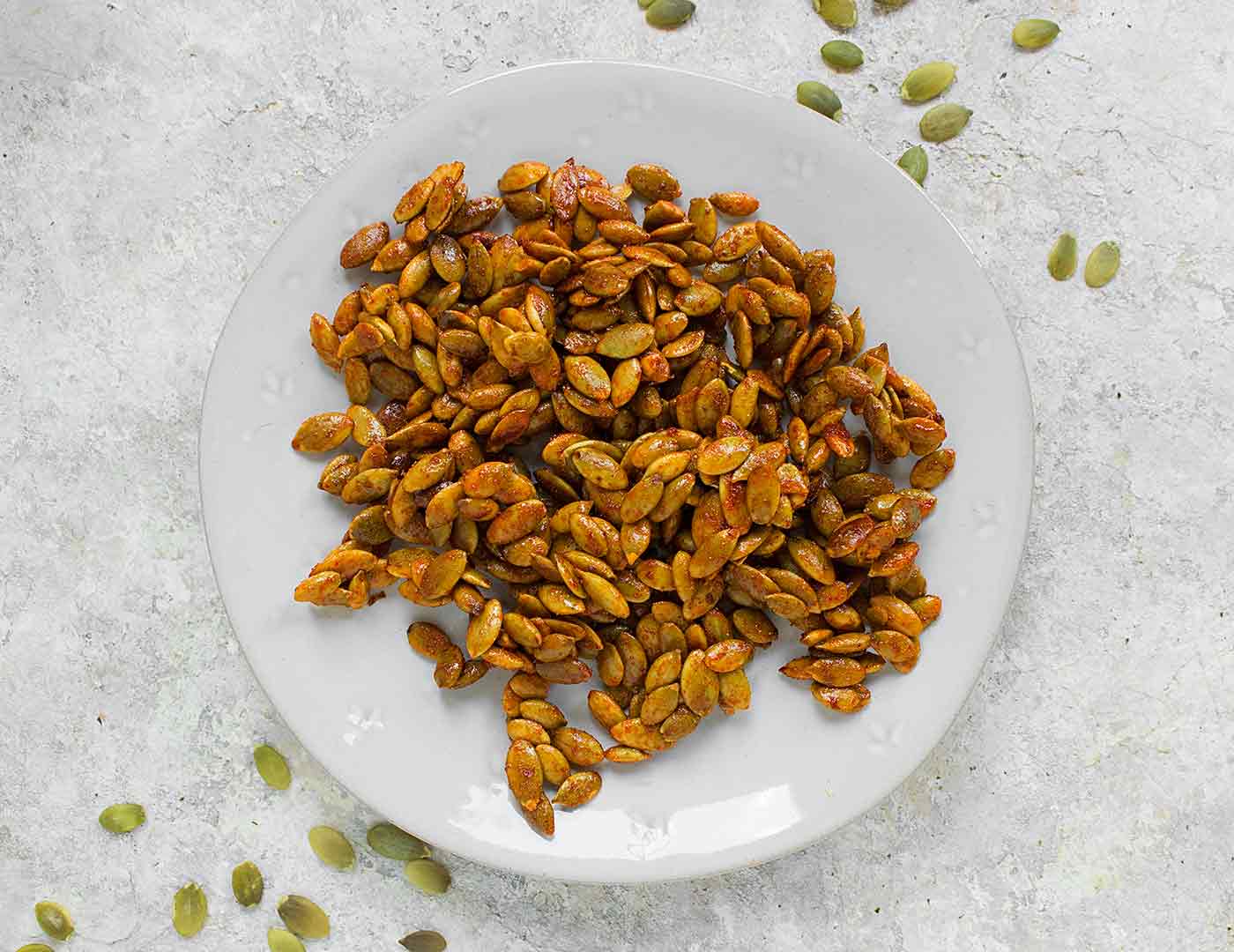 We love simple recipes, right? Good eats that come to together effortlessly and produce a disproportionately high level of enjoyment.
That's this recipe. And for the sriracha addicts among you, here's yet another way to enjoy your favorite condiment: roasted with honey and select spices on crunchy, fresh pepitas until caramelized goodness develops. A sweet crunchy heat that keeps you reaching for more.
The thing I love about the heat level here is that the amount of sriracha that can cling to the seeds is self-limiting, which means that each crunchy bite is pleasantly spicy, not steam-out-the-ears hot.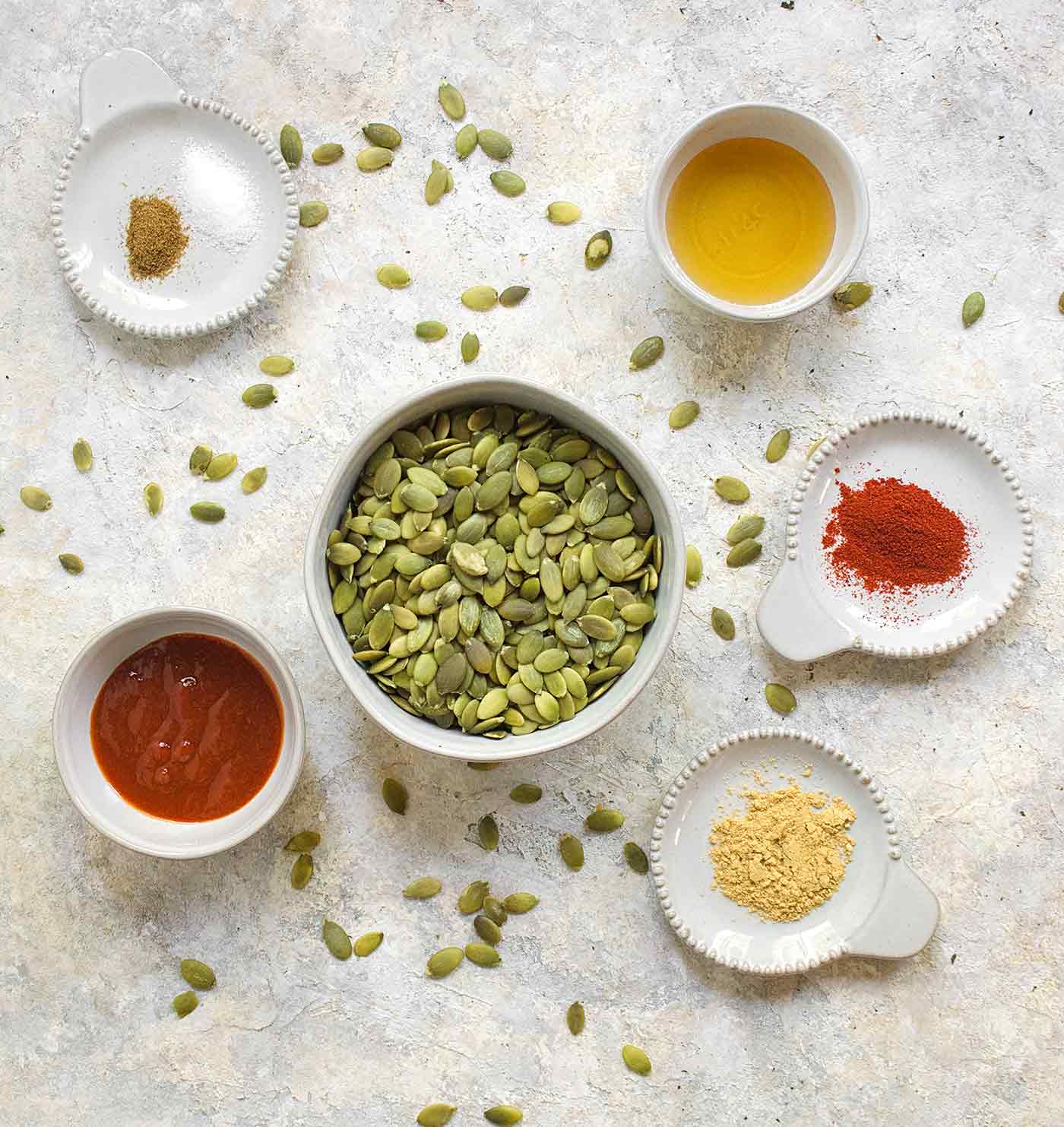 It's not often that homemade snacks are quick AND healthy. But these are. You're just 30 minutes away from a tasty treat with ingredients you recognize: honey, spices, pumpkin seeds and, of course, sriracha. A little whisking, a little oven roasting, and done!
What is the difference between shelled and unshelled pumpkin seeds
When shopping for pumpkin seeds, you'll find two forms: shelled and unshelled.
Unshelled seeds (also known as in-shell seeds) are white. That's the husk that surrounds the seed. They're completely edible, but there is a chew factor that some find delightful. Others … no so much.
You can use the seeds that you remove from your pie or carving pumpkins. Just wash them well to remove all the pulp clinging to the seeds before proceeding.
Remove the white husk to reveal the green pepita inside. If you prefer pepitas, though, save yourself some effort and just go ahead and purchase the pepitas.
Pepitas are tender and crunchy (not chewy), and easy to roast. They're small, about the size of a peanut, olive green, and savory (similar to sunflower seeds) but without the nut allergy worries.
I can find pepitas in bulk at my local Kroger, which is very convenient.

So, which do you use for this recipe? My preference is definitely the shelled pumpkin seeds, pepitas. But the whole seed works perfectly well with this recipe.

Rest assured, whichever pumpkin seeds you prefer, it's all good. Really good.

Make a big batch for afternoon snacks and Netflix binge-watching. Roasted pumpkin seeds store for days in an airtight container.

A big jar of these would make a great Thanksgiving or holiday hostess gifts. Or, bring them along to game day festivities, with a cold six pack.

Warning: they're coated in honey, so they'll be clumpy (but not terribly sticky). Clumps are good. It's a completely silly thought, eating these pepitas one by one.

Reach in the jar, pull out a clump of honey sriracha roasted pumpkin seeds. Pop the whole thing in your mouth. Enjoy the after-tingle of the sriracha and the deep honey roasted sweetness.

Dive in for more.

Oh, and in addition to be a top-shelf snack, they're also great as toppings for salads and soups, like this Autumn Squash soup.

Karen xo

Print Recipe

Honey Sriracha Roasted Pumpkin Seeds

Pumpkin seeds, or pepitas, are so good for you, and when you roast them with a spicy honey glaze - yum. You'll absolutely love these honey sriracha roasted pumpkin seeds – a healthy and irresistible snack!

Ingredients

1

cup

pumpkin seeds

cleaned of pulp, if used from fresh pumpkin

1

tablespoon

sriracha

1

tablespoon

honey

1/4

teaspoon

pimenton

smoked paprika

1/4

teaspoon

ginger powder

1/8

teaspoon

cumin

1/4

teaspoon

salt

a couple of drops of apple cider vinegar

1/4

teaspoon

olive oil

Instructions

Preheat oven 300°F

Spread out seeds on a parchment-lined baking sheet. Bake for 15-20 minutes, or until golden.

Meanwhile, whisk together the remaining ingredients in a medium bowl. Pour the hot seeds into the sriracha mixture and stir to coat well. Return the seeds to the baking sheet, spreading them out as best you can - they'll be sticky. Bake for 5-10 additional minutes to caramelize the sauce on the seeds.

Remove from the oven and cool. Devour at will.

If not consuming immediately, spread out the seeds on a cooled baking sheet and allow to set up a bit before packaging. (Otherwise, they'll tend to stick together in all of their caramelized goodness.)

Nutrition

Nutritional information, if shown, is provided as a courtesy only, and is not to be taken as medical information or advice. The nutritional values of your preparation of this recipe are impacted by several factors, including, but not limited to, the ingredient brands you use, any substitutions or measurement changes you make, and measuring accuracy.

Updated September 28, 2019