All at once, it seems, the leaves are beginning to turn. October has settled in and brought with it bright pops of red and yellow where only green once stood. Letting go of summer has been hard this year, in part because it felt like we were cheated out of a proper July, too blazingly hot and humid to do much outdoors. But, I think I'm ready.
Last night brought the predicted first frost, so I spent yesterday harvesting the last of the basil — which likes frost not at all — to whirl into pesto for future, comforting meals at the end of long, dark days. Sitting on the deck, chilled despite the low-slung sun, I plucked the fragrant leaves while contemplating the week's list of projects. The season of growth and sustenance may be fading, but opportunities promising new adventures have timely arrived at the door of October, even as we head into the stillness of winter.
I'm ready.
The outside chill and a stubborn reluctance to fire up the furnace makes hovering over the stove a fine activity for a Sunday afternoon, especially when risotto is the reward for the effort. Earlier in the summer, I purchased a puzzlingly large amount of red lentils (curious, as it was sweltering July, with the stove on forced hiatus), which have been sitting in a large canning jar, bright and patient.
The foresight was magical, as I have been craving lentils since the calendar turned to September. With a little savoring up of the standard risotto, lentils seemed the perfect companion to rice. And indeed, they were.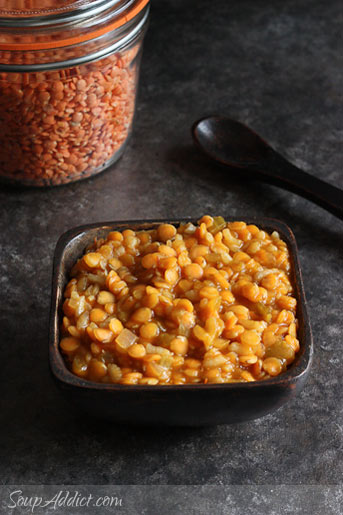 Any lentils would work well, I suspect, but the red, in my opinion, have a texture that comfortably lands somewhere between al dente and tender without turning to mush. The soft pop of arborio rice coupled with the gentle yield of the lentil makes for a satisfying chew. Tomato paste — a very much untraditional ingredient in risotto — supplies an extra hit of umami (especially if you can swing homemade).
Oh, and one more thing about yesterday. I sat cross-legged on the deck floor, huddled behind the windbreak of nearby bushes, next to my box planters of saffron. A few weeks ago, when I had cut back the previous year's green growth in prep for the new crop, I had counted over 125 saffron bulb divisions. 125! I hadn't expected that kind of expansion in the first year, and frankly, it made me even more anxious to know whether the corms had survived their summer hibernation.
After a false alarm of green growth that turned out to be corn stalks (the work of squirrels, no doubt), daily checks of both planters lead to more anxiety and a vague feeling of doom, as the dirt gave no sign of life.
But then yesterday, with a growing stack of bare basil branches before me, stripped by numbed fingers, I glanced over and past one of the planters to the bird feeders beyond, full of fluttering, chirping cardinals and black capped chickadees. A green wisp in the nearest planter caught my eye. I squinted and leaned in. It was small — barely a 1/2″ tall.
Could it be? Might it be?
Yes.
Hello, saffron sprout. Welcome back from your long summer's nap!
Karen xo
Red Lentil Risotto
Ingredients:
4 cups vegetable stock
1 or 2 sprigs thyme
2 dried bay leaves
1 tablespoon extra virgin olive oil
1 medium shallot, finely diced
2 ribs of celery, finely diced
1/4 cup sherry or red wine
1/3 cup arborio or bomba rice
1 cup dried red lentils*
1 tablespoon tomato paste
1/2 cup grated Parmesano-Reggiano (optional)
sea salt, to taste
Instructions:
Bring the vegetable stock to a light simmer in a medium sauce pot. Add the thyme sprigs and bay leaves. Keep the stock simmering while you make the risotto.
Heat the olive oil in a large skillet over medium until shimmering. Add the shallots and celery and saute until soft, about 5 minutes. Pour in the sherry and simmer until mostly evaporated. Breathe in deeply – the cooking aromas are amazing.
Add the rice and push the grains around for a minute or two, coating them with the pan juices. Add 1/2 cup of the warmed stock and stir (tip: standard U.S. ladles hold 1/2 cup). When most of the stock has been absorbed, add another 1/2 cup. Continue for about 10 minutes (or 4 stock additions). (You're giving the rice a head start because the lentils take less time to cook.)
Add the dried lentils, a big pinch of salt, and another 1/2 cup of stock, stirring well, then the tomato paste. Continuing adding stock as it is absorbed, and all the while stir-stir-stir. Taste the risotto – it's ready when both rice and lentils are plump and al dente. This will take about 10 to 20 minutes, once you add the lentils. (If you run out of stock, use water.)
Add more salt if necessary, and stir in the cheese. Serve immediately. Still tastes great the next day, but the lentils will have lost a bit of their firm oomph.
*Red lentils are faster cooking than green or brown. If you use green or brown, you'll need to cook them longer than noted here.
Subscribe to the SoupAddict Weekly Digest and get new soups and other delish foods in bowls in your inbox!