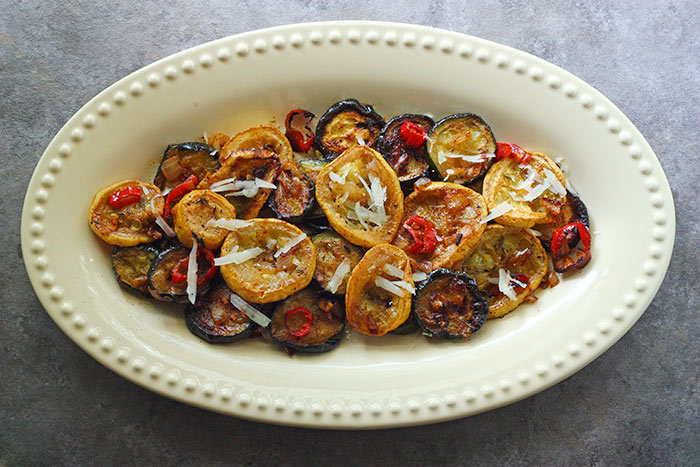 I'm trying a new approach to Indian summer cooking this year. As you might have seen from my last post, I'm still well-supplied with fresh summer vegetables, and will continue to be so into October. Normally, mid-September finds me in a state of semi-panic, rushing to preserve summer's crisp goodness before it slips away, all the while secretly craving the warmth of autumn comfort foods.
This year, however, I'm going to go ahead and indulge my comfort food cravings, but in a different way: using summer vegetables in place of autumn's, but applying the same deep flavor treatments of fall and winter dishes, with lots of spices and long turns in the oven. (Exception being the aforementioned post on pumpkin scones — I just couldn't help that one, folks, honestly I couldn't.) And so, roasted summer squash was born.
I don't grow summer squash myself anymore — no room for anything long and viney with my current garden set up — but I've had the good fortune to create some bartering relationships this year, trading heirloom tomatoes and dinosaur kale and chili peppers for these (and other) summer staples.
I love that the whole of this roasted summer squash dish came from backyard gardens within a one mile radius of little ole suburban moi. The pepper in the photo above is a Jimmy Nardello's Sweet Italian Frying pepper and came from my own gardens, along with the garlic and thyme pictured (and an onion which was too big fit on the pan). The squash, from a sweet grower located, fittingly, smack dab in the middle between me and the nearest Kroger.
Oh, and the pimenton. Known as smoked paprika at most U.S. stores, I made my own this year ["Shuddup!" "No, I did!"], growing the coolest little specialty paprika peppers, slow-smoking them on the grill, and then dehydrating and grinding them to a coarse powder. I feel extra homesteady when I do that kind of DIY thing. And, whoa … super-fresh.
Summer vegetables are wonderful chameleons, adapting effortlessly to different preparation methods. Cool and crisp when used raw, but deeply succulent when seasoned and cooked (skeptical? think tomatoes — strong and acidy and cooling in the raw; deeply sweet and rich roasted).
This roasted summer squash dish is a testament to that. The spicy aromas from the toasting pimenton will drive you mad, and cause you to hover over the oven longer than usual. A light sprinkling of aged manchego cheese — totally optional but a lovely Spanish complement to the Spanish pimenton spice — and a worthy, late summer dish is ready for the Indian summer table.
Have a great mid-September weekend, my friends!
Karen xo
Print Recipe
Roasted Summer Squash with Pimenton
The warming scents coming from your oven will drive you mad with anticipation. Although Spanish manchego cheese is included for a family variation, squash lovers won't need it - the smoked paprika and oven roasting lends incredible flavor to this dish.
Ingredients
1-1/2 to 2

pounds

assorted summer squash

trimmed and cut into 1-inch chunks

1

teaspoon

kosher salt

1

small sweet pepper

such as a red bell, sliced julienne, 1 inch long

2

tablespoon

extra-virgin olive oil

2

cloves

garlic

chopped

1

cup

onion

diced

2

teaspoons

pimentón

smoked paprika

2

sprigs thyme

leaves only

1/2

cup

coarsely grated aged manchego

optional
Instructions
Position a rack in the center of the oven and heat the oven to 425°F. Line a rimmed baking sheet with parchment paper.

Place the squash pieces in a colander and toss with the salt. Let drain for 20 to 30 minutes. Give the squash a quick rinse to remove extra salt and pat dry. Transfer to a large bowl, and add the peppers.

Heat the oil in a small skillet over medium until shimmering. Add the chopped garlic, pimenton, and thyme leaves, and stir to make a paste. When fragrant - just a minute or so - remove from the heat and pour over the squash and pepper. Toss gently to coat thoroughly. Transfer to the baking sheet, spreading out the pieces in one even layer.

Roast until the edges of the squash start to turn golden (about 15 minutes), then flip with a spatula. Continue roasting until the upsides are golden, and the squash is tender, about 15 minutes more.

Move to a serving dish and sprinkle with the cheese (if using).
Nutritional information, if shown, is provided as a courtesy only, and is not to be taken as medical information or advice. The nutritional values of your preparation of this recipe are impacted by several factors, including, but not limited to, the ingredient brands you use, any substitutions or measurement changes you make, and measuring accuracy.

Source: adapted loosely from this recipe
Subscribe to the SoupAddict Weekly Digest and get new soups and other delish foods in bowls in your inbox!