I have sweet potatoes on the brain. I've already torn down much of my summer garden — the strange, inside-out summer weather that began in June continued well into September (which turned ridiculously July-hot for days on end), and the confused plants didn't know which way was up. So, hello, fall vegetables, let's see what you got.
I'm really sad to see my tomatoes go, but there are still plenty of herbs, peppers, leeks, kale, carrots … and sweet potatoes.
I planted sweet potatoes on a whim this spring, and that lack of pre-planning meant that they went into a critter-vulnerable site. Indeed, the beautiful heart-shaped leaves are apparently irresistible to greens-nibbling furry woodland creatures: the long, rambling vines have rallied numerous times, regrowing the leaves that deer (or rabbits or groundhogs) nibbled down to nubs. I dug up one plant out of curiosity the other day, and sure enough, sweet potatoes are growing, despite the intermittent absence of nutrient-capturing leaves.
Nature rocks the party — she always finds a way.
So now that it's October (and officially autumn), I think it's safe to start talking about fall vegetables. It's so strange how tastes run. Last year, I could not get enough pumpkin. I posted pumpkin recipe after pumpkin recipe. I couldn't get enough. Ditto with Pinterest, which was all crazy pumpkinpalooza for two months straight. This year, I'm just not feeling it. Oh, I have a pumpkin recipe or two in mind for later — maybe that will get me into the groove (long after everyone is pumpkined-out, no doubt).
But one thing I never get tired of is roasted sweet potatoes. I hadn't worked sweet potatoes into my garden design, but then when I saw the plants at the nursery, I realized I couldn't complete my garden — and fall menus — without them.
Inspired by a recipe from Yotam Ottolenghi, this is possibly my favorite way to enjoy roasted sweet potatoes: a turn in the oven, along with some red onions, then layered on massaged kale (all three from the backyard garden), drizzled with an addictive tahini dressing and topped with herbs, za'atar and crunchy pepitas.
I do want to point out here that there's no mayo in this recipe. That lovely, thick dressing in the photo above is thanks to tahini and Greek yogurt (vegans and dairy-avoiders, sub coconut yogurt, or, in a pinch, canned coconut milk). I first prepared this dish two years ago, and have remained in love with the tahini dressing and the za'atar seasoning ever since.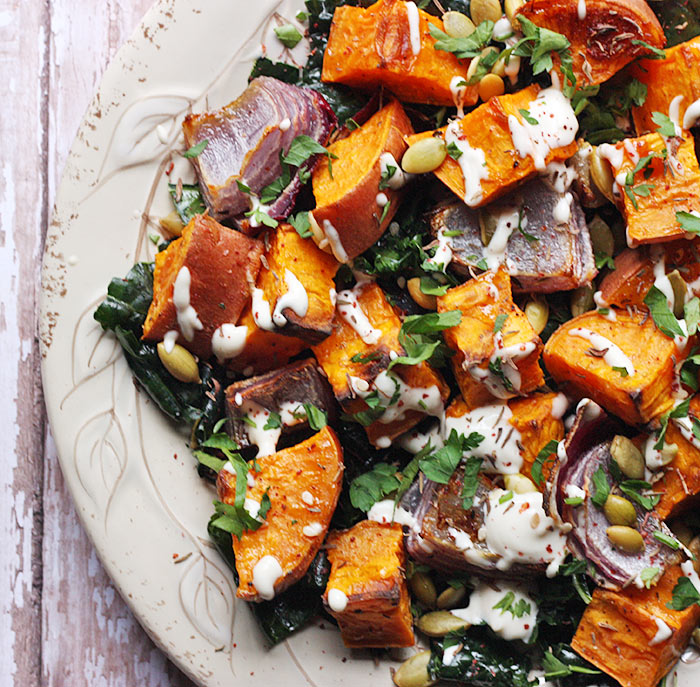 For veggie lovers like me, this is a main dish — 40 minutes and done. Prep is minimal — chopping the veggies into big, imperfect chunks, which we all can handle no matter how dog-tired we are — and whisking up the dressing all quick like while the veggies roast in the oven. The kale is my addition to add color, texture, and, of course, more nutrition.
If you have diehard carnivores in the house, serve alongside pan roasted chicken thighs.
Ottolenghi's recipe calls for butternut squash, which works fabulously well. You could even sub pumpkin, if you wanted. 😉 But for me, roasted sweet potatoes fresh from the garden are da bomb.
Karen xo
Print Recipe
Roasted Sweet Potatoes with Tahini Drizzle
Ingredients
for the vegetables:
1

large sweet potato cut into 1? cubes

1

red onion

cut into 1 1/4-inch wedges

3

large leaves of kale

I use lacinto kale, central stem removed

olive oil for drizzling

sea salt and freshly ground black pepper
for the dressing:
2

tablespoons

tahini paste

1

tablespoon

Greek yogurt

1

big squeeze lemon juice from half a lemon

1

tablespoon

water

1

small clove garlic

minced

1/4

teaspoon

salt
assemble:
2

heaping tablespoons pepitas

2

teaspoons

za'atar

1

tablespoon

coarsely chopped flat-leaf parsley

sea salt and freshly ground black pepper
Instructions
For the vegetables:
In a large mixing bowl, gently toss the sweet potatoes and red onions with a drizzle of olive oil. Season lightly with salt and pepper. Spread out the vegetables evenly on a parchment lined baking sheet, and roast for 20 to 30 minutes. The vegetables are done when they're spotty brown.

Meanwhile, place the kale leaves in a bowl, drizzle lightly with oil and a pinch of salt, then massage the leaves with your fingertips until the leaves turn bright green, and become silky and slightly wilted. Set aside.
For the dressing:
Whisk together all of the ingredients in a bowl. It should have a pourable consistency – if necessary, stir in additional water, one teaspoon at a time, until it slowly but steadily drips off the whisk.
Assemble:
Spread the kale leaves on a serving platter. Spoon the roasted vegetables evenly on top and scatter the pepitas amongst the veggies. Drizzle the tahini dressing in thin streams over the vegetables. Finish with the za'atar, parsley, a light sprinkling of salt and pepper.
Nutritional information, if shown, is provided as a courtesy only, and is not to be taken as medical information or advice. The nutritional values of your preparation of this recipe are impacted by several factors, including, but not limited to, the ingredient brands you use, any substitutions or measurement changes you make, and measuring accuracy.
adapted from Yotam Ottolenghi's Jerusalem, via bonappetit.com
Subscribe to the SoupAddict Weekly Digest and get new soups and other delish foods in bowls in your inbox!