Based on the classic Middle Eastern/North African dish, only in soup form. Shakshuka Soup is delicious spices simmered with onions, peppers, and lentils, and topped with an egg to create a soul-warming meal.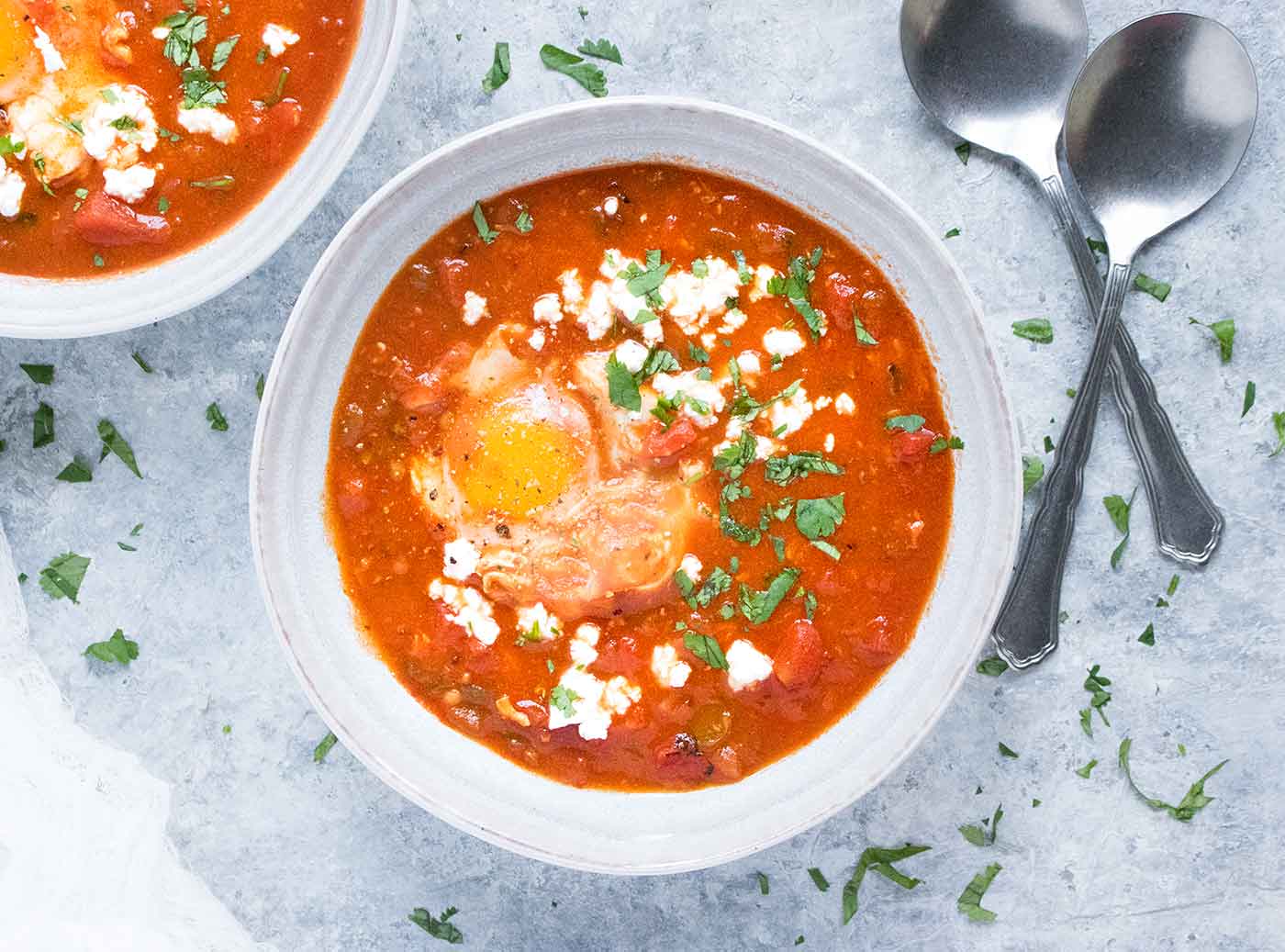 Shakshuka is one of my very favorite summer dishes, so I'm sort of surprised and disappointed that I haven't yet posted a classic shakshuka recipe on the blog. It's so easy, healthy, delish, and flexible, it belongs in almost everyone's cooking rotation.
I suppose — to be upfront about it — that this isn't a "classic" version of the famous dish either, but I love making soup out of stuff, especially when it really works!
What is Shakshuka (and Shakshuka Soup)?
I just mentioned that it's a go-to summer dish at Casa SoupAddict, but really, it's year-round friendly. I end up making it often in the summer because it's a one-pot meal filled with summer's best vegetables.
And also, part of the reason I came up with Shakshuka Soup is to have a version that doesn't rely so heavily on in-season veggies, for winter and spring enjoyment (same veggies, but spiced up to make up for their less than shining off-season qualities).
Shakshuka is a dish with Mediterranean/Middle Eastern/North African roots. Traditionally served as breakfast, I think it's the perfect dinner.
It features tomatoes and bell peppers, plus a heady blend of cumin, paprika, and spicy cayenne or harissa.
And, for the piece de resistance, eggs are poached right in the liquids. Breaking apart that yolk is the best part!
My Shakshuka Soup version features loads of peppers in various forms: diced bells, deeply flavored smoked paprika, sweet Hungarian paprika, and chili powder (all peppers in a former life, lol).
For extra dinner heft, I added French lentils — which, for you traditionalists who are about to pounce on your keyboards — are in no way traditional, but add lovely body to the soup.
On a whim, for one batch, I tipped in a glug of creamy coconut milk, and thought the world was going to flip right over. The photos in this post do not reflect that addition, but I highly recommend it! (It's covered in the recipe below.)
And of course, eggs are poached right in the soup.
A sprinkle of feta cheese and fresh parsley over each bowl finishes the soup beautifully.
One of the reasons I love this soup so much — and Shakshuka in general — is that egg on top. And also the fact that it's effortlessly vegetarian, but you don't even miss the meat because the soup is so flavorful and textured.
Serve with naan slathered in garlic butter, and enjoy the healthy, spiced feast!
Karen xo
Print Recipe
Put an Egg on It: Shakshuka Soup
Based on the classic Middle Eastern/North African dish, only in soup form. Delicious spices simmer with onions, peppers, and lentils, topped with an egg, to create a soul-warming meal.
Ingredients
1

tablespoon

olive oil

1

small onion,

diced

1

small red bell pepper,

diced

1

small green bell pepper,

diced

1

teaspoon

sweet paprika

1

teaspoon

smoked paprika

1/2

teaspoon

ground cumin

1/2

teaspoon

chili powder

1/2

teaspoon

salt

1

tablespoon

flour

14

ounce

can diced tomatoes

8

ounce

can tomato sauce

1/2 to 1

tablespoon

harissa or gochujang sauce*,

optional

1

tablespoon

sugar or maple syrup

2

cups

vegetable or chicken broth

1/3

cup

French or black beluga lentils**

6

eggs

splash of milk, cream or coconut milk,

optional***

chopped cilantro or parsley

for garnish

feta cheese

for garnish (optional)
Instructions
Heat oil over medium in a 4-5 qt Dutch oven or soup pot until shimmering. Sauté the onions and bell peppers until soft, about 5 minutes.

Sprinkle paprikas, cumin, chili powder, salt, and flour over the veggies and stir to coat the veggies.

Add the tomato sauce and hot sauce (if using), along with the sugar, broth and lentils.

Bring to a light boil, then reduce heat to maintain a gentle simmer. Cook for 30 minutes (or, at a minimum, for the time indicated on the lentil package cooking directions).

Crack the eggs into the soup. They might sink a little - that's okay. Cover with a lid, and continue simmering until the egg whites have set (8 to 15 minutes). Check this by carefully lifting one of the eggs with a wide serving spoon. (Alternatively, you can fry or poach the eggs in a separate pan, and add them to the soup as they finish.)

Ladle the soup, plus one egg, into 6 bowls. Garnish with cilantro and feta, if using. Serve immediately
Notes
* If you like things a little spicy, add your favorite chili sauce, such harissa, sriracha, chile garlic, or gochujang.
** French du Puy and black beluga lentils can stand up to cooking, and will hold their shape and texture. Red and green lentils will cook up soft (almost mush). Really, any lentils will work with this recipe, depending on the texture you're looking for. Just make sure they simmer in the soup for the time indicated on the package directions.
*** This is optional, but adding a splash of dairy or coconut milk at the end (after cooking) creates a lovely, rich and creamy soup. I spoon out the eggs first, stir in the dairy, and then return the eggs to the soup. Don't add dairy while the soup is actively simmering - it could curdle.
Nutrition
Nutritional information, if shown, is provided as a courtesy only, and is not to be taken as medical information or advice. The nutritional values of your preparation of this recipe are impacted by several factors, including, but not limited to, the ingredient brands you use, any substitutions or measurement changes you make, and measuring accuracy.
Pin Shakshuka Soup recipe for later:
Pinterest fans, if you'd like to save this recipe for later, use these images (or any image above) to pin to your boards (they're small here, but thanks to the magic of the interwebs, they'll be full size when you pin them). Thanks for sharing, and most of all, thank you so much for reading this post! Blogging wouldn't be any fun without you!
Subscribe to the SoupAddict Weekly Digest and get new soups and other delish foods in bowls in your inbox!