I had my first s'mores in decades the other week. I prepared myself for a flood of nostalgic comfort amidst the melty chocolate marshmallow goodness, the kind of food memory that makes you smile involuntarily and scrunch up your shoulders in a sort of self-hug … but … nothing. No happy food feelings. Puzzling.
True, I was standing over the sink in the kitchen — which is not exactly a traditional campy s'mores ambiance — but there was something definitely missing. Worse, the sink was liberally sprinkled with bits and crumbs of the graham cracker that had disintegrated a little more with each passing bite, and my hands — both hands — were completely coated in blobs of sticky chocolate. The experience was a complete letdown. Like touring your elementary school, which was so large and crayon bright and magical at age 7, but cramped and a tad dismal through adult eyes.
Maybe you need to view the traditional s'mores thing through kid goggles to really enjoy them, I don't know. Beer goggles probably help there, too, if memory serves.
Still, the flavors are sound. More than sound. Perfect, even. There had to be a better way to enjoy s'mores.
So, standing over the sink, I was hypnotically fixated on the graham cracker bits in the sink. @-|
Graham cracker, it's all your fault. You're too hard and unyielding.
Here's the deal: when you bite into a s'mores, the cracker doesn't give at first. Instead, it smooshes the marshmallow and chocolate together until they ooze out all sides, smearing chocolate and marshmallow on your cheeks and chin. When the cracker does give way, it cracks all over and showers bits and pieces everywhere. If you're lucky after the first bite, you still have a tiny square of cracker standing between your fingers and super sticky marshmallows.
This kind of thing is great fun for kids. (And fun for adults watching kids have so much fun.) Or high-larious when you're a tipsy college student around a makeshift firepit in the backyard of the one dude who could afford to rent a house during grad school years.
But now, thinking about my peeps sitting around my firepit- and fireplace-less home, trying eat s'mores while perched on my light colored couch gives me a facial tick. But why should s'mores just be for outside? I was determined to fix the graham cracker problem.
Many, many approaches later — including my first foray into magic bars, which were, oh, yikies, not at all what I thought they'd be — I think I nailed it.
Tender yet sturdy, cakey and very grahamy, I think my graham cracker cookies perfectly frame s'mores for adults.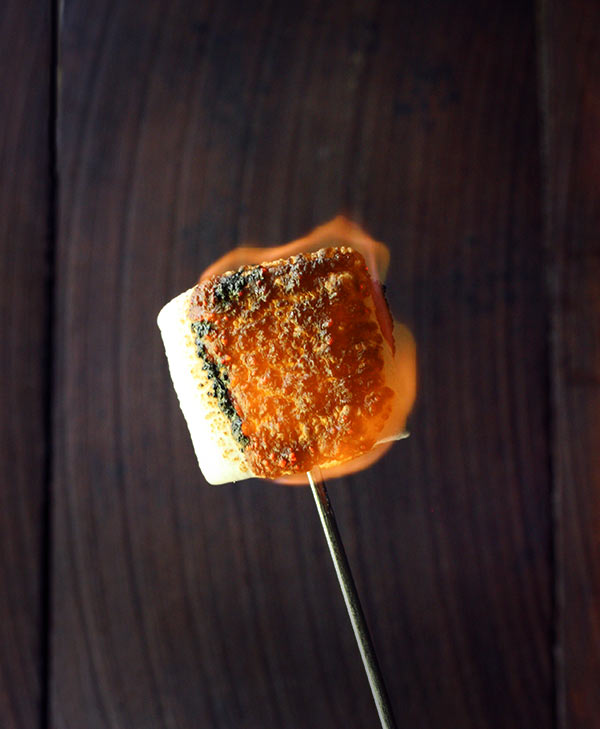 Experimenting with s'mores cookies assembly was great fun. I had totally forgotten how flammable marshmallows are. I was hosing one down with a culinary torch, looking for those campfire scorch marks, when suddenly the whole thing went up into a ball of flames. Holy moly!
Believe me, when I took this picture, I had a spray bottle and a full bucket of water on standby, because I did not want to be known as the girl who burned her house down with s'mores. And you know that's how the news would report it. As if it wouldn't be bad enough, getting over the trauma of a house fire, people would be nudging each other at Kroger, pointing, "hey, there's the s'mores fire twit."
Finally, with cookie perfected and fire-marshmallows wrangled, I'm happy to report on the s'mores of my grown-up dreams.
Big jumbo marshmallows, dark chocolate (yes, dark chocolate), with a salted caramel drizzle, sandwiched between two graham cracker cookies that hold it all together and give way right when you need it to.
But after all the cookie hoopla, after all the baking and testing, I do have to own up to some cold, hard facts: s'mores are messy no matter what you do. I had melted chocolate and marshmallows all over by the time I was done assembling these babies.
And they're worth every bit of mess.
Karen xo
Print Recipe
Dark Chocolate Lovers' S'mores Cookies with Salted Caramel
Servings:
8
big s'mores cookies
Ingredients
for the graham cracker cookies
1/4

cup

unsalted butter

softened

1

teaspoon

vanilla bean paste or extract

3/4

teaspoon

baking powder

1/2

teaspoon

salt

1/4

cup

white granulated sugar

1

tablespoon

brown sugar

packed

1

large egg

1/2

cup

+ 2 tablespoons very finely crushed graham cracker crumbs*

about 5 full sheets

1/2

cup

all-purpose flour

1/4

cup

milk
for the s'mores
8

jumbo marshmallows

1

bar of good quality dark chocolate

I used Ghiradelli Intense Dark 72% Cacao Twilight Delight squares

salted caramel sauce

prepared, or use your favorite recipe
Instructions
for the graham cracker cookies
Preheat oven to 350°F. Line two baking sheets with parchment paper or silpat mats.

Beat butter, vanilla, baking powder, and salt until very smooth, about 2 minutes. Add the sugars and continue beating for another minute. Crack the egg into the mixture and beat for another minute.

Stir the graham cracker crumbs and flour together in a small bowl.

At a lower speed (or with more gentle hand, if mixing by bowl and wooden spoon), add 1/3 of the flour mixture to the wet ingredients and stir until just combined. Add half of the milk until combined, followed by another 1/3 of the flour mixture, again stirring until just combined. Mix in the remaining milk, followed by the last of the flour. Don't over mix or the cookies will be tough.

Use a tablespoon cookie scoop to measure out the dough onto the parchment paper, spacing the cookies three or more inches apart to allow for spread. You should be able to fit 9 or 10 cookies per sheet. Note that you need only 16 cookies for this recipe.

Wet your finger and gently flatten each cookie to about 1/2" thick. Wet the bottom of a jar, a glass, or a measure cup and press on each cookie until they're just over 2" in diameter. (For whatever mysterious reason, doing the final press of the cookies with a flat edge forces them into very neat little circles.)

Bake for 11 minutes, switching up the baking sheets on their racks after 5 minutes. Check the cookies at 10 minutes: if the bottom edges of the cookies appear golden, remove them immediately. Otherwise, remove them at 11 minutes. Let cool on the sheets for 5 minutes, then transfer to a cooling rack.
assemble
Take 8 of the cookies and lay them flat side up on a cool baking sheet. (The other 8 cookies will be the tops.)

Divide the chocolate into 8 squares, roughly the size of the cookies (note that Ghirdelli squares fit just right, and one bar has 8 pre-cut squares). Lay one piece of chocolate on each flat-side-up cookie. Heat your broiler to low, and very briefly place the cookies under the broiler just to warm - 15 seconds will do it - to start the chocolate melting.

Roast the marshmallows one by one on a skewer (if you're not outside at a campfire, you can use a culinary torch, kitchen match, or the burner from your gas stove - just be super careful with fire indoors!).

Lay the roasted marshmallow on top of the chocolate square, and drizzle salted caramel sauce over the marshmallow. Use one of the cookie tops to hold the marshmallow in place as you pull out the skewer, pressing down gently to fuse everything - cookies, sauce, marshmallows, chocolate - together.

Serve with lots of napkins and smiles.
Notes
*Make graham cracker flour by breaking up 5 sheets of graham crackers and grinding them in a food processor. To remove any large, unprocessed pieces, sift the graham cracker flour through a large mesh sieve.
Nutritional information, if shown, is provided as a courtesy only, and is not to be taken as medical information or advice. The nutritional values of your preparation of this recipe are impacted by several factors, including, but not limited to, the ingredient brands you use, any substitutions or measurement changes you make, and measuring accuracy.