Inspired by Olive Garden's famous Zuppa Toscana, this Tuscan Potato Soup is a creamy, chunky, savory soup with zesty sausage and lots of veggies. It's the perfect soup to welcome fall's chilly temperatures and to snuggle into soup season!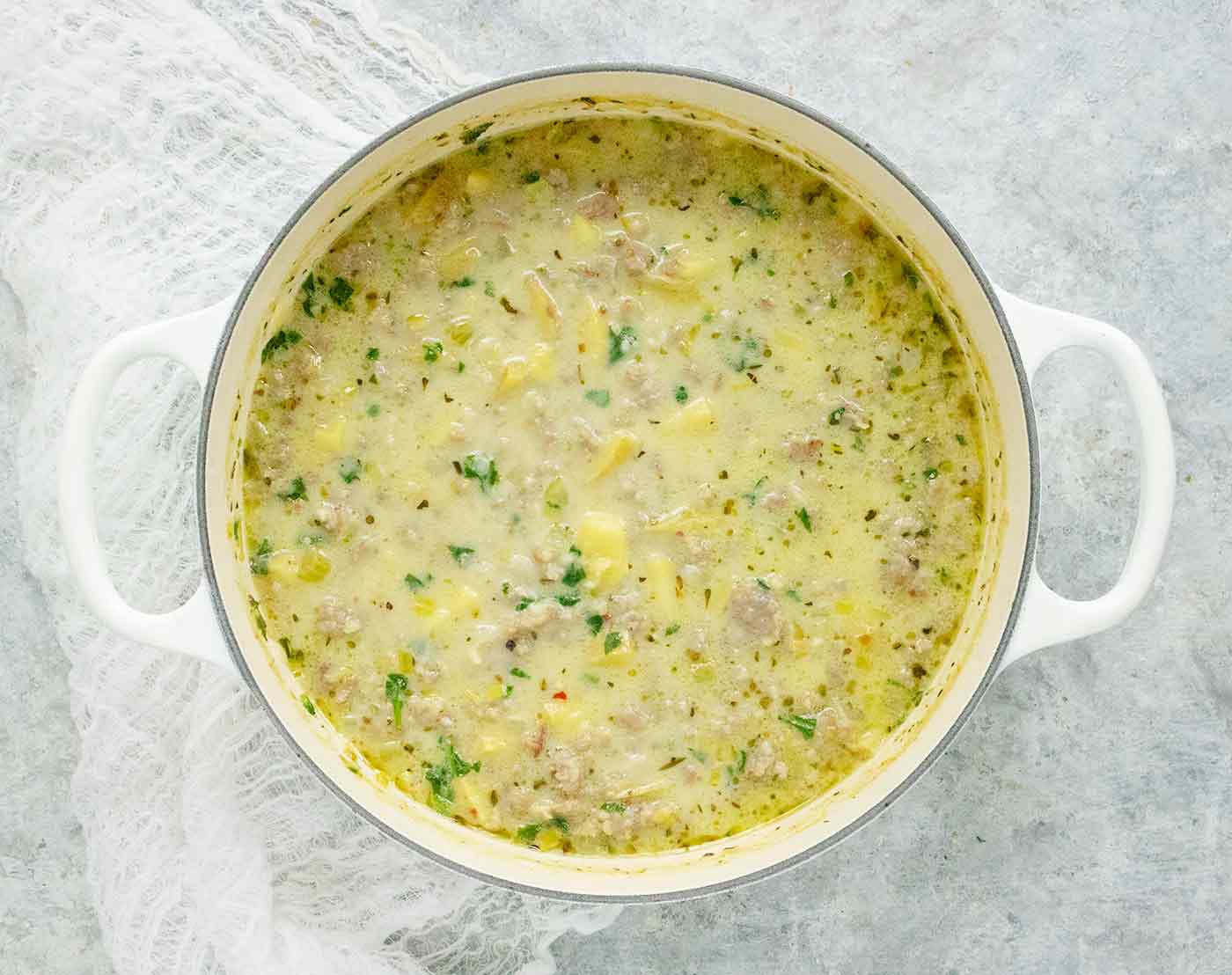 As mentioned above, this soup came about because of Zuppa Toscana. But, instead of making a copycat recipe, I really wanted to push it in a slightly different direction, relying less on pork products for flavor and using a rich foundation of aromatics instead.
It's a beautifully simple, one-pot soup that's easy to make and can be on the dinner table in under an hour.
Ingredients for Tuscan Potato Soup
Sausage: sausage provides a solid savory base for this soup, adding both spice and texture. Choose your favorite. I usually choose either mild Italian pork sausage or turkey sausage. For an extra kick, you could use hot Italian sausage.
Aromatics: the usual suspects — onions and celery — are joined by leeks, which I love in soups. They're milder than bulb onions, and are often described as slightly sweet, but not in the sugary sense.
Flour: Flour acts as the thickener in this soup. I wanted the soup to still be brothy, but not thin. Flour adds the right amount of body to the liquids.
Low-sodium chicken broth and bouillon: Why both? Because getting the right seasoning balance in soups can be challenging. Over-salting is a common issue in soup-making (think, that sharp tang in canned soups; that's over-salting). Start with a low-sodium broth and add your favorite bouillon. I'm partial to Better Than bouillon. The additional seasonings in the bouillon round out the broth without over-salting it. It's decent shortcut when you're stuck with iffy grocery store broths.
Potatoes: Zuppa Toscana calls for Russet potatoes, but for soups where the potatoes should remain intact, I prefer Yukon Gold (or Gold). They're sturdier in brothy soups yet somehow more tender and buttery.
Half and half or heavy cream: This soup is not meant to be cream-of-whatever level creamy. Instead, I use just enough to add a welcome richness and smoothness to the delicious broth.
Greens: While I do appreciate the classic addition of kale, spinach is my go-to green for soups like Tuscan Potato Soup. It doesn't add much in the way of flavor or texture, but I like the little health boost. And it always looks great in soup! If you buy baby spinach, you won't have to trim the stems as they're quite tender. But do chop them.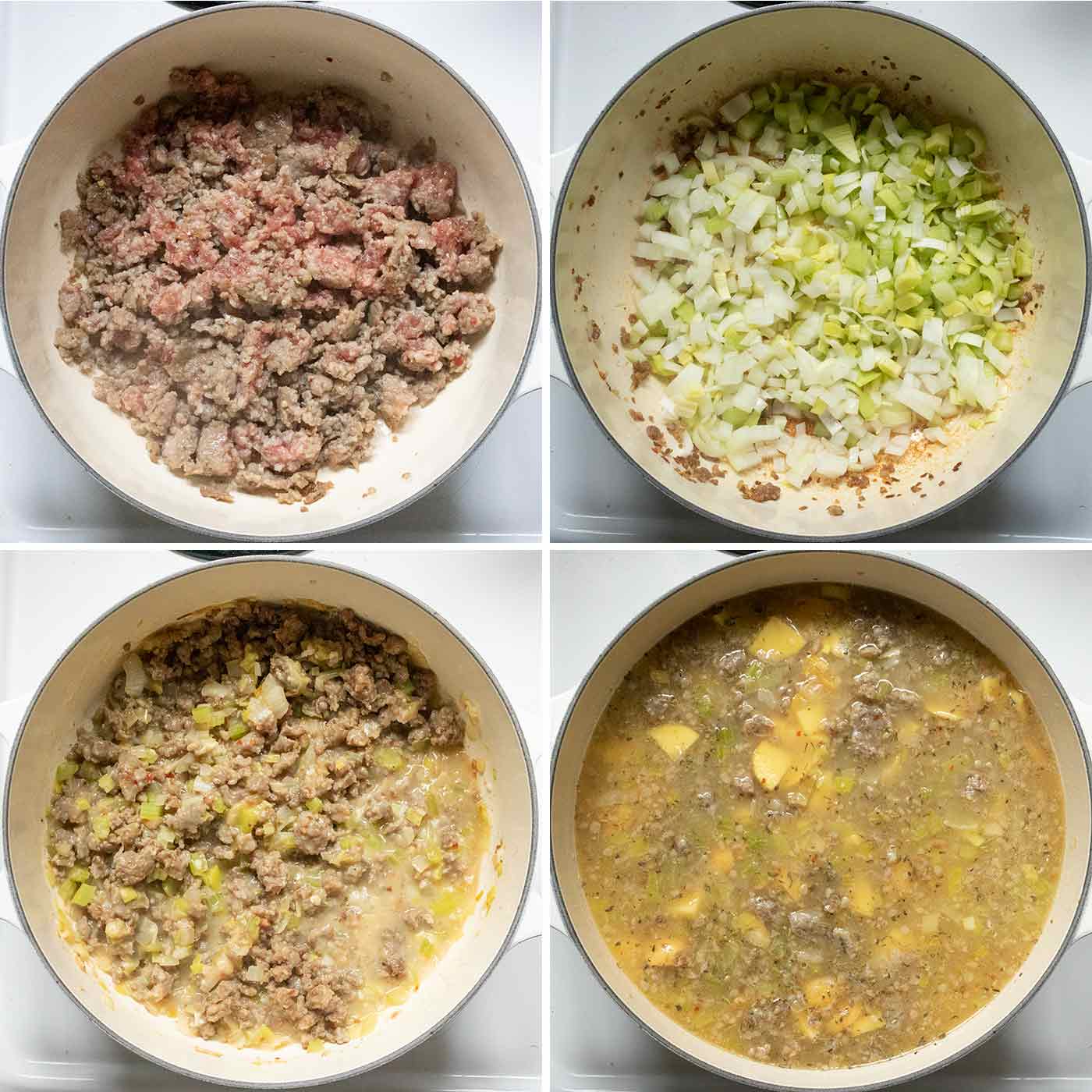 How to Make Tuscan Potato Soup
This one-pot soup is wonderfully easy and doesn't require any fussy attention.
Thoroughly brown the sausage in the heated pot, and transfer to a plate to rest. If you used a fatty cut of sausage, you'll need to drain off some of the liquid fat.
Saute the onions, celery, and leeks until soft. Stir in the garlic and cook until fragrant.
Add the cooked sausage and the wine. The wine will sizzle. While it's cooking away, scrape the fond from the bottom of the pot with a plastic or wooden spatula and incorporate into the vegetables. Lots of flavor resides in that fond!
Sprinkle the flour over everything, stirring to incorporate and cook off the raw edge of the flour. Thin with a splash of broth to create a loose paste.
Add the broth, bouillon, and potatoes, and bring the soup up to a medium simmer.
Simmer for 15 minutes to cook the potatoes.
Stir in the dairy and spinach.
Serve with cheese, bacon crumbles, and other toppings.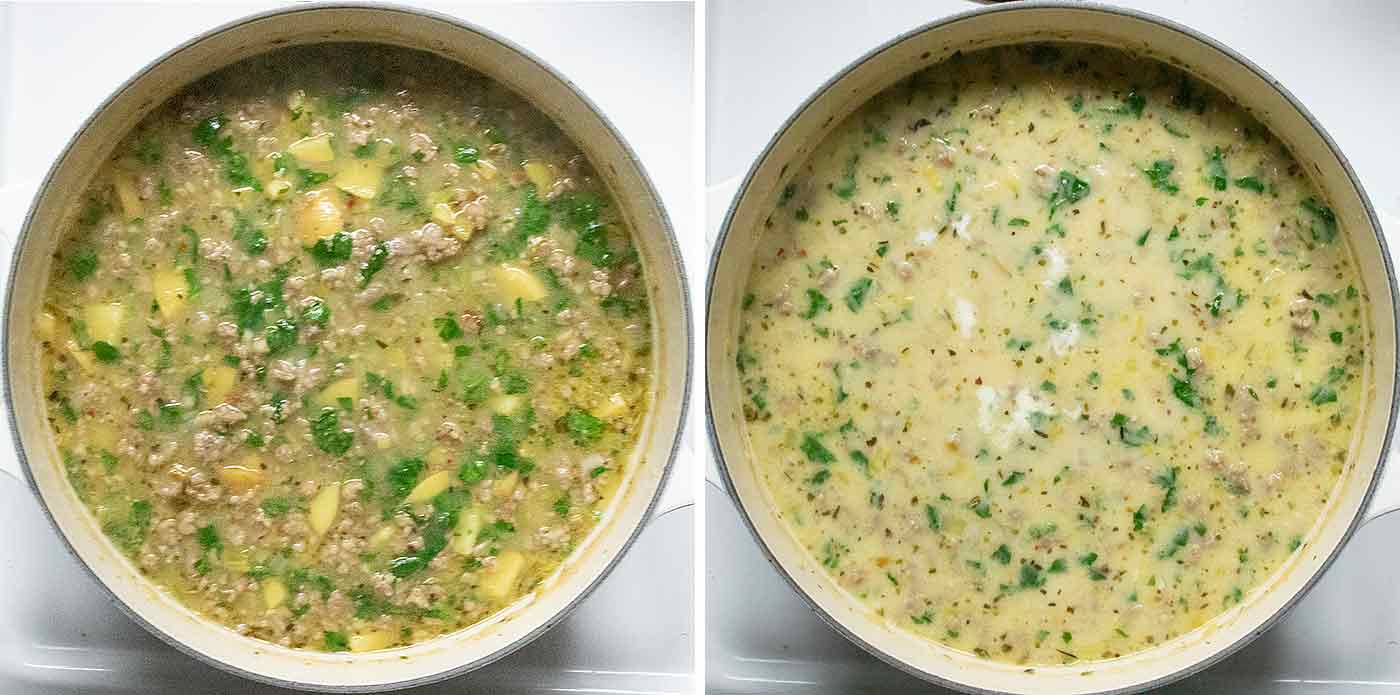 Frequently Asked Questions
Can this soup be prepped ahead of time?
Yes. In fact, it's a regular practice of mine to prep many of a soup's ingredients in the morning (when I have extra energy), to save time at dinner.
For this soup, I clean and slice the aromatics and potatoes in the morning, and stash everything in bowls in the fridge. Keep in mind that some ingredients will be added at different intervals than others, so keep them separated.
For example, onions, leeks, and celery can be stored mixed together, while the garlic and potatoes should be separated out.
Sometimes I do put everything in one bowl, separating the ingredients with a piece of wax paper or foil, and layering everything so that the ingredients on the top of the bowl are the first ones to go into the pot (e.g., potatoes in the bottom of the bowl, then the garlic, then the onions, leeks, and celery on top).
Cover the bowl with a lid, foil, or cling wrap, and store in the fridge until ready to cook.
Can this soup be made ahead of time?
Yes, Tuscan Potato Soup can be made completely ahead of time, with great results. Many soups benefit from a long chill in the refrigerator, where the flavors can have time to meld and textures can fully develop. And this soup is no exception.
Here, the savory spices of the sausage will enhance the aromatics and fully infuse the soup, while the potatoes and creamy base thicken gently to create a full-bodied soup.
How to make ahead: Cook the soup according to the directions, leaving off the suggested toppings. Let the soup cool completely.
If you're keeping the soup in its cooking vessel, make sure the pot is at most just warm to the touch before refrigeration. Otherwise, transfer the soup to a large container with a lid.
Store in the refrigerator for up to three days. Reheat on the stove or in the microwave.
Can Tuscan Potato Soup be frozen?
Yes, this soup freezes wonderfully! Leave off the suggested toppings. You can store all of the soup in one container, or package it in individual servings for lunches. Move to the refrigerator the day before serving to thaw.
What kind of potatoes to use?
Hands down, my preference is Yukon Gold potatoes, because they're buttery and contain more moisture than, say, starchy russets, which tend to fall apart in soups.
Extra bonus: Their skins are thin, so you don't have to peel them. Just make sure they're well-washed and scrubbed.
Sometimes Yukon Gold potatoes are out of season and difficult to find. You can substitute the more generic "Gold" potatoes, no problem. For the photos in this recipe, I used petite gold potatoes (small, bagged potatoes), because that's all my store had in stock that day.
We work with what we've got, right!
Can this soup be made gluten-free?
Yes, absolutely! This soup is basically gluten-free as is, with one change: don't use all-purpose flour as the thickener.
Instead, use a cornstarch slurry: create the soup as written, skipping the flour. After the initial 15-minute simmer (before adding the half-and-half), measure one tablespoon of cornstarch into a small mixing bowl. Add one ladle of hot soup to the cornstarch and whisk well. Stir this mixture into the soup, and proceed with the rest of the recipe.
Be sure to double-check your chicken stock and chicken bouillon ingredients to ensure that both are gluten-free.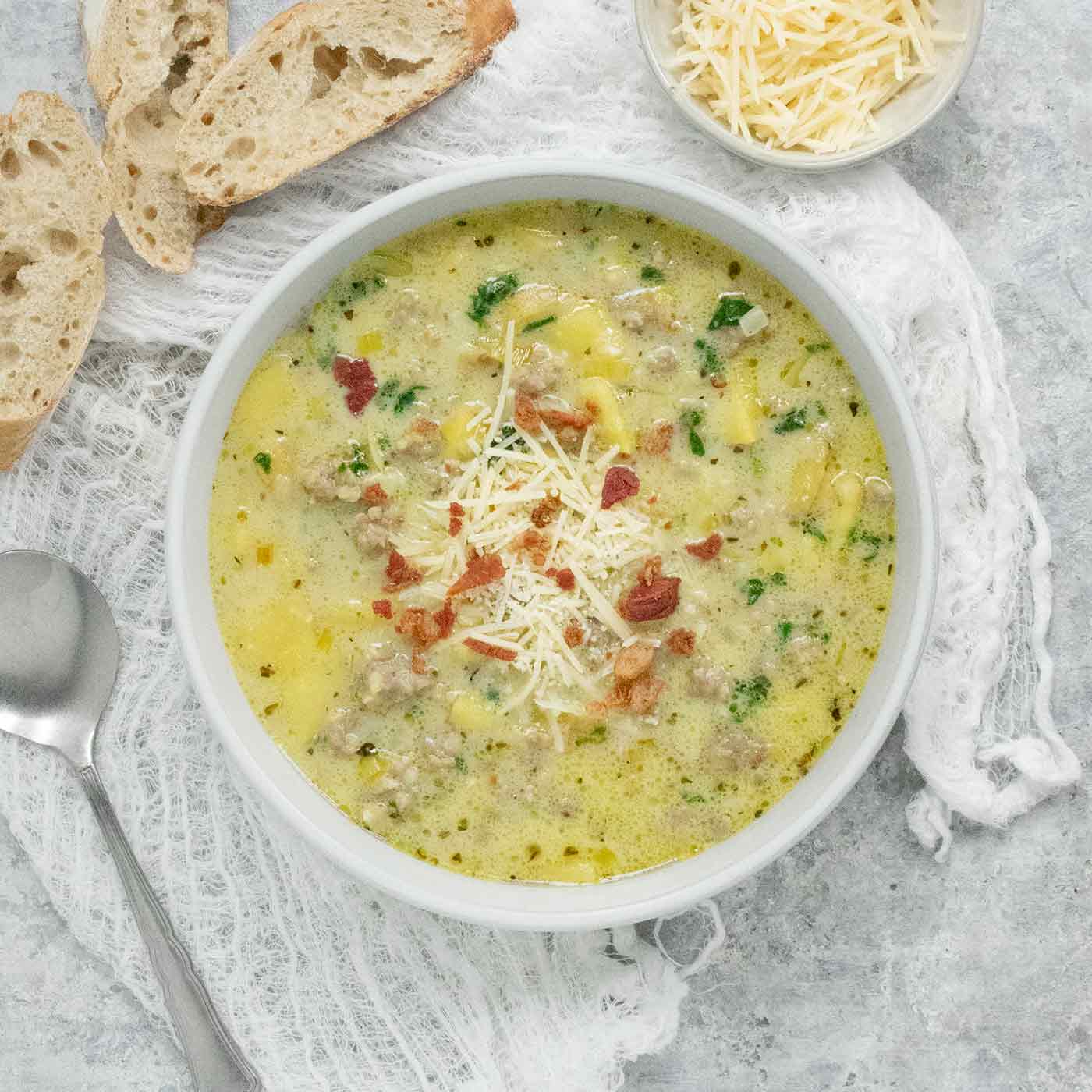 Can you use other meat besides pork sausage?
Yes, in fact, I usually make Tuscan Potato Soup with turkey sausage, because it's a little lighter and a little healthier. Pork, turkey, and chicken sausage all work very well, as does a blend of any of them (perfect for using up freezer scraps!).
Note that the intent for the recipe is to use ground sausage, not sliced links. So, if you find an interesting sausage packed in individual casings (like hot dogs are) rather than one large 1-pound casing or over-wrapped tub, make sure that the meat inside is raw and ground, rather than solid. And remove the meat from the casings before cooking.
Also, while you can use simple ground meat, I do prefer sausage because it's a shortcut to extra savoriness for the soup without extra effort.
Can the soup be made vegetarian?
Yes, and it's actually quite good! You'll need to make three swaps in the main recipe:
Replace the Italian sausage with a plant-based ground sausage, such as Impossible Sausage (get the tube, not the links).
Use vegetable broth instead of chicken broth.
Use vegetable bouillon instead of chicken bouillon.
Be sure to choose vegetarian topping options (i.e., not bacon!)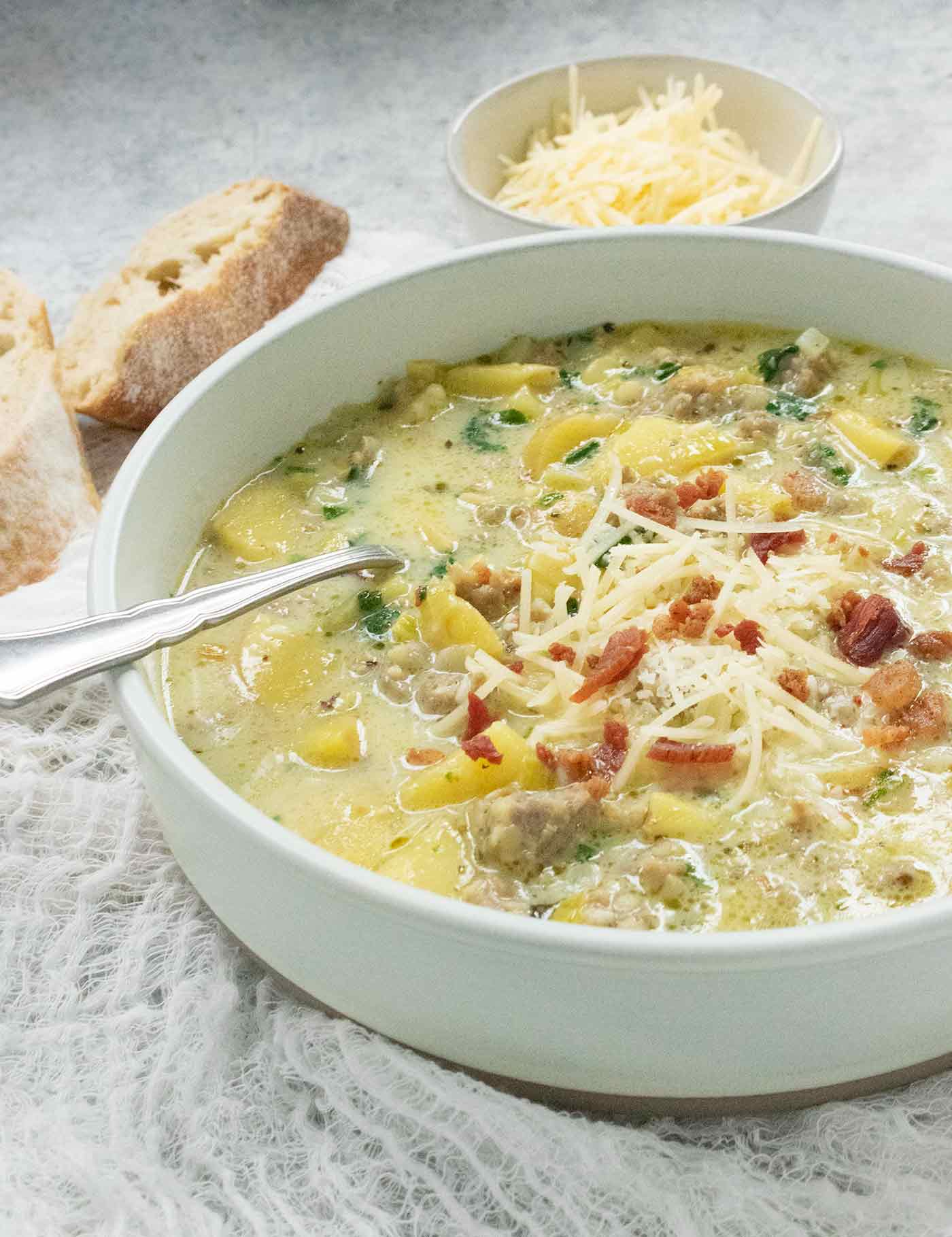 I'm so happy to kick off the 2022 soup season — Souptember! — with hearty, scrumptious Tuscan Potato Soup. I hope you'll love it, too!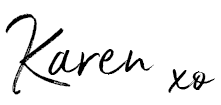 More Italian-inspired soups: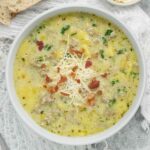 Print Recipe
Tuscan Potato Soup
Inspired by Zuppa Toscana, this luscious one-pot potato soup with sausage is dinner-level hearty but easy to make!
Ingredients
1

pound

Italian sausage

(remove casings, if packed in casings)

1/2

sweet or white onion

, diced

1

leek

, chopped (white and light green parts only)

1/2

cup

diced celery

(about 2 ribs)

6

cloves

of garlic

, minced (or 3 teaspoons jarred minced garlic)

1/4

cup

white wine

2

tablespoons

all-purpose flour

32

ounces

low-sodium chicken broth

1

teaspoon

chicken bouillon

(such as Better Than Bouillon)

1/2

pound

Yukon gold potatoes

, sliced into 1/4″ thick chunks

1

teaspoon

Italian seasoning blend

1/2

cup

half-and-half or heavy cream

2

cups

loosely packed baby spinach

(stems removed), coarsely chopped or julienned

kosher or coarse sea salt

freshly ground black pepper
Suggested toppings:
crumbled bacon

grated pecorino cheese

chopped chives

sour cream
Instructions
Heat a 4 quart Dutch oven or soup pot over medium, and add the sausage. Cook, stirring frequently and breaking up large chunks with your spoon or spatula, until browned. Transfer the sausage to a paper-towel-lined plate to rest.

The sausage will have given off fat and moisture: drain the pot of all but about a tablespoon or so of liquid.

Add the onions, leeks, and celery to the pot and saute until soft, about 8 minutes. Stir in the garlic and let saute for a minute more, until fragrant. Return the reserved sausage to the pot.

Deglaze the pot with the white wine, stirring and gently scraping up the fond that has collected on the bottom of the pot, mixing it into the vegetables.

Sprinkle the flour over the vegetables and stir to coat (it might become a little pasty; that's okay). Thin with a splash of broth and stir to loosen.

Add the remaining chicken broth, chicken bouillon, potatoes, and Italian seasoning. Raise the heat to medium-high and stir well. Let the soup come to a gentle boil, then lower the heat slightly to maintain a medium simmer.

Cook for 15 minutes, until the potatoes are soft. Test a chunk of potato against the side of the pot: it should easily smash when pressed with a spoon or spatula.

Lower the heat to medium-low.

Stir in the dairy and the baby spinach. Let the heat of the soup wilt the spinach (it will only take a minute or two).

Taste, and add salt and black pepper, a couple of pinches at a time, until the soup meets your preference.

Serve the soup with the suggested toppings on the side, so your guests can each add their favorites.
Nutritional information, if shown, is provided as a courtesy only, and is not to be taken as medical information or advice. The nutritional values of your preparation of this recipe are impacted by several factors, including, but not limited to, the ingredient brands you use, any substitutions or measurement changes you make, and measuring accuracy.