Turn everyone's favorite pasta meal into a hearty, comforting bowl of soup! Ravioli Soup is rich and flavorful with an amazing creamy texture. It's an easy weeknight, meal-worthy soup that you can get to the table in under an hour.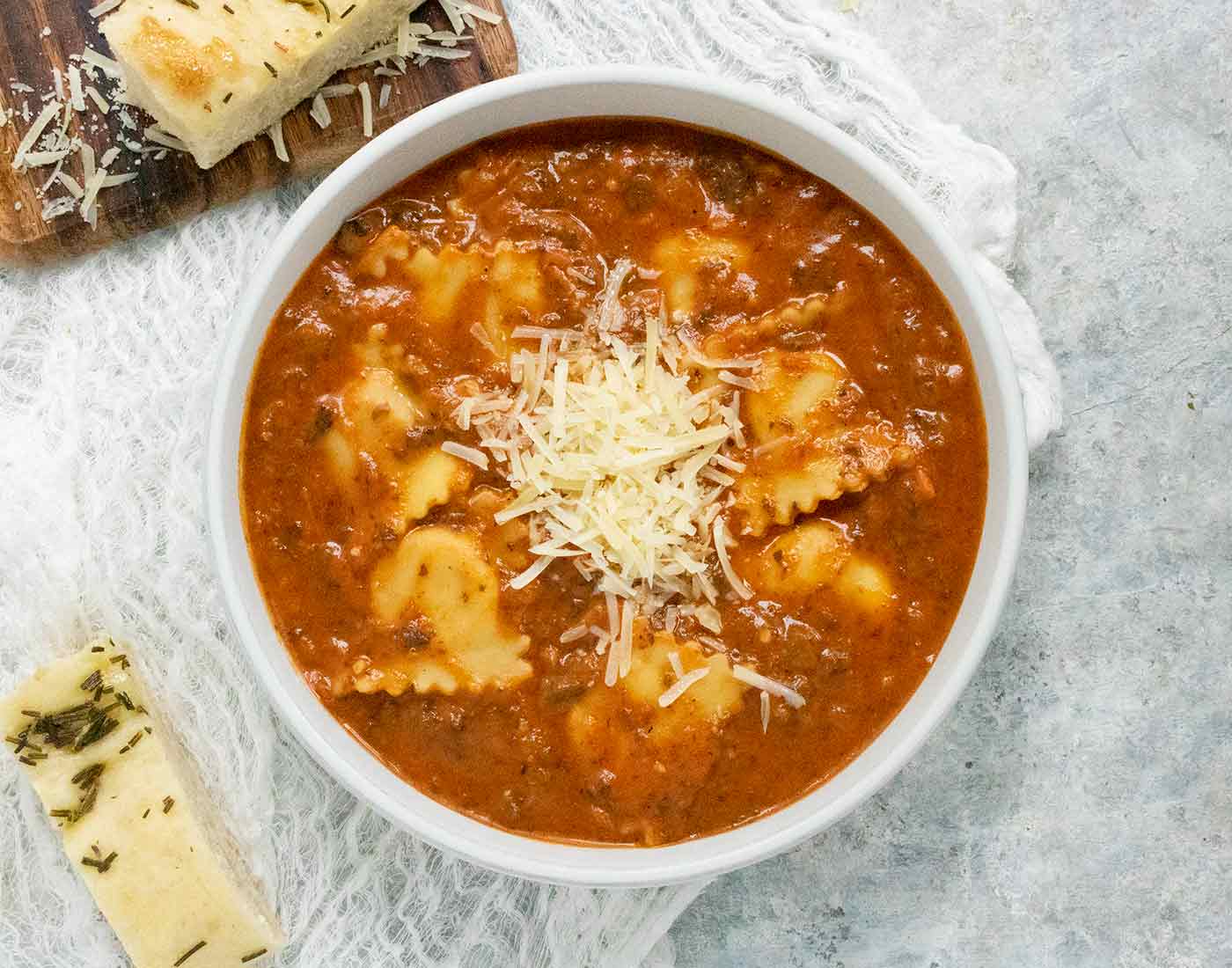 So, I want to say at the outset that Ravioli Soup is not just a dish of watery ravioli to which stock has been added. There's an art to making soup, and it goes beyond just adding water to stuff and then salting the heck out of it.
No, this is an intentional effort to take the familiar dish and turn it into something with depth and character and carby comfort, in the way that only soup can accomplish.
Does it take more steps than ravioli in marina? Yes. Is it worth it? I think so. I mean, just look at this:
Doesn't that photo make you want to grab the biggest spoon you can find and just go at the entire pot?
That's the beauty of meal-level soups like these. They're rich and complex and hearty … and crave-worthy. Ravioli in sauce is delish, but it's also sort of … flat. It all just sort of sits on the plate, and there never seems to be enough sauce to coat the ravioli.
Ravioli soup fixes all of those flaws. And happily, the extra steps to maximum flavor are no-sweat, and soup is on the table in under an easy-going hour.
Let's get into the deets!
Ingredients You'll Need:
Mushrooms – one of the ingredients that sets this soup apart from other ravioli soup recipes is simple button (or cremini) mushrooms. Mushrooms are loaded with umami and when chopped, add a nice texture to the soup. They will cook down and blend wonderfully into the soup. Meaty without the extra fat and cholestrol. Tip: if there was an ingredient built for the food processor, it's mushrooms! Now, I happen to enjoy prepping vegetables and such, but even I appreciate the speed of the food processor to chop a pound of mushrooms. Go for the food process, if you have one.
Mirepoix – the classic aromatic mixture of onions, carrots, and celery builds layers of flavor for this simple soup.
Low-sodium Stock – this soup is naturally vegetarian if you use vegetable broth, but feel free to substitute chicken. Beef might be a little too much and could mask the tomato flavors. Use your favorite brand (or homemade, if you have any).
Bouillon – one of my go-to ways to avoid over-salting a soup is to include a good bouillon, which is not just salt but also other seasonings. I used Mushroom Better Than Bouillon for this recipe, but you could also use a chicken or vegetable flavor.
Spaghetti or Marinara Sauce – your favorite sauce should work great here!
Ravioli – use fresh mini ravioli, if you can find them. My grocery store stocks them in the butter aisle. Odd, I know. But they'll be in a refrigerated case for sure. Minis, because regular-sized ravioli will be a bit large for a spoon, depending on the brand. It's not a disaster, but minis make the soup-eating experience much more pleasant. You might also be able to find dried mini ravioli. Cook up dried in a separate pot and then drain and add them to the soup. Fresh can be cooked right in the soup pot.
Half-and-Half or Heavy Cream – the intent here is not to make the soup overly creamy, but rather a smallish amount of milk fat gives this soup an incredibly satisfyingly rich texture.
How to Make Ravioli Soup
This soup is a lovely weeknight option. It involves some monitoring and stirring of ingredients on the stovetop, but nothing complicated or fancy.
Begin by cooking down the chopped mushrooms in a bit of oil until they give off most of their moisture. They'll be dark brown and a bit pasty (as you can see in the background of step 2 above).
Add the mirepoix (onions, carrots, and celery), mixing with the mushrooms, and saute for a few minutes to cook off the rawness of the veggies.
Add a bit of stock to cover the vegetable mixture and simmer until the veggies are soft.
Add the remaining stock, along with the spaghetti or marinara sauce.
Bring the soup up to a light boil and then simmer for 10 minutes.
Add the fresh ravioli and simmer for the time indicated on the packaging (usually 3 to 5 minutes). If using dried ravioli, prepare them in a separate pot to completion while the vegetables cook, then drain and then add them to soup now.
Gently stir in the half-and-half or cream.
And it's ready to serve with loads of grated cheese and a side of focaccia or crusty bread!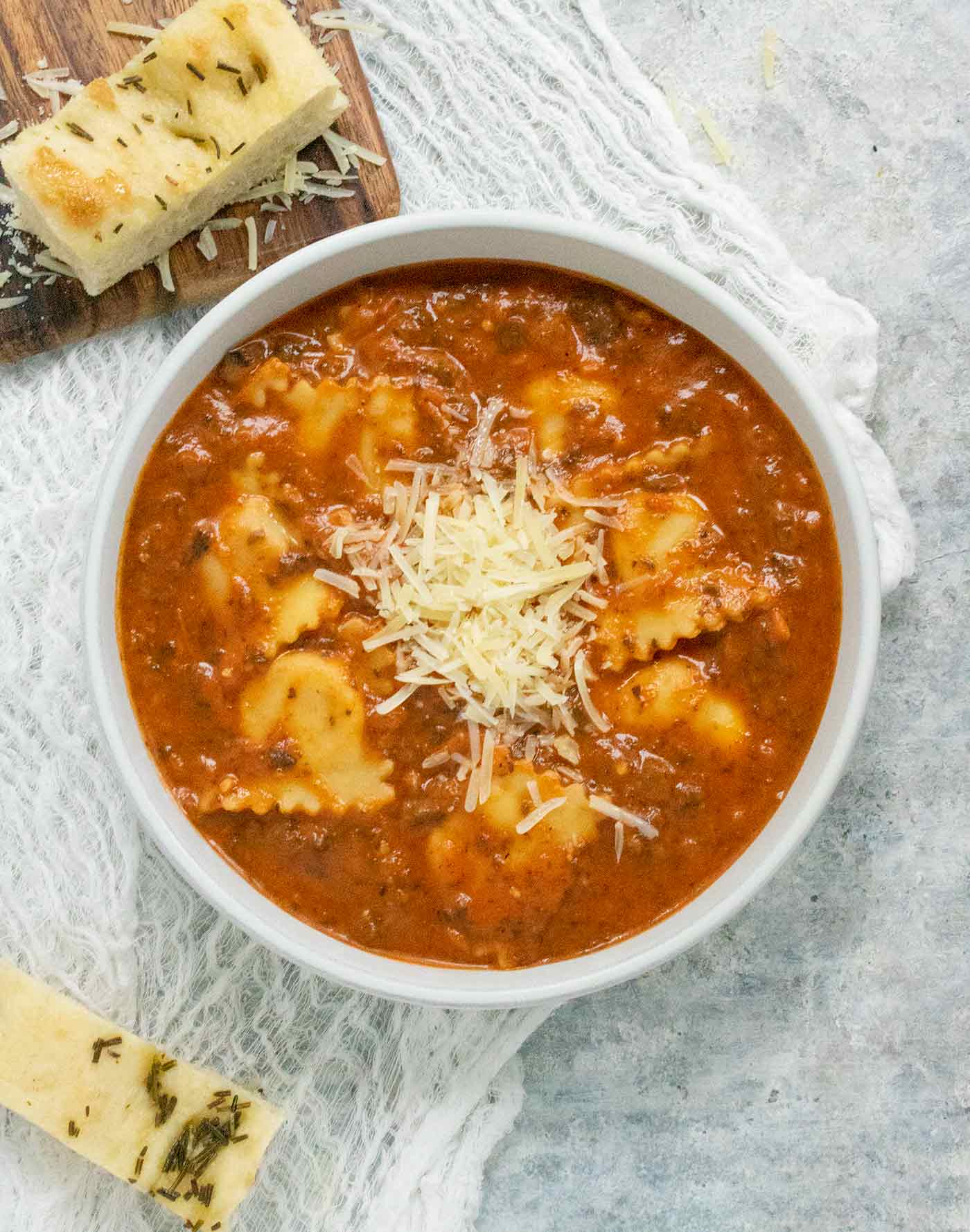 Ravioli Soup is pure Italian-inspired pasta comfort in a bowl. Perfect for rainy days and chilly nights, this hearty, flavor-maxed soup will become a family favorite! And don't forget a delicious side of Easy Garlic Bread, made at home in just minutes.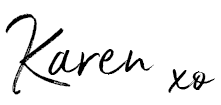 More Italian-inspired soups:
Print Recipe
Ravioli Soup
A rich and tasty soup version of the popular Italian-inspired dish, ravioli. Created with lots of chopped mushrooms for extra umami and texture, Ravioli Soup is a hearty addition to your soup repertoire.
Ingredients
1

pound

chopped mushrooms

(button or cremini)

1/2

onion

diced

2

ribs

celery

diced

1/2

cup

diced carrots

3

cloves

fresh garlic

minced

3

cups

chicken or vegetable stock

1

teaspoon

bouillon

(I use Mushroom Better Than Bouillon paste)

2

cups

spaghetti or marinara sauce

20

ounce

fresh mini ravioli

(your choice of filling)

1/4

cup

half-and-half or heavy cream

salt and freshly ground black pepper

Grated Parmagiano Reggiano cheese
Instructions
Heat a 4 quart Dutch oven or soup pot over medium. Add the mushrooms and cover the pot with a lid or foil. Cook for 10 minutes, stirring occasionally. The mushrooms should have given off much of their moisture, and be brown and tender.

Add the onions, celery, carrots, garlic, and 1 cup of the chicken stock. Simmer the vegetables in the shallow stock for 8 minutes, or until the vegetables are soft.

Add the remaining stock, along with the bouillon and spaghetti sauce. Raise the heat to medium-high and bring the soup to a light boil, then decrease slightly to maintain an active simmer. Cook for 10 minutes.

Add the fresh raviolis to the soup and cook for the amount of time indicated on the packaging. (Usually, 3 to 5 minutes.)

Reduce heat to low and stir in the half-and-half or heavy cream. Taste, and add salt and black pepper to suit.

Serve with Parmagiano Reggiano cheese on the side.
Notes
Tip: The mushrooms should be chopped fairly small, so I recommend using a food processor to get it done faster.
Nutritional information, if shown, is provided as a courtesy only, and is not to be taken as medical information or advice. The nutritional values of your preparation of this recipe are impacted by several factors, including, but not limited to, the ingredient brands you use, any substitutions or measurement changes you make, and measuring accuracy.