I don't cook on Thanksgiving, so each year I feel a little left out of the cooking frenzy that surrounds this holiday.
What usually happens — and this year is no exception — is that I get caught up in the manic exchange of recipes occurring everywhere on the interwebs, and ruin the anticipation of the day itself by making all of the main dishes (except for the turkey) at some point in the weeks leading up to the Big Meal. I can't help it.
I want the pecan pie! I want the stuffing!
To wit, last night's dinner: stuffing, mashed potatoes, biscuits. Carb nirvana. (Today, it's green tea, yogurt and granola, lest I nap through the entire day. They frown upon that at work. Odd.)
So, at the risk of being way late to the game, I wanted to share my favorite stuffing recipe. Now, not having to cook on the big day means that I have time to do things like roast chestnuts for the stuffing.
So, just warning ya'll upfront — this isn't boxed-pour-stir stuffing. But I think this would be a great recipe for someone who's just charged with bringing a side dish to the festivities, and can whip this up while watching the National Dog Show on NBC (a tradition in my household).
If anything makes me look forward to late Fall, it's chestnuts. I simply adore roasted chestnuts. And I kinda like that you really have to work for it to get them, with the slicing and the roasting and the peeling. (Folks in NY with roasted chestnut vendors on every corner: talk to the elbow 'cause the hand ain't listening.)
Oh! And in case you were wondering what's up with the tiny plate of stuffing in the top photo (because T-Day is about anything but tiny plates), that's all that was left from dinner, dredging the bottom of the pan, as I forgot to photograph it beforehand.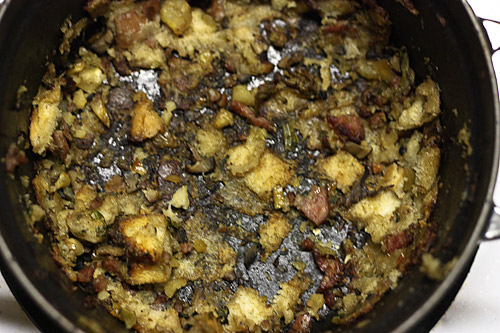 Oopsie.
Wild Mushroom, Chestnut & Stuffing Dressing
adapted from a Williams-Sonoma catalog some years back
Yield: Serves 6-8
1 ounce dried wild mushrooms (porcinis and morels are delicious)
1 cup very hot water
1 pound loaf French bread, cut into 1/2-inch cubes
3 tablespoons olive oil, divided
3 cups low-sodium chicken stock
1 sweet yellow onion, diced
2 celery stalks, diced
1 portobello mushroom, stem and gills removed, chopped
1 1/2 cups roasted chestnuts, peeled and roughly chopped* (or substitute with prepared jarred)
12 ounces mild fresh Italian sausage, casings removed
3 tablespoons chopped fresh flat-leaf parsley
1 tablespoons chopped fresh sage
Salt and freshly ground pepper, to taste
In a bowl, combine the dried mushrooms and hot water and soak for 20 minutes. Drain the mushrooms, reserving the liquid. Roughly chop the mushrooms and set aside.
Preheat an oven to 375°F.
In a bowl, combine the bread cubes and 1 tablespoon olive oil and stir to coat. Spread out the bread cubes on a baking sheet and toast in the oven until golden and crunchy, 15 to 20 minutes, stirring halfway through.
Heat the chicken stock and reserved mushroom stock in a small sauce pan over medium-low.
Heat a 4 to 5 quart dutch oven or large oven proof saute pan over medium. Add sausage and cook thoroughly, breaking up any clumps with a spoon or spatula. Remove to a paper-towel lined plate.
Add 2 tablespoons olive oil and heat until shimmering. Add the onion, celery and portobello mushrooms, and saute, stirring often, until onions are soft and translucent and mushroom give off their liquid. Add the reconstituted mushrooms, chestnuts and sausage and cook for 2 minutes more (just to reheat).
Add the bread cubes to the pan and turn everything over with a spatula several times to mix. Begin adding the warmed stock in half cup amounts, gently turning the mixture over with each addition. You want the bread cubes to be moist, but not soggy, and there should be standing liquid in the bottom of the pan (you might not use all of the liquid). Season well with salt and pepper.
Bake until crispy and golden, about 1 hour. Check periodically, and cover the dish with aluminum foil if the bread pieces on top get too dark. You'll want to cook for the full hour, though, to make sure the stuffing is not soggy.
Make-ahead tip: Assemble the dressing up to 1 day in advance, but do not bake. Cover and refrigerate. Remove from the refrigerator 1 hour before baking.
*How to roast chestnuts: Preheat oven to 400°F. Use a sharp paring knife and a steady hand to cut a large X on the curved side of each chestnut. Make sure you break through the hard shell. I find that using a rocking motion with firm pressure works better than trying to make an actual slice. Do be careful!
Spread out the chestnuts on a baking sheet, X side up, and roast in the oven for 30 minutes. The points of the X will curl back. Allow to cool until you can handle and then peel away the hard shell and the light brown membrane (which might come off easily with the shell, or still be stuck to the chestnut – the chestnut itself is yellowish-tan).