As the weather continues to warm and spring vegetables slip away to summer, I look forward to the simple foods that summer's bounty brings.
Just this weekend, I found the first cucumbers at my local farmers' market — little baby cukes that would be perfect for pickling if not for the fact that they were even more perfect for eating straight up and slicing into a salad. (My own cucumber plants are about 3″ tall at this point and more than a month away from first fruiting. Sigh – anticipation.)
Their surprise appearance at the market was a happy (and rare) overlapping with the chive flowers still in bloom in my garden, and my beloved Cincinnati Market radishes, which are quickly winding down.
Chive flowers are beautiful little frilly puff-balls in the loveliest shade of lavender — and they're edible, adding a subtle chive flavor and a pretty burst of texture and color.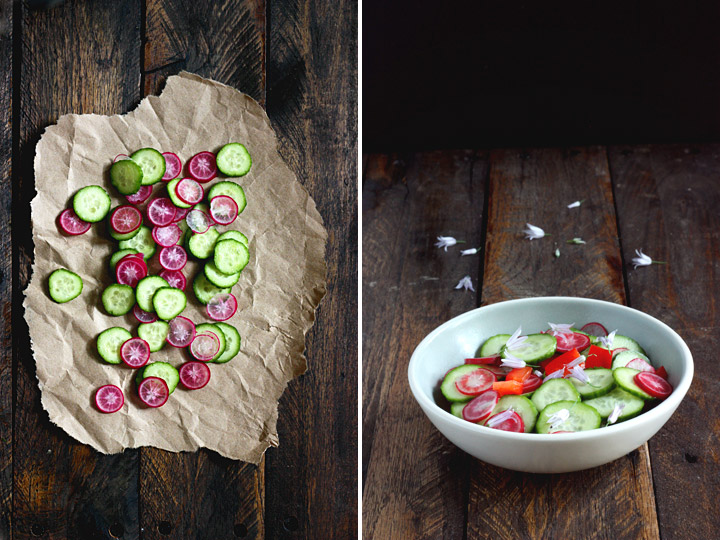 This salad came together in less than 15 minutes — so fresh, bright and crisp — I didn't even wait for it to marinate, although the chilled leftovers the next day were amazing.
Oh, garden vegetables, how I've missed you so [muah]!
Karen xo
In 2017, I'll be donating a portion of SoupAddict's income each month to a non-profit whose works speak to my heart. April's proceeds will go to
La Soupe
, a Cincinnati non-profit working to relieve childhood hunger and tackle food waste in one swoop, using
soup
as the foundation for both. Founder and chef — and recent Jefferson Award winner — Suzy DeYoung has connected our city's best chefs and their kitchens with grocery store produce turnover — perfectly good fruits and vegetables that simply must be moved off the shelves — and the result is delicious, healthy soup that goes right into the bellies of our city's underfed children through schools and relief organizations. This summer, La Soupe is fundraising for their
Ladle Campaign
, which will provide a much-needed facility expansion to broaden their vegetable intake and sorting operations.
Learn more about their inspirational work
and
listen to Suzy
tell the story of La Soupe.
Chive Flower and Cucumber Salad
Ingredients:
for the vinaigrette
1/3 cup sugar (I used half sugar and half truvia)
1/3 cup rice wine vinegar or white wine vinegar
1/2 teaspoon salt
1/2 teaspoon your favorite chopped flavoring herb, such as dill, celery seed, basil, oregano (optional)
for the salad
3 or 4 baby cucumbers, sliced
2 or 3 medium round radishes (or one French breakfast or carrot style radish), sliced
1 small red bell pepper, diced
2 chive flowers, florets removed from the flower head base on the main stem (or 1 tablespoon chopped chives)
Instructions:
Whisk all of the vinaigrette ingredients together in a small bowl until the sugar is dissolved. Set aside.
Add the vegetables and about half of the chive florets to a medium bowl and toss lightly. Drizzle the vinaigrette over the salad and give it stir. Sprinkle the remaining florets over the salad as a garnish.
Chill for at least an hour. Can be made a day ahead.