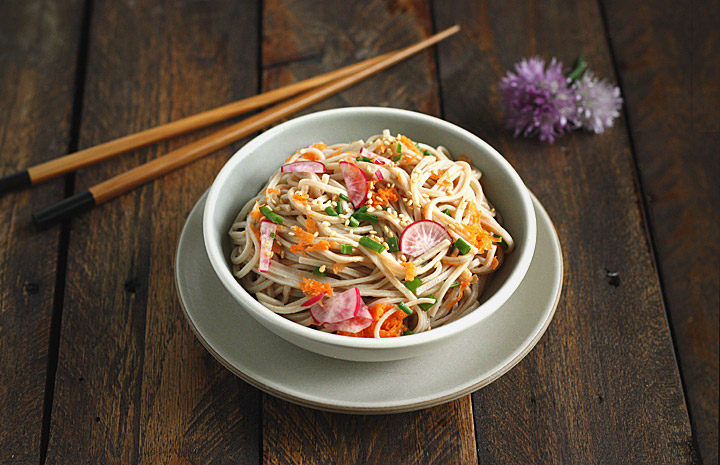 Spring inspires spontaneity and an inventive spirit. The calendar shows we are now closer to summer than winter, and I'm feeling it — the desire to stop planning the clock and live more in the moment grows as the thermometer creeps upward.
One of the many things to love about having a home garden is walking out into the backyard, the sun strong on your shoulders, surveying nature's bounty, and planning the mealtime menu. It taps the base instincts, foraging and hunting (and grilling, too — humankind has been cooking over an open flame for thousands of years). (For the record, I also get happy menu-planning feelings at the farmers' market.)
One sunny Sunday morning, I fetched radishes, chives and over-wintered carrots from the garden and spread them out on the kitchen counter. Spying oranges and soba noodles from a recent trip to the market, lunch magically sorted itself out.
These are my favorite meals, the ones that happen effortlessly with ingredients on hand from garden and pantry.
The difference between a cook and a cook, I've come to realize, is the confidence to close the recipe binder and wing it. Instinct and curiosity (and, yes, hard knock lessons) are powerful tools in the kitchen.
Master a few basic techniques this summer — poach an egg, create a signature vinaigrette, steam fresh vegetables, grill salmon on a cedar plank — then close the binder.
And be spontaneous: cook from the heart.
Karen xo
In 2017, I'll be donating a portion of SoupAddict's income each month to a non-profit whose works speak to my heart. April's proceeds will go to
La Soupe
, a Cincinnati non-profit working to relieve childhood hunger and tackle food waste in one swoop, using
soup
as the foundation for both. Founder and chef — and recent Jefferson Award winner — Suzy DeYoung has connected our city's best chefs and their kitchens with grocery store produce turnover — perfectly good fruits and vegetables that simply must be moved off the shelves — and the result is delicious, healthy soup that goes right into the bellies of our city's underfed children through schools and relief organizations. This summer, La Soupe is fundraising for their
Ladle Campaign
, which will provide a much-needed facility expansion to broaden their vegetable intake and sorting operations.
Learn more about their inspirational work
and
listen to Suzy
tell the story of La Soupe.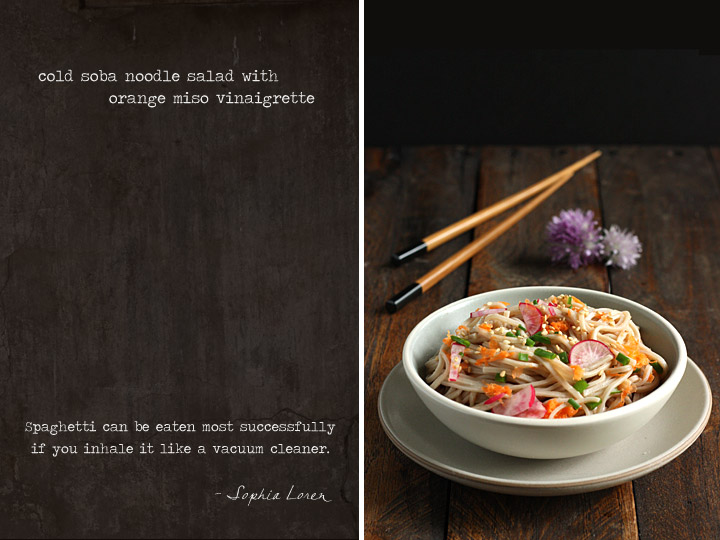 Soba Noodle Salad with Orange Miso Vinaigrette
Serve this salad at room temperature, or after a stint in the fridge, for a cooling nosh at the end of a long day in the hot sun.
Ingredients:
8 ounces soba noodles
2-3 round radishes, thinly sliced (or one french breakfast style radish)
1 medium carrot, finely grated
1 heaping tablespoon chopped chives
sesame seeds, for garnish
orange miso vinaigrette (recipe below)
Instructions:
1. Prepare the soba noodles according to package directions. Drain and rinse under cold water. Set aside to cool. (You can also transfer to a bowl and place in the fridge while you prepare the rest of the ingredients.)
2. In a medium bowl, toss the radishes, carrots, and chives with a little bit of the vinaigrette. Add the cooled noodles and use tongs to gently mix the vegetables in with the noodles (slide the tongs to the bottom of the bowl, close over the noodles and turn over). Drizzle with more vinaigrette to taste. (I prefer the noodles to be nicely coated with the dressing, but not sitting in a pool of it.)
3. Portion into individual serving bowls. Sprinkle with sesame seeds. Top with more dressing, if desired.
Orange Miso Vinaigrette
Juice of one medium orange
2 tablespoons finely grated ginger
1 tablespoon mild miso (such as white)
1 tablespoon rice wine vinegar
1 teaspoon toasted sesame seed oil
1/4 teaspoon salt (or to taste)
1 tablespoon neutral-tasting oil (such as canola or grapeseed)
Instructions:
Place all ingredient except oil in a small bowl and whisk to combine. Add the oil and continue whisking until mixed (note: the dressing might not emulsify, but that's okay. All will be fine when added to the noodle salad.
Or, easier, place all ingredients in a tallish container and use a stick blender to mix. The ingredients will emulsify quite nicely. You can also use a small food processor (a regular sized processor probably won't handle this small of a batch.)