Celebrate the start of summer food holidays with with a colorful Cinco de Mayo bowl filled with spicy shrimp and a zesty mango salsa.
I don't know what it is about Cinco De Mayo and the Kentucky Derby. I get so food-excited when these two days roll around that I plan menus weeks in advance (compared to, say, last year's Christmas dinner: literally planned on Christmas Eve. While shopping in Kroger. Which is how a box of frozen popcorn shrimp got into my freezer. Panicked shopping = reeeally questionable judgement).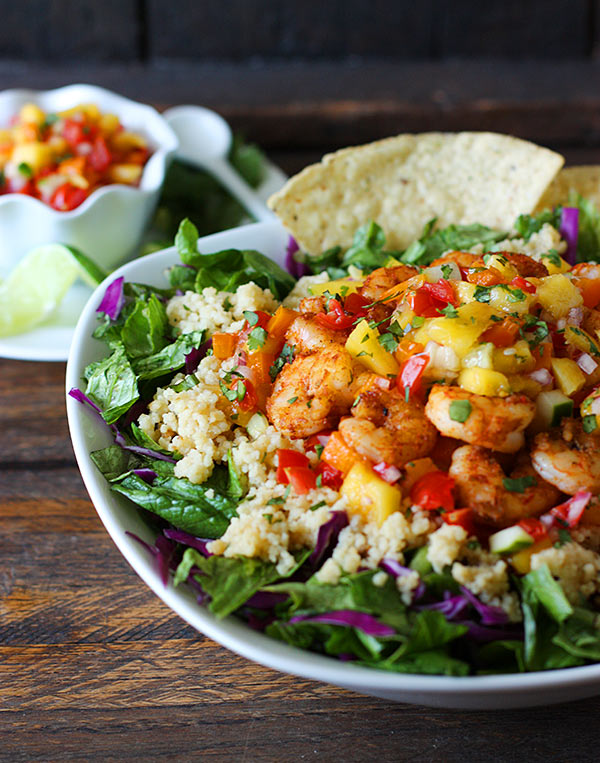 Anyway, Mexican cuisine is one of my favorites, as it's flexible yet time-tested and reliably no-fail. Salsa is credited to the Incas and Aztecs and is one of the most brilliant combinations of foods ever invented. Once my tomato gardens kick into gear, salsa is a near daily occurrence at Casa Adicta a la Sopa. I don't think I can rightly draw some kind of significant line connecting salsa and the Mexican victory at the Battle of Puebla, but, given that salsa is such great party food, I don't think it's a terrible stretch.
And then there's the Derby. I don't even live in Kentucky, but I'm glued to the tube when Derby coverage begins, and I sing (and well up to) "My Old Kentucky Home" loudly and off key. No matter what's on the menu, it's always served up with something alcoholic and minty (but no juleps, please).
So, this week's recipes celebrate these two days. First up, my new favorite favorite favorite salsa, topping a fresh, bright, and zesty shrimp and couscous salad = Cinco de Mayo bowl. Mango salsas are everywhere, right? But I make mine with a special ingredient.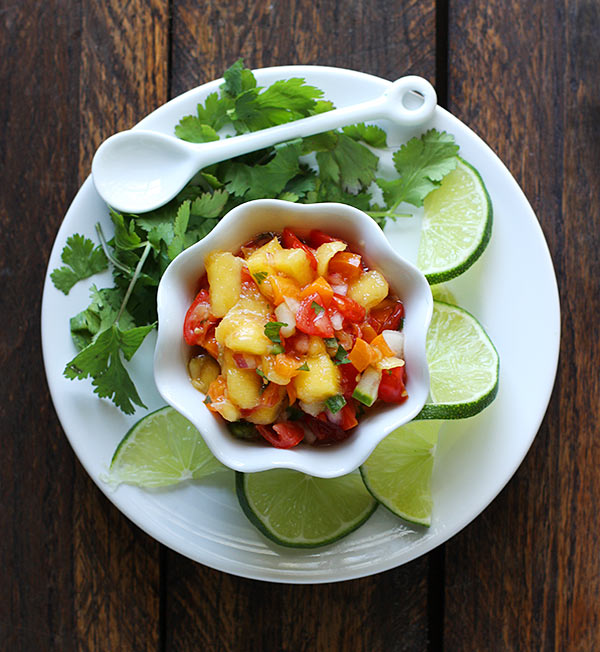 My sweet and zesty mango salsa starts with fresh chili-pepper-heavy pico de gallo marinated in a lemon-lime-agave mixture, to which I add mango and a very generous spoonful of … juicy, grated ginger. And then it all sits in the fridge 'til the flavors go steady, get engaged, say I Do, and get all snuggle bunny in their new Cinco de Mayo bowl home.
Oh my yum.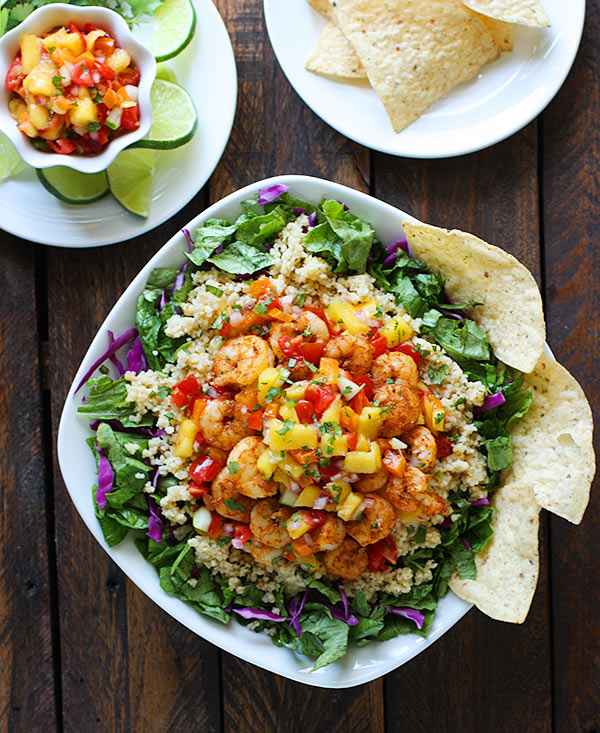 Then, shrimp is seasoned with my favorite spices, seared to a plump pink, and spooned over couscous.
Why couscous? Pasta seemed too heavy, rice, too starchy. I grabbed a box of Mediterranean couscous at the grocery and it worked out perfectly: a light layer of pasta carbs that sits happily on the fork, along with some shreds of red cabbage, romaine, and salsa-coated shrimp.
This recipe makes a lot of salsa. And you'll be glad it does. Use the ginger zesty mango salsa to dress the romaine and cabbage, if you like. Or spread a layer between the couscous and shrimp. But definitely add a huge spoonful on top, because you'll want lots of mango salsa with every bite from your Cinco de Mayo bowl. Serve extra salsa in a bowl on the side with a big bag of Tostitos Hint of Lime chips.
Good-golly-miss-molly, pass the margarita.
Karen xo
In 2017, I'll be donating a portion of SoupAddict's income each month to a non-profit whose works speak to my heart. April's proceeds will go to
La Soupe
, a Cincinnati non-profit working to relieve childhood hunger and tackle food waste in one swoop, using
soup
as the foundation for both. Founder and chef — and recent Jefferson Award winner — Suzy DeYoung has connected our city's best chefs and their kitchens with grocery store produce turnover — perfectly good fruits and vegetables that simply must be moved off the shelves — and the result is delicious, healthy soup that goes right into the bellies of our city's underfed children through schools and relief organizations. This summer, La Soupe is fundraising for their
Ladle Campaign
, which will provide a much-needed facility expansion to broaden their vegetable intake and sorting operations.
Learn more about their inspirational work
and
listen to Suzy
tell the story of La Soupe.
Spicy Shrimp with Sweet and Zesty Mango Salsa Cinco De Mayo Bowls
Summary: For the most tasty result, prepare the salsa at least 2 hours ahead and keep in the fridge. Tastes great the next day!
Ingredients
for the salsa
1/2 of a lime
1/2 of a lemon
1 teaspoon agave
1 teaspoon fresh ginger, minced
1 mango, peeled, pit removed, chopped or small dice
2/3 cup chopped or small dice tomatoes
1/3 cup cucumbers, small dice
1/4 cup small dice red onions
1 small garlic clove, minced
1/2 small jalapeño, seeded, minced
salt
for the shrimp
10 ounces raw shrimp, peeled, deveined, tails off (thaw if using frozen)
1/4 teaspoon ancho chili powder
1/4 teaspoon smoked paprika
1/4 teaspoon cumin
1/4 teaspoon coriander
1/4 teaspoon salt
olive oil
for the bowls
2 cups chopped romaine lettuce
1 cup chopped or shredded red cabbage
2 cups cooked couscous
Instructions
make the salsa
In a small bowl, combine the lime and lemon juices, agave syrup, ginger, and a big pinch of salt. Stir well and set aside. Add the remaining salsa ingredients to a medium bowl and toss with the lime dressing and 1/2 teaspoon salt. Cover and refrigerate for at least two hours.
marinate and cook the shrimp
Toss the shrimp with some olive oil and the spices and salt to thoroughly coat. Heat 1 tablespoon of olive oil a large saute pan over medium. Add the shrimp to the pan when the oil beings to shimmer. Sear the shrimp on both sides until pink and plump.
assemble
Line two pasta bowls with equal amounts of the romaine and red cabbage. Spoon couscous over each, followed by a layer of salsa. Divide the shrimp between the two bowls and layer over the salsa. Finally, top both bowls with a generous helping of salsa.