August is perhaps the best month to be a cook in the Midwest. Home gardens are busting out with fresh produce, while farmers' markets fill in the gaps with their lovely varieties of heirloom produce, and crops that require a lot of land — my particular gaps — like corn, the big melons and pumpkins, and orchard fruit.
July was a brutally hot and dry month, but I have to say, my garden absolutely relished it all. (With only about a 1/3 of an acre, I can easily keep my gardens watered, a luxury that small farmers can't always afford.) August brought with it several inches of desperately needed rain, and, combined with cooler temps (only in the lowers 90's), the gardens took off, ripening in earnest. I'm positively (and wonderfully) buried in tomatoes, peppers, squash, cucumbers, and herbs.
When shopping one day at the market, I came across a vendor with long, slender stalks of broccolini and beautiful, picture-perfect heads of cabbage. Knowing leftover brown rice was cooling its heels in my fridge, an Asian-inspired salad began to form in my mind, right there on the spot, as I stood in the stall, jostled by shoppers eager for heirloom tomatoes and aromatic cantaloupe.
With my own carrots, green onions and cilantro at home, and tucking a dozen beautiful brown and sky blue eggs from another vendor, the evening's meal was planned. I love when that happens — meals based on the day's fresh selections — it just feels right and good.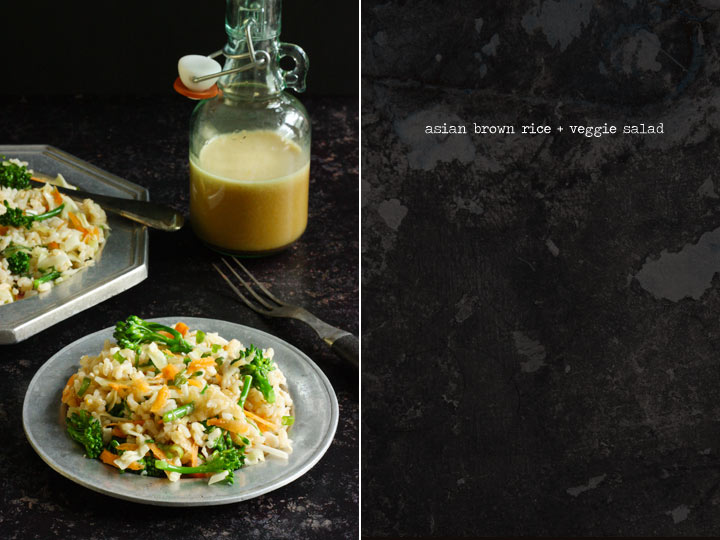 A word or two about the dressing: this is absolutely my favorite dressing for Asian salads. It contains a good number of ingredients, but most are from a bottle, but they'll store easily so you'll have plenty for next time (especially if you do a lot of Thai cooking, like I do. Soy sauce, fish sauce, a really good toasted sesame oil (buy toasted — so much better than plain old sesame oil), rice vinegar — these are staples for the pantry.
I've fiddled with this recipe for a long time, and finally found perfection with the addition of orange zest and fish sauce. It's the off-season in the U.S. for oranges, so I hate to encourage the purchase of such an item, but the zest is really important here.
People cleverer than I preserved orange zest in the freezer back in January. But I, I must suck it up and buy the somewhat sad oranges. (I did preserve lime zest last winter, but oddly not orange. Curious.)
For a satisfying main course, serve this salad over grilled chicken strips or … my favorite … top with a fried or poached egg.
Karen xo
Asian brown rice + veggie salad
Ingredients:
3 heaping cups cooked brown rice (leftover rice is perfect)
1 small head green cabbage, sliced thin then and chopped (or grated)
1 bunch of broccolini, trimmed and roughly chopped (optional: lightly blanched)
1 medium or 3 baby carrots, grated
2 green onions, whites and greens, chopped
3 heaping tablespoons chopped fresh cilantro
1/4 cup peanuts, chopped
Orange ginger dressing (recipe below)
Instructions:
Gently toss the rice, vegetables and peanuts in a large bowl. Drizzle half of the dressing over the salad, mixing as you go. Taste, and add more dressing to suit. Serve at room temperature. Keeps well in the fridge for several days (eat it cold, or allow it to warm up a bit).
Orange Ginger Dressing
1 tablespoon fresh orange juice
1 teaspoon orange zest, finely grated
1 tablespoon soy sauce
1 tablespoon toasted sesame oil
1 teaspoon fresh ginger, finely minced
1 teaspoon fish sauce
1 tablespoon honey
1/4 teaspoon salt
2 tablespoons rice vinegar
1/4 neutral oil, such as canola or sunflower
Add all of the ingredients to the jar of a blender (or a tall container, if using a stick blender). Blend for about a minute to emulsify the ingredients.
Subscribe to the SoupAddict Weekly Digest and get new soups and other delish foods in bowls in your inbox!