Bake up a batch of Bacon Wrapped Potatoes with BBQ Ranch dipping sauce for your next gathering, and watch them disappear right off the platter. So easy to make in the oven — no frying! — with a few extra tips to ensure they're irresistible, these bacon appetizers are the perfect finger food for summer cookouts and holiday parties!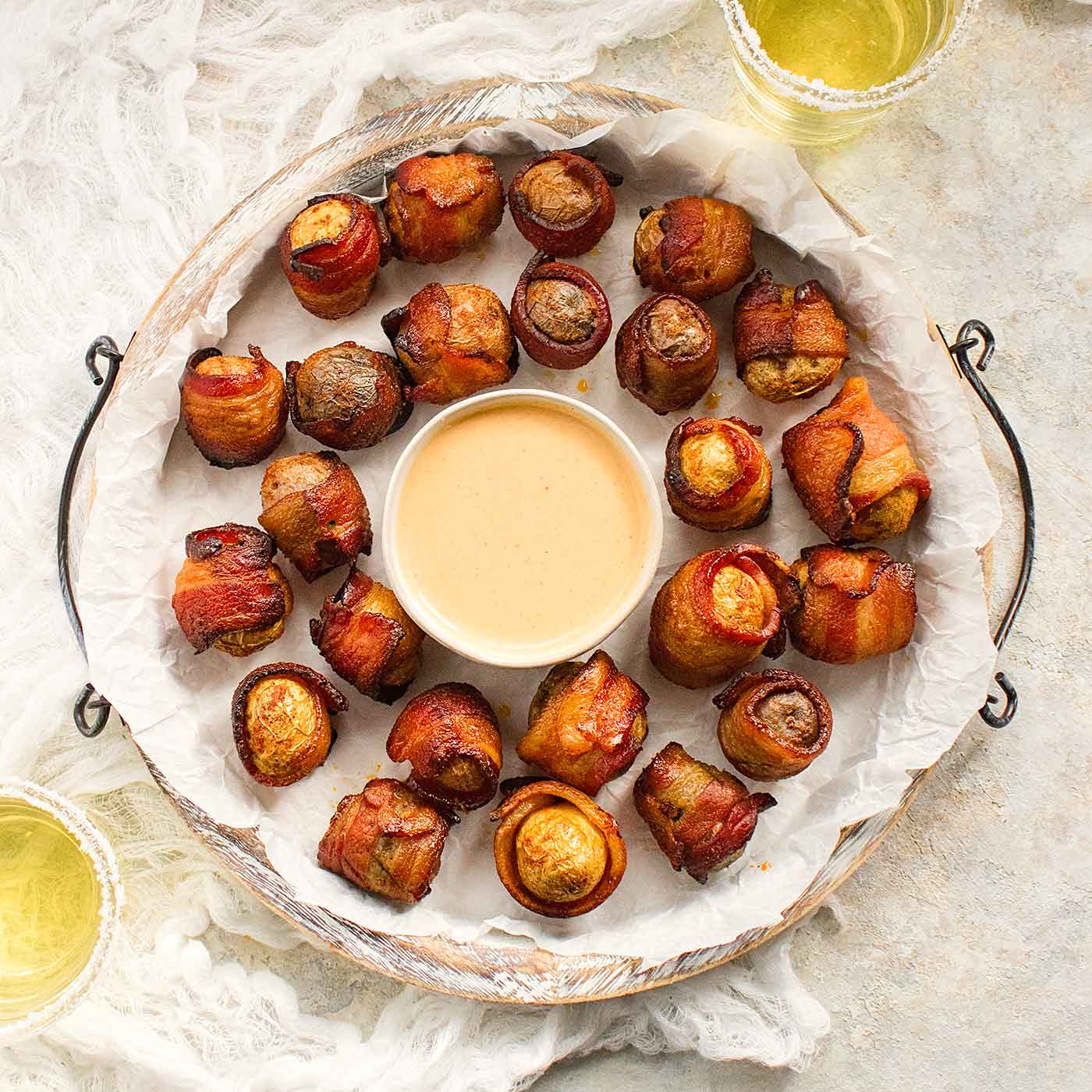 Appetizers are on my mind a lot. Soup and finger-food is a perfect meal, in my book: a big bowl of comfort food soup with nibbles on the side is dinner heaven.
I don't have even half as many appetizer recipes as soup recipes on this blog, but, believe me, they have a hold on my foodie heart.
In fact, when I host Christmas, dinner is inevitably nothing but appetizers. Which started because there were too many people and not enough table space in my small house, but continued even after the young ones moved away and the older ones passed away.
So, if you need a visual of Christmas day at Casa SoupAddict, it's a lot of middle aged people walking around noshing on appetizers and complaining about creaking knees.
Now, I certainly didn't invent the concept of bacon wrapped potatoes, but they did pop right into my brain when trying to think of an alternative to bacon wrapped scallops — a perennial family favorite that always manages to tie up the oven in very inconvenient ways.
So, potatoes seemed an extremely acceptable replacement, especially when you imagine the whole deal as sort of miniature loaded baked potatoes, dipped in a very tasty BBQ ranch sauce.
They're oven-baked — bacon crisps up fabulously in the oven — so, simplicity is built right in. They can be made a little bit ahead of time — not too far, as you don't want to have to refrigerate and reheat them later — and are actually best at room temperature (not piping hot), so that the bacon sets up into a sturdy, crispy sheath around each potato.
Tips for Making the Best Bacon Wrapped Potatoes Appetizers
Use thick cut bacon: Even though the potatoes are small, the sheer density of the potatoes' interiors will actually overwhelm the bacon flavor. Thick cut bacon evens everything out and creates the perfect salty/smoky/starchy bite.
Count the bacon slices before you buy: While experimenting with this recipe, I quickly discovered that there's absolutely no consistency in packaging bacon strips from one manufacturer to another, except that they get awfully stingy with the thick-cut bacon — the same brand might include 12 strips of regular bacon in a pack, but only 10 strips of thick-cut. You'll use a half of a strip per potato, so calculate accordingly.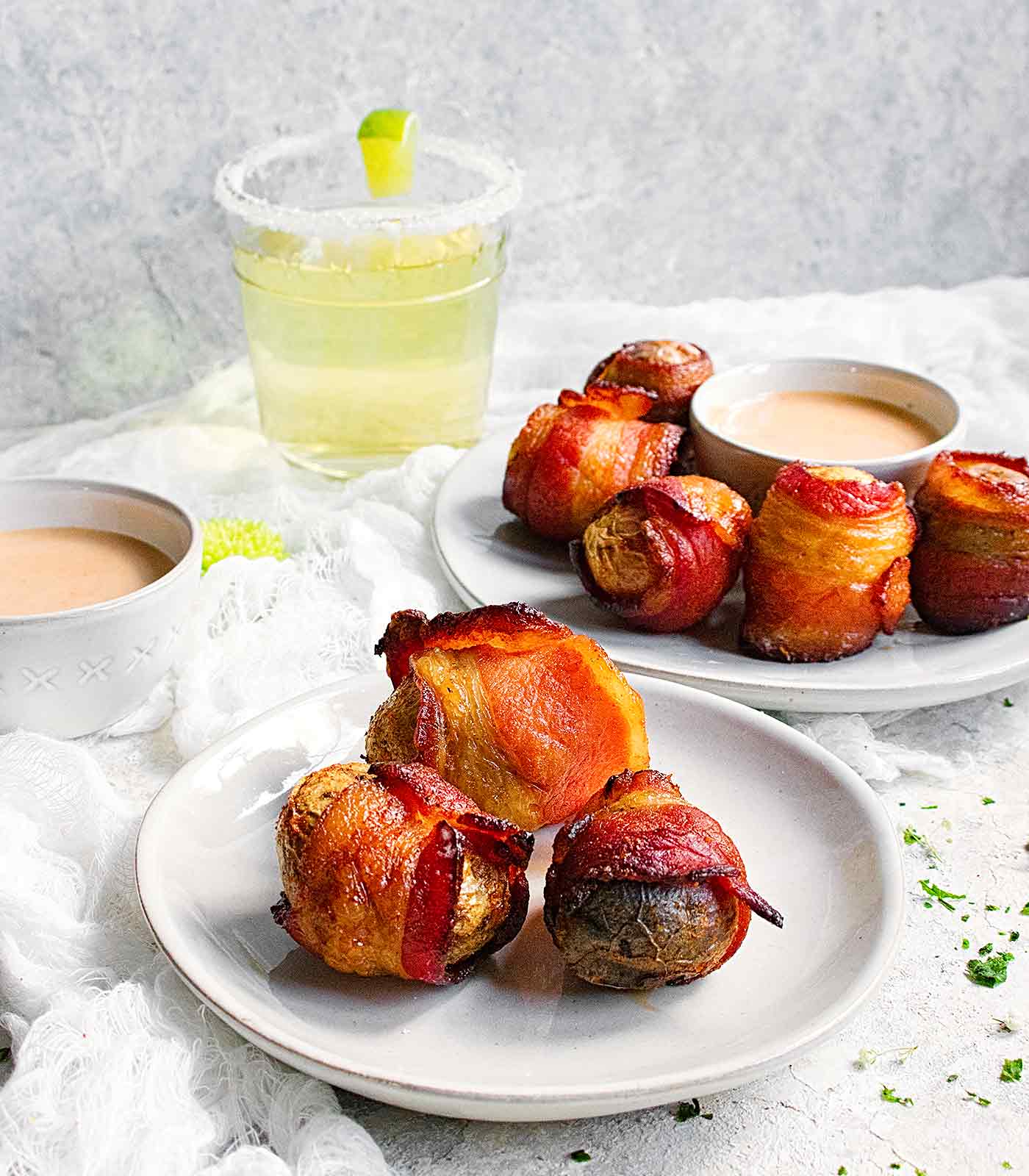 Candied bacon? Yes, please: This recipe goes right over-the-top and seasons the bacon with a sweet-smoky mixture of maple syrup, smoked paprika, and Worcestershire sauce that bakes up crisp and irresistible. Yes, it's worth it. Candied bacon is always worth it. But don't worry — it's just whisking and brushing. No special cooking. You got this.
Keep the potatoes under 2″: These are meant to be finger food appetizers, not side dishes, so you don't want to serve something that needs a knife and fork to deal with. Baby Yukon potatoes are often packaged in net bags and are lovely choices for this recipe. I found bags of multi-colored baby potatoes, and that's what I used in the photos here (in fact, the appetizers with the dark ends in the photos are blue potatoes, not burnt potatoes!).
Count the potatoes, too: Not trying get all mathy with this recipe, lol, but baby potatoes are sold by weight, which helps you not at all when you're trying to figure out how many appetizers to make.
Use plain wooden toothpicks to the secure the bacon to the potatoes: On my first testing of this recipe, I happily reached into the cabinet and pulled out my jar of party toothpicks, painted all the colors. Fast forward to serving the bacon appetizers to friends for taste-testing … with big splotches of color surrounding each of the toothpick holes. We ate them anyway, but, don't do this at home. It's really not as pretty as it sounds.
Serve the dipping sauce in small individual bowls, if you have enough for all the guests. The bacon wrapped potatoes are two bites, and individual bowls will let people double-dip, guilt-free.
Make more than called for. Or less. It's up to you because this recipe easily scales up or down as needed. Just remember, 1/2 strip of bacon per baby potato. No need to adjust oven temp or time.
Crispy and tender, all in one bite, Bacon Wrapped Potatoes will be the hit of the party. Don't forget the dipping sauce!
Karen xo
More appetizers for parties and the holidays:
Print Recipe
Bacon-wrapped Potatoes | Bacon Appetizers
These bacon-wrapped wunderkins will be the hit of your next party! So easy, too, as most of the work is done by the oven!
Ingredients
for the potatoes
24

baby potatoes

, scrubbed and dried

2

tablespoons

olive oil

1

teaspoon

smoked paprika

1/2

teaspoon

seasoned salt

1/4

teaspoon

powdered garlic

1/4

teaspoon

powdered onion
for the bacon
12

slices

thick cut bacon

, sliced in half across the equator to create 24 shorter slices

3

tablespoons

maple syrup

1/2

teaspoon

Worcestershire sauce

1/2

teaspoon

smoked paprika
for the dipping sauce
1/3

cup

ranch dressing

2

teaspoons

BBQ sauce

2

teaspoons

maple syrup
Instructions
Preheat oven to 375 degrees Line a rimmed half-sheet pan with foil (one continuous piece is best, to keep the bacon grease from seeping between sheets). If you have an oven-safe wire rack that fits the pan, spray it with non-stick spray and place it in the pan. Using a wire rack will let the bacon grease drain away and help the bacon to crisp up nicely.
prepare the potatoes
Add the oil and spices to a large, sealable plastic bag. Add the potatoes and seal completely. Shake the bag, and then work the oil and spices into the potatoes.
prepare the bacon
Whisk together the maple syrup, Worcestershire sauce, and smoked paprika in a small bowl. Brush one side of every bacon strip half with the maple syrup blend.
assemble and bake
Wrap one seasoned potato with one half strip of bacon (glazed side facing out). Secure the bacon end with a plain* wooden toothpick pushed into the potato. Place the potato on the wire rack.

Repeat with the remaining potatoes and bacon slices.

Bake for 45 to 50 minutes.

Remove from oven and cool until handleable. Carefully remove the toothpicks**, leaving the bacon wrapped around the potato.
prepare the dipping sauce
Whisk together the ranch dressing, BBQ sauce, and maple syrup in a medium mixing bowl. Dipping sauce can be made ahead of time and stored in the fridge.
serve
Transfer the appetizers to a serving tray. Transfer the dipping sauce to a nice serving bowl, or, if you have small dipping bowls, let your guests fill their own.
Notes
* Make sure you use only plain wooden toothpicks, not colored. The color will run into the potatoes and leave unappetizing stripes of coloring.
** Although the toothpicks seem like a good handle for dipping the bites into the sauce, they actually don't hold the weight of the potato very well: They'll slip out easily after roasting. So, I always remove the toothpicks, even for a party.
Nutrition
Nutritional information, if shown, is provided as a courtesy only, and is not to be taken as medical information or advice. The nutritional values of your preparation of this recipe are impacted by several factors, including, but not limited to, the ingredient brands you use, any substitutions or measurement changes you make, and measuring accuracy.