Perfect for fall grilling, game day cookouts, and even tailgating, grilled sausages, peppers, and potatoes are a tasty way to enjoy outdoor cooking and smoky, earthy flavors. Easy to prepare, easy to grill, this is a crowd pleasing meal for sure!
One of the best things about summer, for people who love to cook, is grilling. Not only does it keep the kitchen cool during those endless 90° heatwaves, but there's just something extra special that direct fire and smoke does to food.
Even better than summer grilling, however, is autumn grilling. Hovering over a hot grill on a hot day not the most pleasant experience. I grilled and smoked a lot of corn and Hatch chilies this summer, and spent most of the effort trying to time it all so that there was enough shade on the deck into which I could drag the grill until I was finished, lol.
But. Hovering over a hot grill on a chilly autumn day with leaves flying is entirely enjoyable. And then capping the process by sitting down with a satisfying meal is just the best.
Grilled baby potatoes may just be my new favorite thing of the season. I've grilled them in foil packs and such, but never directly on the grill grates. They cook through with fluffy insides and crispy edges on the outside. And everything together — plump, glossy sausages, brightly colored peppers, roly poly potatoes — just looks so appetizing on the grill. When cooking with friends, presentation is half the battle ;).
Oh, have you heard about grill brush dangers? I feel like I'm late to this particular bit of news, but, here goes: the bristles of wire brushes can break off and stick to the residues on your grill grates. Which can transfer to your food as your grilling … and end up getting stuck in your throat or puncture your gut.
I've used wire grill brushes for ages, but, yikes, no more. I haven't landed on a replacement strategy yet, but, however rare the occurrence, it makes me all kinds of cringey to think about all of the worn grill brushes I've used over the years.
Anyway.
For an extra delish meal, make sure you include different kinds of sausages, so that there's something for everyone. From brats and Italian sausage to chorizo, andouille, chicken apple, kielbasa, and more, variety is the spice of life!
Don't forget vegetarian options for your plant-based friends. Beyond Meat makes an awesome brat version, and Field Roast has Italian and Chorizo options.
Slice the sausages on a diagonal into two-bite lengths — three to four pieces per sausage — so that your guests can try several without feeling stuffed (or having to wield a knife, if it's a walk around and find-your-own-seat kind of gathering).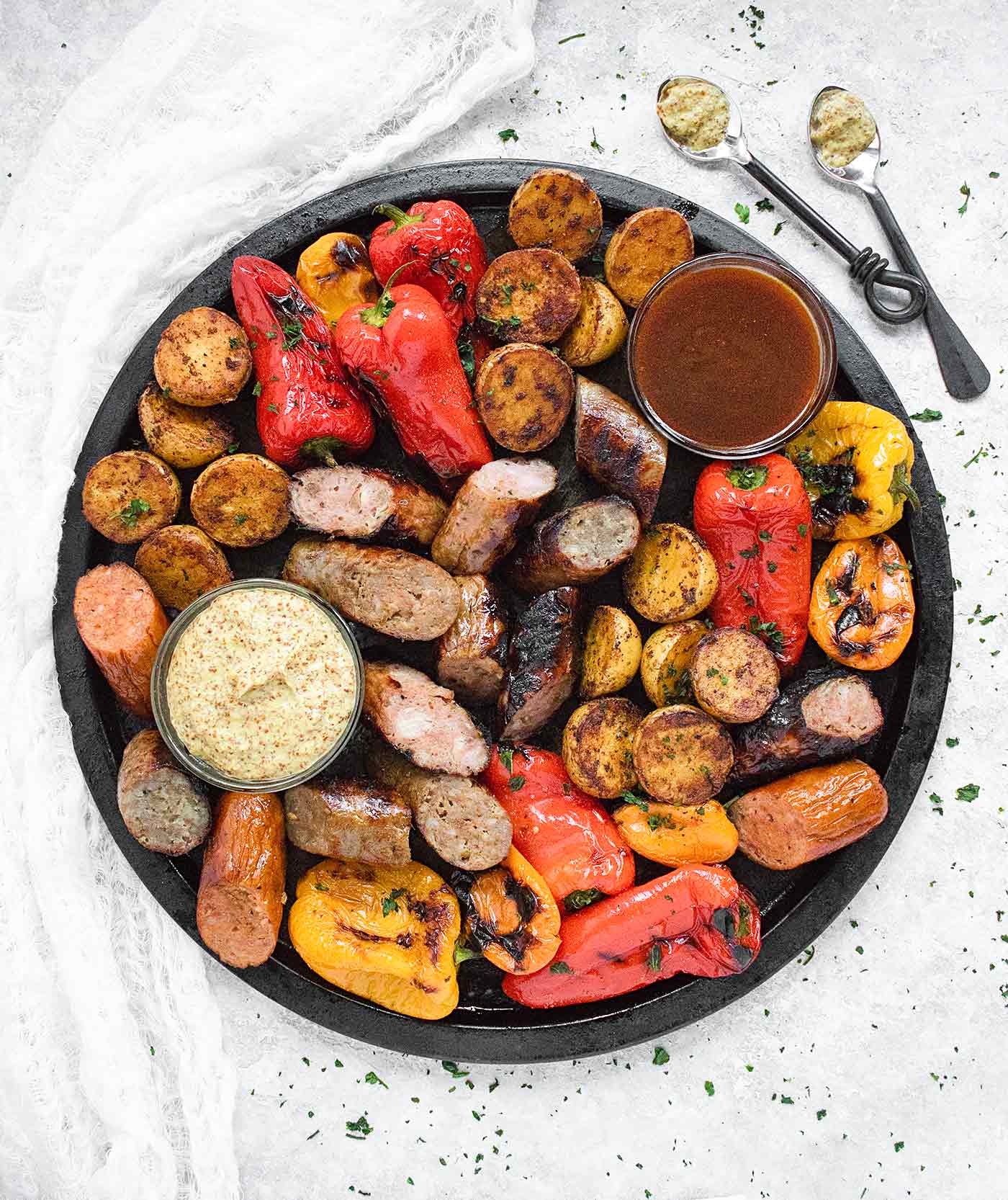 Take advantage of the proliferation of bags mini bell peppers, which don't require a lot of fussy prep. Note that the mini peppers in these photos are from my own garden and are probably a little larger than what you'll find at the store. Mini peppers are sweet and tender and richly savory when grilled, and you just bite them off of the stem.
Arrange the grilled sausages, peppers, and potatoes on a large platter, mixed together, to encourage everyone to try everything.
And don't forget the dipping sauces: serve with whole grain mustard, BBQ sauce, ranch. For guest with iron taste buds, kick up the spice with Sriracha ketchup, sweet chili, or Korean BBQ sauce.
Karen xo
More grilled deliciousness:
Print Recipe
Grilled Sausages, Peppers and Potatoes
Perfect for fall grilling, it's easy to prepare, with no complicated grilling techniques. This recipe can easily be scaled up or down. Figure 1 1/2 or 1 2/3 sausages (depending on how you slice them) per person. Two or three peppers person, and 1/4 pound baby potatoes person.
Ingredients
1

pound

baby potatoes

8

uncooked sausages,

various types*

12

mini bell peppers

olive oil

kosher salt
for the potato seasoning
1

tablespoon

olive oil

1

teaspoon

smoked paprika

1

teaspoon

chili powder

1/2

teaspoon

garlic powder

1/2

teaspoon

kosher salt
Instructions
Scrub the potatoes and then parboil them for 8 minutes. Drain, and briefly rinse in cold water. Set aside to dry, until cool enough to handle.

Preheat your gas grill to medium-high, or get the coals heating.

Place the sausages and bell peppers on a large, rimmed baking sheet pan, and rub all with a thin coat of olive oil. Season the peppers with a big pinch of salt on all sides.

Mix all of the seasoning ingredients in a large zipper bag. Slice the baby potatoes in half, and add them to the bag. Seal the bag, and toss to thoroughly coat the potatoes. Transfer the potatoes to the sheet pan.

When hot, oil the grill grates, and add the sausages, peppers, and potatoes. You can grill the potatoes directly on the grates - on the vast majority of grills, they won't fall through (or, you can use a large grill pan or foil pan).

Keep an eye on everything, as they'll finish at different times, and check for scorching. Depending on their position above the flames, the peppers will finish first - make sure to flip them once to avoid blistering the skin too deeply.

Turn the sausages after 4 minutes; they'll take 8 to 10 minutes total.

Remove the peppers and sausages to a clean pan as they finish.

The potatoes will probably take the longest. Test for doneness by piercing with a knife. To finish them off, once the peppers and sausages have been removed, you can spread the potatoes over the grill to reach the heat.

Serve immediately with dipping sauces, such as your favorite BBQ sauce, whole grain mustard, and even ranch dip.
Notes
* For added interest, choose a variety of sausages, such as beer bratts, Italian, chicken, andouille, even vegetarian brands.
Nutrition
Nutritional information, if shown, is provided as a courtesy only, and is not to be taken as medical information or advice. The nutritional values of your preparation of this recipe are impacted by several factors, including, but not limited to, the ingredient brands you use, any substitutions or measurement changes you make, and measuring accuracy.