A beautiful, filling pasta salad with all of the best flavors of a BLT. Hearty enough to be the main dish, this BLT Pasta Salad has it all: crispy bacon, tomatoes, lettuce, plus avocado, croutons, and a delicious creamy pesto dressing.
This isn't just any pasta salad. It's not the goopy macaroni salad that you buy at the grocery store and serve along side brats and burgers as a filler.
No, this pasta salad is meal-worthy. It's the star of the show, the centerpiece of a lovely, breezy, relaxing dinner.
Relaxing, because you made this BLT pasta salad earlier in the day, and then when supper time rolled around, you pulled the bowl out of the fridge, gave everything a little toss, and DONE. No burgers needed.
Because, this pasta dish is stuffed full of everyone's favorite flavor combo: the BLT. The satisfying mix of salty bacon, tangy tomatoes, snappy spinach, and starchy pasta is positively irresistible.
Especially when tossed with a luscious, creamy pesto dressing and topped with crunchy croutons. Oh, that dressing! I grow lots of basil in the summer, so I almost always have fresh pesto on hand.
Basil pesto a strong flavor, but when mixed with something creamy, like Greek yogurt, it's smooths right out in flavorful goodness.
Bacon tip: My preferred method for crisping up bacon is in the oven, not in the frying pan. The cooking process is hands-off, you can walk away, and you can control the clean-up options (line the baking sheet with foil, and just wad it up when you're done). Here's how I cook bacon in the oven.
If I might humbly say so, it's even better than the classic BLT sandwich that inspired it, because it not only hits all of the right flavor notes, it also skips right over the scratchy toast part of the sandwich sitch, replacing those carbs with tender, toothsome pasta.
Make sure you use cherry tomatoes. Summer tomatoes are awesome beyond awesome, but when winter lands on us with both feet, the tomato supply turns highly suspicious. Cherry tomatoes, however, remain halfway decent throughout the year. Not perfect, but serviceable.
Preparation tip: it's a little extra work, but make sure you slice those tomatoes into halves or quarters. It's one of my biggest salad pet peeves, when whole cherry tomatoes arrive on the plate (looking right at you, restaurant salad-makers). You should never have to take a knife to your pasta salad, but you also don't want to be chasing a roly poly cherry tomato around your plate with a fork. Slice those round veggies!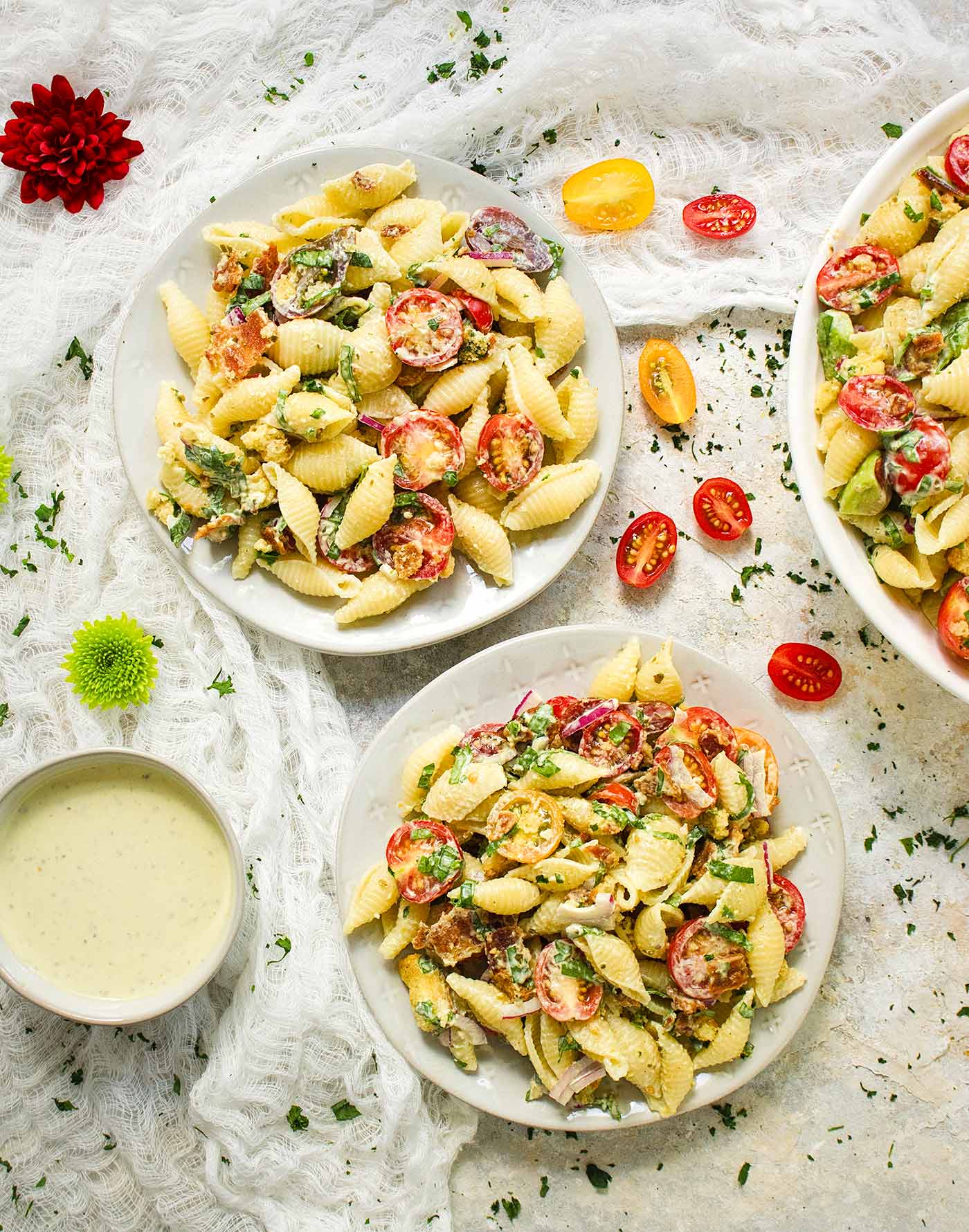 Slivers of fresh baby spinach stand in beautifully for lettuce, and add extra nutrition and verdant color to the works. While not traditional to the BLT, I also couldn't resist adding avocado. It's a lovely companion to this BLT pasta salad.
I hope you enjoy it!
Karen xo
More pasta salads to enjoy:
Print Recipe
BLT Pasta Salad with Creamy Pesto Dressing
A beautiful, filling pasta salad with all of the best flavors of a BLT. Hearty enough to be the main dish, this BLT Pasta Salad has it all: bacon, tomatoes, tender spinach, plus avocado, croutons, and a delicious creamy pesto dressing.
Ingredients
Dressing:
1/2

cup

mayo

1/2

cup

Greek yogurt

1 1/2

tablespoons

white balsamic vinegar

1/4

teaspoon

kosher salt

2-3

tablespoons

prepared basil pesto
Pasta salad:
12-14

ounces

pound medium pasta shells

6

strips cooked

, crispy bacon

1

pint

cherry tomatoes

, sliced in half or quarters

1/2

red onion

, slivered (about 1 cup)

1

cup

fresh spinach leaves

, sliced chiffonade

1/2

avocado

, peeled and chopped

1

cup

seasoned croutons

, crushed to pea-size

kosher salt

black pepper

fresh basil leaves

, minced
Instructions
Make the dressing:
Whisk together the mayo, Greek yogurt, vinegar, and salt until smooth. Mix in 2 tablespoons of pesto and taste. Add another tablespoon if you'd like a more assertive pesto flavor to shine through. The dressing should be thin enough to drip from a spoon. If necessary, add very small amounts of water, whisking after each addition, until the dressing is pourable. Taste, and add another pinch of salt to taste. Set aside. (Or refrigerate, if you're making the pasta salad later.)
Make the pasta salad:
Prepare the pasta according to package directions. Drain, and rinse well under cold water.

While the pasta cooks (and cools), prepare the remaining ingredients (see notes for tips on cooking bacon).

Set aside 1 strip of the bacon (store in the fridge); crumble the rest.

Pour about 1/2 cup of the dressing into a small container, and put in the fridge for later.

Add the crumbled bacon, tomatoes, onions, spinach, and avocado to a large bowl. Sprinkle a pinch of salt over the vegetables, then drizzle a little bit of the dressing. Toss to coat.

Add the pasta to the bowl, and gently fold all of the ingredients together to mix. Add the dressing in thirds, folding gently as you go.

Cover the pasta salad, and refrigerate for at least an hour, to let all of the flavors meld.
To serve:
Thin the reserved dressing with a small amount of cold water or extra virgin olive oil (your choice). Drizzle the dressing over the pasta and fold gently. (The pasta will have absorbed a lot of dressing during its time in the refrigerator, so, the extra dressing will loosen things up and recoat the salad.)

Crumble the reserved bacon strip over the salad. Top with the crushed croutons and basil, and serve!
Notes
My favorite way to prepare crispy bacon is to bake it in the oven. See the instructions here.
Nutrition
Nutritional information, if shown, is provided as a courtesy only, and is not to be taken as medical information or advice. The nutritional values of your preparation of this recipe are impacted by several factors, including, but not limited to, the ingredient brands you use, any substitutions or measurement changes you make, and measuring accuracy.