Sweet and tangy balsamic cipollini onions are the perfect side dish, and so easy to do on the stove top.
January and February is a manic time for vegetable gardeners (like me). A thick layer of snow still covers my yard — not Boston-thick, thank goodness (sorry, Boston!), but still deep, considering it's now March — and I am beyond antsy to get out into the garden and start planting. No dice.
But, it's also ordering season, so if I can't actually get out into the garden and get my hands dirty, at least I can shop! I'm expanding my onion garden this year, and purchased a nice hefty set of cipollini onions — small (inch-and-a-half or so), flat, sweet onions that cook up quickly and take on sauces like a boss.
One mouth-watering way to prepare these adorable little coins of goodness is to roast them for a long stint in the oven with a balsamic reduction. So sweet and tangy!
But if you're pressed for time — or don't want to spend more time waiting for a side dish of onions than on the main course — you can braise them on the stove top with the same herby balsamic concoction and be done with it.
Braised balsamic cipollini onions make an awesome side to a roasted chicken or grilled steak. Serve them whole, as is — they're slightly crunchy and sweet and tangy with a well-tamed onion flavor.
If there are any leftovers, you can do what I did and chop them up and mix them into porcini mushroom risotto. So tasty!
Karen xo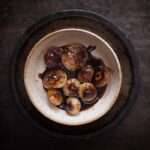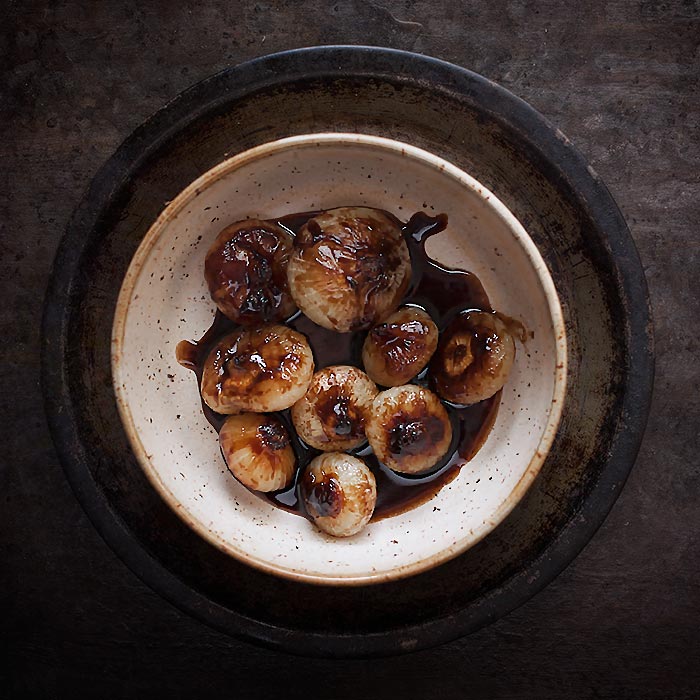 Print Recipe
Braised Balsamic Cipollini Onions
Ingredients
1

pound

cipollini onions

about 16

2

tablespoons

olive oil

or use 1 each of olive oil and butter

1/4

cup

balsamic vinegar

1/4

cup

water

or vegetable stock

1

tablespoon

brown sugar or honey

1/2

teaspoon

dried thyme leaves

1

bay leaf

salt and freshly ground black pepper
Instructions
If the onions are already peeled skip to the next step. Otherwise: trim the stem end flush with the onion top, and snip off any roots hanging out of the root end. Bring a pot of water to boil and carefully add the onions. Blanch for 1 minute, and remove to a bowl of very cold water. When cool to the touch, peel each of the onions.

Heat the olive oil/butter in a medium saute pan over medium heat until shimmering. Add the onions, plus a pinch of salt, and saute until the onions are lightly golden (about 5 minutes).

Add the vinegar, water/stock, and sugar/honey and stir to mix. Increase the heat and bring to a light boil, then reduce heat to maintain a gentle simmer. Add the thyme and bay leaf and a pinch of salt and pepper. Cook for 10 to 15 minutes, turning the onions at regular intervals and spooning the vinegar mixture over them. When the vinegar mixture thickens slightly (i.e., when it thinly coats the back of the spoon), remove the pan from the heat. Serve hot.
Nutritional information, if shown, is provided as a courtesy only, and is not to be taken as medical information or advice. The nutritional values of your preparation of this recipe are impacted by several factors, including, but not limited to, the ingredient brands you use, any substitutions or measurement changes you make, and measuring accuracy.