Sometimes, simplest is best! The best old-fashioned burgers are made with great cuts of beef, lightly seasoned, handled gently, and then pan fried into juicy goodness.
When I was kid, my mom belonged to a bowling league. The league overlapped with my summer vacation in one direction or the other (Spring or Fall, I can't remember), and for several weeks, I went to the alley with her on bowling days. Those were much simpler times, and there wasn't much to do other than watch the bowlers, or wander amongst the racks of swirly-colored bowling balls, seeing which ones I was strong enough to pick up with my pre-tween-aged hand. Somehow, I was never bored.
But my favorite part of the day was lunch. I'd get to go into the bar — it'd just be me and the TV, some soap opera or other, but I felt so grown-up — and they'd serve me the best hamburger I'd ever had in my young life, with chips and a bottomless Cherry Coke on the side.
All these decades later, I can still conjure up the flavor of those burgers in my memory. But I've never found its like. Until I came across this recipe at Cookslllustrated.com, and just had to try it.
It's pretty darn close to my memory of those King Pin Lanes burgers. Not exact, but close. It occurred to me, after scarfing them down, that what they were missing were thin dill pickle slices. Oh, yeah, that'll do it.
(This is also a case of do-as-I-say-not-as-I-do. As you can see in the photos, I didn't add the cheese until after I had placed the hot burger on the bun. Excitement, and all, I think. I meant to — and I would definitely recommend that you — follow the recipe's directions and add the cheese to the burger while in the skillet, to aid in the melting of the cheese.)
(And for those with eagle eyes, yes, that is a slice of Velveeta processed cheese. Now, I adore artisan cheeses as much as the next girl — this cheese in this crusty bread is indescribably delicious — but I have a soft spot for Velveeta in super-melty situations like burgers.)
If you're running short of time, don't worry about the burger sauce. This recipe is just a variation of thousand island dressing. The burgers of my youth just had mayo and ketchup. I probably won't bother with the sauce next time.
Karen xo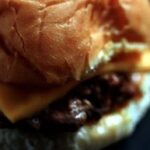 Print Recipe
Old-Fashioned Burgers
Ingredients
for the sauce
2

tablespoons

mayonnaise

1

tablespoon

ketchup

1/2

teaspoon

sweet pickle relish

1/2

teaspoon

sugar

1/2

teaspoon

white vinegar

1/4

teaspoon

ground black pepper
for the burgers
10

oz

sirloin steak tips

, cut into 1-inch chunks (can also use flank steak)

6

oz

beef short ribs

(boneless), cut into 1-inch chunks

Kosher salt and ground black pepper

1

tablespoon

unsalted butter

4

each hamburger buns

, soft

1/2

teaspoon

vegetable oil

4

slices

slices American cheese

1

onion

, thinly sliced

1

recipe Classic Burger Sauce

(see below)
Instructions
make the sauce:
Whisk all ingredients together in small bowl. Refrigerate until ready to use.
make the burgers
Place beef chunks on baking sheet in single layer, leaving 1/2 inch of space around each chunk. Freeze meat until very firm and starting to harden around edges but still pliable, 15 to 25 minutes.

Place half of meat in food processor* and pulse until meat is coarsely ground, 10 to 15 one-second pulses, stopping and redistributing meat around bowl as necessary to ensure beef is evenly ground. Transfer meat to baking sheet, overturning bowl and without directly touching meat. Repeat grinding with remaining meat. Spread meat over sheet and inspect carefully, discarding any long strands of gristle or large chunks of hard meat or fat.

Gently separate ground meat into 4 equal mounds. Without picking meat up, with your fingers gently shape each mound into loose patty 1/2 inch thick and 4 inches in diameter, leaving edges and surface ragged. Season top of each patty with salt and pepper. Using spatula, flip patties and season other side. Refrigerate while toasting buns.

Melt 1/2 tablespoon butter in heavy-bottomed 12-inch skillet over medium heat until foaming. Add bun tops, cut-side down, and toast until light golden brown, about 2 minutes. Repeat with remaining butter and bun bottoms. Set buns aside and wipe out skillet with paper towels.

Return skillet to high heat; add oil and heat until just smoking. Using spatula, transfer burgers to skillet and cook without moving for 3 minutes. Using spatula, flip burgers over and cook for 1 minute. Top each patty with slice of cheese and continue to cook until cheese is melted, about 1 minute longer.

Transfer patties to bun bottoms and top with onion. Spread 2 teaspoons of burger sauce on each bun top. Cover burgers and serve immediately.
Notes
* I used this recipe as an excuse to purchase a food grinder attachment for my KitchenAid stand mixer. (Although, really, I can justify the purchase of just about anything. "Oh, look! It's raining! Time to buy a food grinder." See the logic there? I thought you would.) I had some issues grinding the fatty rib meat [next time, Karen, don't just read the directions in the box, follow them], but otherwise, I think the combo of these two meats made for one heck of a burger. You just can't buy ground beef like this at the big box groceries.
Nutrition
Serving:
1
burger
|
Calories:
512
kcal
Nutritional information, if shown, is provided as a courtesy only, and is not to be taken as medical information or advice. The nutritional values of your preparation of this recipe are impacted by several factors, including, but not limited to, the ingredient brands you use, any substitutions or measurement changes you make, and measuring accuracy.