A luscious, cheesy broccoli and cauliflower soup that doesn't skimp on taste!
This is sooo soup season, my friends. It's mid-December, and the ole thermometer has been having some challenges creeping up over freezing for days now.
Perfect weather to whip up some bread bowls and fill them with luscious soups.
Did someone say cheddar, loaded with vegetables? Mmmm … yes yes yes … follow SoupAddict … she'll show you the way to steaming deliciousness.
SoupAddict loves to grow carrots. The foliage is so pretty and long-lasting, and then, when you yank it out of the ground, you get this wonderful surprise.
These are not SoupAddict's carrots, as her 2009 crop was consumed long ago, but even bulk grocery store carrots will still be yummy and beautiful in this soup.
Oh, how typical. SoupAddict gets so caught up in making soup that she forgets to photograph things that should be photographed. This was a lovely head of orange cauliflower.
You'll just have to trust SoupAddict on this one.
SoupAddict's thyme garden is still in full force. Spunky little thyme, it will last the winter the through. SoupAddict, however, is not quite as spunky and was getting mighty cold waiting for the breeze to subside so she could focus the camera on the swaying thyme branches.
It never did subside.
SoupAddict craves chocolate. But she also craves vegetables.
Is that weird?
SoupAddict also craves the aroma of onions, celery and garlic. This soup is souper simple. (Get it? Souper? Super? Oh, don't look at SoupAddict like that—you try to come up with a clever pun on a Saturday afternoon.)
Get the veggies cooking with some chicken broth (or vegetable broth, if you want to keep it vegetarian). Add seasonings. Simmer until you can't stand it anymore.
On a whim, SoupAddict bought some extra, white cauliflower florets from the salad bar specifically for the cheese sauce. Pureed cauliflower adds thickness and a touch of savory goodness to a bechamel sauce without extra calories or fat.
Havarti is one of SoupAddict's all-time favorite cheeses. This is a wheel of baby havarti, which melts like a champ but still has a load of flavor, unlike many soft cheeses.
Is a cube missing from this picture, you ask. A cube that, were it still present, be covered with the fingerprints of a certain soup-maker? Why [chomp] no [nom nom] I have no idea [swallow] what you're talking about.
Along with havarti, SoupAddict likes to use an aged cheese of some sort for the bechamel, to add a sharp, distinct flavor. Here, she's grated a lovely aged gouda and some gruyere.
Mmm, creamy, cheesy goodness. If it would fit, SoupAddict would stick her head in this pan.
But she's kinda glad it doesn't fit in the pan, because she would not want to clean dried cheese sauce of her hair.
Beer cheese. 'Nuf said.
Cheese sauce is almost done. Just mixing in the tender, mashed cauliflower florets.
Look at this gorgeous soup! Wait until the cheese sauce goes in.
Now, remember the bread bowls, and how you plucked out some of the soft interior to make a roomy cradle for the soup?
This is what you do with the leftover bits of bread: You take the biggest chunk …
… and you dunk it into the delicious soupy goodness as it warms on the stove. Then pop it in your mouth. Repeat with the remaining chunks of bread in descending order of size. You're the chef; you deserve it.
Karen xo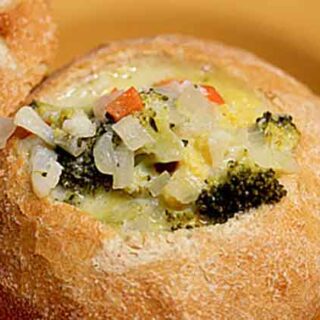 Print Recipe
California Medley Cheddar Soup
A luscious, cheesy broccoli and cauliflower soup that doesn't skimp on taste!
Ingredients
for the soup
2

tablespoons

butter

1

medium onion

, chopped

2

stalks celery

, chopped

2

cloves

garlic

, minced

3

large carrots

, cubed

2

tablespoons

flour

1

quart

chicken broth or stock

1

head broccoli

, cut into florets

1

head cauliflower

, cut into florets

salt and pepper

, to taste

3

sprigs fresh thyme

, leaves removed and stems discarded
for the cheese sauce
2

tablespoons

butter

2

tablespoons

flour

1

cup

milk or half 'n half

1/2

cup

beer of your choice. I like stout.

salt and pepper to taste

8

oz.

cheese*
Instructions
Melt the butter in a large stock pot over medium heat. Add the onions, celery and garlic. Sautee until soft, about 6 minutes.

Add a splash of chicken broth from the quart and allow to warm. Push the vegetables to one side and add flour in the cleared area. Tilt the pot to let liquid run into the flour. Stir until thick, then mix in with the vegetables in the pot. Add the remaining stock and turn the heat up to high. Add the broccoli and cauliflower. Bring to a boil, reduce heat to a simmer. Season with salt, pepper, and thyme, and cover, simmering for 15 minutes.

Meanwhile, make the cheese sauce. In a small pot, melt butter over medium-high heat. Add flour to butter and stir until a thick paste forms. Add milk a little at a time, stirring completely after each addition. When all milk is incorporated, allow mixture to heat to bubbling, stirring frequently. Keep an eye on it - don't walk away. When the mixture is nice and thick and hot, stir in the beer. Begin adding the cheese, about one cup at a time (don't measure it, just throw in a handful), stirring continuously. When the cheese is melted, remove pot from heat.

Add cheese sauce to the soup and stir until completely incorporated. Taste, and adjust the salt and pepper if necessary.
Notes
* Grate hard cheeses; cube soft cheeses. Use your faves. Me, I like havarti, gruyere, and extra sharp cheddar. And sometimes gouda. (And sometimes Velveeta, but I'll deny it fervently if confronted.) If you really like cheese, up it to 12 oz., keeping the other sauce amounts the same. I always do.
Nutritional information, if shown, is provided as a courtesy only, and is not to be taken as medical information or advice. The nutritional values of your preparation of this recipe are impacted by several factors, including, but not limited to, the ingredient brands you use, any substitutions or measurement changes you make, and measuring accuracy.