All the bold, spicy flavors of chili in soup form. My Mom's Chicken Chili Soup has been a family favorite for years – it could be your new family favorite, too!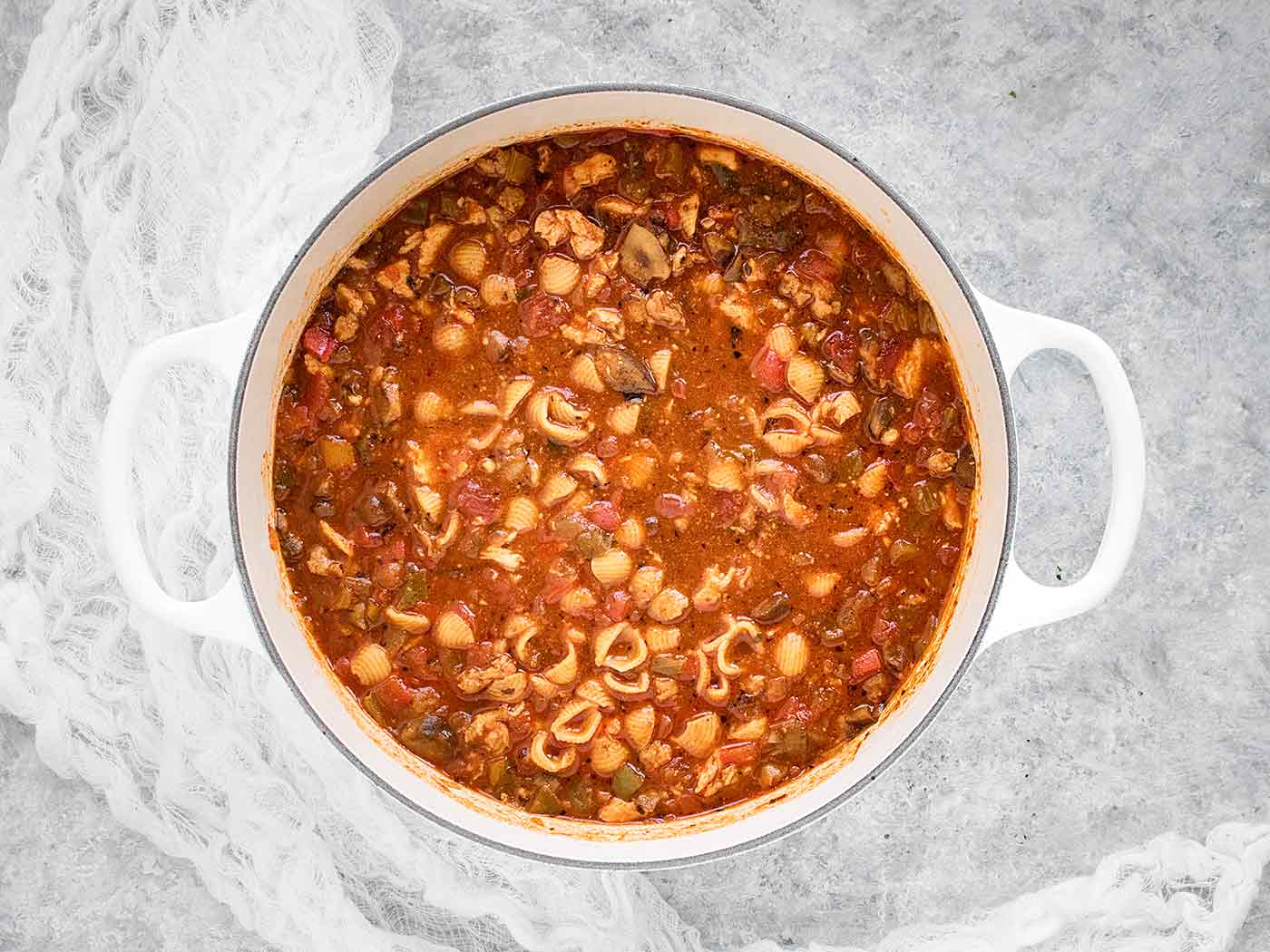 My grandmother was a fabulous cook. An adult in the early 1900's, in pre-war Hungary, she cooked with methods long overturned in favor of modern conveniences.
She used cast iron everything. Not because it was charmingly retro, but because budgets were tight, and cast iron was the obvious option for the wife of a blacksmith. (Sadly, I don't have any of my grandmother's pans, but I do have other items that were hand-forged by my grandfather. They're prized possessions and gorgeous relics of family history.)
The fat component in grandma's recipes was often lard (gasp dramatically, if you will — lard! — but my grandfather lived to be 92, and died of old age, not clogged arteries).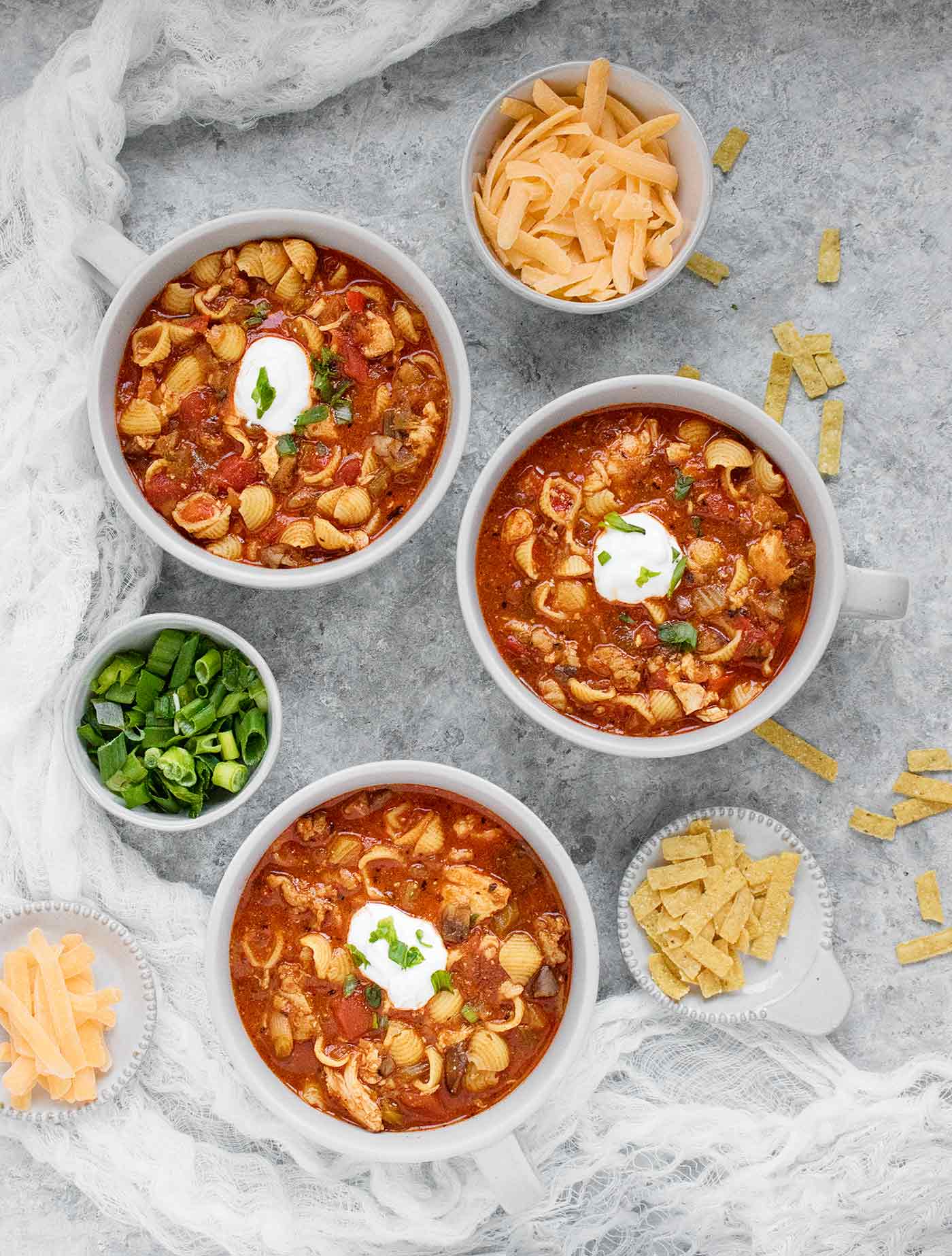 My mom humbly claimed the talent skipped a generation, but make no mistake, she had her moments. Her mock turtle soup has a special sumthin' sumthin' that makes me close my eyes and sigh every time I take a bite.
My favorite cold-weather soup of hers, however, is her Chicken Chili Soup. It was, in fact, a family favorite, which is really saying something, because my sibs and I were picky eaters who liked the opposite of everything from one another. And then there was my Dad, who ate Rice Krispies every morning for breakfast, every day of their marriage. Poor, Mom! I can't imagine cooking for a motley crew like us.
But this soup was one thing we agreed on. And before winter bids a long-awaited adieu, I wanted to share it here. Because maybe you have a motley crew of picky eaters, too, who might happily unite around a pot of this scrumptious soup
This recipe is highly customizable: if you want more heat, add more chili powder. Or a hotter chili powder. Or chopped chilis.
Want it thicker? Add more chicken and pasta. This recipe tastes fab with chicken breasts. But know what? It tastes fab with economical boneless chicken thighs.
I always prepare it just like my Mom, though. Perfection. Skipped generation, schmikipped generation.
Karen xo
Print Recipe
Chicken Chili Soup
All the bold, spicy flavors of chili, in thick, aromatic soup form!
Share via Text
Ingredients
1

pound

chicken sausage

(or turkey or pork sausage)

2

tablespoons

olive oil

1

tablespoon

butter or ghee

1

small onion,

diced

1/2

cup

diced celery

(about 2 ribs)

1

small bell pepper,

diced

8

ounces

cremini mushrooms,

roughly chopped

1

tablespoon

chili powder

2

teaspoons

smoked paprika

1/2

teaspoon

garlic powder

1/2

teaspoon

ground cumin

1

tablespoon

masa corn flour,

optional

15

ounces

tomato sauce

15

ounces

diced tomatoes

2

cups

chicken broth

1

teaspoon

dried basil

1

teaspoon

dried marjoram or oregano

1

tablespoon

brown sugar

1

teaspoon

Worcestershire sauce

1/2

pound

cooked chicken,

shredded

8

ounces

dried small pasta,

such as elbows or shells

kosher salt
suggested garnishes:
sour cream

grated cheddar cheese

sliced green onions
Instructions
Heat a large 5 or 6 quart Dutch oven or soup pot over medium heat. Add the sausage, and cook until browned. Transfer to a bowl.

Add one tablespoon of the the oil, plus the butter or ghee. When shimmering, add the aromatics (onions through mushrooms) and saute until soft, about 8 minutes.

Scoot the veggies to one side and add the remaining oil to the cleared side. Add the spices (chili powder through cumin) and 1 teaspoon kosher salt to the oil, and stir to create a paste. Mix into the vegetables. Add a splash of chicken broth if the mixture is too dry. Sprinkle the masa over the vegetables, if using, and stir.

Return the sausage to the pot, and add the tomato sauce, diced tomatoes, broth, herbs, sugar, and Worcestershire sauce. Mix well. Increase heat slightly and bring the soup to a gentle boil.

Reduce heat to medium-low and simmer for 15 minutes.

While the soup cooks, prepare the pasta in a separate pot, according to package directions. Drain.

Stir the pasta and cooked chicken into the soup and warm through. Taste, and add more salt as needed.

Ladle into bowls and serve with garnishes.
Nutrition
Nutritional information, if shown, is provided as a courtesy only, and is not to be taken as medical information or advice. The nutritional values of your preparation of this recipe are impacted by several factors, including, but not limited to, the ingredient brands you use, any substitutions or measurement changes you make, and measuring accuracy.
Pin Chicken Chili Soup recipe for later:
Pinterest fans, if you'd like to save this recipe for later, use these images (or any image above) to pin to your boards (they're small here, but thanks to the magic of the interwebs, they'll be full size when you pin them). Thanks for sharing, and most of all, thank you so much for reading this post! Blogging wouldn't be any fun without you!
Subscribe to the SoupAddict Weekly Digest and get new soups and other delish foods in bowls in your inbox!