Just in time for summer's crop of fresh vegetables, this Mediterranean Vegetable Sheet Pan Dinner is an easy and healthy way to get more veggies onto your family's plate (and use up all of those beautiful finds in your CSA bag!). Gently seasoned with herbs and spices inspired by Mediterranean cuisine, this dish can be prepared in the oven or on the grill. Recipe also includes an easy tahini miso dressing – optional but delicious!
Sheet pan dinners found their way into our cooking consciousness several years back, and I'm happy to report that they haven't yet fallen out of trendy favor.
Which is a great thing, because sheet pan dinners are extra convenient on busy days when complicated meals are out of the question, but you still want healthy options.
This vegetable-loaded meal is perfect served over or with a side of rice, quinoa, farro, or other hearty grains (and even small pastas, such as pearl couscous and orzo).
For extra vegetarian protein, you can cube and marinate some extra firm tofu and roast it right in the pan with the veggies (tofu prep is not included in the recipe, but it's a great option for tofu lovers).
What Vegetables to Use
This is one of the beauties of this recipe: Use what you have on hand!
As we move through the growing season, different vegetables will pop up at different times, and this preparation will flex through them all, especially as we go into late summer with its cornucopia of fresh winter squashes, potatoes and sweet potatoes, sweet corn, peppers and chiles, and so much more.
You're only limited to your own personal tastes. Here's what I used in this recipe:
Sweet potatoes (my favorite!)
Sweet corn
Purple cauliflower (any color will do)
Red bell peppers
Summer squash
Carrots
Broccoli
Other delicious options: green beans, zucchini, butternut squash, onions, leeks, turnips, parsnips and more!
Prepare Vegetables for Roasting
The key to making a success of this dish is to cut the vegetables into pieces that will finish cooking at the same time, no matter their density.
For example, carrots take longer to cook through than corn; sweet potatoes longer than broccoli. Use the sizes in the recipe as a guide.
But of course, keep in mind that most vegetables can be eaten even raw, so cooking time is about achieving your preferred vegetable texture: soft, crunchy, or crispy.
Some sheet pan recipes call for you to drizzle oil over the vegetables in the pan before sliding it all into the oven. The main intent there is to keep things simple with minimal clean-up.
But, to be honest, oil doesn't disperse evenly that way, and it's not the easiest thing to toss or flip hot vegetables on a baking sheet.
It's easier to place all of the raw vegetables in a large bowl, and toss with the oil, salt, and pepper, so you can ensure everything is coated. You'll also use considerably less oil, since a little goes a long way.
Roasting in the Oven
Thoroughly preheat your oven to 425°F with one rack in the lower third position.
For ease of clean-up, line a large, rimmed baking sheet with foil, parchment paper, or a silicone mat. If you don't mind the clean-up, it's no problem to go with a bare pan.
Spread your oil-tossed and seasoned veggies evenly across the pan in a single layer. If you want to get picky about it, you can arrange the denser vegetables (such as carrots and potatoes) along the outside edges where they'll be exposed to more direct heat. That might spare the more tender vegetables (such as broccoli florets and peppers) from getting too singed. (I did not get picky in the photo below.)
Roast in the oven for 30 to 40 minutes, keeping an eye on things during the last 10 minutes to ensure nothing burns.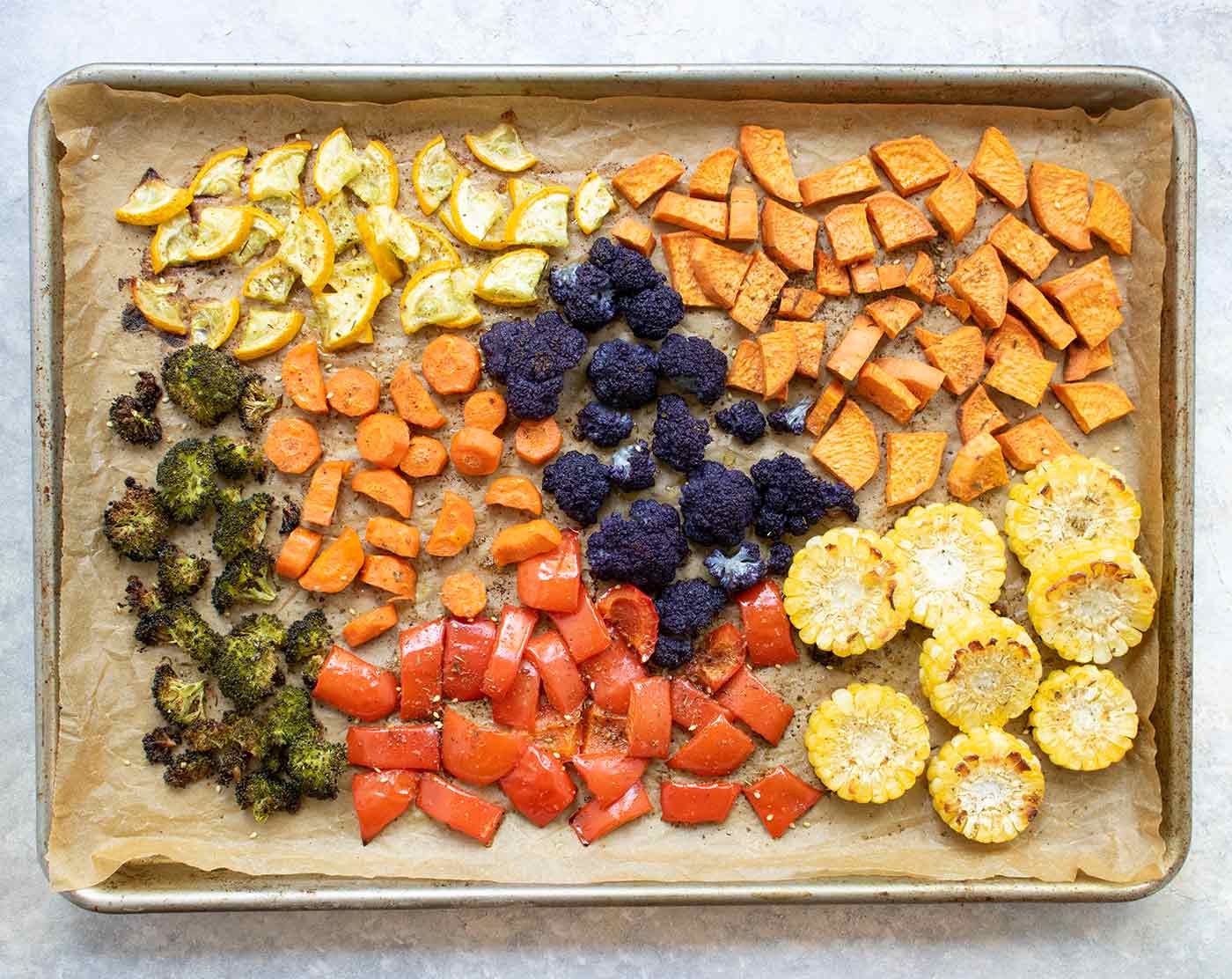 Roasting on the Grill
Grilling vegetables is a lovely way to add a little smoky flavor goodness with very little effort. And at the height of summer heat and humidity, cooking outdoors is also a great way to keep your house cool.
Vegetable prep is the same, and we pick up here from above, after seasoning your vegetables.
Preheat your grill on high. I have no preference for gas vs. charcoal vs. ceramic, etc., and there are so many options now that I can't keep up with them! Whatever you have will work. Just keep an eye on the vegetables, as certain types of heat sources might cook more quickly (e.g., charcoal vs. smoker).
Spread them in a thin layer on a grill-proof pan. You'll probably want to cover the surface in foil first, both to minimize sticking, but also because some grill pans have vent holes that are large enough to allow small vegetables to fall through into the flames. Foil will hold everything in.
When your grill is ready, optionally add wood chips for smoking. Your grill may already have a feature onboard for holding wood chips or disks. At the very least, you can wrap some chips in foil and vent the packet with a few slits from a knife blade. And then place the packet near the heat source. The slits in the foil packet will allow smoke from the burning chips to escape without making a mess.
Place the grill pan on the rack and close the lid. If using a charcoal grill, made sure there is airflow over the coals, so that the flames don't go out. You'll want to adjust the grates to allow that.
Let the veggies grill for 15 minutes, then lift the lid and check. Continue grilling until the densest vegetables — usually potatoes or carrots — are tender and cooked through. Total cooking time can be up to 30 minutes on a hot-running grill.
Seasonings
The Mediterranean spice palate is particularly lovely with roasted vegetables. A combination of dried sweet basil, oregano or marjoram, rosemary, thyme, garlic, and salt is slightly sweet and refreshing.
I also love adding za'atar to this dish. It's Middle Eastern-leaning, rather than strictly Mediterranean, but the sumac spice adds a lively kick to roasted vegetables and should be fairly easy to find, even in a Midwestern, USA, grocery store.
I'm lucky in that my grocery store regularly carries an all-purpose Mediterranean spice blend (as well as za'atar), but you can easily make your own blend by combining half teaspoons of dried sweet basil, oregano or marjoram, rosemary, and thyme, plus a pinch of granulated garlic and a nice sprinkling of sea salt.
Can You Roast the Vegetables Ahead of Time?
There's going to be some personal preferences involved in the answer here, but I'm going to go ahead and give a hearty yes!
Roasted vegetables fresh out of the oven are sturdier, sometimes with crispy edges, which is what makes roasting so delicious. Once roasted vegetables sit in the fridge for a while, however, they will naturally soften.
Reheating will perk them up a bit — say, a quick turn under the broiler — but they probably won't return to their original post-roast firmness.
But that might not matter, depending on how you feel about vegetable textures. Personally, I can eat roasted vegetables right out of the fridge, cold. Love it.
Being honest and transparent here, it's probably something you'll have to try for yourself and your family to see how you feel about the texture change. I compare it to cold pizza: hot pizza and cold pizza are different beasts. Some people love both; some don't.
No worries, though: you can definitely prep the vegetables ahead of time and stash them — covered, but not yet oiled and seasoned — in the fridge. I love to do dinner prep in the morning when my back isn't as achy from a full day of activity.
The gentle caramelization of roasting brings out the natural nutty sweetness of vegetables, which complements rice, quinoa, farro, and more.
I've also included a recipe for a quick miso tahini sauce/dressing, which adds a touch of rich brightness to the whole shebang.
Hello, Fresh Vegetable Season, I've missed you so!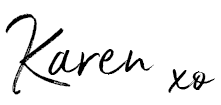 Print Recipe
Mediterranean Vegetable Sheet Pan Dinner
An easy way incorporate more vegetables into your dinners without a lot of fuss, this vegetable-forward sheet pan dinner roasts in the oven and is perfect served over rice or other grains. So tasty with its Mediterranean leanings, and a delightful tahini miso dressing.
Ingredients
For the vegetables
1

small sweet potato

cubed into 1" pieces

1

ear sweet corn

shucked and cut into 1" slices

1/2

head cauliflower

cored and sliced into florets

1

small red bell pepper

sliced into 1" pieces

1

medium carrot

sliced about 1/4" thick

1

small/medium summer squash

sliced thickly

1

small head broccoli

cored and sliced into florets about 3/4" round

1-2

tablespoons

extra virgin olive oil

avocado oil or melted coconut oil

kosher salt

freshly ground black pepper

2

teaspoons

Mediterranean spice blend*

1/2

teaspoon

za'atar

(optional but lovely)

1

tablespoon

chopped fresh cilantro leaves

for garnish

3

cups

cooked rice, quinoa, or small cooked pasta (such as orzo)

for serving
For the tahini miso sauce:
3

tablespoons

tahini

2

tablespoons

lemon juice

1

tablespoon

white balsamic vinegar

1

tablespoon

white (mellow) miso**

3-4

tablespoons

very warm water

kosher salt
Instructions
Preheat the oven to 425°F, and place one rack in the lower third position. Line a large, rimmed baking pan with foil, parchment paper, or a silicone mat.
Prepare the vegetables
In a large mixing bowl, toss the chopped vegetables with the olive oil or coconut oil to coat. Season with a sprinkling of kosher salt.

Pour the vegetables into the lined pan and spread evenly in a single layer. Roast in the oven for 30 to 40 minutes. Look for golden edges on the sweet potatoes and carrots; you'll probably need the upper end of the cooking time range if you've sliced your veggies on the large side.

Remove from oven and immediately sprinkle the Mediterranean spice and chopped cilantro over the vegetables.

Serve the vegetables over the grains, and drizzle with the tahini miso sauce (or serve on the side).
Make the tahini sauce:
While the vegetables roast, stir together the tahini, lemon juice, vinegar, and miso with a spoon or sturdy whisk in a medium prep bowl until combined. The mixture will be a stiff but workable paste.

Add the warm water one tablespoon at a time, stirring thoroughly in between additions, until the sauce is smooth and drips from the spoon or whisk when lifted from the bowl (you might not need the 4th tablespoon). Taste, and season gently with salt if necessary.

Let the tahini miso sauce rest while the vegetables cook. You can also make the sauce the day before and store it in the refrigerator. The sauce will thicken but can be loosened with another tablespoon of very warm water.
Notes
* If you can't find the jarred spice blend, you can substitute it with a combo of half teaspoons of dried sweet basil, oregano or marjoram, rosemary, and thyme, plus a pinch each of garlic powder and salt. Za'atar is lovely, too!
** If the intent is to make a vegetarian or vegan meal, keep in mind that miso is often made with bonito (dried fish or shrimp flakes). In my region, it's easier to find vegan versions among American artisan misos than imported Asian misos.
Nutrition
Nutritional information, if shown, is provided as a courtesy only, and is not to be taken as medical information or advice. The nutritional values of your preparation of this recipe are impacted by several factors, including, but not limited to, the ingredient brands you use, any substitutions or measurement changes you make, and measuring accuracy.