Zesty Mexican flavors make this thick and hearty Chicken Enchilada Soup the perfect chilly weather meal! Both stove top and slow cooker instructions included.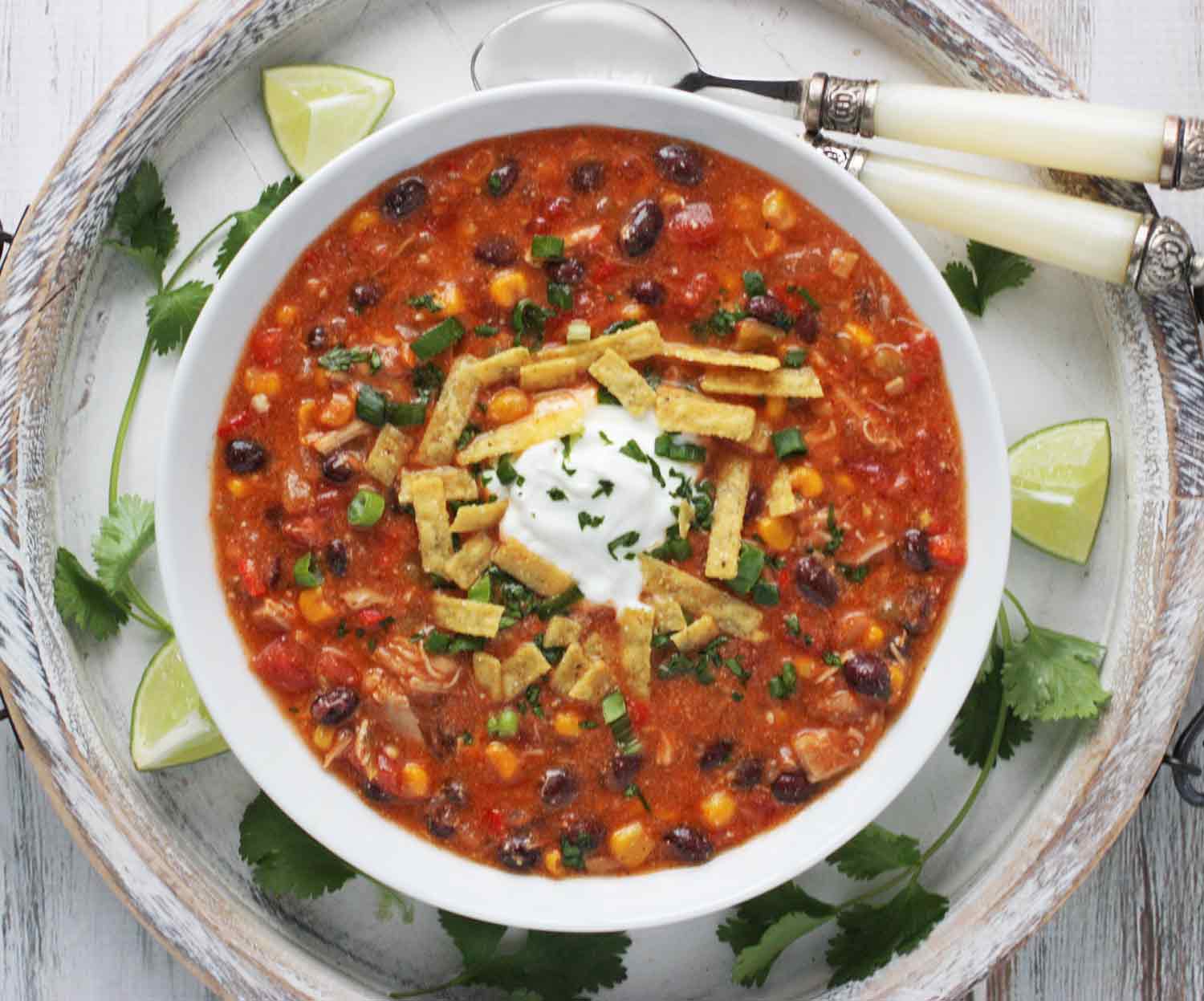 If you're like me, you have a mysterious instinct for certain culinary ingredients. Professional chefs have an instinct for all ingredients, but for us merely mortal home cooks, sometimes the focus is narrower.
I don't know where my enjoyment of Mexican flavors comes from — they were not part of my childhood meals, at all. My first encounter with Mexican cuisine was at Zantigos (remember them?) in my tweens. But when I discovered the wide assortment of peppers and chiles and spices common to Mexican cuisine as an adult, it all just clicked.
Gardening was definitely key in that discovery, as I grew (and still grow) a tasty selection of sweet and hot peppers, herbs, tomatoes, and beans that found their way into meals that could best be described as Mexican-inspired, long before I had any concrete knowledge of what goes into a good Mexican recipe.
Enchiladas are a particular favorite of mine: A simple dish of chicken and red chile sauce wrapped in tortillas, and topped with lots of cheese and whatever other fixin's suit the day — black beans, corn, green onions, sour cream, cilantro, a squeeze of lime — all baked until hot and melty.
Making a cozy soup out of a crave-worthy dish is just a logical step when you're in the heart of winter, with snow falling and brutal winds raging. (Or even on a gentle fall evening, when something warm and comforting sounds like the perfect meal.)
Recipe Insights for Chicken Enchilada Soup
Lighten it up: Greek yogurt stands in quite nicely for the cheesy roux or loads of cream cheese that you often find in chicken enchilada soup recipes. Since I planned this soup ahead, I had time to make a quick batch of yogurt cheese the night before: instead of stirring in the liquid whey that pools on top of the yogurt, drain it off. Scoop the yogurt into a fine mesh sieve placed over a bowl, and let sit in the fridge for several hours, which will remove even more whey. This creates a very rich, even spreadable, yogurt cheese (called labneh), with a taste and texture very similar to cream cheese, only with the goodness of yogurt.
Just what is red enchilada sauce? Depending on what source you care to embrace, enchilada sauce is ground red chiles with or without the addition of tomato sauce or paste. Either way, it's cooked with garlic, herbs, stock, and sometimes thickened with a roux. Mild, smoky guajillos or New Mexico chiles are most often touted as the authentic chile choice — they're my preference as well. If you want to go the from-scratch route, here's a nice recipe from Serious Eats (adapted from Mexican culinary expert, Rick Bayless) that calls for toasting the dried chiles first, to bring out their flavors. (Side note: have you ever made homemade chili powder? Every year, in prep for soup season, I toast a batch of chiles and spices and grind them up fresh. Incredible.)
As with most soups, chicken enchilada soup benefits greatly from an overnight rest in the fridge. I don't think it's hyperbole to say that the flavor doubles, and it thickens up to what I consider the perfect consistency: not quite so thick as chili, but is slow to fall from a tilted spoon. If you have people in your life who claim not to be soup fans, you can fix their incorrect thinking by serving them a soup that's been resting for 24 hours.
Another benefit of the overnight rest: it's a make-ahead meal. One of my favorite ways to spend a wintry Saturday afternoon is making soup. I put on some classical music (or maybe let a Downton Abbey rerun play in the background) and enjoy the quiet, unhurried routine of chopping vegetables, grinding whole herbs and spices, sizzling the aromatics, and generally taking in all the cooking aromas that fill the kitchen. The cooled pot goes into the fridge, and Sunday dinner — plus leftovers for the week's lunch — is in the bag.
How to Make Chicken Enchilada Soup
Step 1: Begin with Basics:
In a 4 or 5-quart Dutch oven or soup pot, the olive oil over medium heat. Once it's shimmering and hot, toss in your diced red onions, bell peppers, and minced garlic. We're aiming for those onions to become tender and translucent.
As your onions soften, it's time to elevate the flavors. Mix in your green chilis and corn. The aroma by now should be quite lovely!
Step 2: Spice it up!
Make some space on one side of your pot. Pour in the remaining tablespoon of olive oil here. Once it's warm, sprinkle over the paprika and chili powder. Let this create a delicious and aromatic paste. After a quick moment, blend this with the vegetables, giving them a rich coating. And, don't forget that pinch of salt to balance things out!
Step 3: Everything into the pot!
Add in the black beans, red enchilada sauce, diced tomatoes, and that lovely chicken broth. Crank up the heat to medium-high and watch as it comes to a low boil.
Once boiling, it's the chicken's turn. Add it in and let everything gently simmer together. While 15 minutes will do the trick, letting it go a bit longer will meld those flavors even more.
Step 4: Final touches
Reduce the heat to low and give your soup a 10-minute rest. This allows all the flavors to really cozy up together. Now, for a creamy twist, gently fold in the drained Greek yogurt until it's completely blended. Serve with your favorite toppings.
Frequently Asked Questions about Chicken Enchilada Soup
Can I use rotisserie chicken for this recipe?
Absolutely! Rotisserie chicken is a great shortcut. Just remove the skin, shred the meat, and you're good to go.
How can I make this soup vegetarian?
You can omit the chicken and add extra beans or even some tofu. Additionally, ensure your broth is vegetable-based.
Is this soup spicy?
The spice level depends on the green chilis and chili powder you use. If you prefer a milder flavor, opt for mild chilis and reduce the chili powder.
How long can I store Chicken Enchilada Soup in the refrigerator?
When stored in an airtight container, the soup should be good for 3-4 days. Always reheat it to a boil before serving.
Can I freeze this soup?
Yes, this soup freezes quite well. Allow it to cool completely before transferring to freezer-safe containers or bags. It can be stored in the freezer for up to 2-3 months. Remember to leave some space in the container for the soup to expand as it freezes.
How do I reheat the soup after freezing?
Thaw the soup overnight in the refrigerator. Then, transfer it to a pot and reheat on the stove until it reaches a boil. Stir occasionally to ensure even heating.
The soup has thickened after storage. How can I adjust the consistency?
If your soup thickens upon standing or after refrigeration, you can thin it with a bit of chicken or vegetable broth while reheating.
Can I add other vegetables to the soup?
Absolutely! Feel free to add zucchini, carrots, or even some leafy greens like spinach or kale for extra nutrition.
I don't have Greek yogurt. Can I use something else?
Sure! Sour cream or regular yogurt can be used as a substitute for Greek yogurt to add creaminess.
The soup is too spicy for my taste. How can I make it milder?
You can add more broth or a bit of cream to reduce the heat. Another trick is to add a squeeze of lime or lemon juice, which can help cut through the spice.
Can I make Chicken Enchilada Soup in a Slow Cooker?
Yes, absolutely! Making Chicken Enchilada Soup in the slow cooker is a fantastic way to let the flavors meld together over a longer period. Plus, it's convenient for when you want to start dinner in the morning and have it ready, hands off, by evening. Here are some tips for adapting this recipe for the slow cooker:
Chicken Preparation: If you're using raw chicken, there's no need to pre-cook it. Just place the whole chicken breasts at the bottom of the slow cooker and you can shred them directly in the pot later.
Sauteing: Even though the slow cooker will cook everything thoroughly, sauteing the onions, bell peppers, and garlic beforehand can give a richer flavor. But if you're short on time, you can skip this step and directly add them to the slow cooker.
Spices: Since slow cooking can mellow some flavors, you might want to add a tad more of spices than the recipe calls for. But always start with the recommended amount, and adjust to taste towards the end of the cooking time if needed.
Liquids: The slow cooker retains more moisture since there's less evaporation compared to traditional stove-top methods. Be cautious about adding too much broth initially. Maybe hold back half of a cup. You can always add more later if the soup is too thick.
Cooking Time: On a low setting, aim for 6-8 hours. If you're in a hurry, 3-4 hours on a high setting should work. If you're using raw chicken breasts, check around the 5-hour mark (on low) or the 3-hour mark (on high) to see if they're tender enough to shred.
Shredding Chicken: About an hour before you're ready to serve, take two forks and shred the chicken directly in the slow cooker. After shredding, mix well and let it cook for the remaining time to allow the chicken to soak up the flavors.
Dairy Additions: Dairy products, such as Greek yogurt, can curdle if added too early or cooked on high heat. It's best to stir in the yogurt during the last 15 minutes of cooking on the low setting.
Final Touches: Before serving, check the consistency. If it's too thick, add more broth. Taste and adjust the seasoning if necessary.
Serving: Serve directly from the slow cooker, which also keeps it warm for seconds (or thirds!). Don't forget your favorite toppings!
I hope you're now inspired to try this hearty Chicken Enchilada Soup and will enjoy its zesty, Mexican-inspired flavors!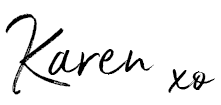 More Meals Turned into Fun Soups
Print Recipe
Chicken Enchilada Soup Recipe
Ingredients
2

tablespoons

olive oil

1/2

red onion

diced

1

small red bell pepper

diced

2

cloves

garlic

minced

4

ounce

can green chilis

mild or hot, your choice

10

ounce

package frozen corn

mostly thawed

2

teaspoons

smoked paprika

1

tablespoon

chili powder

15

ounce

can black beans

rinsed and drained

10

ounce

can red enchilada sauce

15

ounce

can petite diced tomatoes

2

cups

chicken broth

recommend homemade or low sodium

3

cups

cooked chicken

pulled or chopped

4

or 6 ounce tub plain Greek yogurt

drained
suggested garnishes
1/2

cup

cotija cheese

grated

sour cream

green onions

chopped

tortilla strips

kosher salt
Instructions
Heat 1 tablespoon of oil in a 4 or 5 quart Dutch oven or soup pot over medium heat until shimmering. Saute the onions, red bell peppers, and garlic until the onions are soft. Stir in the green chilis and corn.

Scootch the vegetables to one side of the pan and add the remaining 1 tablespoon to the cleared side. When warmed, sprinkle the paprika and chili powder over the oil, and stir it in place to create a fragrant paste. Mix in with the vegetables, along with a big pinch of salt.

Add the beans, enchilada sauce, tomatoes, and broth, and increase heat to medium high. Bring the soup to a low boil, stir in the chicken, and reduce heat to maintain a gentle simmer for at least 15 minutes (longer is better, if you have the time).

Reduce heat to low and let the soup rest for 10 minutes. Spoon in the yogurt, and stir until melted and thoroughly mixed in.

Ladle into bowls, and top with your favorite garnishes.
Nutritional information, if shown, is provided as a courtesy only, and is not to be taken as medical information or advice. The nutritional values of your preparation of this recipe are impacted by several factors, including, but not limited to, the ingredient brands you use, any substitutions or measurement changes you make, and measuring accuracy.