Bacon lovers soup! BLT Soup tastes just like the classic sandwich, with loads of bacon, tomatoes, lettuce, and even bread (yes, the lettuce completely works!). Enjoy this delicious, unique soup with your favorite sandwich for a hearty lunch or dinner.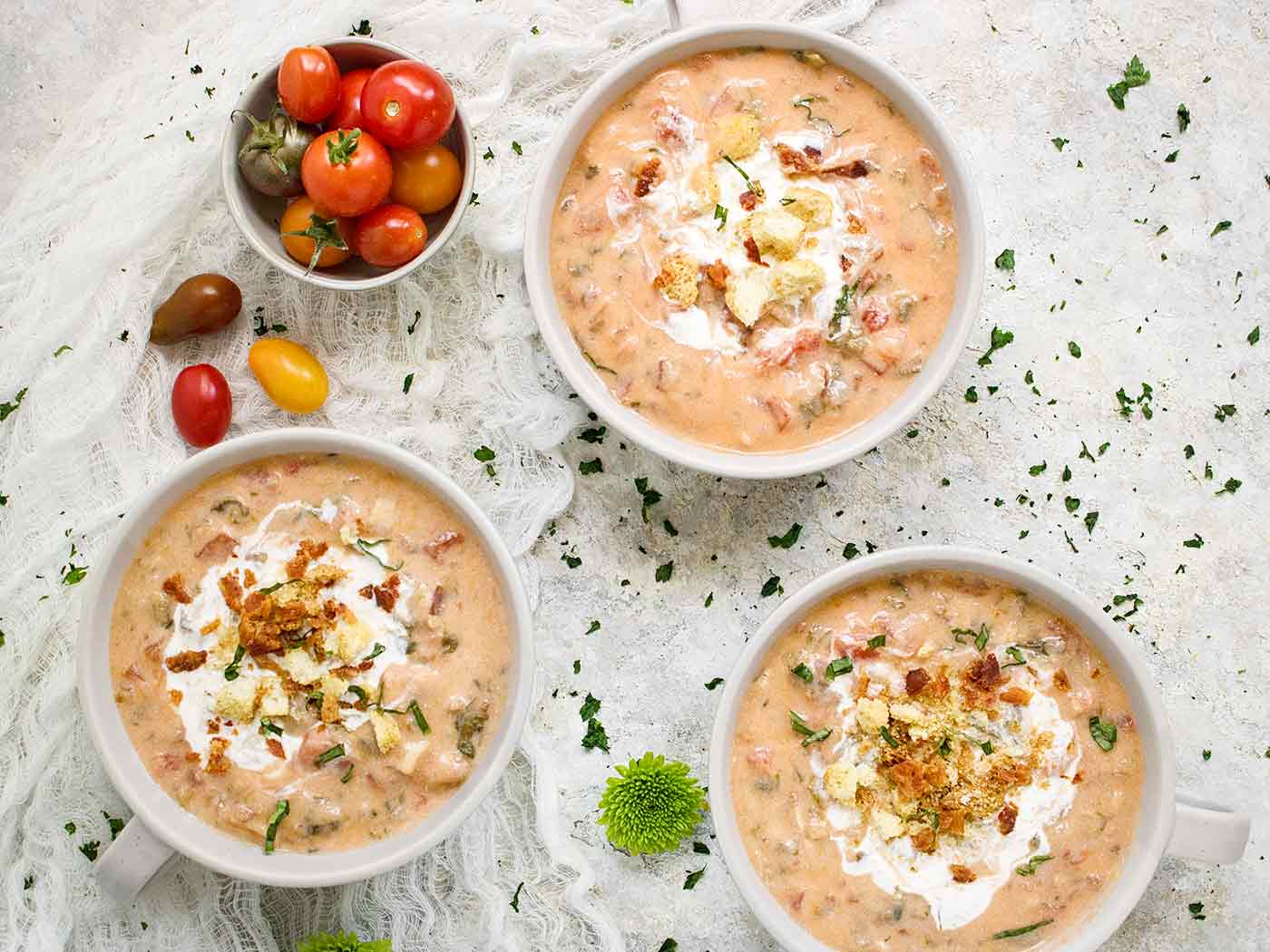 I know what you're thinking: Why make BLT soup when you can just eat a BLT sandwich?
Because. Because, it's soup, people. Soup! That tastes just like a BLT sandwich, but is a comforting, cozy meal in the way that only soup can be.
As far as soup inventions go, this, I have to say, is one of my favorites. It really, really works.
If you follow this blog at all, you'll know that one thing I enjoy doing, when the creative muse strikes, is taking classic dishes and making them into soup. Not just something newly drowning in liquid, but a legit, full-flavored soup that rivals the original dish.
I first created this creamy BLT soup recipe back in 2011, and bowled myself over with how wonderfully it came out. (See what I did there? Bowled? Soup puns for everyone, lol).
Since then, my own cooking of it has gone through some iterations, so I thought it was time to update the recipe here on the blog.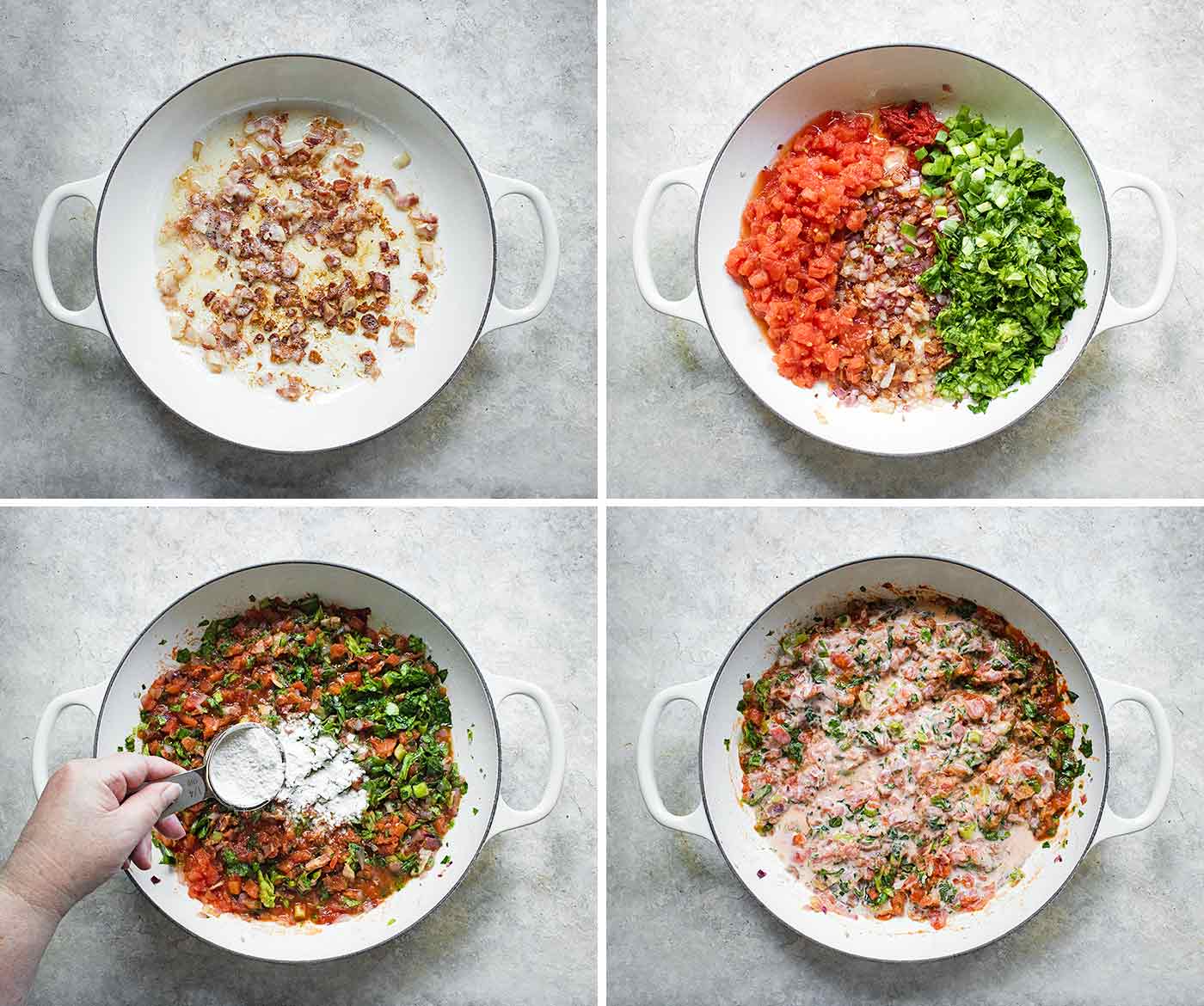 How to Make BLT Soup
The trick for making soup out of something that isn't soup, without it turning out all weird and eyebrow-raising, is to choose and incorporate components in a way that's both sensible and companionable, while honoring the original flavor profile of the dish. Let's go through the ingredients in BLT Soup!
Bacon: While I think it's quite tempting to use thick-cut bacon here, I recommend staying with regular bacon. In my experiments, the fat on the thick-cut bacon took far too long to cook down and render, even when chopped. And with the pieces where it didn't completely render, it seemed overly chewy and gummy. Regular-cut hickory or mesquite smoked bacon cooked up nice and crispy, every time.
Tomatoes: Small diced tomatoes ("petite" diced, as the canned versions call themselves) work very nicely here. I didn't want big, awkward lumps of tomatoes, as crushed might produce, and the diced provided a nice proportion of tomatoes on the spoon. Tip: you can always use kitchen shears and snip into the can, making quick work of chopping whatever type of canned tomatoes you have in your pantry.
Tomato paste: The soup in these photos have a peachy tinge because I added tomato paste. Tomato paste adds such a lovely umami to this recipe, I highly recommend it.
Lettuce: The spinach-in-soup lover in me had to rein in that go-to impulse, and try honest-to-goodness lettuce instead. I went with sturdy Romaine, and it's just marvelous. Perhaps you, too, think lettuce in soup is weird, but I can only assure you that it works, and implore you to try it!
Flour: In thinking through the texture of this soup, I didn't want a thin, runny concoction. A BLT sandwich is a hearty bite, and I wanted the soup to match, in its own soup-y way. So, a good amount of flour gets mixed into the sautéed vegetables along with a splash of broth (fourth photo above) to create a thickened base.
Dairy: This version of BLT Soup leans creamy rather than brothy, as you can see from the photos. I used half-and-half, but you can go lighter with milk or heavier with cream.
Mayo/Creme Fraiche: As a fan of mayo on my BLTs, I definitely wanted to add an extra creamy note to this soup. And yes, I did experiment with mayonnaise, strange as that might sound. It does work, but I do prefer creme fraiche, as it's creamier and less sweet. Mexican sour cream (a.k.a, crema) is also quite awesome. Although it's added to the soup after cooking, I also swirled a spoonful through the soup after it's been ladled into the bowl.
Croutons: In remaking this soup for its 2019 update, I tried something with the croutons that made a delightful difference in the overall enjoyment of the soup. To save time, I bought packaged croutons (my original version of this recipe called for making them from leftover bread) … and crushed them before adding them to the soup – larger than "crumbs" but smaller than a regular, spoon-hogging crouton. Sprinkle on top, and enjoy the crunch and bready addition.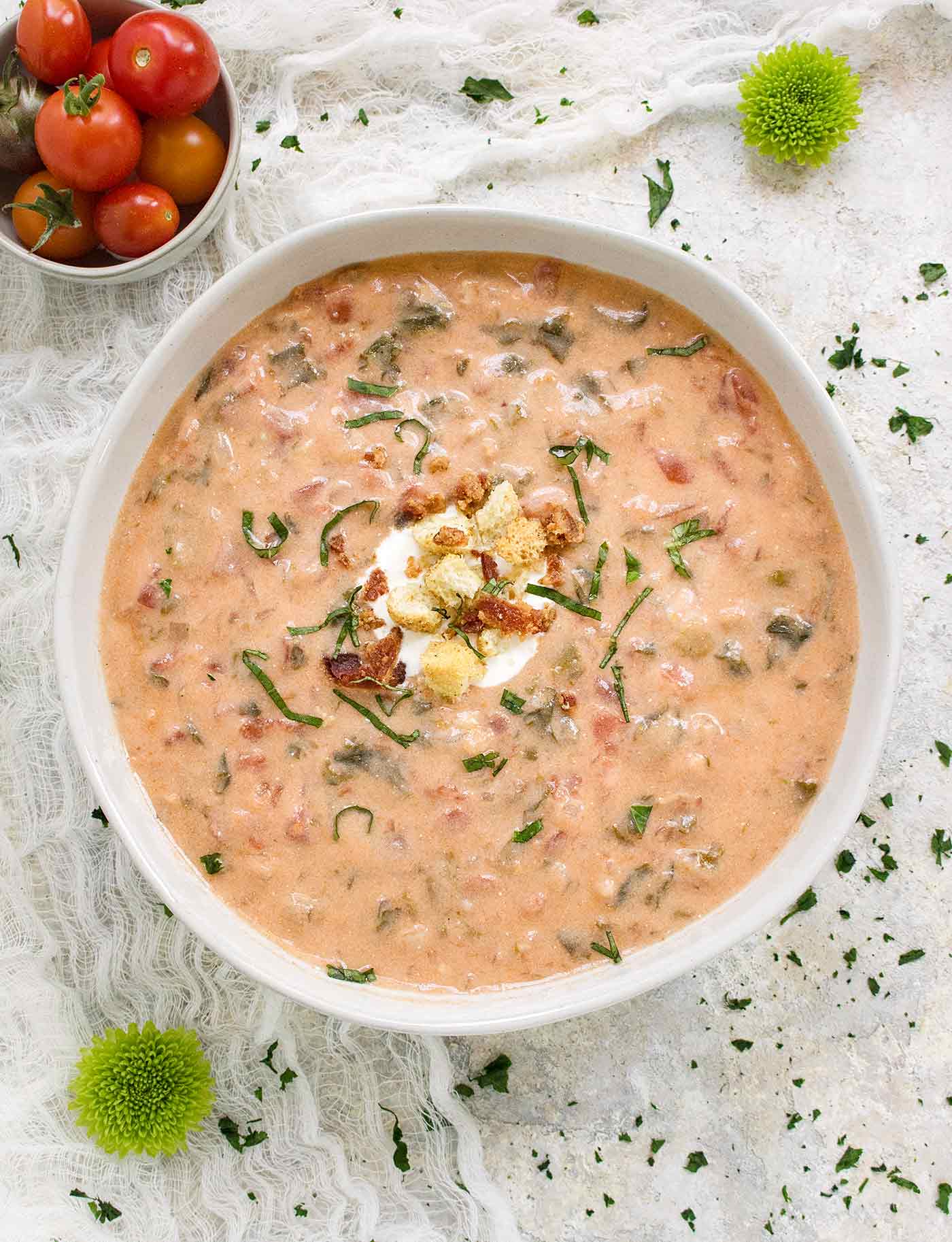 This soup can be made ahead of time, and the leftovers are perfect for lunch in the following days.
A creamy soup with dairy is a little tricky to save for freezing. Or rather, the tricky comes into play after thawing. Thaw it overnight in the fridge, and then reheat slowly without bringing to a boil. Don't blast it in the microwave. Dairy products tend to "break" that way, creating a grainy appearance in the soup.
If you've frozen the soup and reheating breaks the dairy, you can try a vigorous whisking to reincorporate the fats into the liquid. You can also leave it be as, imo, it doesn't really affect the flavor.
The best course for freezing BLT Soup is to make a batch specifically for the freezer, without the dairy, and add it to soup just before serving (reheat the soup; let it cool just slightly, then whisk it in).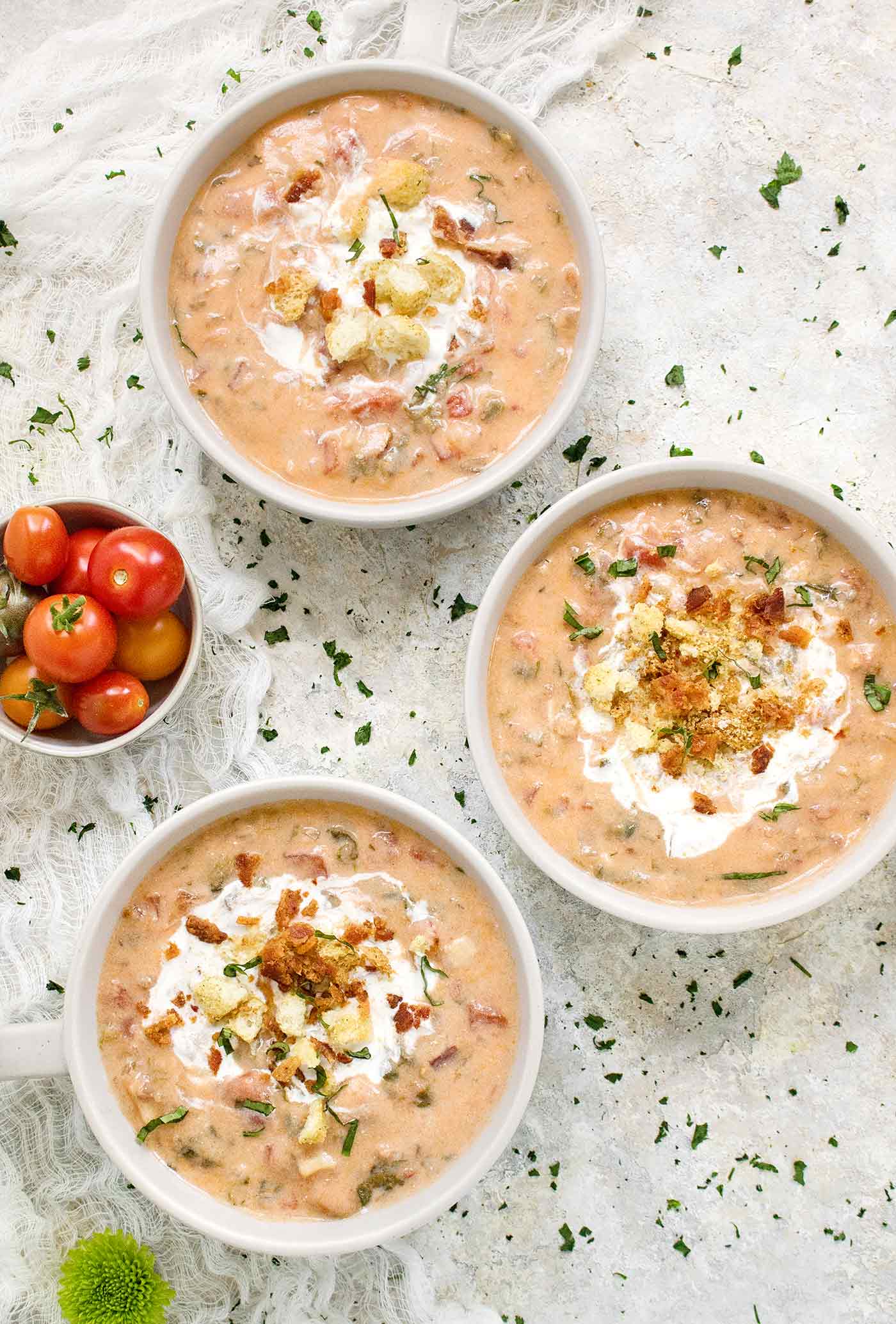 Oh, and you know what? Here's a surprise benefit of making BLT Soup: If you're feeling torn between a BLT sandwich and a grilled cheese sandwich … now, you don't have to choose.
Make the BLT soup. Serve it with your favorite grilled cheese sandwich. Enjoy all of the feels from those childhood lunches.
(In case you're wondering, yes, I've actually done it. Best. lunch. ever.)
The next time you want something really unique that won't disappoint, I hope you'll try this BLT soup — I think bacon lovers will love it!
Karen xo
More recipes inspired by the BLT:
Print Recipe
BLT Soup
This is a soup for bacon lovers who are fans of the classic sandwich. BLT Soup has all of the ingredients of a BLT, crafted into a hearty soup. Makes a delicious lunch!
Ingredients
1

tablespoon

olive oil

4

slices

uncooked bacon, chopped

1

small

onion

diced

2

green onions

chopped

1

tablespoon

tomato paste

1

head

Romaine lettuce

cored and chopped or grated

1/4

cup

all-purpose flour

4

cups

chicken broth

14

ounces

canned diced tomatoes

1

dash crushed red pepper

1

cup

half-and-half

3-4

tablespoons

creme fraiche or mayo

(mayo, if you like it sweeter)

salt and freshly ground black pepper

1/2

cup

packaged croutons, slightly crushed

for garnish

1

tablespoon

slivered fresh basil leaves

for garnish (optional)
Instructions
In a large stock pot or dutch oven, heat 1 tablespoon olive oil over medium until shimmering. Add bacon pieces and cook until they begin to brown. Continue sauteeing to your desired level of crispiness. Add the green onions and onions cook until soft and translucent. Stir in the tomato paste and let heat for a minute or two to release its flavors.

Add the lettuce and tomatoes. When the lettuce begins to turn bright green, sprinkle flour over the vegetables and stir well into the other ingredients. If the mixture is too dry or pasty, add a splash of the broth and mix to loosen.

Add the stock, crushed red pepper and a pinch of salt. Turn heat to medium-high and bring soup to a gentle boil. Then reduce heat to maintain a gentle simmer and continue cooking for 15 minutes. Turn heat to low.

Whisk the milk and 2 tablespoons of the creme fraiche in a small bowl. Add a ladle of soup into the dairy mixture and whisk until very smooth. Pour the tempered dairy mixture into the soup, blending well.

Ladle the soup into bowls, and swirl the remaining creme fraiche through the soup, topping with the crushed croutons and basil. Serve immediately.
Notes
Use regular cut bacon rather than thick cut. In my tests, it took too long for the fat to render for really no added benefit.
A quarter cup of flour seems like a lot, but use a scant measurement, and if you're worried about the soup being too thick, stop at 3 tablespoons (I like thick soup).
For a "breadier" experience, toast slices of bread and line the soup bowls with half of a slice before adding the soup.
You can make this soup ahead of time - stash it in the fridge.
See notes in the blog post about freezing the soup (not recommended but it can be done).
Nutrition
Nutritional information, if shown, is provided as a courtesy only, and is not to be taken as medical information or advice. The nutritional values of your preparation of this recipe are impacted by several factors, including, but not limited to, the ingredient brands you use, any substitutions or measurement changes you make, and measuring accuracy.
Originally published October 24, 2011