Everyone loves chicken noodle soup, and this recipe adds an extra flavor bomb with sausage meatballs. Chicken Meatball Noodle Soup is easy to cook, fun to eat!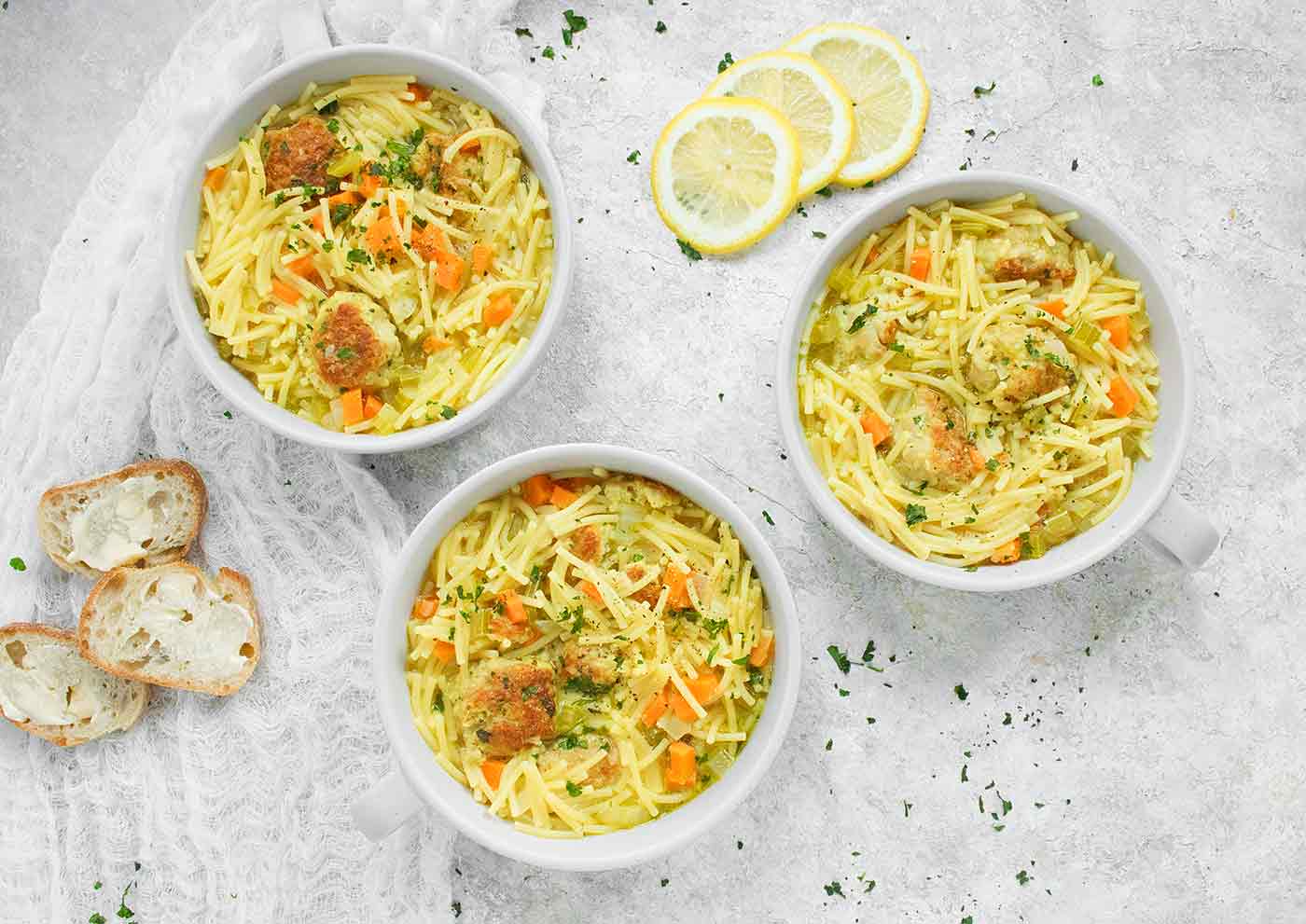 Word on the street has it that this winter might be a doozy, in terms of cold and flu season.
Bleh. After a summer of record heat, I'm ready for some downright dull weather. But, I can't deny that reports of the "icks" are already circulating around my neighborhood, so whatever my wishes, I think I have no choice but get to ready.
And that's the beauty of chicken soup. It's the sure-fire thing you can rely on to perk up the spirits and fortify your will to push through the blehs.
Today's soup is also a shining example of a recipe that avoids all of my major soup pet peeves.
And yes, when you eat as much soup as I do, you get pet peeves about such things, lol.
Like all foods, the eating of the dish must be effortless. Or at least pleasant. (Looking right at you, lobster.) You never want anyone to think about the challenges of eating what's before you.
You don't want to have to saw through a steak. You don't want to have to take a knife to your green salad. And you don't want bits and pieces of stuff taking a dive off of your soup spoon.
The canned chicken noodle soup of my youth was equal parts torture: you lift the spoon to your feverish face, only to have the over-long noodles slide off into a splashy touchdown in the bowl. (If you were even so lucky that the noodles didn't land in your lap.) I still have the very spoons from my childhood that I used to clumsily scoop up a serving of chicken noodle soup and press it all against the side of the bowl to slice off the thick, over-long noodles.
No, a key part of the should-be-invisible experience of enjoying a bowl of soup is that everything stays on the spoon during its journey from bowl to mouth.
So, you'll notice a couple of things about my chicken meatball noodle soup: the noodles are very short, and the meatballs are on the small side. This matters.
To take care of the noodle situation — but to preserve the whole chicken-noodle-soup eating experience (as opposed to, say, using orzo) — I used fideo pasta. Fideo (or fideua) pasta is thin noodles, like spaghetti, but just an inch or so long.
If you can't find fideo pasta, buy thin spaghetti and break it into small pieces. Do this using a large kitchen towel: wrap a portion of the spaghetti in the towel and crack the noodles within, to contain the flying pasta pieces. (Trust me on this one!)
Make the Chicken Sausage Meatballs
Eating a meatball noodle soup is not quite the same experience as classic spaghetti and meatballs. For one thing, you're using a fork with spaghetti, which gives you a lot of control. For another, it really doesn't matter how large the meatballs are, because you can either stab one with your fork, or at least slice into it and then stab.
But, in a soup, there aren't a lot of options for wrangling the meatballs. So, they need to fit on the spoon. Preferably with room for broth and a few yummy noodles.
So, here's what you do:
Use chicken sausage, if you can find it, instead of plain ground chicken. Not the links, but rather the unformed version found in a package or tube. It adds so much flavor, with less effort.
Mix the meatball ingredients gently. Use your hands; wear gloves if raw meat grosses you out.
Use a one tablespoon scoop or #70 melon baller to measure out the meatballs. One with a sliding band release makes everything so easy. Scoop, release into your palm, firm up the ball slightly, and you're good!
Arrange all of the meatballs on a rimmed baking sheet and refrigerate to firm them up.
Brown them right in the soup pot. The fond that the browned meatballs create will further flavor the soup.
The meatballs might seem a bit too small, but, they won't be. Not for soup. They'll be perfect for soup!
Even though this is a soup for such downer things as colds, and flu recovery and … well, winter … it's actually brightly flavored and quite cheerful, as far as soup goes.
I'm far from ready to let go of autumn, so it's guaranteed that whenever the first snow flies for the season, I'll be cooking up a batch of this soup to console myself with.
Karen xo
More chicken soup recipes to try:
Print Recipe
Chicken Meatball Noodle Soup
Everyone loves chicken noodle soup, and this recipe adds an extra flavor bomb with chicken meatballs. Easy to cook, fun to eat!
Ingredients
For the chicken meatballs
1

pound

ground chicken or chicken sausage*

1

egg

1/2

cup

panko bread crumbs

1/4

cup

grated parmigianno regianno

1/4

teaspoon

garlic powder

1/4

teaspoon

kosher salt

1/2

teaspoon

chopped parsley

1/2

teaspoon

Italian seasoning

olive oil
for the soup
2

tablespoons

butter

1

cup

chopped onions

2/3

cup

chopped celery

2/3

cup

chopped carrots

1

tablespoon

grated ginger or ginger paste

4

cups

chicken broth

1

teaspoon

chicken bouillon

(such as Better than Bouillon)

8

ounces

uncooked fideo

(fideau) noodles**

1

lemon
Instructions
For the chicken meatballs
Combine all ingredients (including a drizzle of olive oil) in a medium bowl. Form small meatballs. Use a small scoop for uniformity. Place them on a baking sheet, and refrigerate for at least a half hour to set up.

Heat 1 tablespoon of olive oil in a heavy-bottomed Dutch oven or stock pot over medium until shimmering. Add meatballs to the pot, close together, but not touching. Note that you'll probably have to do them in at least 2 batches.

Cook until browned, then carefully flip over using tongs, about 10 minutes. Transfer to a plate, and finish the remaining batch(es). Note that the meatballs are not cooked through at this point, and are not safe to taste.
for the soup
Do not wipe out the pot. Add a quick pour of chicken broth and deglaze the pot (or, if the spirit moves you, use white wine).

Add the butter and a quick pour of olive oil, and let melt.

Add the onions, celery, and carrots, and cook until soft, about 10 minutes.

Add the ginger and a big pinch of salt.

Pour in the chicken broth, plus 1/2 cup of water, and the chicken meatballs. Bring to a boil.

Reduce heat to medium and add the pasta. Adjust heat to maintain an active simmer, and cook the pasta for the time indicated on the packaging.

When pasta is thoroughly cooked, reduce heat to low. Squeeze half of the lemon over the soup (catching the seeds). Carefully taste, and add more salt and/or lemon juice as desired.

Serve immediately.
Notes
* For easy, extra flavor, use chicken sausage. I found a lovely one-pound Italian chicken sausage tube (roll? lol) at Whole Foods.
** My local grocery sells boxed fideo noodles, but if you can't find any, buy thin spaghetti instead, and break them into small pieces in a kitchen towel (to keep pieces from flying everywhere).
Nutrition
Nutritional information, if shown, is provided as a courtesy only, and is not to be taken as medical information or advice. The nutritional values of your preparation of this recipe are impacted by several factors, including, but not limited to, the ingredient brands you use, any substitutions or measurement changes you make, and measuring accuracy.