If you're as obsessed with Panera Autumn Squash Soup as I am, you're going to love this version! There are lots of copycat Panera recipes out there, but this one includes the special spices and textures that set this soup apart from other squash soups. Best of all, most of the work is done by the blender! (Newly updated!)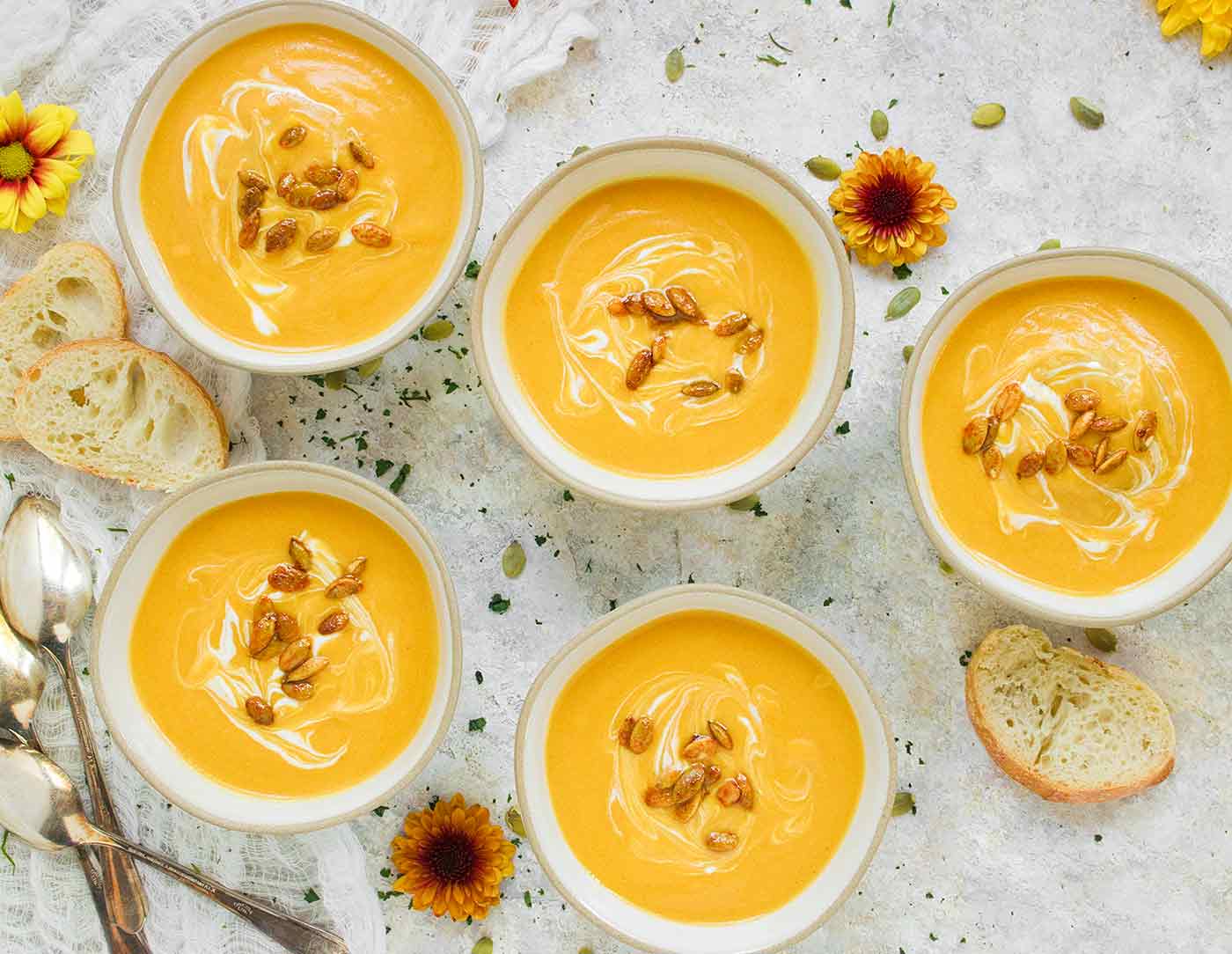 There was a time, many years ago, when the only place you could get a decent bowl of soup for lunch on the run was at Panera Bread. I still remember their Cuban black bean soup with loads of fondness because it was just the yummiest black bean soup I had ever tasted (and I was crushed when they discontinued it). And their Forest Mushroom soup? To.die.for.
Now, as a bonafide soup addict, you might expect me to say that my refrigerator is overflowing at all times with all sorts of homemade soup. But the truth is, I don't spend all of my free time behind the stove: I eat out, too.
And my current obsession is Panera Autumn Squash Soup, which happy happy happy is back in season now.
Even better, my local Kroger carries Panera Autumn Squash Soup pre-packaged nearly year-round. Which means that in the depths of snowy winter, I can have a super tasty bowl of autumn squash soup for lunch right in my own kitchen, any day of the week.
And I've been as happy as a squash soup lovin' clam ever since, until one day at the farmers' market, I spied, and fell in love with, the the butterkin squash. Yes, the butterkin squash: a butternut squash that grows in the shape of a pumpkin!
Holy guacamole, isn't life grand! A pumpkin-shaped butternut squash.
So, I carried my butterkin squash home like I had just won the lottery and stood in my kitchen wondering what to do with it. Obvs, it had to be special because, butterkin squash! (Could the name be any cuter? I think not.)
And that's when it hit me: it was time to create a copycat Panera autumn squash soup. Yes, long past time to unravel the mysterious deliciousness of this take-out favorite.
So I got to it, taste-testing lots of bowls of autumn squash soup, making notes, and tasting some more. It's a tough job, but somebody's gotta do it! 😉
The Secret for How to Make Panera Autumn Squash Soup
So, let's skip to the end and do the big reveal! Panera's Autumn Squash Soup isn't just dreamily creamy, it has texture, too: chopped onions in the soup are kept intact rather than blended into the soup, which provides a satisfying chew and the tiniest touch of crunch.
I also use a combination of roasted butternut squash and raw pumpkin puree, which adds a level of complexity to the squash flavors. Note that many grocery stores now carry pre-cubed butternut squash, so you don't even have to wrangle a whole squash, if that's not your thing.
Much of the creaminess in this soup is thanks to cream cheese. You'll need to take care here, because dairy products such as cream cheese and sour cream tend to break in hot soups, creating small globs throughout. The best way to avoid this is to temper the cream cheese by first whisking it with a ladle-full of the soup in a small bowl, until smooth. Then add it to the soup.
Finally, we come to the spices. There's cinnamon and ginger, as one would expect, but believe it or not, autumn squash soup also contains … curry. Not a lot, just enough to contribute a savory note that balances out the natural sweetness of the butternut squash and the pumpkin.
Knowing the curry part, you might be tempted to fire it up with your favorite spicy-heat blend, but stick with a mild yellow curry. The curry shouldn't define the soup — it's not a curry, after all — only enhance the flavors.
So, to deal with the onions, we blend up the squashes and soup liquids before finishing up the soup in the pot. And we also bloom all the spices with the sauteed onions, so that they're as aromatic and flavorful as they can possibly be.
When combined, these turbo-charged ingredients create a full-flavored soup that you just don't expect in a butternut squash soup. And all the heavy lifting is done by the blender! (See how easily the soup comes together in my one-minute video above.)
Do note that I like thick soups, so the video of my autumn squash soup show a thicker result than what Panera normally serves up. Don't hesitate to slightly thin the soup with additional broth and a touch of cream in the blender for a thinner, smoother result, as I did for the photos in this post.
And if you happen to have pepitas in the da house … muah! I toasted some up while the squash was roasting (instructions for snack-worthy pepitas here).
Naturally vegetarian — and easily made vegan by using coconut cream instead of the cream cheese and dairy — autumn squash soup is a delicious option for Meatless Mondays (or in my case, any day ending in "y").
Karen xo
Print Recipe
Panera Autumn Squash Soup
This blender soup is a spot-on homemade copycat version of Panera's famous Autumn Squash Soup.

Share via Text
Ingredients
for the blender
18-20

ounces

raw butternut squash flesh

cubed*

1

cup

apple juice or apple cider

2 1/2

cups

vegetable broth

(plus extra)

14

ounce

can pumpkin puree

2

tablespoons

brown sugar
for the soup
1

tablespoon

olive, vegetable, or coconut oil

1

cup

finely chopped onion

(about 1/2 large onion)

3/4

teaspoon

ground cinnamon

3/4

teaspoon

mild yellow curry powder

1/2

teaspoon

ground ginger

1

teaspoon

Kosher salt

2

ounces

softened cream cheese

1/2

cup

half-n-half or heavy cream

extra vegetable broth or water

as needed

Roasted pepitas for garnish

optional
Instructions
Preheat oven to 400°F and line a sheet pan with foil or parchment paper. Spread the squash cubes on the pan and roast for 15 minutes, or until the edges of the cubes are light brown. Remove from the oven and let cool a bit.
in the blender
Add the squash, apple juice, broth, pumpkin puree, and brown sugar to the blender jar. Puree until smooth. You might have to scrape down the jar during processing. If too thick, add 2 tablespoons of broth or water and process again. Set aside.
for the soup
Heat the oil in a 4 quart Dutch oven or stock pot over medium heat until shimmering. Add the onions and saute until they're soft and transparent. Sprinkle the cinnamon, curry powder, ginger, and salt over the onions, and stir for a minute or two to bloom the spices.

Pour the squash mixture into the onions and bring to a gentle simmer for 10 minutes (keep an eye on the soup — it's likely to sputter). Reduce heat to low and let stand for a few minutes to cool slightly. Add the cream cheese** and dairy, stirring until completely incorporated.

Now, test for thickness: if you'd like a "soupier" soup, add more broth or water by the tablespoon, until it reaches your desired consistency. Taste, and add more salt if necessary.

To serve, ladle into bowls and top with pepitas, or a swirl of heavy cream.
Notes
*If you're buying a whole squash, the weight of the fruit will vary because of the size of the seed pod. Try for two to three pounds. If you have extra flesh, it freezes beautifully. Note also that most grocery stores now carry pre-cubed butternut squash for convenience.
** Note that certain dairy products such as cream cheese tend to break in hot soups. To avoid this, whisk the softened cream cheese with a ladle full of the soup in a small bowl until very smooth, then add to the soup.
Nutrition
Nutritional information, if shown, is provided as a courtesy only, and is not to be taken as medical information or advice. The nutritional values of your preparation of this recipe are impacted by several factors, including, but not limited to, the ingredient brands you use, any substitutions or measurement changes you make, and measuring accuracy.
Originally published October 30, 2016
Pin Panera Autumn Squash Soup recipe for later: