Everyone's favorite pie, in bar form, Chocolate Caramel Pecan Pie Bars are easy to make for a crowd, and are a decadent sweet treat!
Pecan pies are a guilty pleasure. I love fall, when pecan pie slices go up for sale at the bakery (thank goodness for the individual slices — I would demolish an entire pie). I rarely bake them myself, though, because the ingredients list is a bit … icky. Like, corn syrup.
A lot of corn syrup. (And yes, I know that corn syrup is not high fructose corn syrup (although, check your bottle's label — some lesser brands do use HFCS in their corn syrup). Still….)
The stuff just weirds me out — clear and thick and super sticky … like honey, only so not honey. But I can't argue with the results, because me and pecan pie are BFFs, especially if there's chocolate involved.
And then there's the candy-baked-into-desserts thing. The trend from last year is holding over to this year, I've noticed. Sure, I've had M&M cookies (and lots of them) in my lifetime, but I didn't get the purpose of stuffing a candy bar into a dessert. And I didn't get it for a whole year.
Then I decided to stop wrinkling my nose at the concept, and just try it.
Well, I get it now. I. get. it.
Because these pecan pie bars are stuffed with Rolos — you know, those little one-bite chocolate-wrapped caramel drops — and when they baked up … holy moly … they went all melty gooey. Melty gooey, people.
And after they cooled and sat a while, the pecan pie goodness — already yummy in its own right — kind of mixed and mingled fully with the chocolate chip/Rolo layer, and made this magical mixture of pecan-chocolate-caramel goodness on a chocolate shortbread crust.
Can't see all the melty ooey-gooey goodness of the pecan pie bar? Try this view:
Geez Louise. I can hardly look at this picture without flashbacks of the very first bite. Zowie! It's pecan pie supercharged with chocolate and caramel in a tidy little cookie bar form. (Cookie bar form = eat with your hands, which is preferred because I don't want anything to stand between me and these pecan pie bars. Not even a fork.)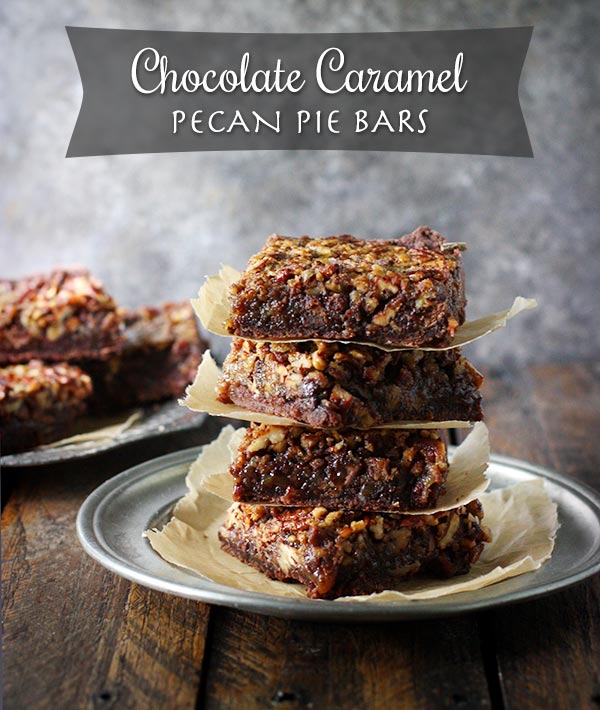 These heavenly chocolate caramel pecan pie bars will definitely be making repeat appearances throughout the holiday season. (And if the groove strikes you, and the festivities warrant it, add 1/4 cup of bourbon to the filling — heavenly boozy chocolate caramel melty gooey goodness). Not only are they crazy delish warmed from the oven, but they're almost even better on days 2, 3, and 4 — a make-ahead gold mine if there ever was one!
Karen xo
Print Recipe
Chocolate Caramel Pecan Pie Bars
Share via Text
Ingredients
for the crust
1 3/4

cups

all-purpose flour

3/4

cup

powdered sugar

1/4

cup

unsweetened cocoa

3/4

cup

cold butter

cubed
for the filling
3

cups

pecans halves and pieces

1 1/2

cups

semisweet chocolate chips

a mix of dark and semi-sweet is nice

1

heaping cup mini Rolo candies

sliced in half

3/4

cup

firmly packed brown sugar

3/4

cup

light corn syrup

1/4

cup

butter

melted

3

large eggs

lightly beaten
Instructions
Preheat oven to 350°. Bake pecans in a single layer in a shallow pan 8 to 10 minutes or until lightly toasted and fragrant, stirring halfway through.

Line the inside of a 13- x 9-inch pan with heavy-duty aluminum foil, allowing 2 to 3 inches to extend over sides, and smooth, tucking the foil neatly along the corners. Lightly grease foil.

Pulse flour, sugar, cocoa, and butter in a food processor 5 to 10 times, until mixture resembles coarse meal. Transfer to the pan, and press the mixture on the bottom and partway (about 3/4") up the sides of the prepared pan. Press to firm and even out.

Bake the crust at 350° for 15 minutes. Remove from oven, and immediately sprinkle chocolate chips and Rolos over crust. Cool completely on a wire rack (about 20 minutes).

Whisk together the brown sugar, corn syrup, melted butter, and eggs until smooth. Stir in the toasted pecans, and spoon into prepared crust.

Bake at 350° for 25 to 30 minutes or until golden and set. Cool completely on a wire rack (about 1 hour), then chill 1 hour in the fridge to completely set the bars. Carefully lift the "pie" from pan, using foil sides as handles. Transfer to a cutting board; cut into bars using a sharp serrated knife.
Nutritional information, if shown, is provided as a courtesy only, and is not to be taken as medical information or advice. The nutritional values of your preparation of this recipe are impacted by several factors, including, but not limited to, the ingredient brands you use, any substitutions or measurement changes you make, and measuring accuracy.