A uniquely spiced soup that's perfect for fall, Curried Pumpkin Apple Soup is a warm and cozy bowl of comfort to be enjoyed on chilly nights. (Vegan, gluten-free)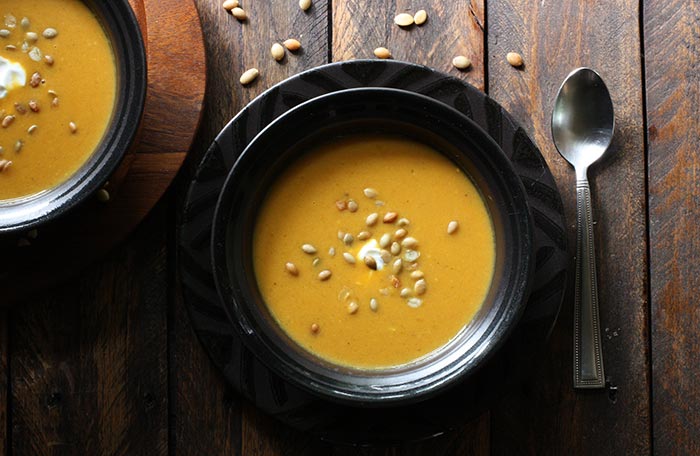 Hasn't pumpkin season been glorious? I can't remember a year when I've enjoyed cooking and baking with pumpkin more. From desserts to breakfast … to soup (of course) … I've taken every advantage of pumpkin-filled goodies.
I've tried hard, though, not to bombard this blog with pumpkin dishes, but as we transition from the initial glut of comfort food and autumn vegetable dishes over to holiday cooking — Thanksgiving is less than a month away now! — I have just one more to share: curried pumpkin and apple soup. Indian cuisine-leaning, with curry spices and coconut milk, this is a warming soup full of fall harvest's favorite produce.
Part of the enjoyment credit, I think, goes to Pinterest. I fired up a new all-things-pumpkin board to keep track of the deliciousness flowing through my feed. Have you seen it? It's positively pumpkin food art — the creativity and skill of food bloggers' really shone through this year. I wish there were enough days in autumn to cook my way through them all.
We've had a little taste this month of the winter weather to come — several frosty mornings and blustery Saturdays too cold to rake the leaves without a hat and gloves.
The Farmers' Almanac is predicting a bitterly cold winter here in the Midwest, and folks all over have been spotting woolly worms wearing the tell-tale signs of cold weather to come (narrow brown bands instead of wide).
So, I'm bracing for a soup-filled season. If there's anything good to be said about winter, it's soup!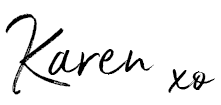 More Pumpkin Soups:
Print Recipe
Curried Pumpkin and Apple Soup
A uniquely spiced soup that's perfect for fall, Curried Pumpkin
Apple Soup is a warm and cozy bowl of comfort to be enjoyed on chilly
nights.
Ingredients
1

tablespoon

olive oil

1

medium sweet-tart apple

such as Honeycrisp or Granny Smith, peeled, cored, and chopped

1/2

cup

chopped onion

about 1/2 of a medium onion

1

large leek

sliced, white and light green parts only

2

cloves

garlic

minced

2

teaspoon

curry powder

use hot or mild, your preference

1

teaspoon

garam masala

1

can pumpkin puree

not pie filling

4

cups

vegetable stock

salt and pepper

1/2

cup

coconut milk

be sure to shake the can well

pepitas

toasted, for garnish
Instructions
Heat the oil in a 4 or 5 quart Dutch oven or stock pot until shimmering. Add the apple, onions, and leeks, and saute until the onions and leeks are soft and the apples have taken on a golden hue (about 5-7 minutes). Add the garlic, curry powder, and garam masala and stir to mix with the apples and onions, about 30 seconds.

Add the pumpkin and chicken stock, and increase the heat to medium-high. Bring the soup to a light boil, and then reduce to medium-low, and simmer for 15 to 20 minutes. Taste, and add salt as needed.

To smooth out the soup, run and immersion blender through the soup (or use a traditional blender, pureeing the soup in batches). Stir in the coconut milk, and taste again, adding more salt and pepper to taste.

Ladle into bowls, and garnish with toasted pepitas. If desired, scrape a little bit of the thick coconut cream out of the can, and dollop in the center.
Nutrition
Nutritional information, if shown, is provided as a courtesy only, and is not to be taken as medical information or advice. The nutritional values of your preparation of this recipe are impacted by several factors, including, but not limited to, the ingredient brands you use, any substitutions or measurement changes you make, and measuring accuracy.