A delicious and hearty soup that the entire family will love! Creamy Tortellini Soup is deeply flavored with succulent sausage and Italian seasoning to create a satisfying, meal-level soup. Cheesy tortellini adds that carby comfort that we all crave in the winter months!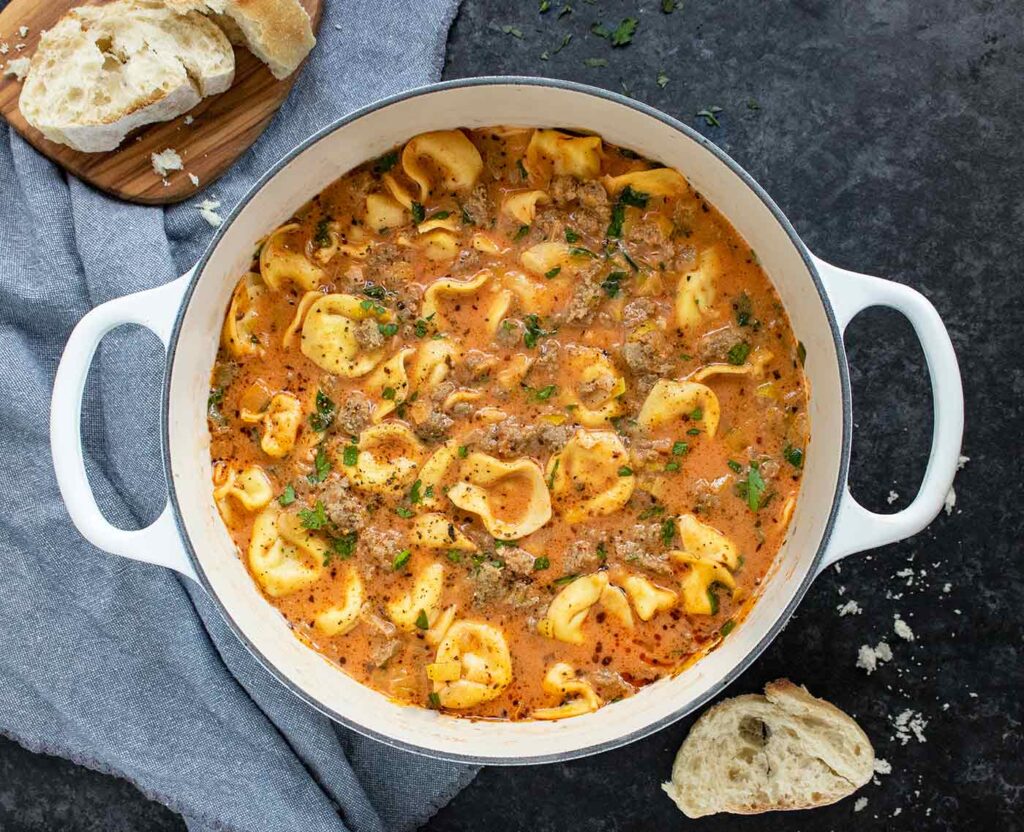 When the winter season hits, there's just nothing better than a hot soup loaded with pasta in a creamy tomato base. And when you're chilled and tired from the day, you need a comforting soup that you can get to the table in under an hour. Meet the perfect soup for that!
This creamy soup is one of my favorite tortellini soup recipes and gets high praise from the fam whenever I serve it.
Ingredient Notes
Sausage: One thing I really love about this recipe is its flexibility. While I really recommend using sausage for its savory flavors and meaty texture (vs. plain ground meat), you can use whatever type of sausage you prefer.
You can go full-flavored with pork sausage, or on the lighter side with turkey or chicken sausage. You can also make the soup vegetarian by using a sausage substitute, such as Impossible Sausage. It all works!
While my favorite is mild Italian sausage, I usually go with turkey sausage to keep things a bit lighter. Just make sure you choose ground sausage and not the preformed links or patties.
Tip: if you can't find the type of sausage you prefer — e.g., I love chicken sausage, but it's a rarity around here — you can use plain ground meat (i.e., turkey, chicken, etc.) and season it yourself with an Italian sausage seasoning blend. Mix the herbs and spices into the meat and let rest for an hour or so.
Tortellini: This is a one-pot soup, so use fresh, refrigerated pasta, which should be readily available. Tortellini is a ring-shaped pasta stuffed with complementary ingredients, such as cheese, herbs, spinach, and sometimes small amounts of meat.
In a pinch, you can absolutely use dried tortellini — which may or may not be stuffed — but I would recommend boiling it up in a separate pot according to package directions, draining, and then adding it to the soup at the end, at the same time as the cooked sausage.
I usually go for the three-cheese variety, but any will work! There's a spinach and ricotta version made by the brand I often buy, and I'll grab that when it's in stock.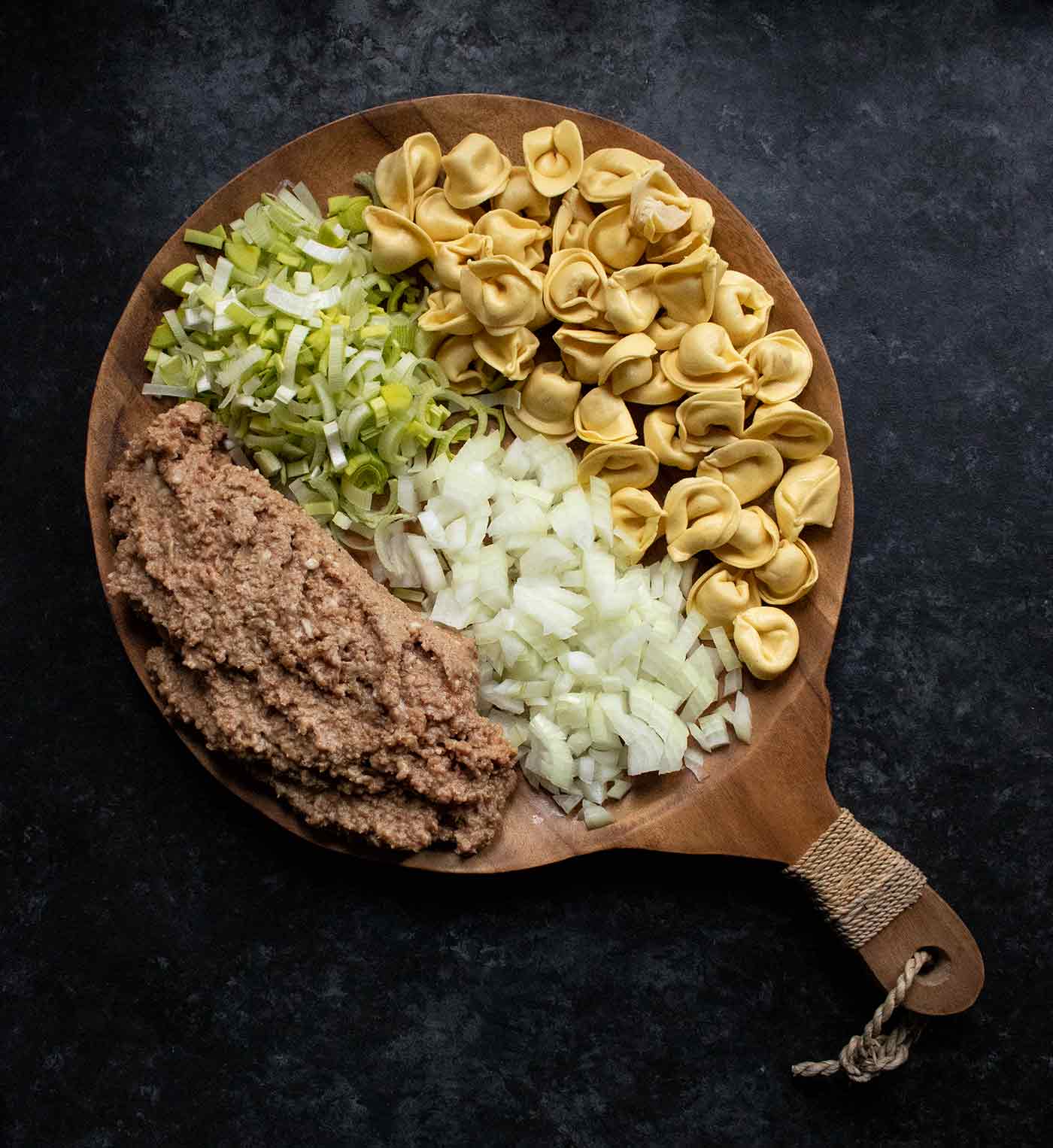 Mascarpone & Heavy Cream: This soup gets its creaminess from two sources — tangy, rich mascarpone and some heavy cream. Mascarpone is very lovely, but if you have a hard time finding it, you can substitute cream cheese, which is slightly sweeter. If you're concerned about the heavy cream, you can use half-and-half or milk instead, although the result will be thinner.
Tomato Paste & Tomato Sauce: Tomato products have a lovely umami that's perfect for this Creamy Tortellini Soup recipe. Tomato paste is concentrated and intense and contributes to the layers of flavor in the aromatic base, while tomato sauce punches up the soup liquids.
How to Make Creamy Tortellini Soup
Step 1: Build Layers of Flavor
Brown the sausage: First cook whatever sausage you're using for the recipe. Be sure to add some olive oil to the pot first, as lean sausage tends to stick (even pork). Use a spatula or wooden spoon to break up the sausage as it browns, so that it doesn't form large clumps.
Transfer the sausage to a bowl before continuing with the soup. Drain all except about 1 tablespoon of liquids/fat from the pot.
Saute the aromatics: Add the leeks and onions and stir frequently until softened. Scootch to one side.
Bloom the seasonings: Spoon the tomato paste, garlic, and herbs into the cleared area and stir until fragrant. Then mix into the onions. Add a splash of broth and sprinkle the flour over the vegetables. Stir well. Things will be thick and pasty.
Step 2: Simmer the Liquids & Fresh Tortellini
Add the soup liquids: Pour in the remaining chicken broth and tomato sauce and bring to an active simmer.
Cook the cheese tortellini: Raise the heat to a boil and add the fresh pasta, allowing to cook according to package directions (usually about 5 minutes).
Step 3: Finish the Soup
Temper the mascarpone and cream: in a medium bowl, whisk the cream and mascarpone, plus a ladle of the hot soup broth, until smooth and creamy. This helps prevent the dairy from breaking into unattractive curds. Pour into the pot.
Finish: Add the reserved sausage to the pot of soup and stir well. Taste and add salt and black pepper to suit. Top the soup with parsley and parmesan cheese, and serve!
Soup FAQs
Can the soup be made ahead of time?
Yes. I often make this soup in the early afternoon, let cool, and then stash in the fridge until dinner. Rewarm the soup over medium heat on the stove top, or divide into individual microwave-safe bowls and blast for about 2 minutes.
The tortellini may absorb some broth while it rests, so if the soup is too thick at serving time, add a little more water and/or cream or milk to loosen.
For another variation of "making ahead", you can prep some of the ingredients ahead of time, such as chopping the onions and leeks, grating the cheese, and storing them in the refrigerator.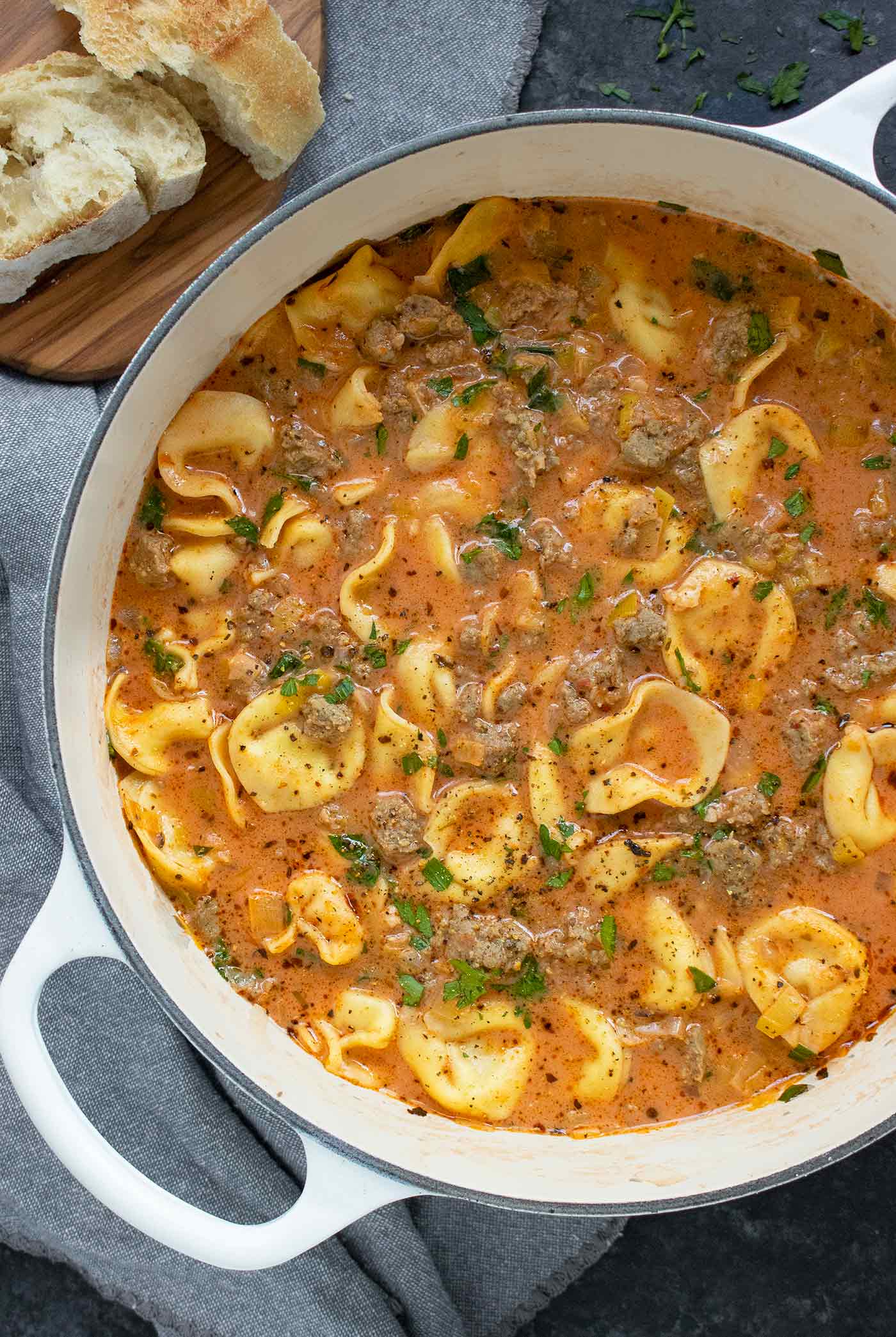 Can leftovers be refrigerated or frozen?
I would not recommend freezing this soup because of the dairy products and the pasta. Of course, you could make the soup without them, and then add after thawing and reheating, but I'm not sure how much time that actually saves vs. making the soup fresh. It's an option, though!
You can definitely keep leftovers for a couple of days in the fridge in an airtight container.
What to serve with Creamy Tortellini Soup
For my tastes, this is a meal-level soup, and doesn't need a lot to go with it. I usually go for a small green salad or a side of garlic bread schmeared with roasted garlic or focaccia.
I hope this creamy sausage tortellini soup will become part of your regular rotation of meal-worthy soups! This is a delightfully carby, warm bowl of soup that's absolute comfort food!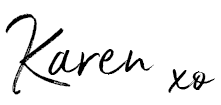 More Tortellini Recipes
Print Recipe
Creamy Tortellini Soup
Warm up this winter with this meal-level soup! Creamy Tortellini Soup is pure carby comfort with fresh cheese tortellini and savory sausage in a creamy tomato base.
Share via Text
Ingredients
1

tablespoon

olive or vegetable oil

1

lb

ground turkey sausage

crumbled (can also use chicken sausage)

1

leek

thinly sliced and then chopped

1

small onion

diced

30

ounces

low-sodium chicken broth

(about 2 cans)

2

tablespoons

tomato paste

2

cloves

garlic

minced

1

teaspoon

dried Italian seasoning

1

teaspoon

dried marjoram or oregano

2

tablespoons

all-purpose flour

8

ounces

tomato sauce

9

ounces

refrigerated fresh tortellini

(any variety)

1/3

cup

half-and-half or heavy cream

2

tablespoons

mascarpone

Salt and freshly ground black pepper

Fresh flat leaf parsley

chopped

Grated parmesan cheese
Instructions
Heat oil in a 4-5 quart Dutch oven or soup pot until the surface starts to shimmer.

Add in the sausage and saute, breaking up the larger clumps as it cooks.

When the sausage brown, transfer to a bowl and drain off all but 1 tablespoon of liquids/fat from the pot.

Add the leeks and onions, stirring often until softened (about 5 five minutes).

Scoot everything to one side.

Add a little broth to cleared area if the there's no liquid left in the pot.

Spoon in the tomato paste and dried herbs. Stir until fragrant to bloom the flavors (1 minute or so), then mix everything into the meat and onions.

Sprinkle flour over the mixture and stir well for a minute or two to cook the rawness off of the flour. Everything will be become a little pasty; this is good.

Pour in the tomato sauce along with the rest of the broth and raise heat to bring the soup to a gentle bubble. Reduce heat to hold a simmer and cook for 10 minutes

Add the fresh tortellini and allow to cook for 5 minutes.

Reduce heat to low.

In a small bowl, whisk together the dairy, mascarpone, and a ladle of the hot soup's liquids until smooth. Pour into the soup and stir.

Taste, and add salt and pepper as needed.

Serve, topped with fresh parsley and parmesan cheese
Nutritional information, if shown, is provided as a courtesy only, and is not to be taken as medical information or advice. The nutritional values of your preparation of this recipe are impacted by several factors, including, but not limited to, the ingredient brands you use, any substitutions or measurement changes you make, and measuring accuracy.