Bring a little Southern-inspired treat to your dinner table with this kicked-up mac and cheese. Zesty spices and andouille sausage turn Cajun Mac and Cheese into a delightful twist on our favorite carby classic! It's the best cajun mac I've ever had and the ultimate comfort food!
Several years ago, my Thanksgiving meal traditions were upended when we added this one thing to our dinner: classic mac and cheese.
I didn't know at the time that mac and cheese for the holidays is a very Southern thing. All I knew is that it sounded like the perfect addition to my favorite carb-tastic holiday feast.
And ohhhh, it was! I've never been much of a turkey or ham fan for holiday dinners. Give me all the sides!
Actually, I just need three sides to be deliriously happy: stuffing, mashed potatoes, and mac and cheese. This trio took over the real estate on my dinner plate, pushing everything else aside, except for maybe a little homemade cranberry sauce, for a bright bite in between all of the carby goodness.
I'm so excited about bringing this kicked-up version of mac and cheese to dinner this year. I think everyone will love the zesty notes of Cajun influence!
It's made in a large skillet on the stovetop and then finished in the oven. So easy!
Ingredient Notes and Substitutions
I've included here some notes about the ingredients used in this recipe. Hope they're helpful!
Cheese – a blend of cheeses is always nice, as it broadens the flavor possibilities. For the best texture, make sure one of the cheeses is a nice melting cheese. Some paired suggestions: Monterey Jack and white sharp cheddar, fontina and extra sharp cheddar cheese, pepper jack cheese and mild cheddar, Havarti and Gruyere. And, of course, topping the dish with a lovely Parmigiano Reggiano, along with the seasoned breadcrumbs, is always a good idea.
In case you're wondering what kind of cheese is used in Cajun cooking, parmesan, sharp cheddar, and Gruyere (or Swiss) are always excellent options!
Note that in the U.S., cheese is sold by weight, not volume, so that's what I've used in the recipes (ounces instead of cups). Whether you buy a bag of shredded cheese or a block, it will be labeled by the ounce.
I'm all for shortcuts, but homemade mac and cheese is one recipe where I highly recommend grating a block of cheese rather than buying a pre-shredded bag at the grocery. Commercial grated cheese in U.S. is almost always mixed with cellulose (aka, wood pulp), an anti-caking agent that prevents the shreds from clumping together.
Setting aside the questionable nutritional value of cellulose, it introduces one undeniable fact: because cheese is sold by weight, cellulose is taking up some of that weight. So, you think you're adding 8 ounces of flavorful cheese to your recipe, but actually a portion of that is tasteless cellulose. There are some brands of packaged cheese that, to me, have no flavor at all. As a cheese lover, that's just not acceptable.
Sausage – I used andouille sausage for this recipe, but feel free to substitute any smoked sausage or kielbasa. Depending on the brand, andouille can have a slight or significant kick of spice. These type of sausages are usually stocked in the bacon/breakfast sausage section of the grocery store, packaged in one-pound lengths.
Which is also the bummer of buying smoked sausage: one pound is a lot for one recipe, even something like a stew! (Although I did notice at the store the other day, with a sigh, that the formerly one-pound package that I used to buy from a particular brand is now 14.75 ounces). So, be prepared to store the other half of the sausage, as Cajun Mac and Cheese uses only 8 ounces. It can be wrapped in an airtight bag and frozen.
Holy Trinity – this recipe takes full advantage of the classic and super tasty aromatic vegetable blend known as the Holy Trinity: equal parts onions, green bell pepper, and celery. This trio creates a full-flavored foundation for the mac and cheese, along with the sausage. (In a pinch, you can substitute a red bell pepper for the green. Red bells are sweeter than green, but it will be okay!)
Cajun Spice Blend – while the sausage adds that treasured savory twang, it's really the spice blend that controls the level of heat. Because of each us detect and tolerate spicy heat in very different ways, I'm hesitant to classify anything as mild, medium, hot, or rip-roarin'.
I use my homemade cajun seasoning blend, but hopefully you won't have any trouble finding a blend at the grocery store if you're not in the mood to do some alchemy.
The advantage of a homemade blend is that you can control the heat. I have a pointed dislike for cayenne pepper but don't mind other spicy peppers (jalapeno, chipotles, serrano, etc.), so I can choose my type of heat.
The collection of spices in the average Cajun/Creole blend is so lovely and interesting with things like smoked paprika, oregano, and garlic, that if heat just isn't your thing, you can go mild and still have a lovely mac and cheese. These spices go well in mac and cheese!
Pasta – I might be stubbornly stuck in my ways but for my money, medium elbow macaroni provides the best mac and cheese experience. The curved, hollow tubes provide lots of space for melty cheese sauce to cozy into, while sitting comfortably on the fork with a chunk of sausage alongside. I'm not a stabby kind of mac and cheese eater, so larger pastas are not ideal in my book. But, you can use your favorite — it won't change the flavor of the dish.
Bread crumbs – I've never been a bread-crumbs-on-everything kind of cook. But I have to say that seasoned panko crumbs add A LOT to this dish. That extra, savory little crunch is pure joy. Panko bread crumbs have a different, flakier texture than other types, but if you have to choose been plain panko and seasoned regular bread crumbs, go with the seasoned. Or, you could buy the panko crumbs and mix with a fine grind of an Italian herb seasoning blend.
How to Make Cajun Mac and Cheese: Step by Step
Step 1: Cook the pasta
First, get the pasta boiling in a large pot of salted water. The pasta will finish cooking (use the time for al dente on the package directions) before you're ready to add it to the pan, but it will hold just fine. Before draining, reserve about a cup of the pasta water and set aside.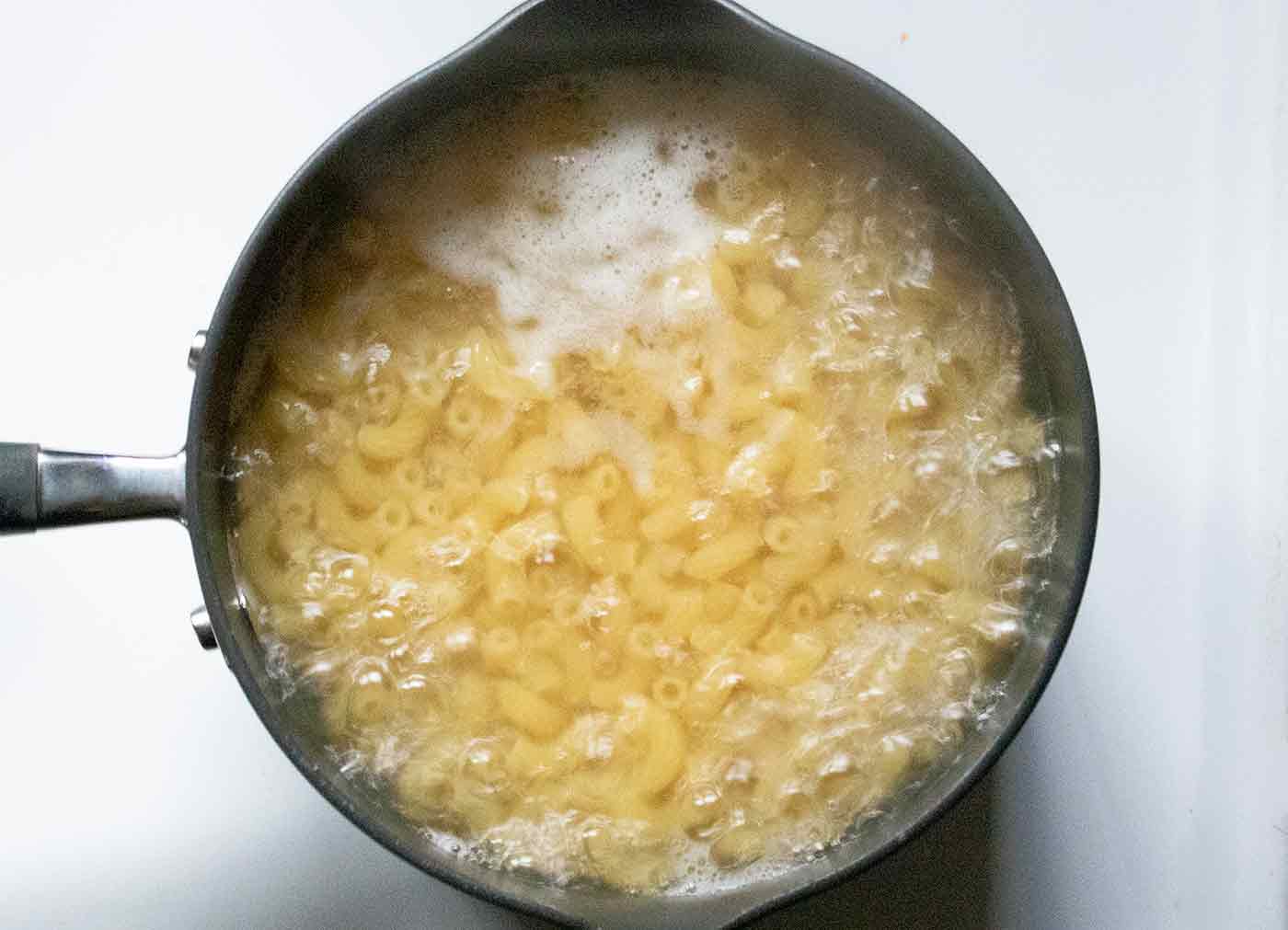 Step 2: Build the layers of flavor
Most smoked sausages are packaged fully cooked, but you'll want to saute them in a large, oven-safe skillet over medium heat until nice and golden with slightly crispy edges.
Slice the sausages thinly into half or quarter moons, so they'll fit comfortably on the fork alongside some cheesy pasta. After cooking, transfer to a bowl and wipe out the pan.
Next, cook the aromatics in the skillet — the onions, celery, and green bell peppers mixture known as the Holy Trinity. They'll add extra savory oomph to the mac and cheese.
Step 3: Create the roux & bechamel right in the skillet
To keep the Cajun Mac and Cheese as hassle-free as possible, we'll make the cheese sauce right in the skillet, next to the vegetables!
Scoot the onion mixture to one side of the pan and add the butter and all-purpose flour to the cleared area. As the butter melts, stir the flour into the butter to make a thick paste. Keep stirring in small circles. The flour mixture — the roux — will take on a slightly dark color, signaling that it's ready.
Slowly pour the milk over the roux and stir until they're smooth and combined (this is called a bechamel). Note that you could use heavy cream instead, but I find that whole milk gives a great cheesy texture without the extra fat and calories.
At this point, you can mix in the vegetables, as the milk will have run over into them anyway. It's all okay!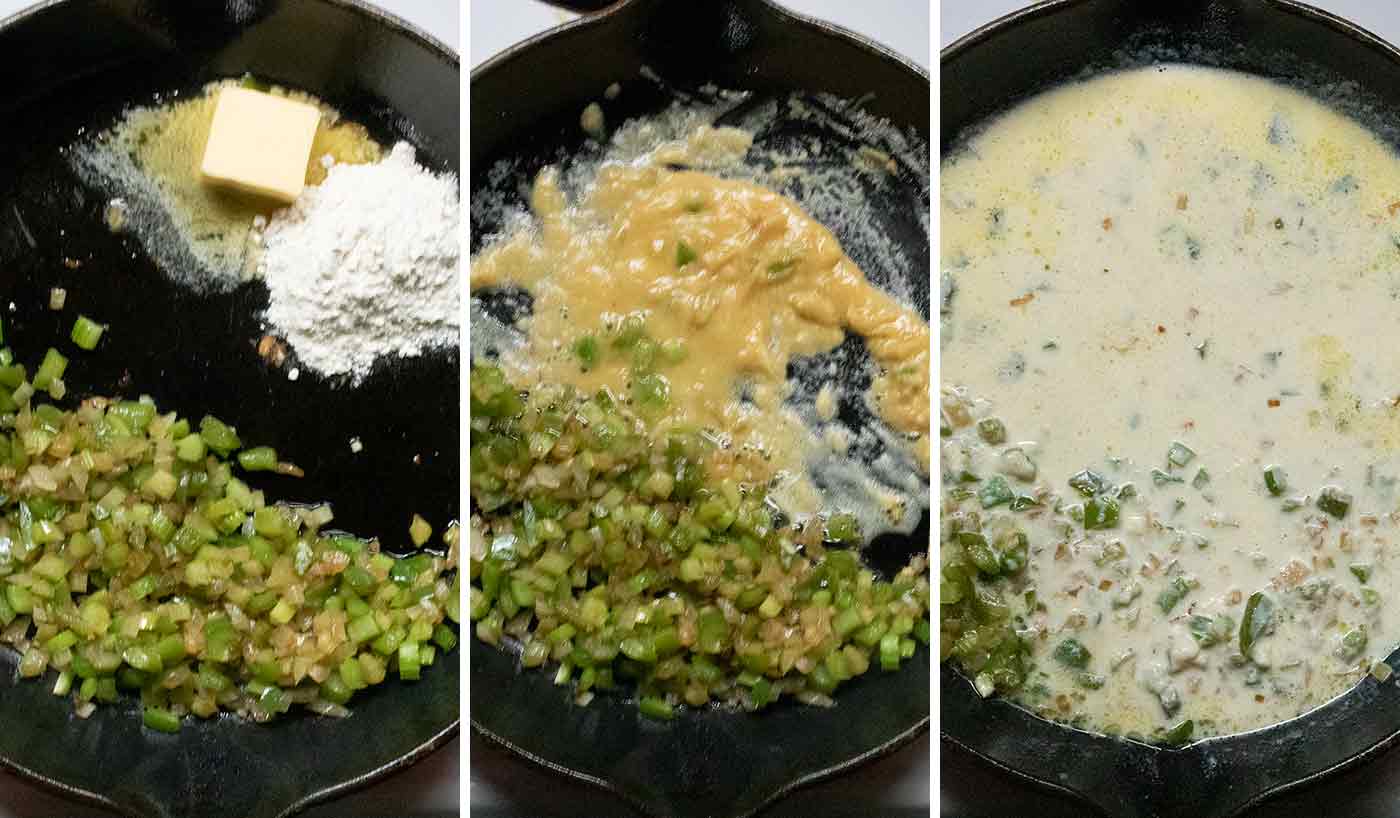 Step 4: Create the cheese sauce (mornay)
Next, add the cajun spices, the shredded cheeses, and the cream cheese to the skillet and stir completely into the bechamel until thick and goopy and utterly cheesy!
Step 5: Pull it all together
Finally, mix the reserved sausages and the hot cooked pasta into the dish until everything is well-coated with the cheese sauce. If you'd like the mac and cheese to be slightly saucier, drizzle in a bit of the reserved pasta water, a little bit at a time, until it reaches your preferred consistency.
Combine melted butter with the bread crumbs and sprinkle over the mac and cheese in the skillet. And then bake!
Just look at this luscious skillet of creamy, cheesy, zesty pasta heaven!
Cajun Mac and Cheese FAQs
Can this be made ahead?
This mac and cheese is meant to be saucy, not dry (as some oven-baked mac and cheese recipes turn out — it's not an insult, that's just how they are).
To maintain optimal sauciness, I wouldn't make it too far in advance, although you could certainly prepare it an hour or two ahead of time and cover the skillet tightly with foil after baking.
Don't forget that even after boiling, pasta continues to absorb liquids and will do so within the cheese sauce.
To shorten prep, however, you can definitely slice the sausages, dice the onions, celery, and green peppers, and shred the cheeses, even the day before (stash them in the refrigerator). Such a time saver!
Can you freeze or refrigerate leftovers?
Refrigerate, yes. I would not, however, freeze the leftovers. I've never tried it, though, so if you want to experiment, it's a worthy effort.
Store any leftovers in an airtight container in the refrigerator. The mac and cheese will dry out during refrigeration. You can add a little bit of milk upon reheating or, if you're like me, just enjoy the ease of having some tasty cheesy pasta for lunch.
I hope you'll love this Cajun-inspired mac and cheese in its spicy, creamy cheese sauce. While I'm excited to enjoy it for Thanksgiving, I wouldn't say no to another batch during Mardi Gras!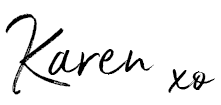 More Mac and Cheese to Enjoy
Print Recipe
Cajun Mac and Cheese
Bring a little Southern-inspired flavor to your table with this kicked up mac and cheese.
Ingredients
12

ounces

dried elbow macaroni

2

tablespoons

olive oil

8

ounces

andouille sausage

(or other smoked sausage), sliced thinly into quarter moons

1

small onion

diced

2

ribs celery

diced

1

small green bell pepper

diced

2

tablespoons

butter

2

tablespoons

all-purpose flour

2

cups

whole milk

8

ounces

shredded cheese

(a blend of Monterey Jack or pepper jack and cheddar is nice)

1

tablespoon

cream cheese

1

tablespoon

Cajun spice blend

1/4

cup

shredded Parmigiano Reggiano

(optional but lovely)
For the breadcrumbs:
1

tablespoon

melted butter

1/3

cup

panko bread crumbs

(seasoned, if possible)
Instructions
Preheat oven to 350ºF

Bring a 2 quart pot of water to boil and cook the macaroni according to package directions (about 7-11 minutes, depending on the brand). Reserve about 1 cup of pasta water, then drain and set aside.

While the pasta cooks, heat 1 tablespoon of olive oil in a 12″ oven-safe skillet over medium until the surface shimmers.

Saute the sausage until golden and the edges slightly crispy. Transfer to a paper towel-lined bowl and carefully wipe out the skillet with a wad of paper towels.

Add the remaining olive oil to the skillet and let heat up until shimmering.

Add the onions, celery, and peppers and saute until soft, about 8 minutes. (Note: the pasta should be finishing up. You can stop and drain.)

Scoot the onion mixture to one side and add the 2 tablespoons of butter to the cleared side. Let melt and then spoon the flour onto the butter. Stir to create a paste and allow the flour to darken slightly (2 minutes).

Pour a 1/2 cup of the milk over the flour and stir to thicken. Some of the milk will run into the vegetables; that's okay. Continue pouring 1/2 cups of milk into the skillet and mixing with the flour base until creamy.

Fully mix the creamy roux into the the vegetables.

Add the shredded cheese and cream cheese to the skillet and stir until all is incorporated.

Sprinkle the spice blend over the mixture and stir.

Carefully spoon the cooked pasta into the skillet, along with the cooked sausage. Stir to thoroughly coat the pasta.

Mix the bread crumbs and melted butter together and sprinkle over the surface of the mac and cheese, along with the Parmigiano Reggiano, if using.

Bake for 20 minutes. The mac and cheese around the edges of the skillet should be lightly bubbly.

If the bread crumbs have not turned golden at this point, you can place the skillet under the broiler for a minute or two (keep watch – it can burn quickly!).

Serve immediately.
Nutritional information, if shown, is provided as a courtesy only, and is not to be taken as medical information or advice. The nutritional values of your preparation of this recipe are impacted by several factors, including, but not limited to, the ingredient brands you use, any substitutions or measurement changes you make, and measuring accuracy.