Whip up this light and tangy cucumber slaw when you're looking for a substitute for those goopy mayo-based salads. Fresh, crisp vegetables sliced or spiralized into thin strips creates the base for a delightfully crunchy slaw. Toss this vegan slaw with the homemade, tangy-sweet Asian dressing, and you've got the perfect side for veggie burgers, or as a topping for vegan tacos!
Is there anything better on hot summer days than a light, refreshing meal with a side crispy slaw? Wash it all down with an ice cold margarita or mojito, and that's pretty much summer perfection to me.
My favorite salad vegetable has to be the cucumber. Somehow light and crisp and juicy, all at the same time, it's the perfect vehicle for dips (guacamole scooped up by cucumbers = love), and makes the best slaw, ever. Mixed with sweet carrots and peppery radishes, the combination is flavorful and wonderfully textured.
Topped with a tangy-sweet Asian inspired dressing, cucumber slaw will complement your summer dinners beautifully — think, a side to grilled vegetable kabobs, or a topping for vegetarian tacos. Summer party food!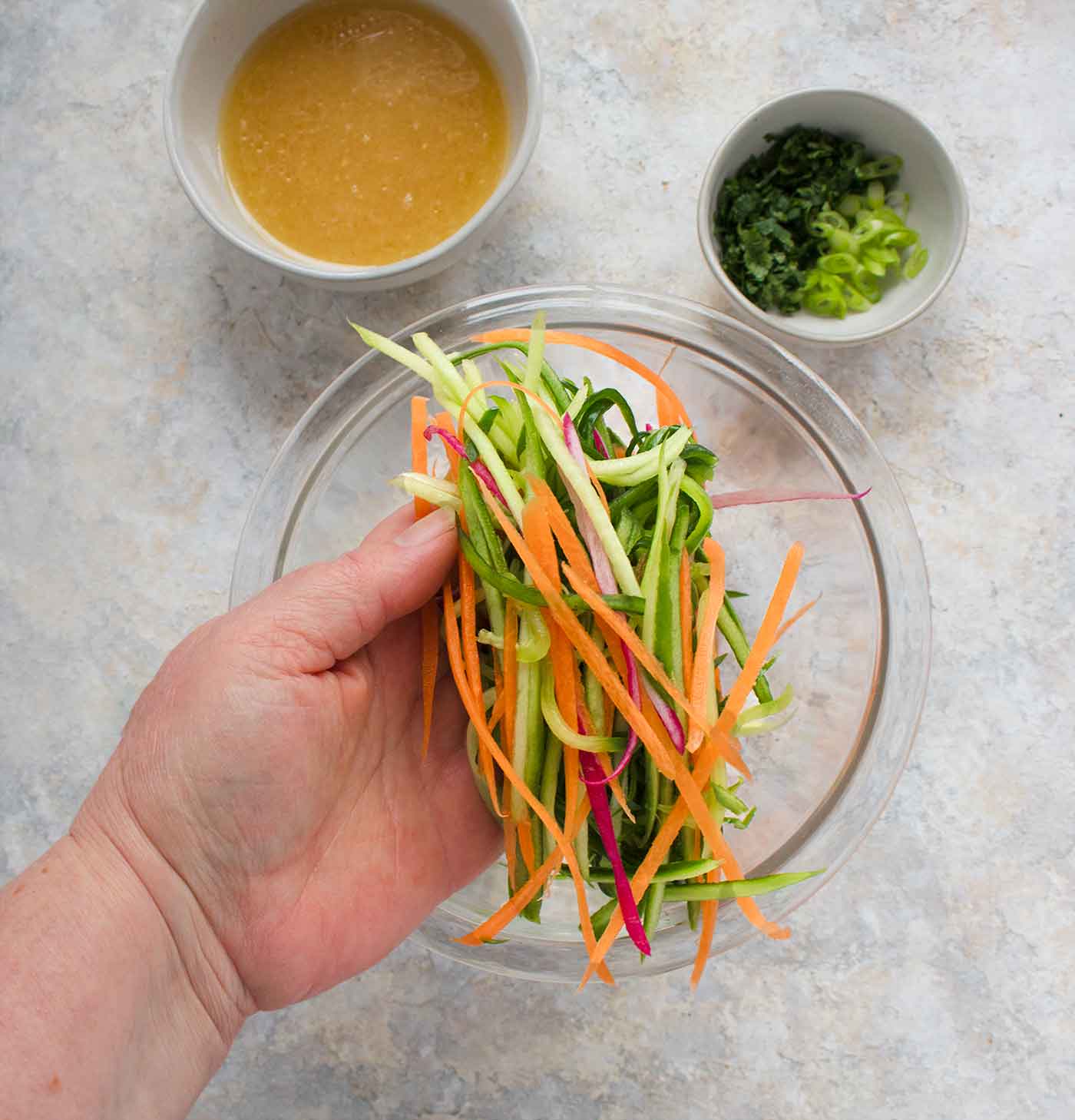 How to Slice Vegetables for Cucumber Slaw
This beautiful veggie slaw is in no way as tedious to make as it looks. There are so many cool tools out there to help with slicing and dicing — and I think I have them all, lol! Here are a few ways to get slender-sliced, crunchy vegetables in no time at all. These are gadgets I own and use all the time:
Chef's knife: If you're a veggie prep nerd (like I am!), you turn to your trusty chef's knife for just about all of your cooking tasks. If you're new to knife work, slicing veggies into matchsticks is a great way to practice and sharpen (hehe) your knife skills.
Julienne peeler: This is one of those tools I thought was silly — until I caved and bought one. The same size as a standard Y-peeler, the julienne peeler has specially positioned blades that create long, slender vegetable matchsticks with each swipe. The vegetables in the photo above were sliced with my julienne peeler. Whenever I need to prepare just one vegetable, I'll use this peeler. (For lots of vegetables, I go with the mandoline below)
Mandoline: I'll be the first to admit that mandolines freak me out a little. I have knife scars all over my hands — in the Battle of the Guacamole Prep, it's Avocados: 3, Karen: 0, lol — so all those exposed blades just make me squirm. However, with basic care, mandolines can be quite safe, and I've never injured myself on one (which cannot be said for my box grater, which removed a few layers of skin off my thumb last weekend). A julienne mandoline very neatly creates matchstick slices of just about any vegetable.
Spiralizer: One super-fun variation you could make of this cucumber slaw would be to create curly vegetables spirals from the cucumbers and carrots. I love all the tools above, but my 6-blade spiralizer is tops for the fun factor. I consume a lot of veggies, my Friends, and the spiralizer helps me quickly create large salads and generous pasta substitutes in neato shapes — twirly strands, angel hair nests, spiral disks, and more. If you're doubling or tripling this cucumber slaw recipe for a crowd, I'd definitely go with the spiralizer. (For the radishes, just do a quick knife chop, as they're usually too small to fit on the spiralizer pin.)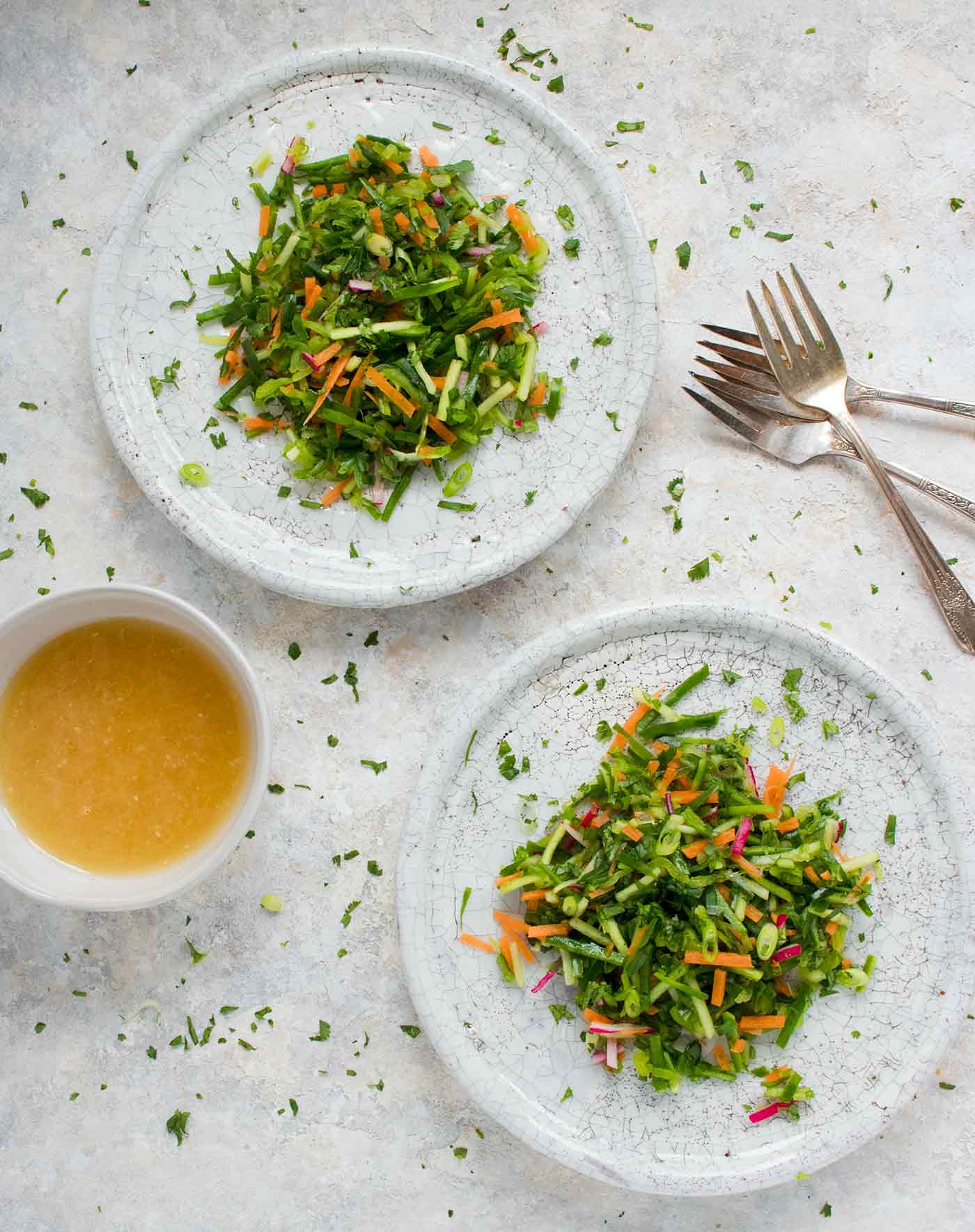 As summer approaches with the promise of fresh vegetables, this cucumber slaw will be making frequent appearances on my table, especially for Taco Tuesdays!
Karen xo
More vegetable-strong salads to enjoy:
Print Recipe
Cucumber Slaw with Asian Dressing
Fresh, crisp vegetables sliced (or spiralized!) into thin strips creates the base for a delightfully crunchy slaw, topped with a slightly sweet homemade Asian dressing. Note that, although this slaw is quick to make, the dressing, like all dressings, develops full flavor if made ahead and stored in the fridge before tossing with the slaw.
Ingredients
for the dressing:
1/4

teaspoon

white/sweet/mild miso paste

3

tablespoons

rice vinegar

2

teaspoons

organic sugar

1/2

teaspoon

sesame oil

1/4

teaspoon

minced ginger

kosher salt
for the slaw:
1

medium cucumber

(or 2 to 3 pickling cucumbers*)

1

medium carrot

, scrubbed and/or peeled

3

radishes

1

green onion

, sliced thinly, for garnish
Instructions
make the dressing:
In a small mixing bowl, dissolve the miso paste in 2 tablespoons of hot (not boilinwater, stirring until smooth. Whisk in the vinegar, sugar, oil, and ginger. Add about 1/8 teaspoon (a biig pincof salt. Taste, and add more salt as needed. If you like a slightly sweeter dressing, add more sugar (a 1/4 teaspoon at a time), until it's to your liking. Set aside. Dressing becomes very flavorful if you make it ahead of time and stash it in the fridge for a few hours.
assemble the slaw:
Slice the vegetables in thin strips, using a mandolin with a julienne blade, a julienne peeler, or a spiral vegetable slicer. Toss with the dressing, and garnish with sliced green onions.
Notes
*Pickling cucumbers are, in my opinion, way better than the big field cucumbers. They're crunchier, with a thinner skin, and perfect for salads (and, of course, pickles!).
Nutrition
Nutritional information, if shown, is provided as a courtesy only, and is not to be taken as medical information or advice. The nutritional values of your preparation of this recipe are impacted by several factors, including, but not limited to, the ingredient brands you use, any substitutions or measurement changes you make, and measuring accuracy.