A decadent end-of-summer soup that features the season's freshest corn, Mexican Street Corn Soup is the famous Elote street food in soup form.
This is not health soup, lol. Just want to get that right out there. Although this soup is loaded with corn and veggies and generally nutritious goodness, I wanted honor/mourn the end of summer by creating a celebration summer soup of sorts. In the same way that a crazy fancy cake is a celebration cake, I went all out with for this ode to Mexican street corn, in soup form.
If you've never had it, Mexican street corn is the classic, crave-able street food: grilled corn on the cob slathered to creamy richness with mayo and/or crema — a super creamy form of sour cream — then topped with chili powder, cotija cheese, and a spritz of lime juice. It's decadent and summery all at once.
My version of Mexican Street Corn Soup is actually more of a chowder, as it features a thick, creamy base with milk and Yukon gold potatoes for a natural starchy thickness.
But, I'm cashing in my cook's discretion card and labeling it a "soup." Whatever it is, the star of the show is perfectly in-season, local corn.
I might live in a flyover state that from 35,000 feet is just a green and brown patchwork of suburbs and farms, but there are a few food things that we do particularly well: we grow awesome corn and tomatoes.
Neighboring states might challenge me to a corn duel (not an actual thing, lol, in case you were just about to dash over to YouTube), but really, whether Ohio, Indiana, Kentucky, or Illinois, we all do super sweet F6 corn very, very well.
Corn season coincides with the stretch of late summer when my tastes and cravings begin transitioning to hot soup and fall foods.
The temperature zoomed right past 90 degrees by noon today — again … still … maddeningly, perpetually 90ish … all. summer. long. — but yes, I'm going to cook soup today anyway. And to ensure the gilded lily is fully aflame, I'm first going to do some grilling of the corn.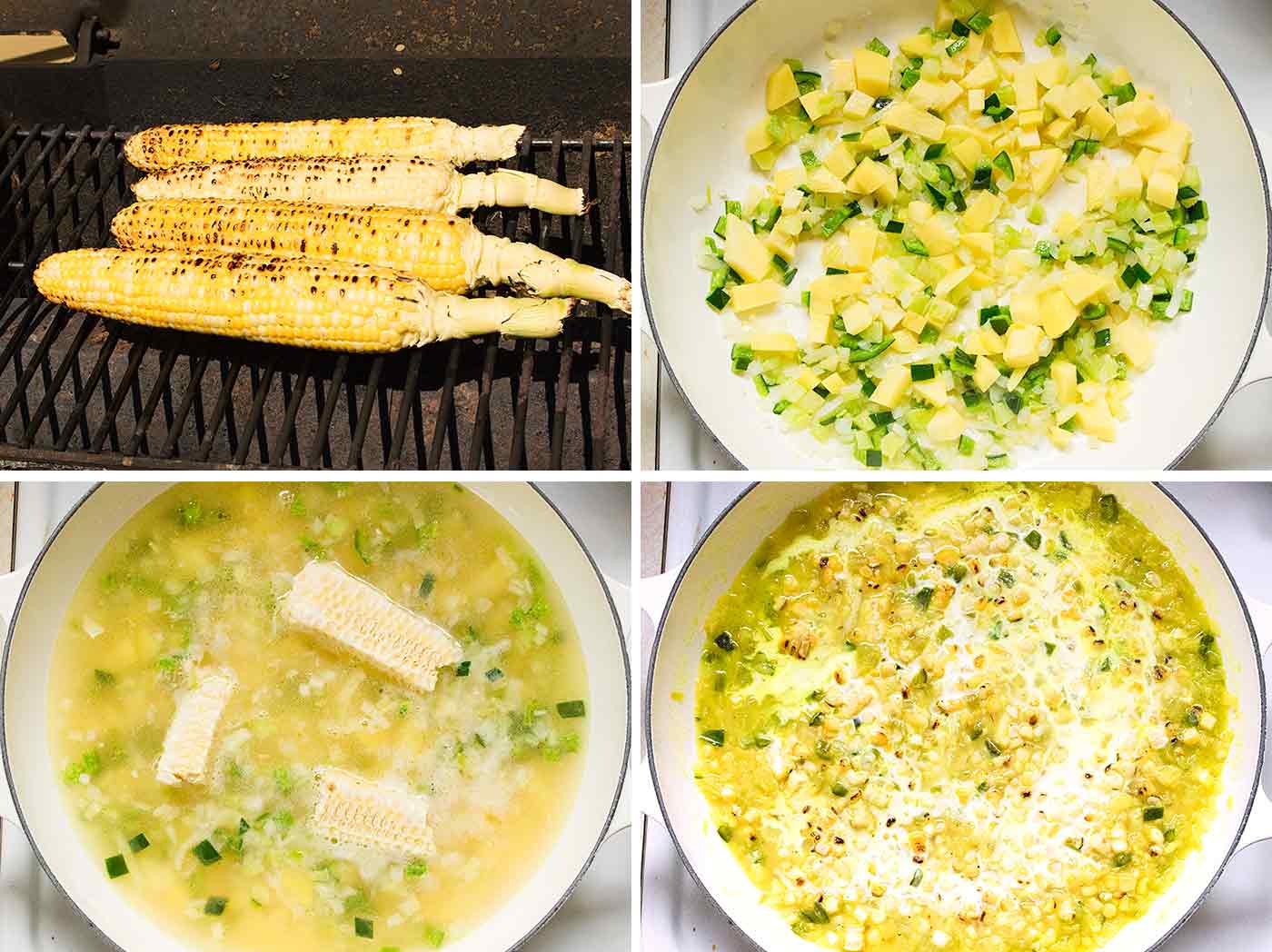 Grilling is optional, of course, but I do love a light char on the corn and the smoky outdoorsy-ness it brings to the soup. I also add uncooked, fresh kernels to the soup, which adds a crunchier texture and sweet corn flavor. Lovely.
Can you substitute frozen or canned corn? I hesitate to tell you what to do in your own kitchen, so, let's put it this way: It will be a different soup. I think frozen would be more successful than canned. But, I highly recommend tracking down some fresh ears of corn. There's just no flavor like it!
Control the Texture of your Mexican Street Corn Soup
This soup is really flexible, and you can choose how chunky or smooth you want it to be.
For ultimate chunk: leave everything whole in the soup, without blending.
For a thick soup base, but still lots of texture: mash or blend the potatoes, but leave all of the corn whole.
Smooth soup with a little bit of texture: after the soup finishes cooking, scoop out a cup or two of corn kernels, and blend the rest of the soup with a stick blender.
Velvety smooth: blend the soup in batches in a high-speed blender. You might need to add a small amount of water to thin it out a bit as you go.
Once you get the texture just right, it's time to take the soup to the top level of decadent goodness: mix in big pinches of crumbled cotija cheese and swirls of Mexican crema or sour cream.
And then finish with a good squeeze of lime.
The salty savoriness of the cheese and the rich tang of the crema make this soup completely irresistible. Also, it's make-ahead wonderful. It doesn't seem possible, but the soup is even better the next day.
Note: don't let those perfect local corn cobs go to waste! Use them to make homemade corn stock for risotto or vegetable soup (or this soup!).
Karen xo
More corn soups to try:
Print Recipe
Mexican Street Corn Soup
A decadent end-of-summer soup that features the season's freshest corn, Mexican Street Corn Soup is the famous street food in soup form.
Ingredients
5

ears sweet corn

, shucked, silks removed

olive oil

2

tablespoons

butter or ghee

1/2

onion

, diced

2

ribs celery

, diced

1

small poblano pepper

, diced

3/4

pound

Yukon Gold potatoes

, scrubbed, peeled, and diced

3

cups

vegetable or chicken stock

1

cup

half n half or heavy cream

kosher salt

1

block of cotija or queso fresco cheese

1/4

cup

Mexican crema

(or sour cream)

1

lime

1

teaspoon

ancho or guajillo chili powder

1

tablespoon

minced cilantro

, for garnish

1

green onion

, sliced or chopped, for garnish
Instructions
Preheat your grill to high. Brush four of the ears of corn with olive oil. Grill the ears of corn, turning occasionally for 8 to 10 minutes, until all sides have a light char on the kernels. Remove, and cool. When the ears can be handled, cut the kernels from all of the ears (including the 5th, uncooked ear).

Using the edge of a knife, scrape down the ears of corn to remove the creamy corn. Add to the corn kernels. Slice one of the cobs into three pieces and set aside.

Heat the butter in a 4 quart Dutch oven or stock pot over medium until melted.

Add the onions, celery, and poblano and saute until soft (about 5 minutes). Add the potatoes, stock, and sliced corn cob. Raise the heat to high to bring the soup to a boil, then reduce to maintain a gentle simmer. Cook until the potatoes can be easily pierced with a knife (about 15 minutes). Remove and discard the cobs.

If a thick soup is desired, mash the potatoes in the pot with a potato masher until broken down (they won't necessarily be smooth at this point). Reduce heat to medium/low.

Stir in the corn and dairy, plus a couple pinches of salt. Cook for five minutes.

Observe the texture of the soup. If you want something smoother and thicker, use a stick blender in pulses to smooth out part of the soup. For a completely smooth soup, blend the soup in batches in a high-speed blender.

Add about 1/4 cup of cotija cheese crumbles, plus the crema to the soup, stirring well. Taste, and add more cheese as needed. It's salty, so it's unlikely you'll need to add more salt at this point.

Squeeze half of a lime over the soup, and taste. Use the remaining half, if a brighter flavor is desired.

To serve, sprinkle chili powder over the soup, along with the cilantro and green onions.
Nutrition
Nutritional information, if shown, is provided as a courtesy only, and is not to be taken as medical information or advice. The nutritional values of your preparation of this recipe are impacted by several factors, including, but not limited to, the ingredient brands you use, any substitutions or measurement changes you make, and measuring accuracy.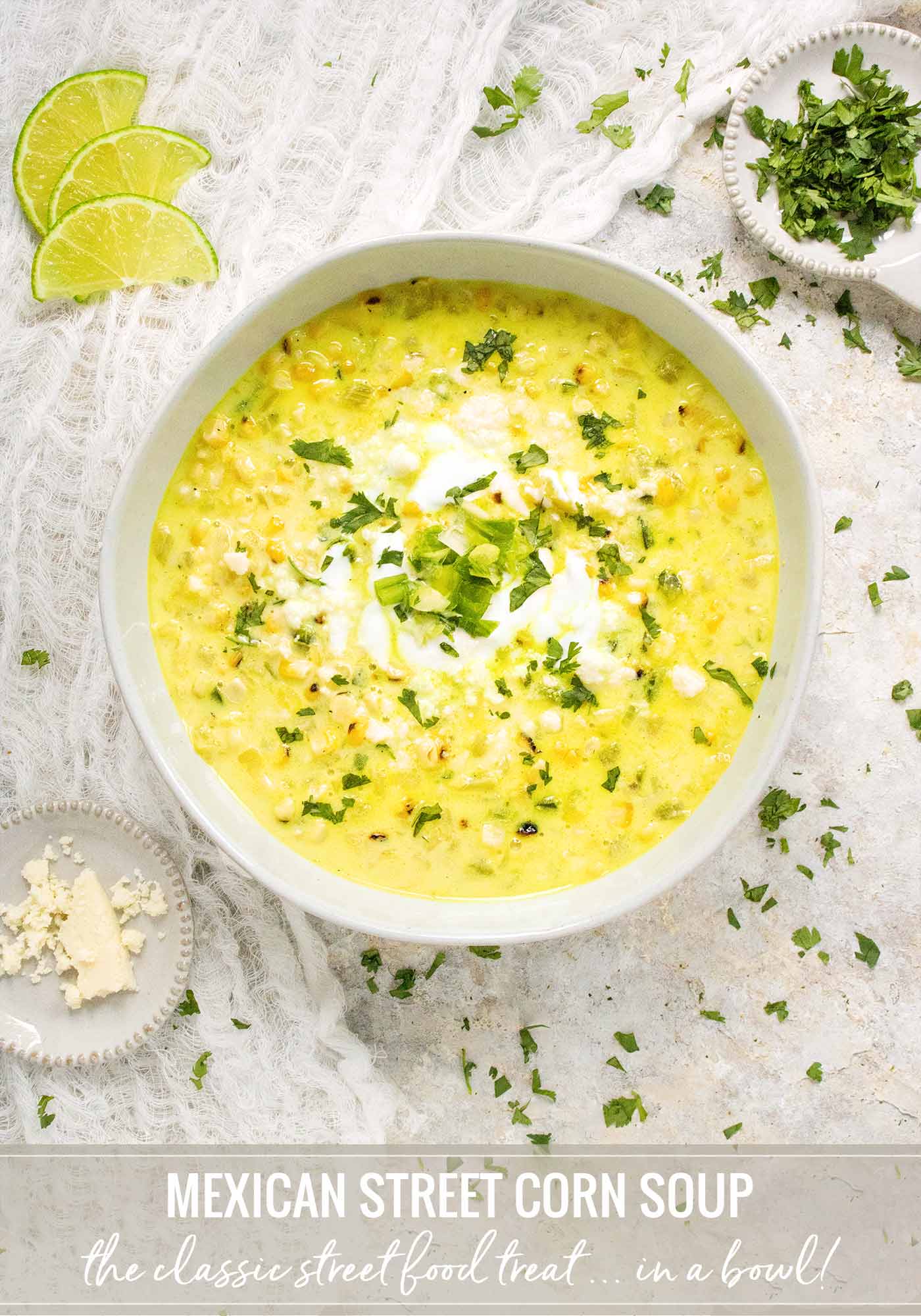 Subscribe to the SoupAddict Weekly Digest and get new soups and other delish foods in bowls in your inbox!