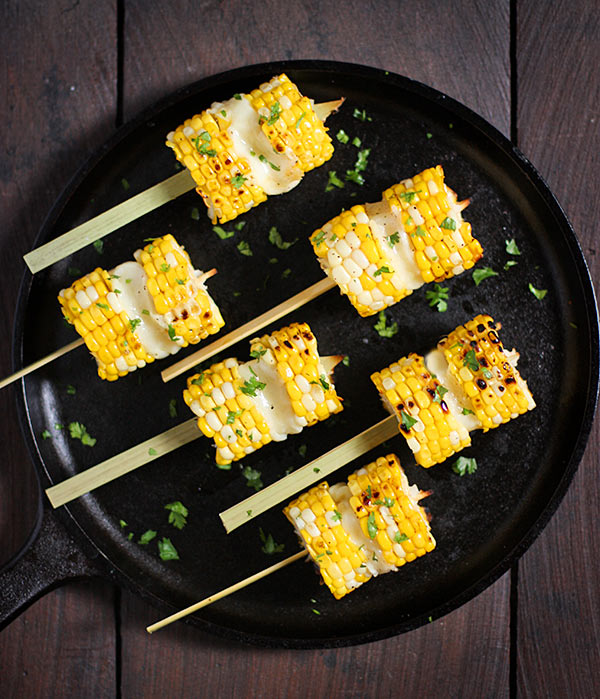 I have this thing about corn on the cob. It's sweet and crunchy and tasty and summery, and us Midwesterners will get into an all out throw-down over whose state grows the best corn (Ohio, of course). You can steam it. You can boil it. You can grill it on a gas grill, smoke it in a smoker, or nestle the ears in their husks right down on burning embers. You can even it eat raw (fresh, raw corn from the cob is amazing).
But. It's messy. It's awkward to hold, and once you bite into it, you somehow feel compelled to finish the row you started, no matter what's going on around you. At a picnic, balancing an ear of corn on your paper plate is asking a bit much. Corn kernels and bits get everywhere (especially in your teeth). You end up with more butter on your hands than in your tummy. Folks cut ears in half for clambakes, which is somewhat better (but then again, who has come away from a clambake not smeared with food – it's part of the fun, yo!).
Grilled corn kebabs to save the day! Ears of corn sliced into disks the width of one bite, on sturdy skewers. And did I mention the part where you sandwich salty Greek, grillable cheese between the disks? Oh my salty grilled goodness.
Prep these babies ahead of time, and then grill them either as an appetizer with lots of ice cold watermelon on the side, or last thing while the burgers are resting (if you don't have the grill space to do it all at once).
Happy 4th, Everyone!
Karen xo
Print Recipe
Grilled Corn Kebabs with Salty Cheese
This recipe is super easy to scale. You can get 6 to 7 disks from one ear of corn. Use two corn disks and one slice of cheese per skewer. Round skewers will work, but for extra sturdiness for eating right from the skewer, use a flat skewer (I had long flat skewers, which I cut in half and added a point on one end). I tested several cheeses: Halloumi was my favorite, but be warned that it does crack. Sandwich the corn tightly around the cheese to hold it in place. Kasseri is a semi-hard grillable cheese that gets a little melty over high heat; keep an eye on it while grilling.
Share via Text
Ingredients
2

cobs of corn

husks and silk removed

4

ounces

Halloumi or Bread cheese or Kasseri cheese

or other grillable cheese

olive oil or Italian dressing

1

tablespoon

chopped cilantro

Special equipment: 6 skewers
Instructions
Preheat the grill to medium-high and prepare for direct grilling.

Slice each cob in disks that 4 or 5 rows of kernels thick. You should get 6 to 7 disks from each ear. Bring a medium pot of water to boil. Drop the corn into the water and cook for one minute. Remove from water. (Boiling softens the core for the skewer.) If you're using flat skewers, use a paring knife to pre-cut a slit through the center of the each disk's core.

Slice the cheese into squares about the size of the corn disks. If using a hard cheese like Halloumi, take care to avoid cracking or breaking the cheese.

Thread one disk of corn onto the skewer, followed by one slice of cheese, and then another corn disk. Sandwich the corn against the cheese to hold it in place. Repeat with the remaining five skewers.

Brush each corn kebab with olive oil or Italian dressing.

Lay a large rectangle of foil along the edge of the grill and place the kebabs so that the corn is over the heat but the skewers are on the foil (this will keep them from singeing).

Turn the corn to lightly char all sides. Serve immediately.

Notes:

The kebabs can be assembled ahead of time and held in the fridge until ready to grill.
Nutritional information, if shown, is provided as a courtesy only, and is not to be taken as medical information or advice. The nutritional values of your preparation of this recipe are impacted by several factors, including, but not limited to, the ingredient brands you use, any substitutions or measurement changes you make, and measuring accuracy.
Subscribe to the SoupAddict Weekly Digest and get new soups and other delish foods in bowls in your inbox!