It's still early spring here in the Midwest — or is it late winter, given we had a car-covering snowfall Tuesday morning? — but I have a feeling that pasta is going to take center stage this season. So many of the dishes I've been noodling over, so to speak, have either started or ended with pasta being tossed into the mix.
It's hard for me to resist that particular carb. When I can, I trrry to make sure to purchase a multi-grain version — or better, a gluten-free version — which makes me feel less guilty about the whole thing.
But healthy(ish) pasta or not, this dish is filled with heaps of healthy steamed broccoli — it's just about in season, you know — and a garlicky saffron wine sauce that is slurped up by the pasta, seasoning it perfectly, while the saffron stains the pasta shells an amazing golden sunset. And then it's all tossed with a hefty shower of fresh herbs, like flat-leaf parsley, tarragon, and cilantro.
Don't forget the big squeeze of lemon at the end. Lemon makes everything savory positively amazing.
I feel like my photos here really under-represent how lovely this broccoli pasta is. Strange afternoon light, I think, that my mad photography skillzzz could not overcome. (Oh wait, I said mad. I meant bad.) It's a pasta dish that sits politely along side a carnivore entree, or, when you just want something that's not heavy, but still comforting and spring-light.
Snail pasta is my new favorite pasta shape. I love how morsels of broccoli nestle right down into the shells, all comfy cozy. Each bite has just the right amount of pasta and veggies and spices.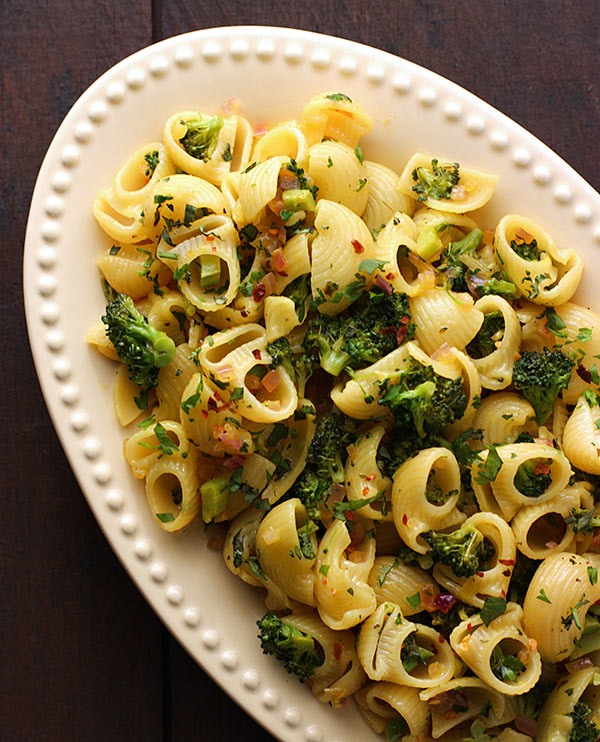 Weird light or no, one thing's for sure, eating herbed broccoli pasta is much more satisfying than photographing it.
Now if the dang weather would cooperate so I could plant my broccoli seeds the garden, I'd be one happy broccoli-and-pasta-eatin' girl.
Karen xo
Print Recipe
Herbed Broccoli Pasta
Ingredients
for the garlic saffron wine sauce
1

tablespoon

olive oil

1

small shallot

chopped

3

cloves

garlic

chopped

1/2

cup

white wine

1/2

cup

chicken or vegetable stock

1

teaspoon

cornstarch

1

big pinch saffron threads

kosher salt
for the broccoli pasta
8

ounces

Lumache

snail shaped pasta (or any cup-shaped pasta)

10 to 12

ounces

broccoli

cut into small florets, stems diced small (from a medium head)

1

tablespoon

olive oil

1

tablespoon

butter

1

medium shallot

minced

2

cloves

garlic

minced

1

tablespoon

brown mustard seeds

2

tablespoons

minced Parsley

1

tablespoon

minced Cilantro

1/2

tablespoon

minced Tarragon

1/2

teaspoon

red pepper flakes

1/2

of a fresh lemon

additional olive oil for drizzling

kosher salt and freshly ground black pepper
Instructions
prepare the garlic saffron wine sauce:
Heat the olive oil in a small sauce pan over medium. Add the shallots and garlic and cook for a few minutes, until soft. Pour in the wine and increase heat to bring to a boil. Lower heat to maintain an active simmer. When the win has been reduced by half, add the stock. Place the cornstarch in a small bowl and scoop out a tablespoon of the wine mixture. Mix with the cornstarch to create a thin slurry. Add to the sauce pot, along with saffron threads and salt. Cook until sauce is smooth and deep yellow (it won't be thick, just opaque). Remove from heat and set aside.
prepare the broccoli pasta
Bring a medium pot of heavily salted water to boil. Add the pasta and cook according to package directions. Drain and set aside.

Steam the broccoli for 2 to 3 minutes, until bright green but still firm. Remove from the heat and set aside.

Heat the olive oil and butter in a large skillet or cassoulet over medium heat until the oil shimmers. Add the shallots, garlic, and mustard seeds, and cook until the shallots are translucent (just 2 to 3 minutes). Add the broccoli, red pepper flakes, and a big pinch of the herbs. Stir to coat. Dump in the pasta, another big pinch of herbs, a dash of salt and pepper and gently stir, working the broccoli pieces and herbs into the cups of the pasta.

Pour the saffron wine sauce over the pasta and stir. Add a big squeeze of lemon juice, and more herbs. The dish should be very well herbified. Taste a big forkful, and add more salt, pepper, herbs, and olive oil as desired.
Nutritional information, if shown, is provided as a courtesy only, and is not to be taken as medical information or advice. The nutritional values of your preparation of this recipe are impacted by several factors, including, but not limited to, the ingredient brands you use, any substitutions or measurement changes you make, and measuring accuracy.