Recover from the flu — or just escape from the winter brrrrs — with the warm, healing comfort of Shredded Egg Soup, with lots of ginger, lemon, and dark leafy greens. Gentle to the tummy, but loaded with nutrients that will help get you back on your feet, stat!
When I was a wee little Soupie, getting the flu really sucked. It's scary for a kid, when things that are normally contained neatly on the inside want to come out in alarming ways. (Actually, that sucks for adults, too, lol.)
The only thing that made it all bearable was knowing what was on the other side of all the yuckiness: ice ice cold fizzy ginger ale, and a perfectly toasted piece of bread topped with a soft-boiled egg, sliced in half so the gooey yolk went everywhere.
Mom of Soupie really knew how to take care of things, and to this day, I associate eggs with renewal and feeling better and being happy for good health in the vague way that kids only know how to express by jumping exuberantly on the bed.
While we're having a fairly mild winter so far in this little dot of the Midwest, we're not being spared from illness. Long-simmering colds and stomach bugs are taking down entire schools, one at a time.
Which got me thinking about the foods that bring me back to life when I've been smacked down by one or the other.
For colds, hands down, it's my Cold-fighting Couscous Chicken Soup. Not only is this the soup I claaaaw for when I feel the snifflies coming on, but it's also the most pinned soup on this blog. So many of you have written me to say that it's helped you or a family member feel comforted, and isn't that just the best thing ever about soup? It has the singular ability to soothe us deep down when we're feeling our worst.
But with stomach and flu bugs making the rounds in a big way, I got to thinking about eggs. Eggs in soup. And I remembered a soup I haven't made in years, stracciatella, which is a simple Italian soup with a meat-based broth and whisked eggs drizzled in to form raggedy strings throughout.
Score.
It's the perfect step up from the flu's brothy-consommé-and-electrolytes-only stage, when you're feeling a little better, and the thought of food no longer completely grosses you out, and you need some nutrition stat to get your strength back without shocking your tummy.
This onion and shredded egg soup is exactly that. While a soup loaded with onions might sound like a questionable thing for a flu-recovery meal, onions are actually very healthy, with anti-inflammatory and anti-bacterial properties, both of which we can use when we're under-the-weather.
As a bonus, the onions are cooked down to eliminate all the raaaaw and also to create a deliciously flavored broth, as only onions can do. And since they're cooked until soft, they add a nice "chew" to the soup — almost like pasta, only without adding bulk to a tender tummy. (Of course, if you or the fam absolutely hate onions, you can leave them out of this recipe without replacement. The consistency and flavor depth of the soup will be different, but it will still be a lovely, gentle soup.)
As the onions finish cooking, a good dose of stomach-soothing ginger hops on board. Use your best homemade broth, or your very favorite brand, with this recipe, chicken or vegetable. Lemon juice and lemon zest add vitamin C, and brighten and lighten the soup, too.
And finally, the eggs. When I was testing this soup, I felt so warm and cared for, even though I'm not sick, and I was making it solo in my kitchen, for myself, lol. It wasn't quite like Mom's soft-boiled egg toast, but the shreds of egg that float through the soup add substance and mild flavor (and protein!), and memories of comfort and love.
I added slivered greens (usually spinach), too, but you can judge whether you or the recovering sickie are ready for greens in the onion and shredded egg soup. 😉 But, hopefully yaaass to da greens, because dark leafy greens will bolster the immune system and help get everyone back on their feet.
Oh! Major recipe tip! I wrote this onion and shredded egg soup recipe specifically to be easy to remember: a one person soup serving = 1 onion, 1 cup of broth, and 1 egg, plus 1 teaspoon ginger and 1 heaping tablespoon slivered greens. See what I did there? 1 – 1 – 1 – 1 – 1. Easy-peasy.
For two servings, bump up each ingredient to "2." And so on. 🙂 To make ahead for the inevitable bug-stricken household, cook up the onion broth with the ginger and lemon, ladle into single-serving containers, and freeze. To prepare, add the whisked egg and greens to the freshly heated soup.
If you're making the soup for the whole fam, both sick and healthy, add some grated Parmesan to the bowls for the non-sickies, and perhaps even some garlic-sauteed croutons. This is restorative comfort soup at its best!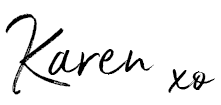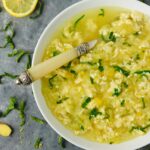 Print Recipe
Flu-Recovery Onion and Shredded Egg Soup
Ingredients
1

tablespoon

olive

avocado, or coconut oil

3

small/medium onions

sliced thinly

3

teaspoons

minced ginger

3

cups

chicken or vegetable broth

low sodium

3

eggs

well-whisked

3

tablespoons

chiffonade-sliced fresh spinach

about 2 dozen leaves

1

lemon

zest and juice

Kosher salt

Grated Parmesan cheese

for topping (optional)
Instructions
Heat the oil in a wide sauteusse pan or Dutch oven (with lid) over medium, until shimmering.

Add the onions, stir to coat, reduce heat to medium-low, and cover. Cook for at least 20 minutes, stirring occasionally, or until they begin to take on a pale golden color.

Stir the ginger into the onions, and add the broth. Increase heat to medium-high and bring the soup to a gentle boil.

Reduce heat to medium-low, and slowly pour in the egg mixture with one hand while dragging a whisk through the soup with the other. Continue until the eggs have set and the result is that the eggs looked raggedly or shredded in the soup.

Add the spinach slivers and lemon zest and stir until the spinach is bright green and slightly wilted. Add the lemon juice and a big pinch of salt. Taste, and add more salt as needed. Ladle into bowls, and top with the Parmesan cheese, if using.
Nutritional information, if shown, is provided as a courtesy only, and is not to be taken as medical information or advice. The nutritional values of your preparation of this recipe are impacted by several factors, including, but not limited to, the ingredient brands you use, any substitutions or measurement changes you make, and measuring accuracy.